Scuderia 65: Designed and built by sailors for sailors
The Scuderia 65 by Harry Miesbaurer is in effect a racer boat, certainly the most complex and sophisticated from the perspective of composite construction and interior
Under the baton of design studio Harry Miesbauer at Adria Sail Custom yachts, a new Scuderia 65 racing sailboat has unveiled at Fano's headquarters. With extensive experience in offshore regattas, the owner with his wife, skipper and designer, had the idea of ​​an attractive racer, which would be easy to race with a minimal crew, but also with a functional interior that would give the owner's family a little more comfor on the boat than the usual spartan design usually seen on regatta sailboats.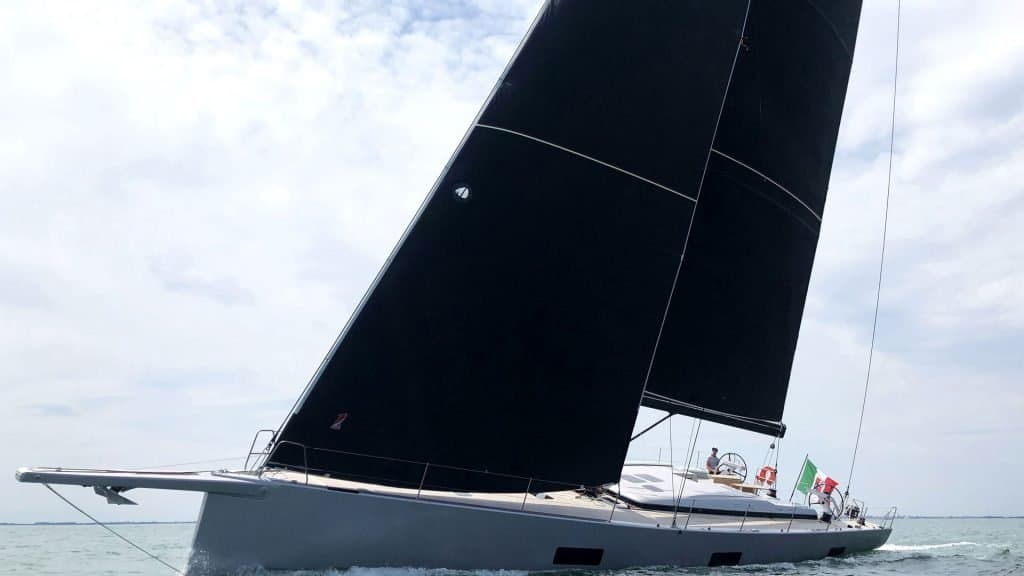 The main idea of the whole project was to keep the minimum weight, so the whole interior along with the rig Southern Spars with the Future Fiber ECsix package, was to reduce the overall weight. But this is not just another cruiser/racer marketing ploy, but a true sailing concept, evidenced by the list of experts who honed their experience at the America's Cup, the Volvo Ocean regattas.
Exactly in line with the Scuderia brand, the Scuderia 65 is also a boat that has been designed for the regatta without forgetting its comfort onboard. The yacht is characterized by an intense use of stylish and smart solutions such as the prevailing use of the hydraulic system in order to maximize usability, even in reduced crew conditions.
The draft of the boat is bigger compared to other boats of its class. It is 4.2 m and the lifting keel facilitates the return to the ports with its 2.6 m lifted position. The keel strikes the harmony of the interiors that, although essential, give a feeling of home and comfort. The interior layout, starting from the bow, is divided into the shipowner's area, dinette, guest area and crew as well as the technical rooms of sailocker, engine room and lazzaretto.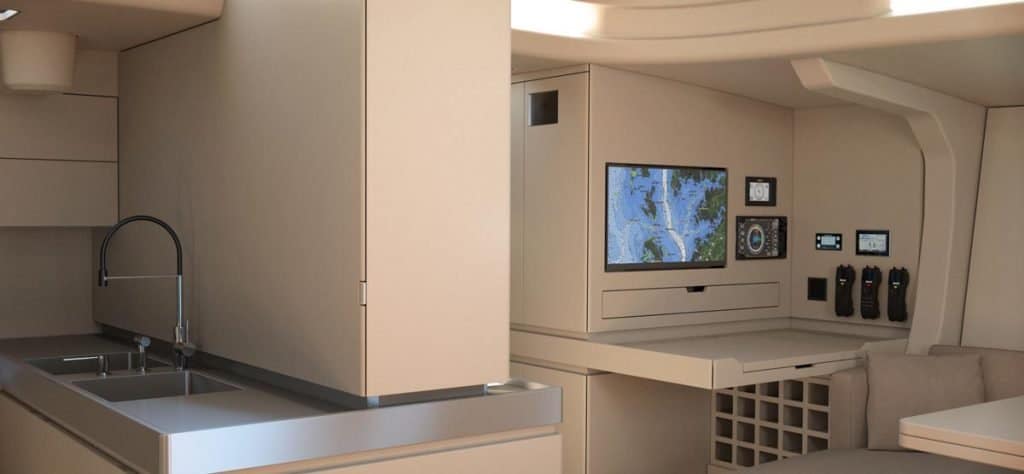 In June the Scuderia 65 has carried out its first sea trials in racing configuration. The first outing was very promising and showed that the boat has its potential as it was foreseen on paper. All systems worked very well, which means that the meticulous attention to details in the design and building period by the Harry Miesbauer yacht design studio and the project manager Aldo Scuderi has paid off.
It also shows that the yard, Adria Sail, and the suppliers like Cariboni and Harken have done an excellent job. A boat designed and built by sailors for sailors. How it behaves in the racing field will be revealed when Scuderia 65 embarks on a big regattas like Giraglia, Rolex Middle Sea Race, Fastnet Race and others.
Scuderia 65 specifications:
Lenght over all: 20.05 m
Beam: 5.510 m
Displacement: 18.000 kg
Draft: 4.500 – 2.950 m lifting keel
Total sail area: 259.6 m2 – racing
Main sail: 152.0 m2 – racing
Jib area: 110.1 m2 – racing
Gennaker: 420.0 m2 – racing
Mast above deck: 28.650 m
Photos Harry Miesbauer
Video OneSails International