The owner of this unique and magnificent sailing boat is a passionate racer who uses his Scuderia 65 for – you've guessed it – racing, but also as a comfortable cruising boat
Harry Miesbauer successfully applied the experience gained from sailing from an early age in the studios of Herman Frers and Luc Brent, and designed some cult racing models, like model of TP 52, Nautor 76 and Wally B. Collaboration with Frauscher resulted in very successful open yachts, which turned out to be a rare exception in his career, because Harry lives and breathes sailing.
65 carbon sailboat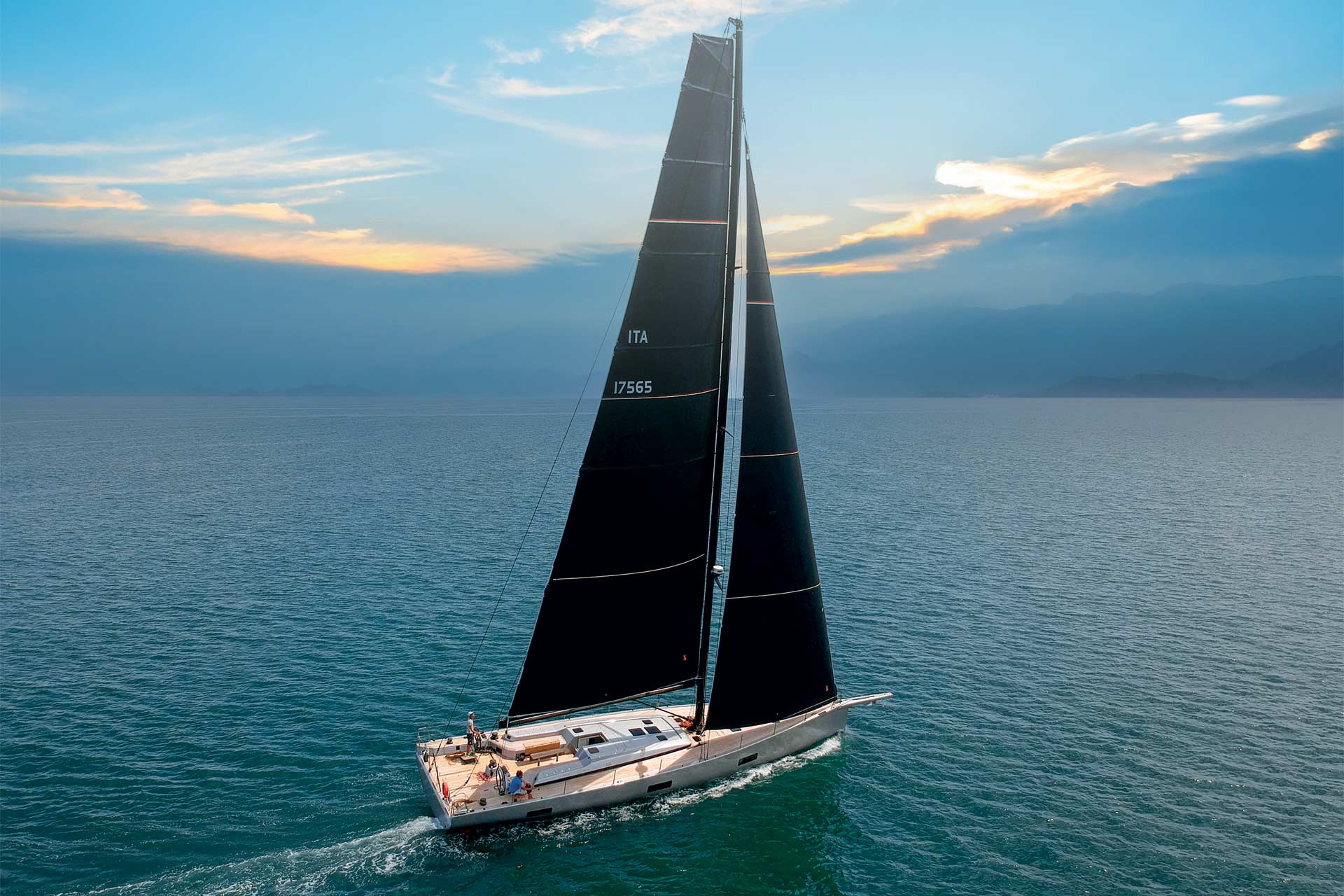 This is more than obvious in his latest project, performance cruiser Scuderia 65. We already wrote about this carbon sailboat in one of our pre-pandemic 2019 article, and after two years we finally get on board, thanks to Master Yachting and their Boat Show at D-Marin Sukošan, where Scuderia 65 was recently launched in a world debut.
So far the new sailing yacht has participated in several Mediterranean offshore regattas, such as the Aegean 600 (3rd place), Middle Sea Race, La Ottante, Cinquante and Barcolana, so sailing enthusiasts are already familiar with the potential of this carbon racer. Elegant with her rounded, but aggressive hull lines, impressive in her dimensions, the Scuderia 65 is the ultimate carbon toy for her owner to have fun in regattas across the Mediterranean.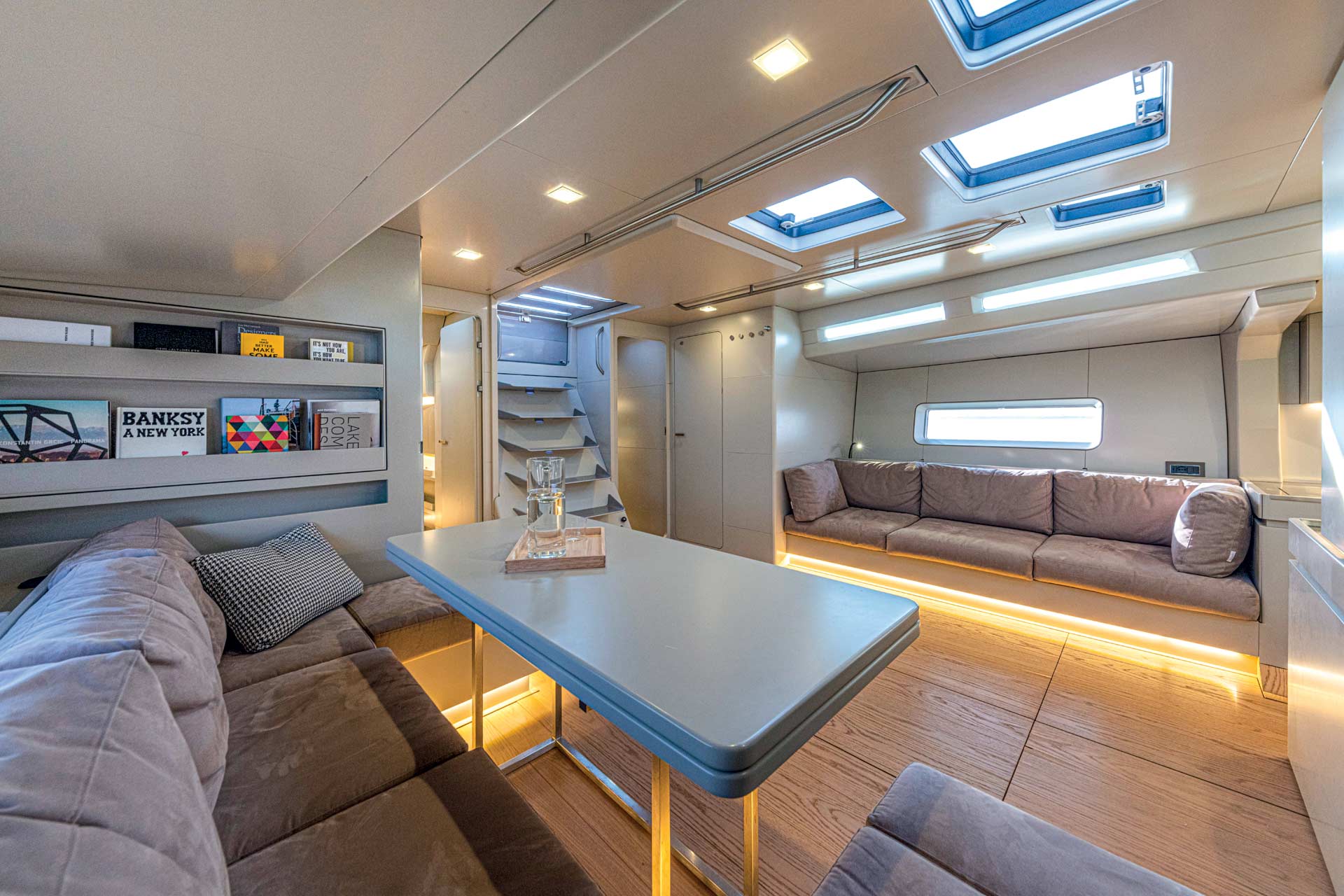 This is without any doubt true racing sailboat (optimized by IRC), but also for, relaxed cruising. According to modern standards in the production of luxury sailboats, Scuderia 65 is an unusual yacht, but in a good way, so it's little surprise she won the A 'Design award. Although the first renderings of the interior were done in white, Harry and the owner opted for gray tones.
Scuderia 65 interior
The same simple aesthetic and the owner's request to keep the displacement below two tons have influenced the decision to submit the interior design to functionality, so the furniture is made of composite and the appliances are modular to make it easier to move it all out when it's time to race.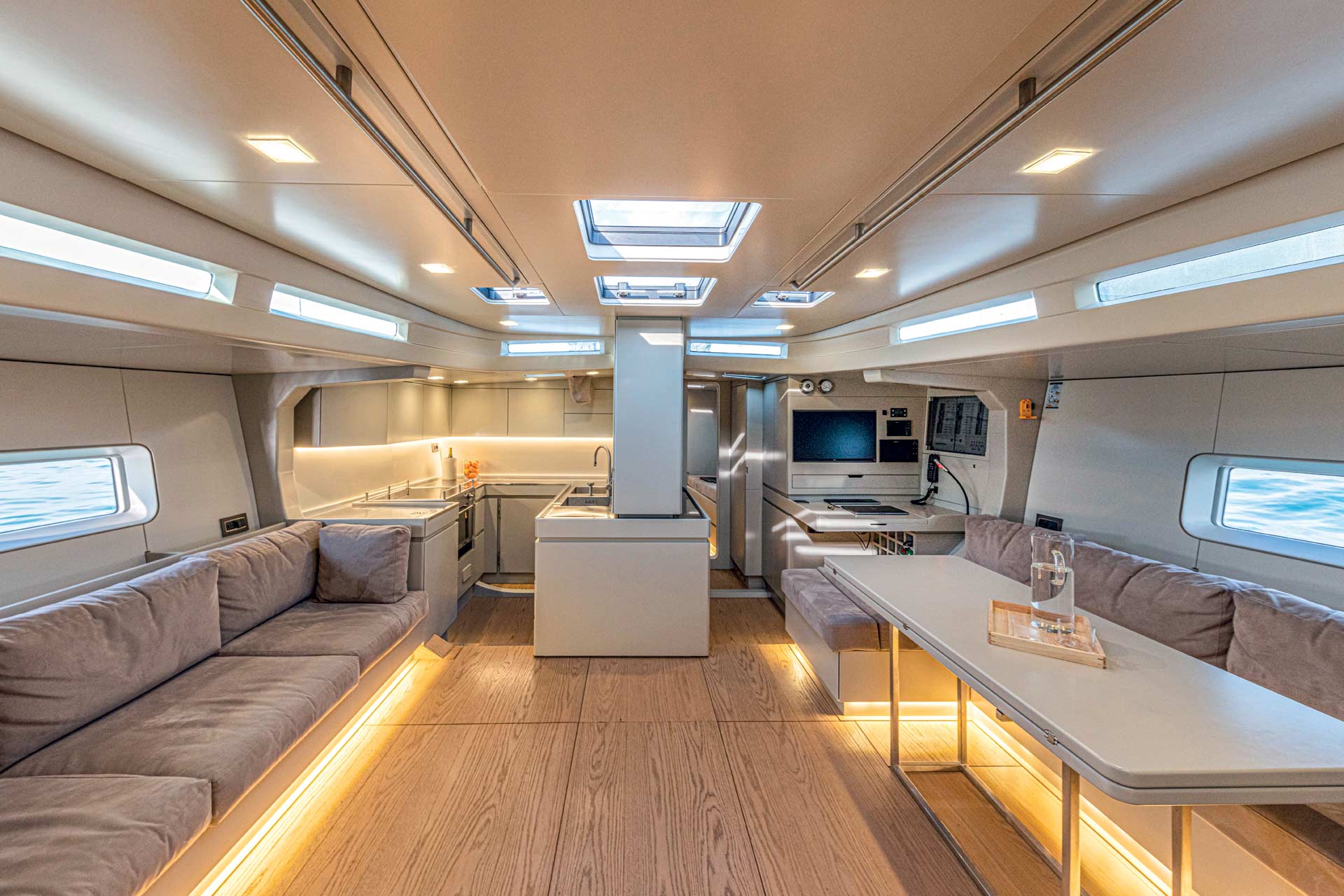 The dominance of gray color and smooth surfaces without protrusions give the interior calming look and the layout, textiles and materials used, as well as the unison panes give the impression of comfort.
Upon a better look, various details step up, like the skipper's navigation table, an impressive number of storage units, the U-shaped sofa, and the fully equipped galley in the bow, so the whole interior takes on a refined elegance, especially when discreet lights are turned on.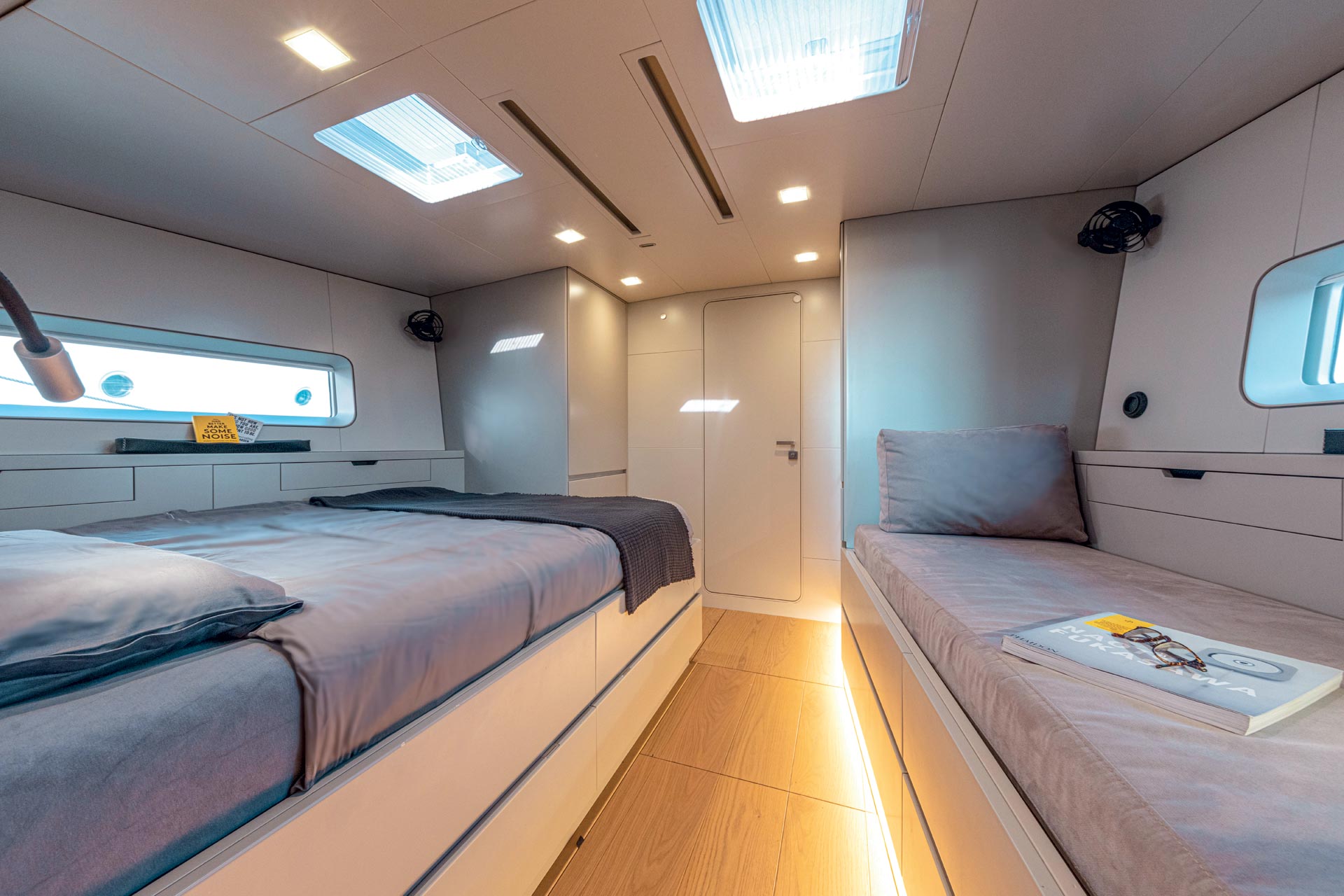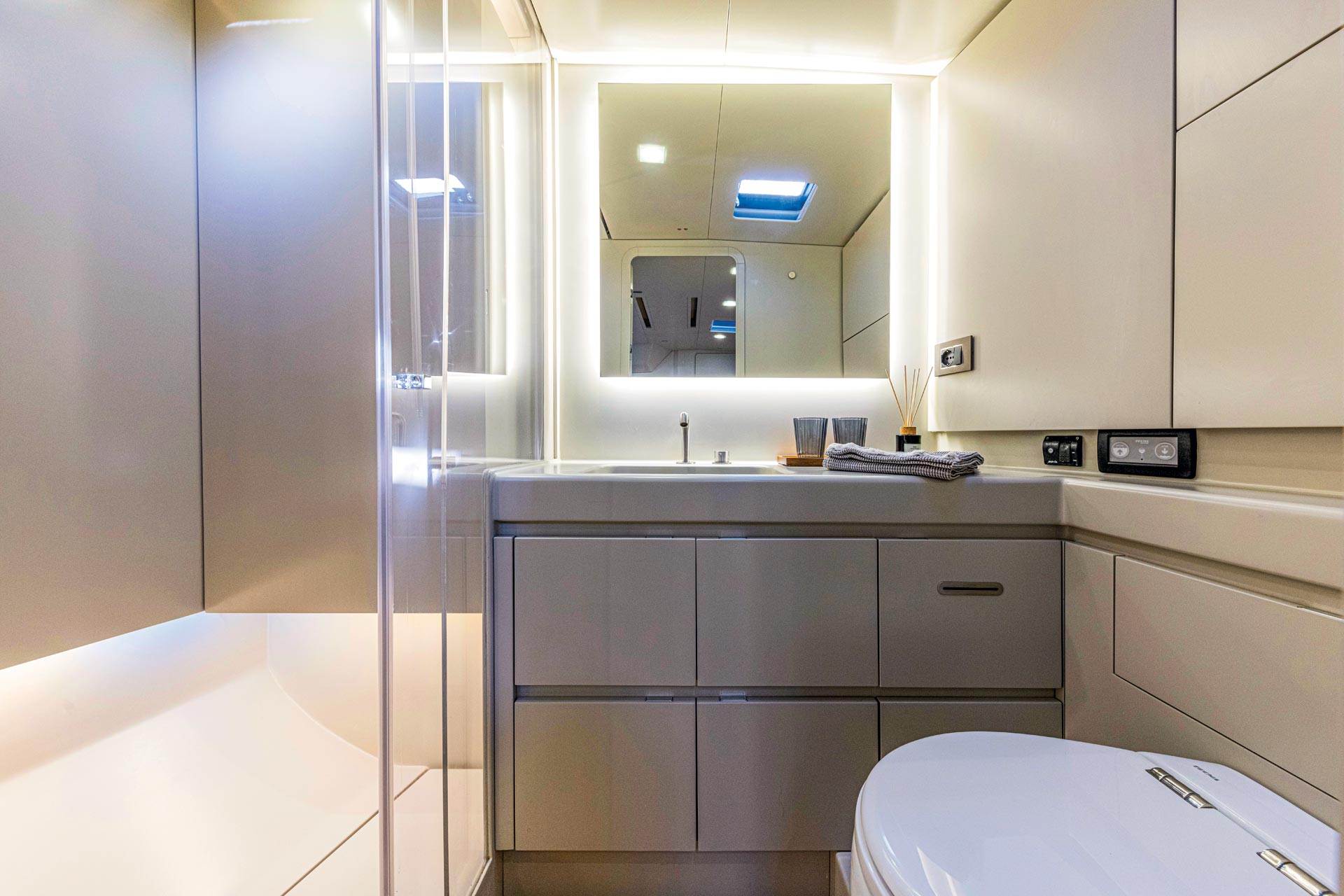 Harry notes that the owner hasn't changed a single thing on the sailboat in two years. Each of the three cabins has its private head, and the master cabin in the bow, although larger and with a sofa, is in line with the rest of the interior in terms of luxury. On a sailboat like this, where you really want to be is on the deck or at the helm.
The deck is completely clean and, considering all the equipment, marvelously easy to move around, with a smooth, rounded cabin roof. Everything in the cockpit is perfect: between the two rudders, where B&G navigation, thrusters and hydraulic switches are installed, there is a mainsail tensioner with a console and all gear control switches.
YACHT SUGGESTION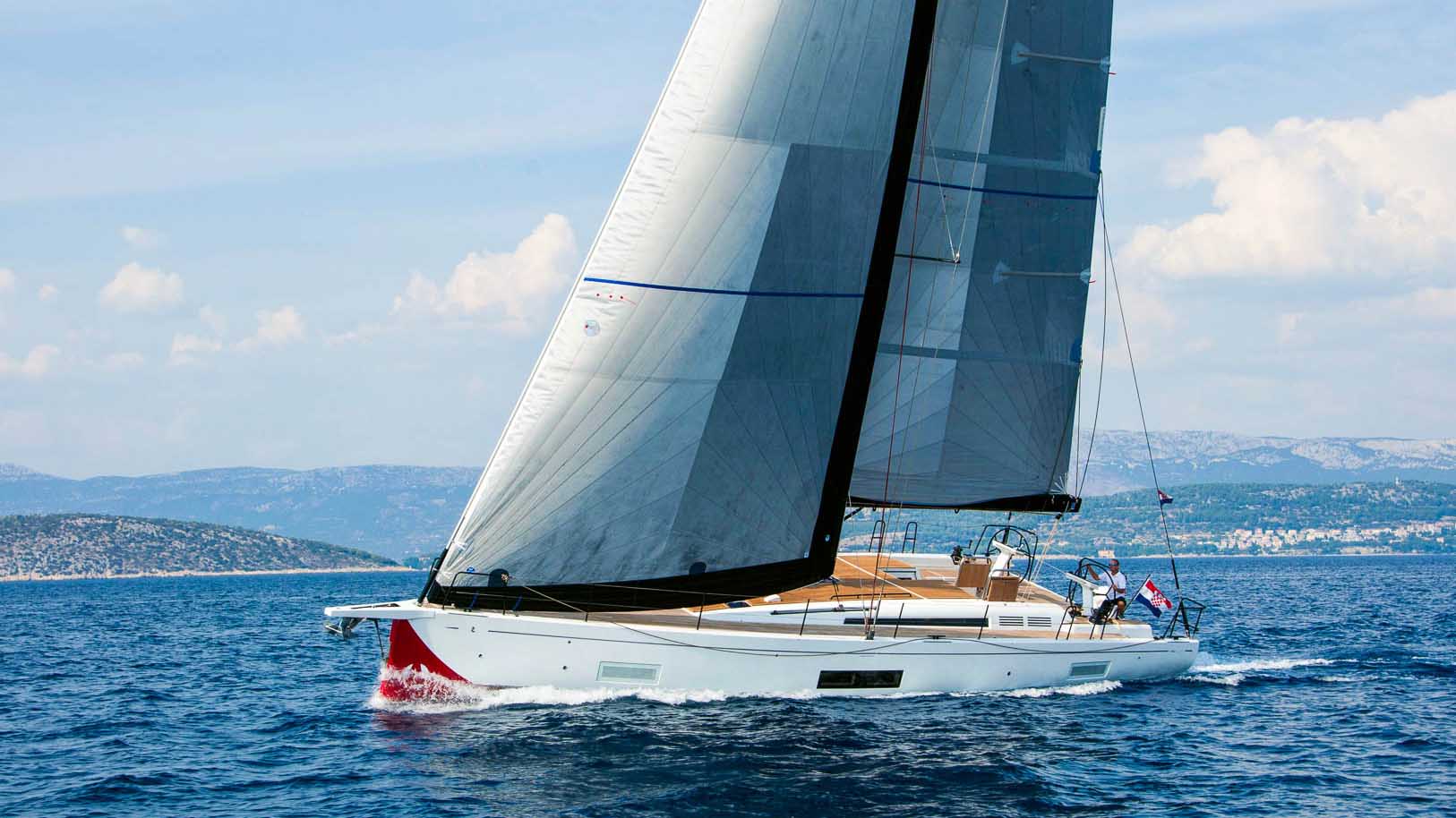 Modern, fast, sporty and comfortable is a new First Yacht 53. First 53 will take your breath away with its striking and racy shape, sleek design and plenty of space underline the comfort onboard.
The entire deck system was designed and made by Harken, with hydraulics by Cariboni, because their system uses narrower tubes due to the pressure (5000 psi) to keep the whole system reduced to the lowest possible weight.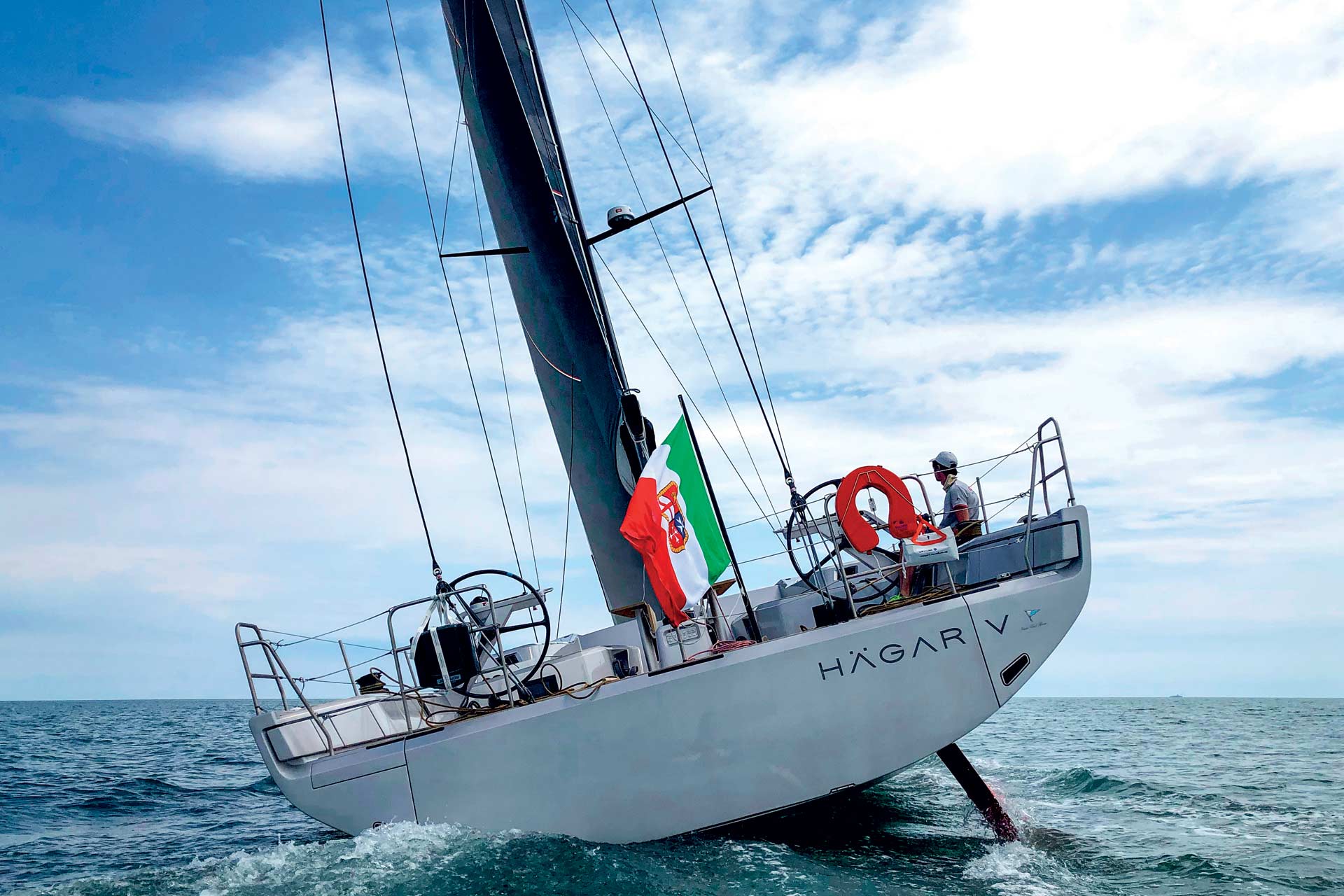 Scuderia 65 is powered by 150-hp Volvo D3 engines and served by a 10 kW generator. On the day of our sea trial, we had a 10-15-knot north-west wind, and according to the skipper, this is where Scuderia 65 demonstrates her abilities best. During two hours of sailing near and around the marina were enough to get the idea of the 65's capabilities.
Scuderia 65 performance
With Harry's help on the main sail – he participates in all races on Scuderia 65 – we were soon convinced how easy it is to pilot short-handed the 65 feet sailing boat, with only two crew. It is amazing how easily this 20-meter beauty can easily tack into the wind. Scuderia 65 is a boat made for true sailors, and considering her sail area of 260 sq.m., perfect even for racing at the highest level, as clearly seen at the last Barcolana race, where this carbon sailboat sailed full-sail with strong Trieste northerly wind-bora blowing up to 42 knots and finished 14th out of almost two thousand sailboats.
We couldn't help but ask what maximum speed had been reached, and Harry informed us they reached 28.7 knots in some previous tests (with cruising sails and two crew). He also mentioned they achieved a higher speed in the tests than predicted by the VPP (Velocity Prediction Program), ie. faster than the apparent wind speed – what better confirmation of the ingenuity of Miesbauer's design? Please enjoy, both racing and cruising.
Text Filip Bubalo
Photos Dede De Luca / OneSails & Andrea Muscatello
Video Master Yachting