The design of the Silent 60 is flawless and, above all, functional, without superfluous luxury, because on this catamaran everything revolves around technology
Although this is not the largest catamaran in the catalog of Silent Yachts (there are two larger models; Silent 80 and Silent 100), or even the most ambitious in design (that title goes to 62 Trideck), the new Silent 60 is a prime example of a balance between modern technology, design trends and green yachting.
Silent 60 catamaran
This model, by all accounts, represents a new milestone for the Austrian builder, as was the case with Silent 64 – the first serial solar catamaran to cross the Atlantic.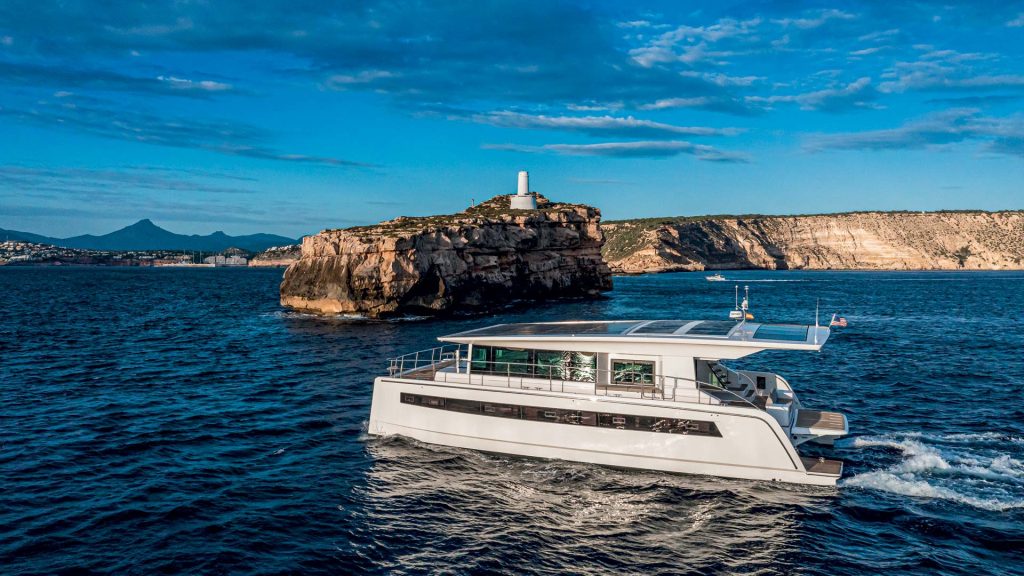 Instead of a world premiere in Cannes, the model debuted in front of trade journalists in Mallorca, at a launch event organized by the newly-opened Silent Yachts office in Port Adrian.
The design of the Silent 60 is flawless and, above all, functional, without superfluous luxury, because on this catamaran everything revolves around technology. Although equipped with state-of-the-art technology, including a kite sail on the bow, Silent 60 is stylish like it was only designed to look good, with high sides, curved stainless steel railing and a slightly lower fly bridge towering harmoniously above the glazed saloon.
Silent 60 interior
With an 11 sq.m. salon on the bow, it's obvious there's more than enough space aboard. Astern, the salon stretches across more than 80 sq.m., and is furnished with an L-shaped sofa, a folding table and another modular sofa, and doubles as platform for swimmers climbing aboard or when boarding water toys via an immersion hydraulic platform.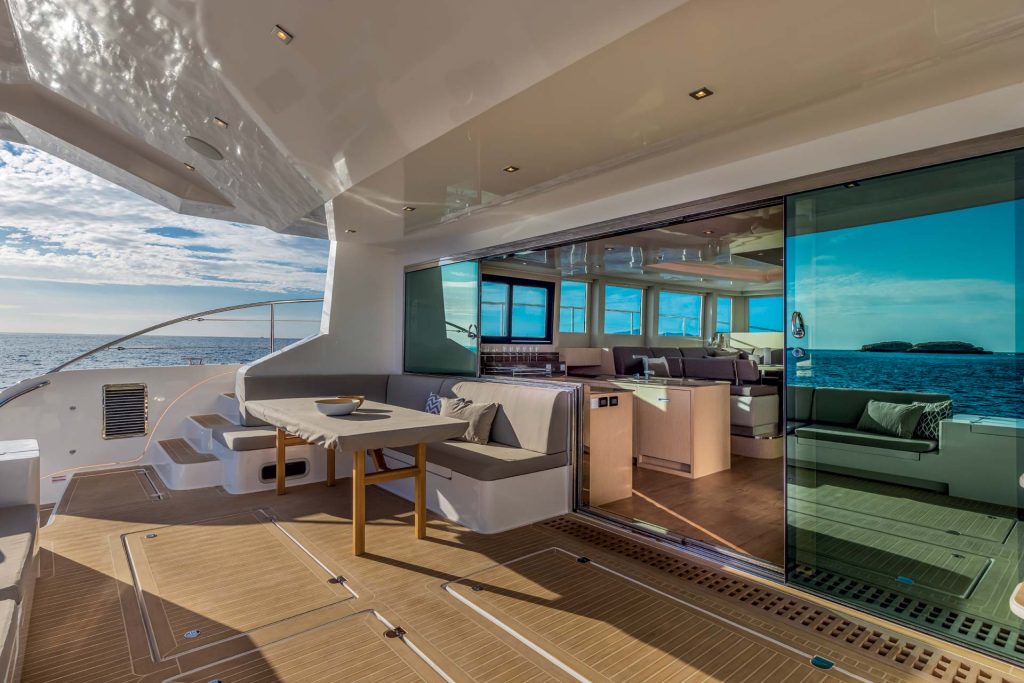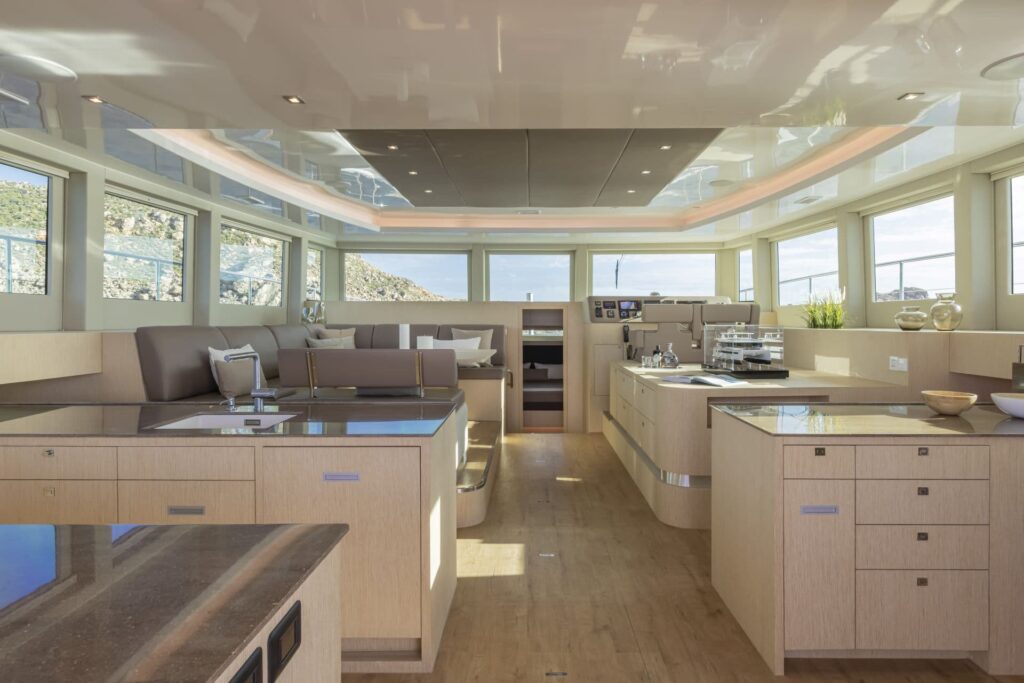 The main deck salon is 50 sq.m., has 2.2 m head clearance, and is adjacent to the galley on the left, and a desk and a huge refrigerator on the other side. The interior is as spacious and comfortable as a home, and the 360° view allows constant contact with the sea. This first unit has four cabins, and in this version, instead of a bow exit, a large full-width master cabin with a private head.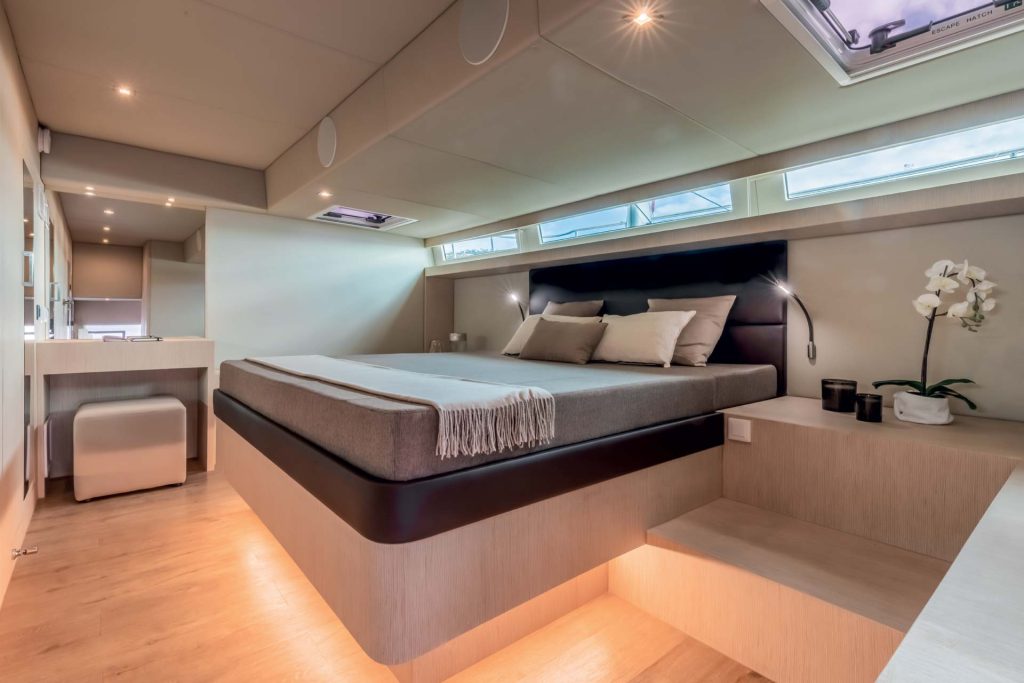 Two double cabins in the left hull and a VIP cabin in the right, all with private heads, offer plenty of space for long and self-sufficient cruising, a sought-after feature for modern owners. Up on the delightful fly bridge, we have discovered 20 sq.m. of pleasant shade (provided by a folding hard top). Behind the skipper's seat there is enough room for a full-beam sofa, so the flybridge is one of the best places to hang out on the Silent 60.
Green and innovative materials
Silent have given more attention to the interior of this model, using green and innovative materials such as print-free Fenix and furniture that combines natural wood and veneer with leather upholstered surfaces. The table, the sofa and the skipper's seat are all on a raised level, and skipper has excellent visibility in all directions.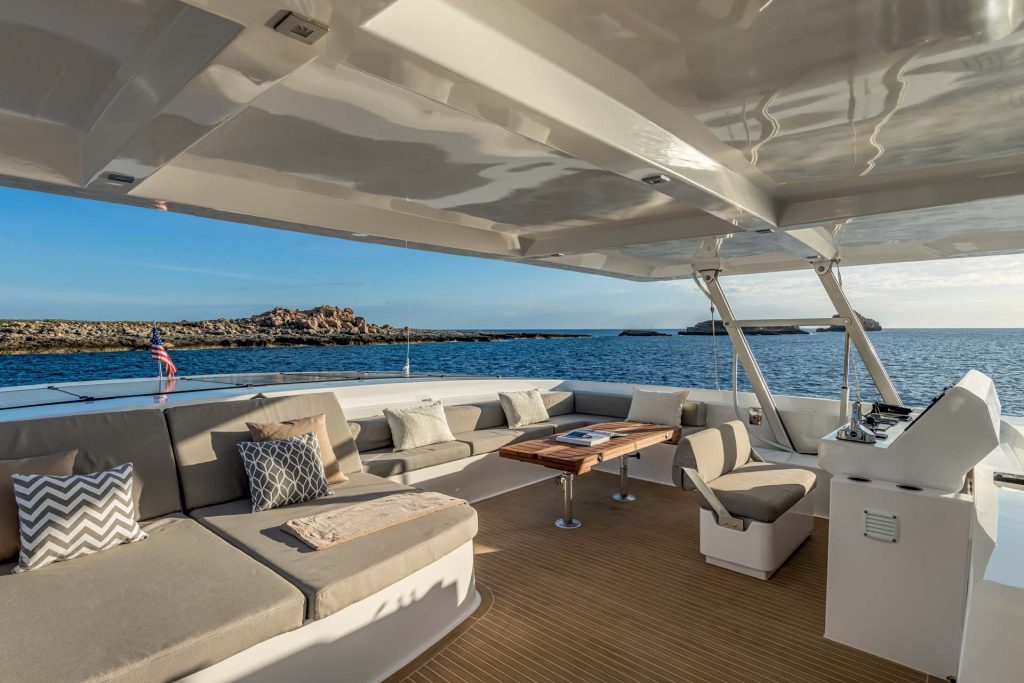 All the instruments on the dashboard have been placed intuitively and are easy to read even if you've never piloted before, but we should add that all owners must undergo a seven-day course in order to operate their high-tech catamaran if they have no prior knowledge of electric engines.
Silent 60: Yacht with solar-electric drivetrain
This first unit was powered by a pair of 240 kW electric engines, with three lithium battery packs that power the 42 solar panels on the fly bridge (400 W) and the salon roof (240 W). Compared to the Silent 55, that's 30% more panels that charge batteries via an inverter and provide 230 V for all electrical devices on board.
For full-on electricity-powered navigation under 30 miles this boat doesn't need to turn the generator on, although it is turned on automatically when the batteries drop to 25%.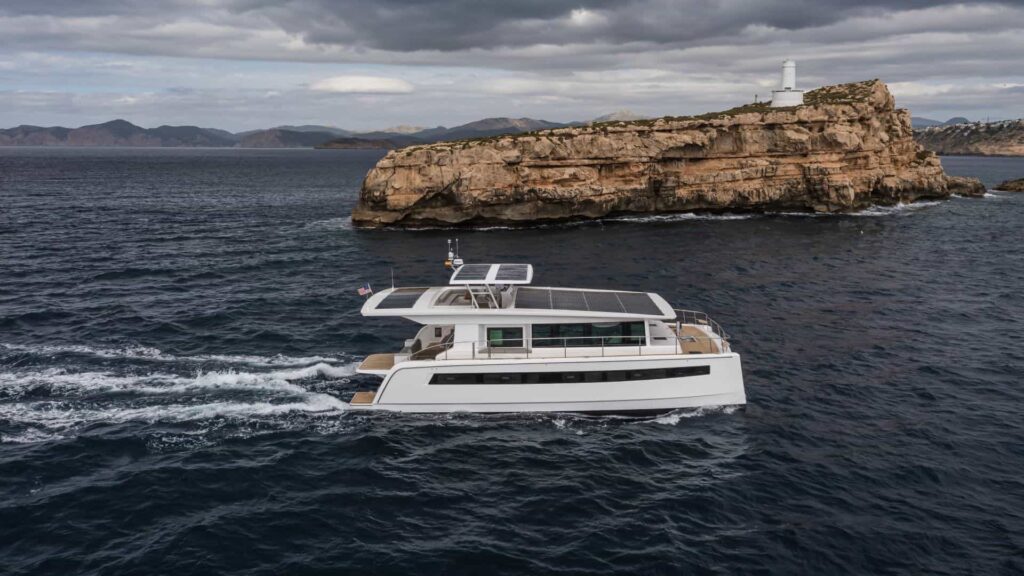 Floating mini power plant
It takes about three hours to full charge all batteries (210 kW), or one night connected to the marina charger. In case the batteries are overcharged and there is still an influx of electricity, Silent 60 can distribute the surplus to nearby ships, like a floating mini power plant.
With a lifetime warranty on engines and virtually no parts that require maintenance, the electrical system of the 60 is less complicated than it seems at first, and significantly cheaper to maintain.
Sailing along the coast we came across some kayaks and managed to avoid being stuck behind them with mere gentle turn of a lever. We were amazed by how easy this 60-foot catamaran is to handle, especially since the only thing needed is the said lever, part of the follow up steering system.
We sailed in total silence, and dare we say, without unnecessary drama. When we returned the lever to the starting position, the catamaran immediately returned to the set course, and it was equally elegant to humor our sudden turns.
Silent 60 range
The lever is essentially a gear stick with intuitive positions (forward, neutral and back), but with all the advantages provided by electric engines, like easy maneuvering and sudden changes of direction, with all thew power (2 x 250 kW) readily available. At a cruising speed – comfortable and, more importantly, silent 6 knots – the engines consumed 29 kW, which is more than economical for a catamaran with a 29-tonne displacement.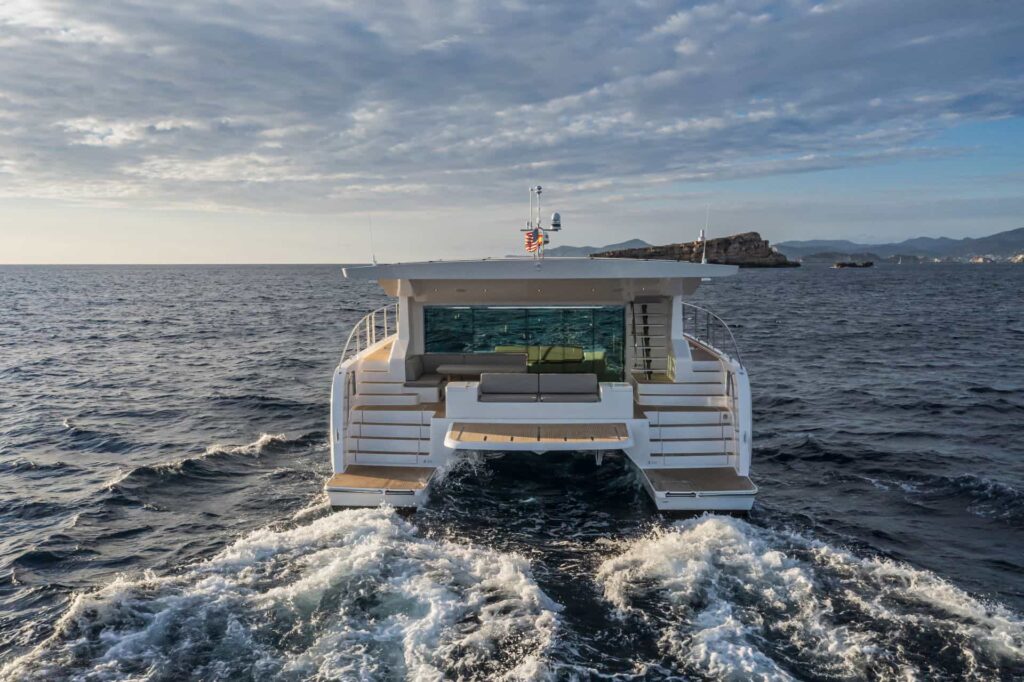 For the most part, such efficiency has been achieved by extensive CFD studies on composite hulls, which provide very little resistance and has less than 1 meter of draft. We reached maximum speed of about 210 knots, but were infomed our unit was capable of 17 knots, and the strongest version reavhes 20 knots.
Silent 60's first sea trial, a 60-mile trip from Mallorca to Ibiza with an average speed of 7 knots, took eight hours – which is ideal for solar-powered catamarans. Still, some careful planning, two water-markers and plenty of food will be enough to turn all the seas into your playground.
YACHT SUGGESTION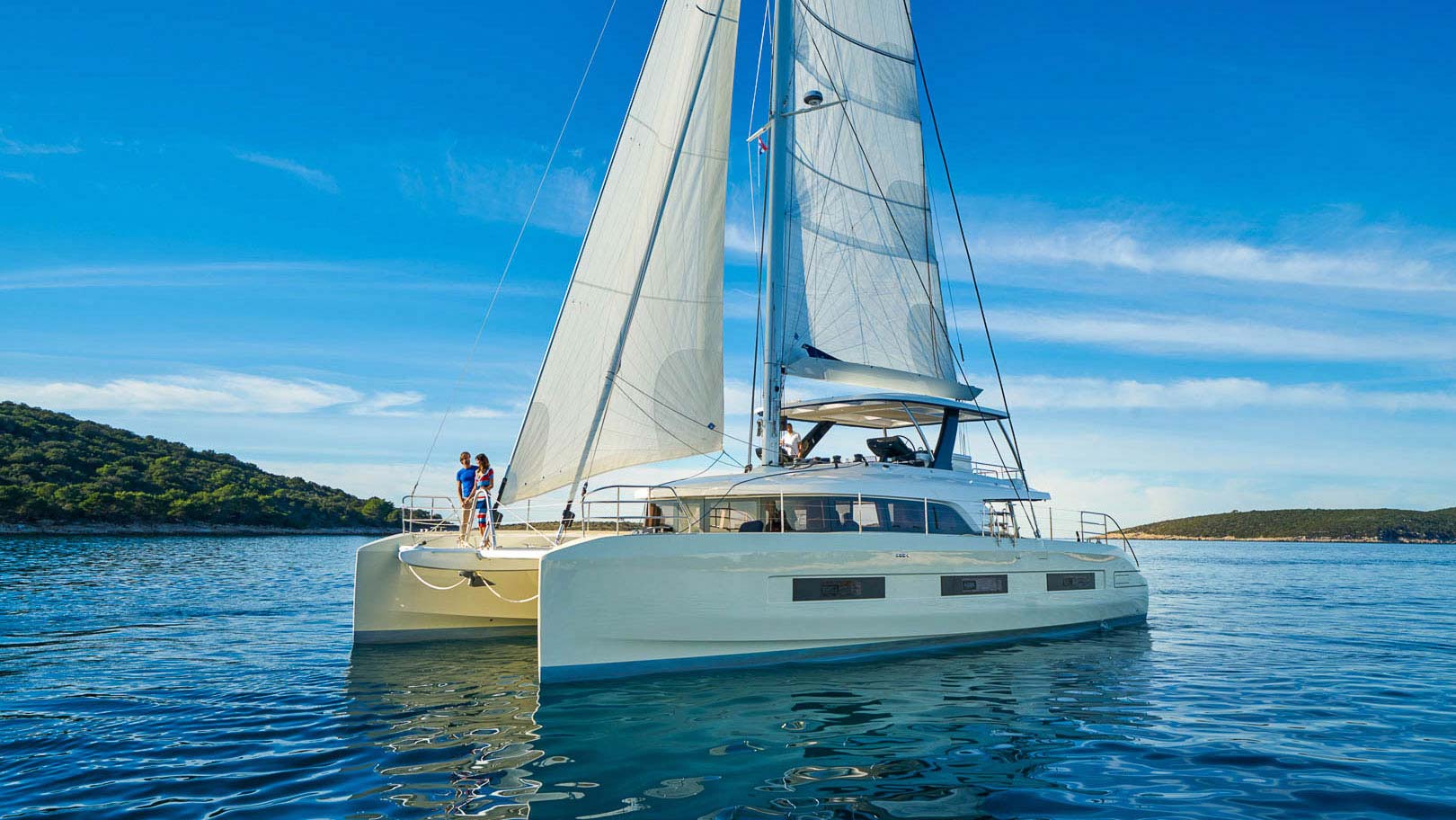 The newly built Lagoon Sixty5 'Amada Mia' is the most admirable luxury sailing catamaran available for charter on Adriatic coast, Croatia.
With this concept, Silent Yachts have responded to the growing demands of eco-conscious owners who want longer trips and zero emissions, or even sustainable and green living. Silent 60 is an accessible and interesting model likely to pique interest of a wider circle of potential buyers, seeing how in addition to being en par with luxury yachts, it has all the qualities of a leader in e-yachting, which was recently confirmed by a tidal wave of interest and orders coming in from the US.
Silent 60 kite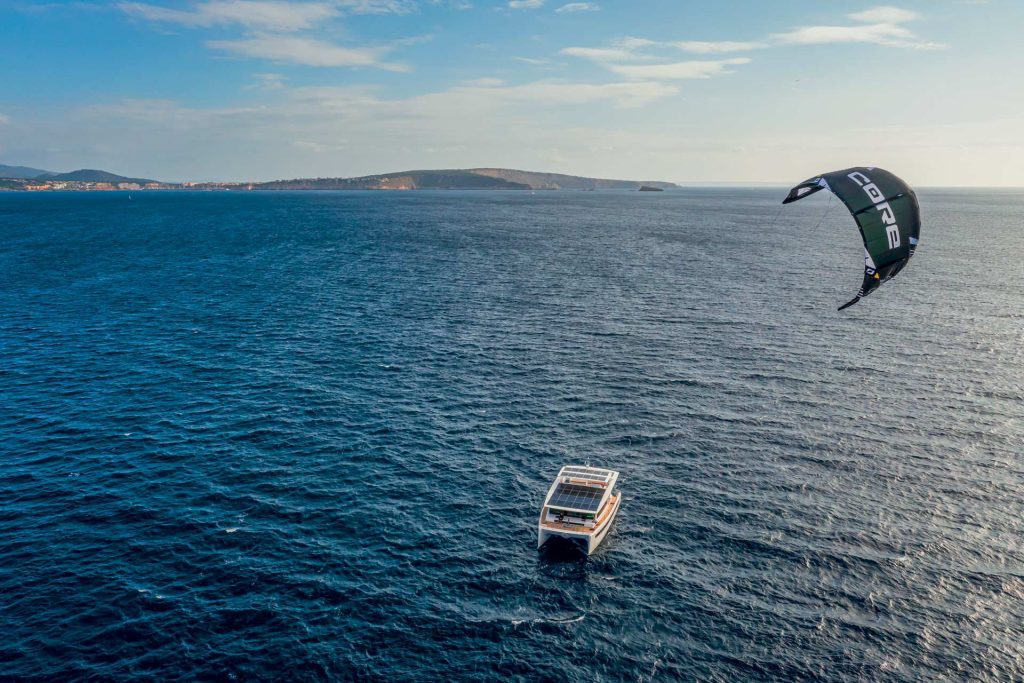 Silent founder Michael Köhler, following his vision – making Silent catamarans even more efficient – has equipped Silent 60 with a Wingit kite sail (the first unit), which should give it even more autonomy.
The kite, stored in the bow, is installed on a small mast, and once deployed, when it reaches certain height, it is controlled automatically, adding up to five additional knots of speec. The process is not as simple as is regular kite surfing, given that the catamaran itself interferes with the airflow.
In ideal conditions, the kite allows 10 times more power per square meter than a traditional sail, and is an ideal addition to this type of boat, seeing how sailing at 4 knots using engines (only 3 kW per engine) and as many using the kite saves a lot of electricity. A useful companion in case your engines decide to call it quits, the kite is also fun to use.
Find more about Silent 60 here.
Text Filip Bubalo
Photos Alberto Cocchi

Video Silent Yachts