Sunseeker 131 Yacht is another great yacht that coming from Sunseeker's super yacht platform. On this beautiful yacht you will always have a suitable space, to read a book, have cocktails in the sun or organize a business meeting
Sunseeker recently launched the eagerly anticipated 131 Yacht at the London Boat Show in January 2016. At 131ft (40 Metres) it was the largest model ever to make its debut at the show, and as a special feature, BBC dedicated an one hour documentary about process of creation and delivery of this yacht.
Tri-deck Sunseeker Yacht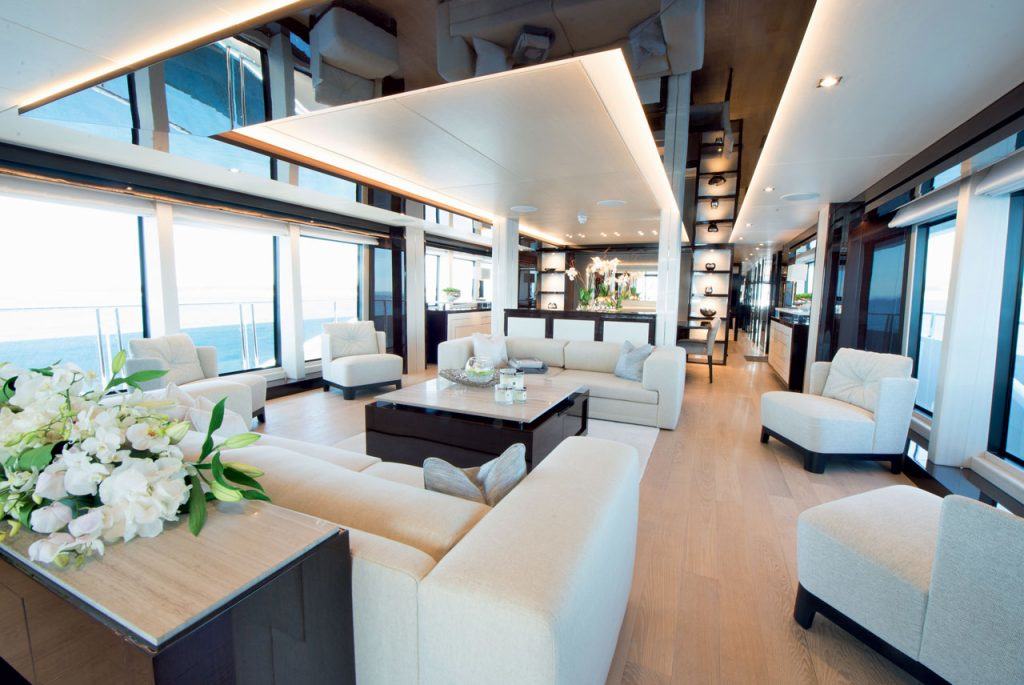 Demand for the Sunseeker 131 Yacht is already extremely high with the first four already sold, even before being presented at the Cannes and Monaco shows in September. Reason for this is sumptuous quality and attention to detail that has gone into this innovative new takes on Sunseeker's proven super yacht platform.
A standout feature is the addition of feature glass in the master stateroom, saloon and upper saloon to create a light filled relaxed, comfortable and enjoyable environment for owner and guests. As usual on the large yachts, Sunseeker 131 Yacht enables its owner to tailor every element of the interior design and layout to their personal preferences via Sunseeker's unique Bespoke service.
The 131 Yacht layout
When this is combined by Sunseeker's recognizable design of exteriors, there is no wonder why this yacht is so popular. Standard guest configuration is for ten guests in five cabins, with scope for up to 12 to be accommodated depending on the layout and options selected.
The main salon has two balconies, on port and starboard, which together with large windows let you have outstanding views. It is arranged as a big lounge area, with central seating naturally connected to cockpit. In the console to the front, big TV screen is hidden, this part of furniture is also dividing the main salon from the big dining area with table for ten people.
Behind the bulkhead large galley is hidden with separated access for crew, while the front part of the main deck is reserved for the Owner. Master stateroom also has 'glassy' look due to the vertical extension of side windows, all the way to the floor, this cabin is full of natural light and enjoys unparalleled views. Below deck, there are four cabins, two geminis in the bow with twin beds, and two king side bed Gemini cabins in the stern.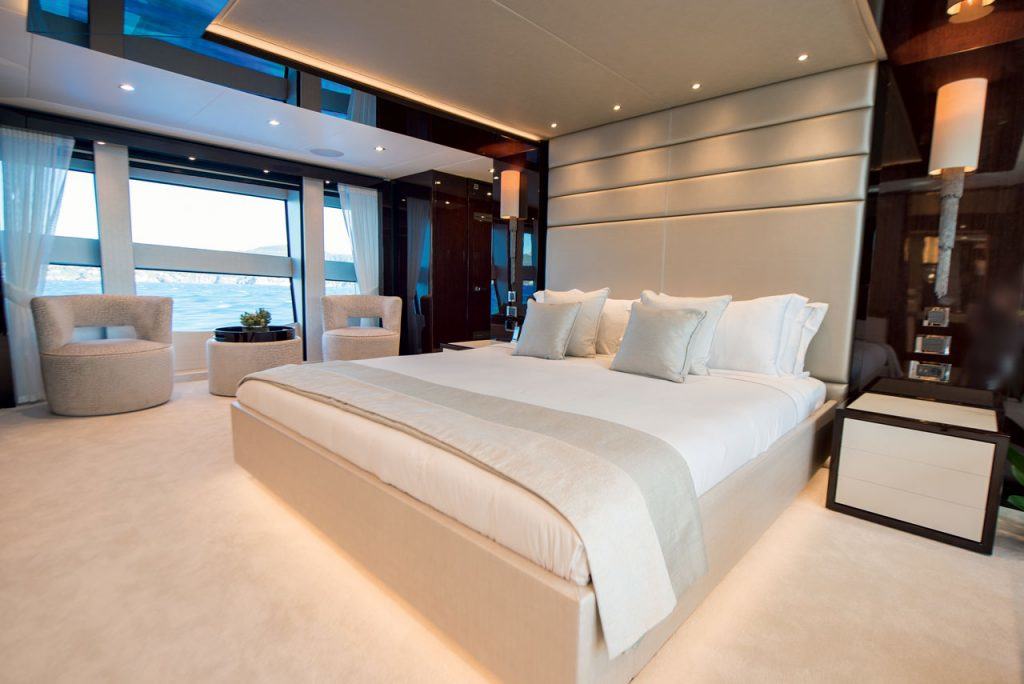 The twins can be joined together, so you can have all the cabins with king side beds. On the upper deck, we find spacious bridge with Captain's cabin at the aft, we really like this solution – happy Captain, happy yacht. On the stern part of the upper deck there is a (second) lounge area for the guests and large deck with another dining table. This area is quite big and open with a nice sofa at the back. Maybe more attractive place to enjoy sun would be the bow, where there is a sun pad, located just in front of the bridge.
Sunseeker's superyacht range
You will enjoy full privacy if you go to sun deck where you will find a Jacuzzi and a plenty of space to enjoy dinners 'al fresco' or organize parties. The spacious garage can accommodate a tender of up to 6 metres in length plus two PWCs. Another interesting feature is hull shape. Based on the classic Sunseeker deep V hull, this large tri-deck yacht is equally comfortable operating at 10 knots for an extended cruising range of 1,500 nautical miles or at 23 knots for ultimate performance.
Build time for each new Sunseeker 131 Yacht is also attractive, it is around one year, with capacity in place to have up to five yachts in build simultaneously. As this is pure breaded tri-deck yacht, you will always have a suitable space, to read a book, have cocktails in the sun or organize a business meeting.
With her, Sunseeker has once more proved to be in the top of the game for large yachts, with many competitors looking at their wake. The Sunseeker 131 Yacht will be exhibited during the Cannes and Monaco Boat Show 2016., when public will have a chance to view this magnificent piece of work carried by boat builders form Pool.