Next-generation Sunseeker Predator 75 boasts a captivating Shadow Grey Gelcoat and elegant Jet Black detailing on its exterior. The iconic coupé-style hardtop, coamings, and air intakes are finished in LSA black paint, giving this already aggressive yacht a sleek and powerful profile.
At the heart of the Sunseeker Predator 75, you'll find twin MAN V12-1900 engines, delivering outstanding performance. This yacht is built for extended journeys, capable of reaching top speeds of 40 knots. The latest addition to the Sunseeker Predator range is equipped with a hydraulic bow and stern thruster, ensuring a remarkably smooth on-water experience, whether you're anchored in a tranquil bay or cruising at high speeds.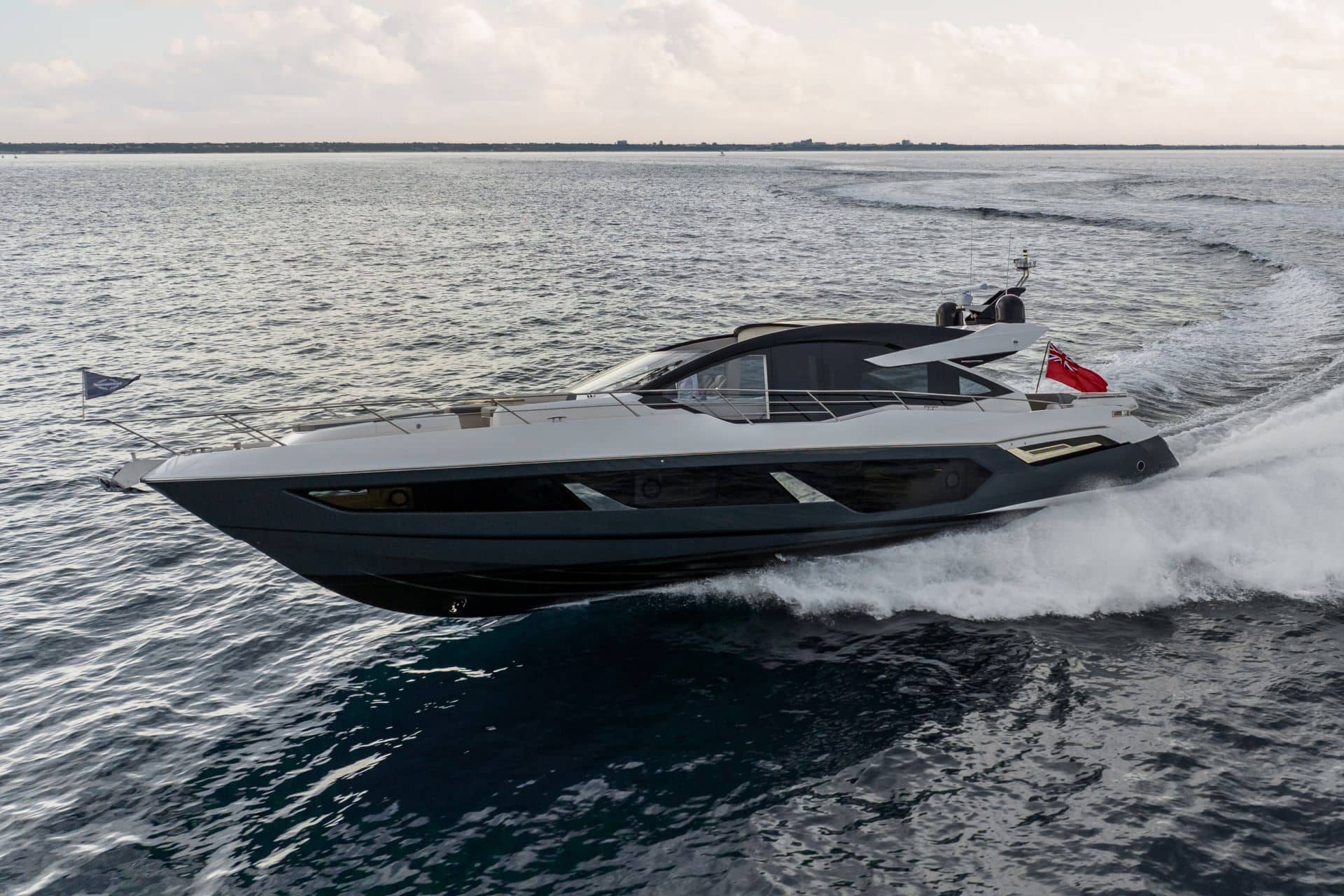 In the aft cockpit, a second station is thoughtfully positioned on the port side, complete with engine throttles, stop/start controls, and thruster management. This design enhances visibility during docking and maneuvering, providing precise and responsive handling even in tight spaces, ultimately making marina navigation safer and more efficient.
The Sunseeker Predator 75 is purposefully designed to host unforgettable gatherings. Its cockpit is brimming with features crafted specifically for entertainment and socializing. A sleek carbon fiber table takes center stage, boasting a folding top supported by polished stainless steel synchronized electric legs. This spacious setup creates an inviting focal point for up to eight guests.
Additionally, a convenient electric BBQ grill and an 80-liter refrigerator in the cockpit offer the ultimate outdoor dining experience on the open seas.
YACHT SUGGESTION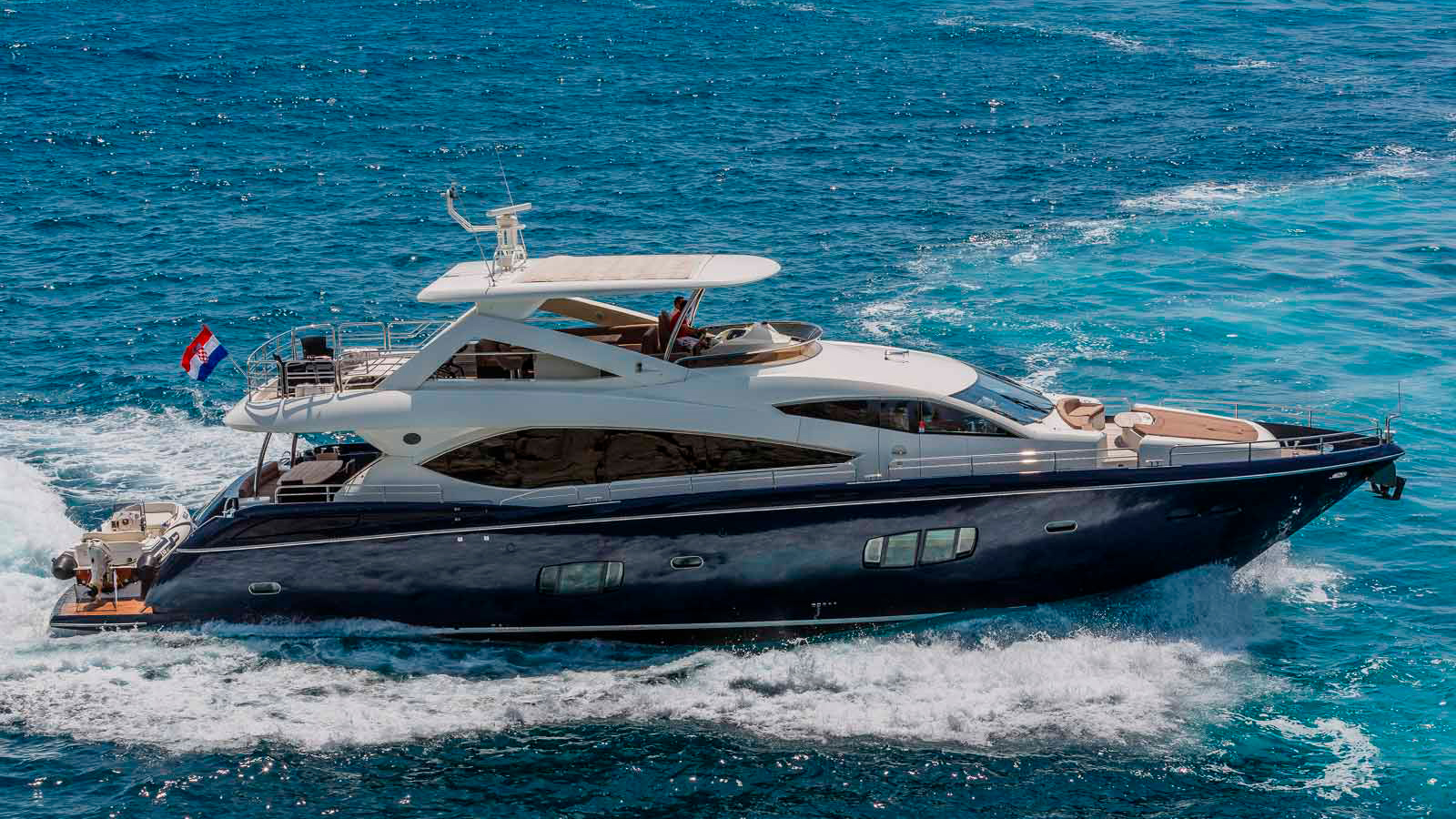 Always a winner with a Sunseeker. Cleverly thought out layout, sunbathing areas, social areas, shaded areas and calm in the cabins, something for everyone.
Heading up to the foredeck, you'll discover a space designed for socializing, featuring a table with a canopy and comfortable seating. Further forward, the sunpad offers folding backrests and comfortable sunbathing cushions.
Inside the welcoming expanse of the saloon, style and functionality seamlessly converge. The cockpit door slides to starboard, and then the door and window descend beneath the seating, seamlessly connecting the cockpit with the saloon.
The sophisticated helm console features a state-of-the-art steer-by-wire autopilot system for precise navigation, while dual 16-inch displays provide comprehensive and real-time navigational data. The Sunseeker Cm8 power management and boat monitoring system ensure seamless control over the yacht's onboard systems, offering convenience and peace of mind.
The lower deck offers sleeping accommodations for up to eight guests and two crew members in three well-appointed guest cabins. The full-beam owner's cabin features a dressing table with ample storage, an en-suite bathroom, and a walk-in wardrobe.
The Sunseeker Predator 75 is a true marvel of performance, design, and entertainment. With its powerful engines, well-crafted social spaces, and luxurious accommodations, this yacht promises an unforgettable experience on the open water. Whether you're cruising at high speeds or enjoying a relaxing evening on board, the Predator 75 offers the perfect blend of style and functionality for those seeking the very best in yachting.
Photos Sunseeker International