No matter whether you want to add these water toys to your on-yacht playground, or use them alone, they will win you over with their stunning technology and creative approach to fun
Flying Mantis: Two Boats in One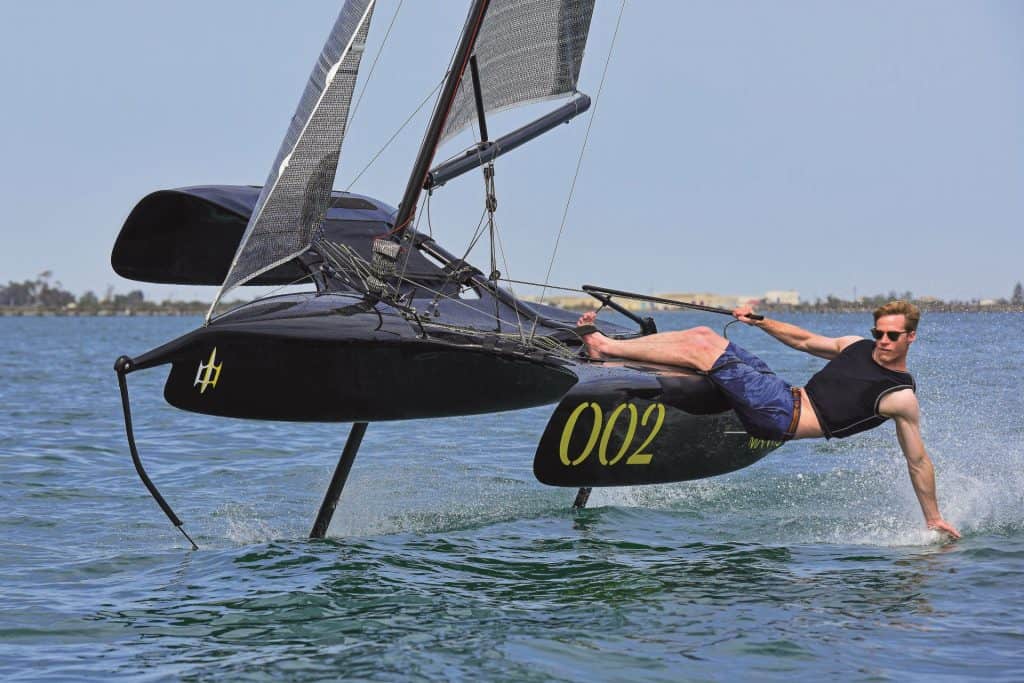 The Flying Mantis is an award-winning dinghy from the UK and the world's first 'hybrid' foiling dinghy. She can be sailed either in conventional mode, with a daggerboard and lift-up rudder, or as a fast foiling boat, set up in a professional Moth configuration with two T foils. This is a unique high performance boat that everyone can enjoy. It is all-carbon, weighing under 90 kg when fully rigged, and is hand-built to the very highest standards of materials and finish.
The trimaran configuration means the boat is stable and forgiving, even when foiling. Simon Chrispin, the owner of the company, wanted to create a high-performance boat that would deliver a great time on the water to any level of sailor. The result is a beautiful, all-carbon performance dinghy that stands out and draws attention wherever she goes. Even in foiling mode the boat can be set up for beginner or expert levels. The outriggers come off easily for storage, but the boat can be taken on the road with the hulls fully assembled.
U-Boat Worx Nemo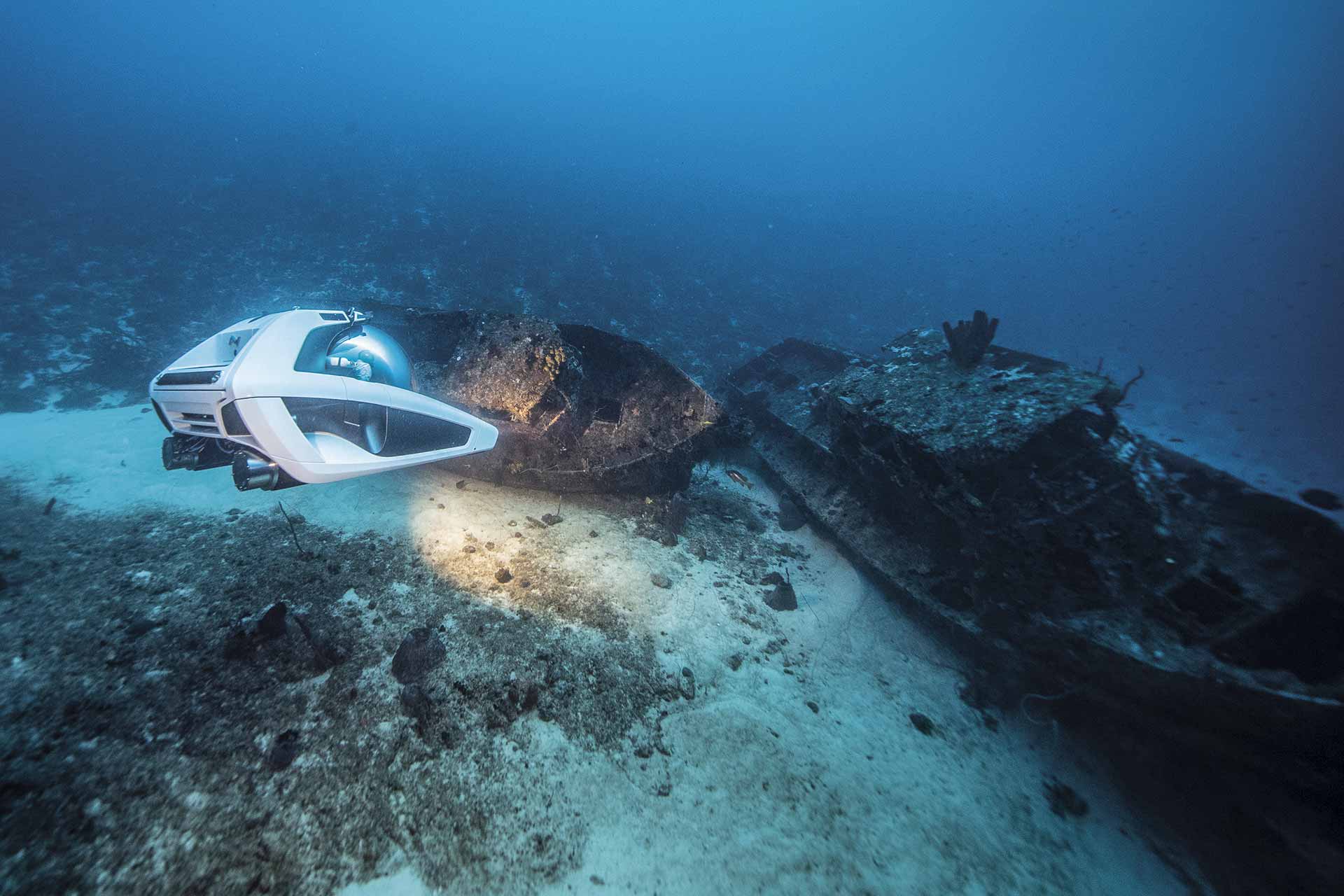 The NEMOs are the only private serial produced submarines in the world. Their lightweight and compact credentials create a turnkey solution ideally suited to yachts of all sizes. Both NEMO 1 and 2 feature U-Boat Worx' signature seamless acrylic spherical viewport, battery-powered electrical propulsion, a multitude of safety systems, air-conditioning and certification by world-renowned classification society DNV. On taking delivery of their NEMO, owners have the choice to undergo pilot training at U-Boat Worx' Sub Center Curaçao.
Seabob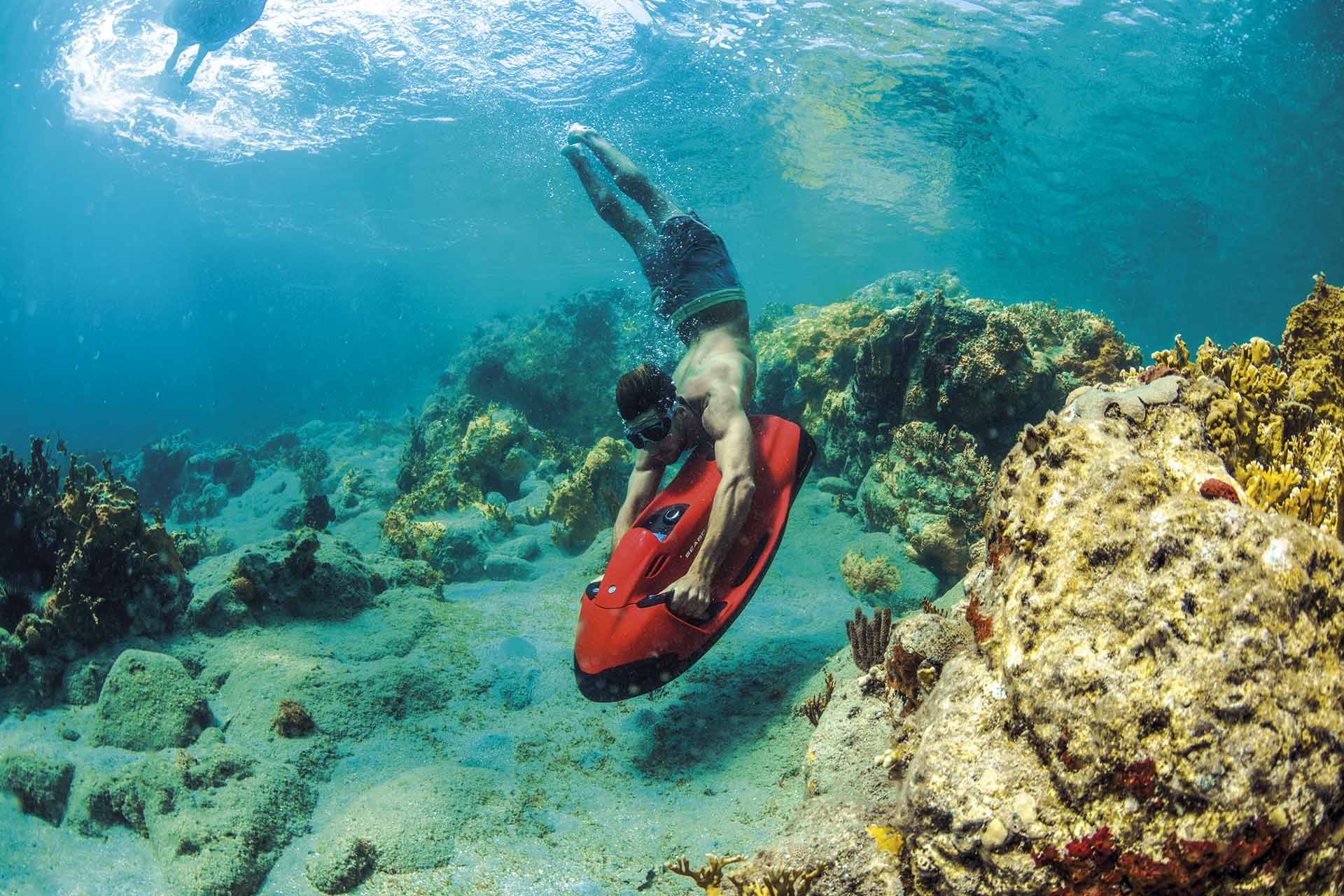 This water scooter powered by an electric engine allows diving down to 40 meters and promises unforgettable fun up to 22 knots of speed. Available in three versions, designed to adhere to highest safety standards and easy enough even for children to use, Seabob charges in just 90 minutes. All of this and more makes Seabob one of the most interesting water toys of the moment and a must-have on every yacht.
Lampuga: Surfboard With Remarkable Power, Speed & Stability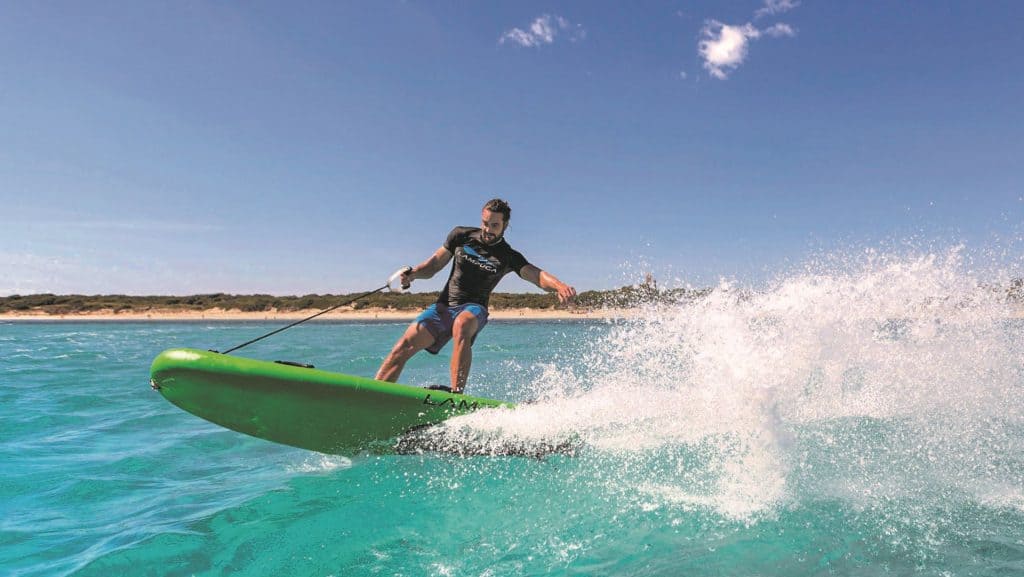 The inflatable jetboard from Lampuga offers effortless water fun and is enjoyable for all riders, regardless of experience level. The powered surfboards are controlled using a hand-held remote control and are manoeuvred using weight transfer. The boards are easy-to-use and enable riders to experience the thrill of surfing, regardless of wind and waves.
The Lampuga Air is easy to ride due to the volume of 200 litres at a length of 230 cm and a width of 75 cm. You can stand up with almost no speed. The battery lasts up to 45 minutes and can be re-charged in 120 minutes. The 14 horsepower (10 kW) engine is good for speeds up to 50 km/h. The weight is about 50 kg which includes the 25 kg battery. The premium dealer for the Lampuga in the Adriatic region is MennYacht.
Radinn: Pushing the Boundaries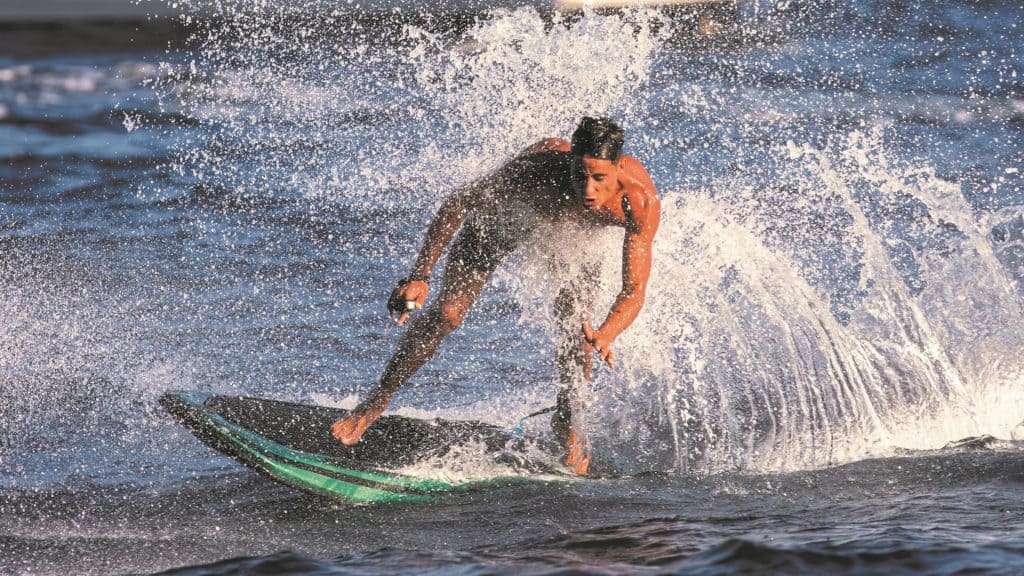 Fusing the thrills of both motor and water sports, jetboarding is the new big player when it comes to action sports. At Radinn they took the breathtaking experience of freedom that a surfboard can give and infused the electrifying adrenaline rush that only motor sports evoke. Due to a truly unique design, their electric jetboard Freeride makes it really easy for first timers to feel the thrill that comes with standing on a jetboard.
At the same time it offers endless challenges and possibilities for intermediate to advanced riders. When you configure your Radinn jetboard you can first choose bord type, then you choose between the Intermediate and the PRO jetpacks, long range or standard battery and extras like carbon fibre handles or speed charger.
Lift eFoil: Flight Above the Water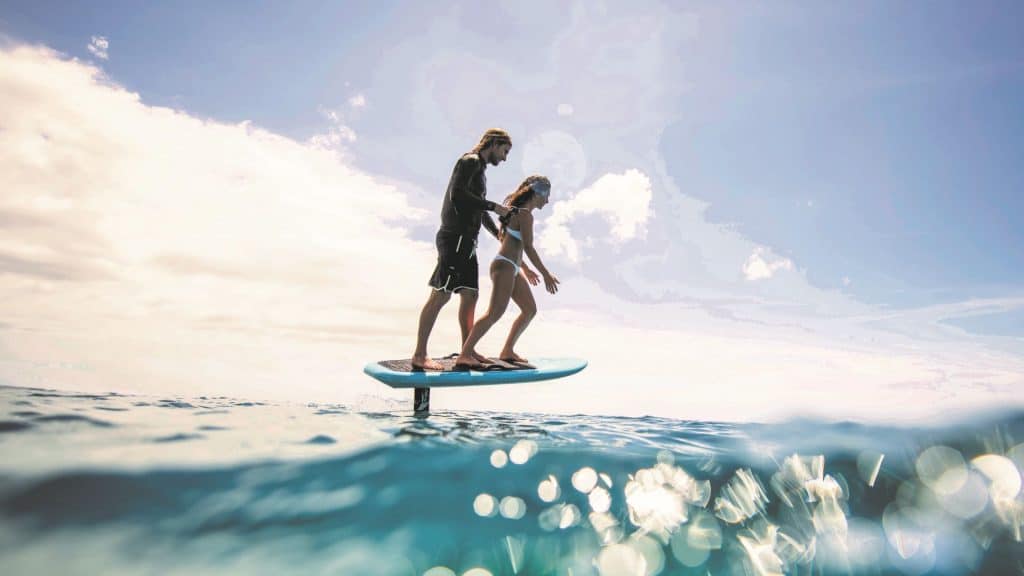 Combining the modern technology of electric vehicles with a decade of hydrofoil design and expertise; the result is an elegant and sophisticated ride. The eFoil is rugged, waterproof, and fully submersible. It uses an advanced lithium-ion battery to power a silent electric motor that's mounted on an all-carbon fiber hydrofoil, all controlled with a wireless Bluetooth hand controller. Riders can fly for over an hour at speeds of up to 25 mph, depending on rider weight and speed.
It takes less than 2 hours to fully charge and it can be easily interchanged and recharged. Although, it is designed for everyone from total beginners looking for a fun and safe experience to top athletes who are seeking their next thrill, eFoil is generally recommend for riders ages 16 and up, who weigh less than 113 kg.
Subwing: The next big thing in towable watersports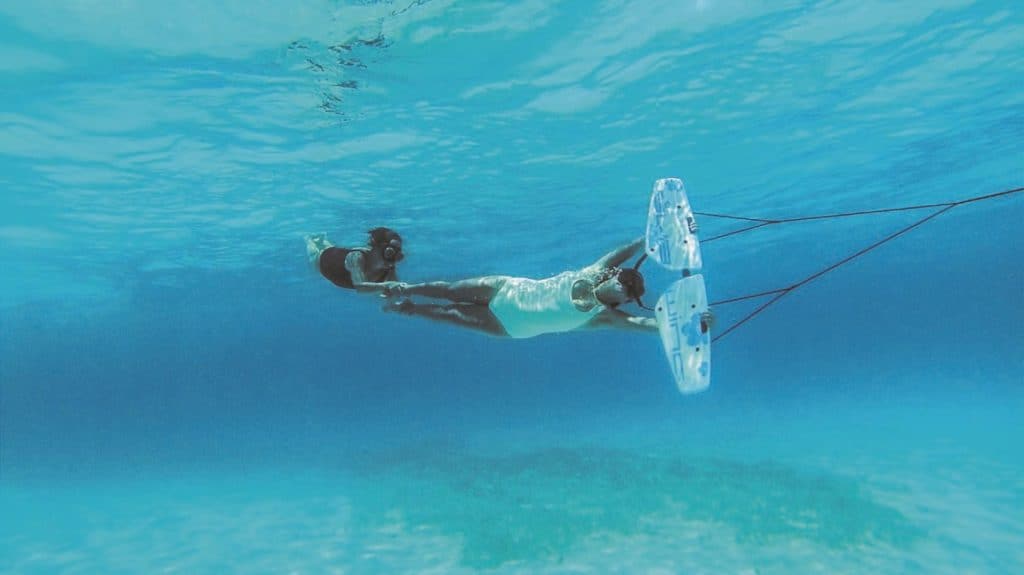 The Subwing is a new, towable underwater sport suitable for all water enthusiasts. It's fun for children and adults alike and requires no particular skills apart from being comfortable in open water. All you need to get started is a Subwing, a tow rope, diving mask and of course a motorized boat. Once up and running, you'll be able to experience the wonders of flying underwater. You'll be gliding effortlessly through the water and performing thrilling underwater acrobatics while exploring the underwater scenery.
Who knows – you might even discover a sunken treasure or bump into a pack of curious dolphins. You can also capture your entire aquatic journey with a GoPro mount attached to your Subwing and share your underwater experience with friends and family. The Subwing watersports toy lets you explore the marine world like never before.
Wokart: Go-Kart of the Sea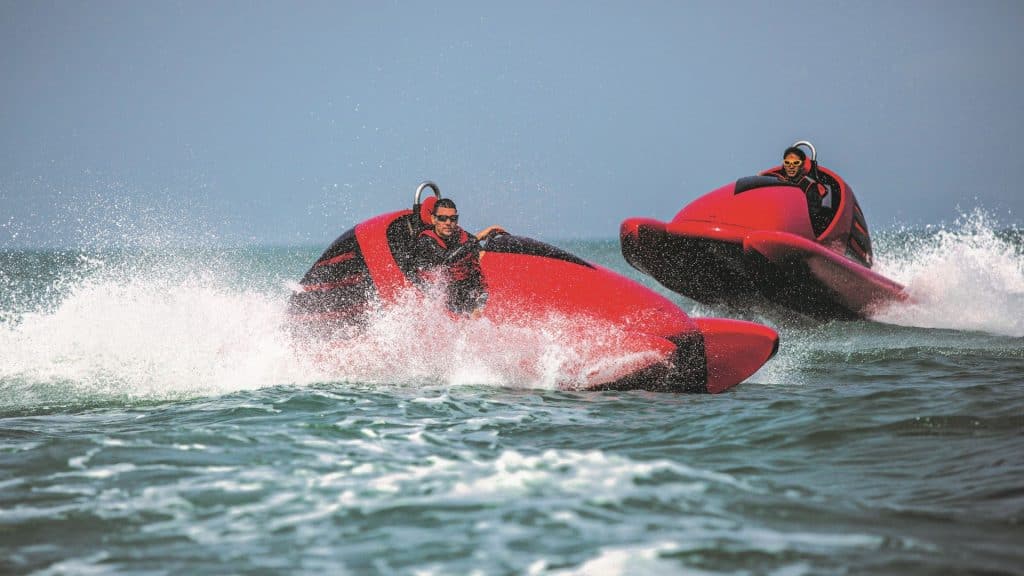 The Wokart is a featherweight asymmetric catamaran powered by a centrally-located 70 hp outboard motor, giving it similar performance and handling characteristics to a go-kart on the water. Its top speed is beyond 40. Foot throttle controls, adjustable seats, exceptional acceleration and class-leading high speed 90 degree turns make for the most responsive, fast, fun and agile car-like nautical experience you can buy.
The watercraft is handbuilt using the highest quality materials and its curvilinear design creates a strong monocoque structure that exceeds industry norms many times. Wokart stays safe and stable, even in choppy seas, without battering your spine since the centrally located outboard motor naturally acts as a rather welcome shock absorber.
Hammocraft: The Most Blissful Experience on Water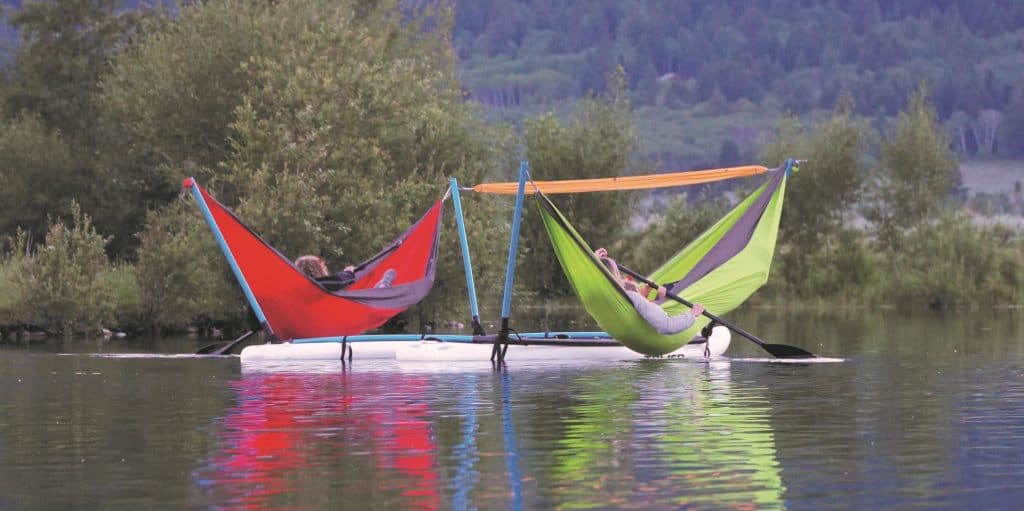 The Hammocraft features a high-quality aluminum and stainless steel frame, quick connections for easy setup and takedown, and a set of straps for attaching the frame to your floatable of choice. The Hammoframe is designed to sling up to five hammocks atop paddle boards, river rafts, even dry land – essentially wherever or whatever you dream up as a hammock dock. The Hammocraft frame has been tested and to hold 545 kg in (four) hammocks.
While the aluminum supports flex under weight, they straighten like a spring when the weight is released. It is recommended a maximum of 363 kg to hang at one time in the Hammocraft. The Hammocraft takes about five minutes to set up. It's as easy as strapping your paddle boards onto a roof rack. The frame assembles using simple push button connectors, and folds up into a ski bag for easy transport.
Platypus: Sail and Dive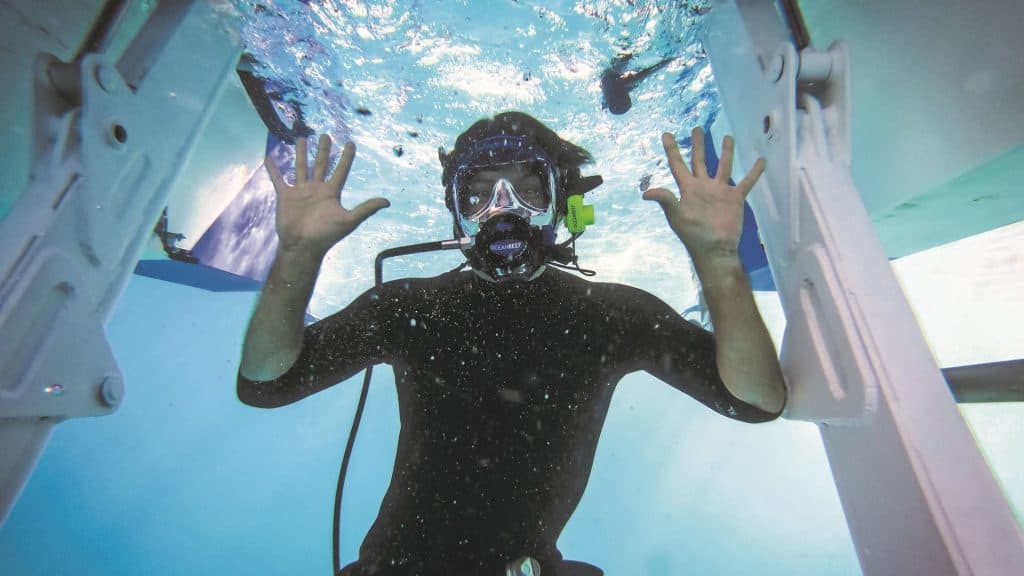 The Platypus Craft is a diving boat, an innovative marine product able to navigate at the surface or under the water, transporting the pilot and four passengers at 20 knots and exploring the shallow waters in a few seconds. She can navigate underwater for hours, no constraint, no time limit, just enjoy the dive! This totally new concept is the first boat of her kind – gathering several innovations and specificities, a central hull able to go up and down, a digital periscop to allow the pilot to watch surface while underwater or the hookah system for breathing.
The Platypus Craft is the perfect balance between a tender and a toy which is able to transport passengers with all the prestige required by a tender at the surface from the marina to the yacht and allows its guests in just one click to discover the beauty of the shallow waters without any constraint at all.
Text Ivana Nedoklan
Photos & videos Flying Mantis, Lampuga, Radinn, Lift Foils, Subwing, Wokart, Hammocraft, Platypus