Diving is the best way to experience sea, feel it, comprehend it and plunge into it, alternatively immerse in your soul
The credit for successful Croatian tourism goes to our indented coastline, sea, people, nature… In case it is essential to define the list of priorities, the number one is definitely the sea. Maybe Adriatic does not belong to the most transparent or the warmest ones, nor the calmest, yet it features one key element – the balance. For this reason, it is possible to enjoy it by swimming, sailing, fishing, diving, etc.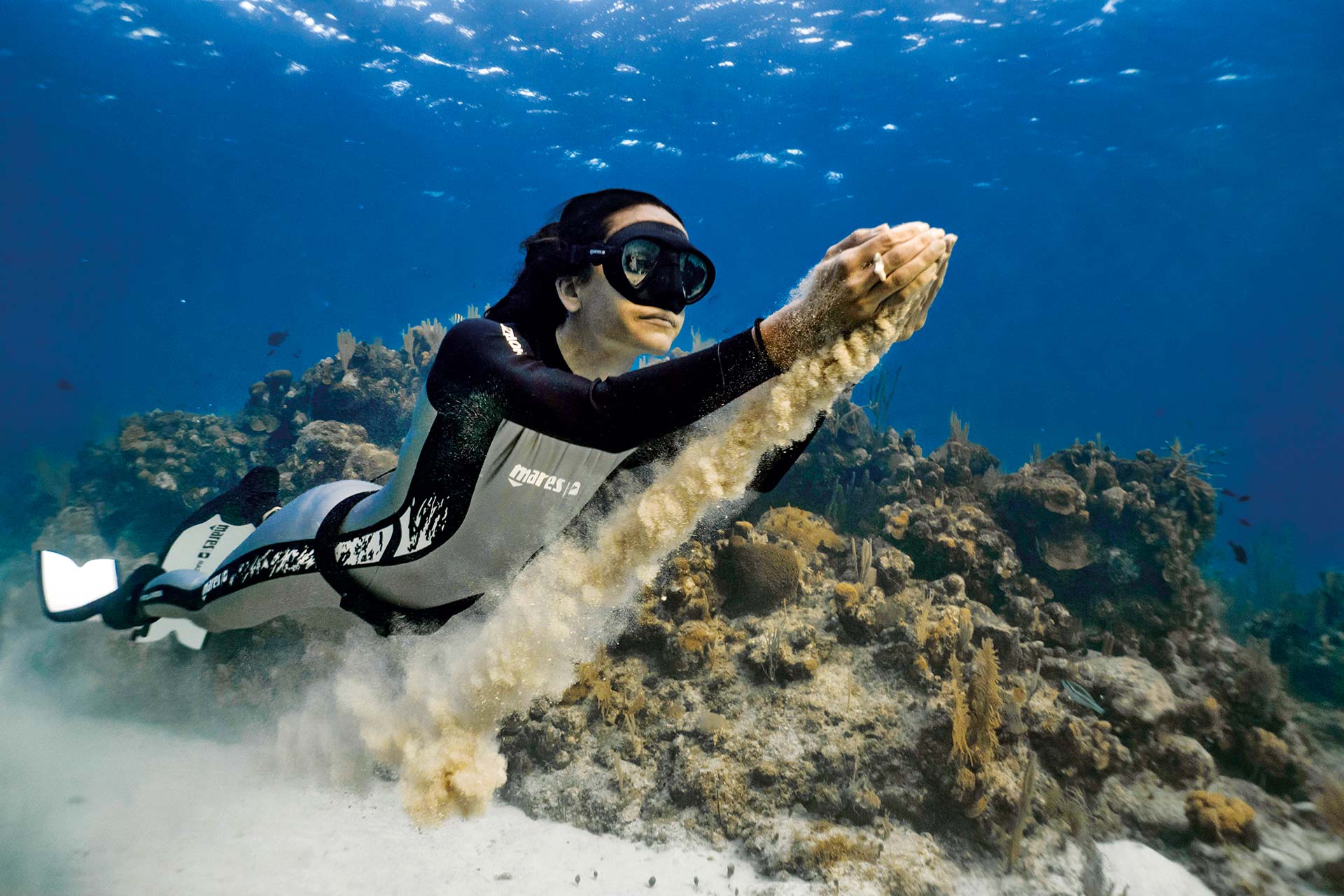 The Adriatic Sea has a few more advantages. One of these is safety. The danger of strong currents is low, being the case in the oceans, there are no big predators, we rarely have situations of hazards due to big waves, and the probability your life might be in danger due to cnidarians or poisonous fish is scarce. The pleasures of the Adriatic by sailing along the coastline, hidden nooks, gastronomy, history, all these topics have been covered and described so far, but the most beautiful part of it, the one hiding under the surface still remains undiscovered.
Diving, an activity available to everyone
Snorkeling is practically a free of charges activity, available to all ages and a very simple one. All you need is a scuba mask, a snorkel and flippers. The mask should fit your face perfectly, not allowing any leaking and fogging, snugly fit fins, just add a snorkel and you are all set. A lycra T-shirt, a rash guard or a diving suit are welcome as a sun protection helping you stay warm as well.
Snorkeling includes swimming on the surface and does not involve dives. As soon as you start diving, snorkeling stops and free-diving begins. Just one plunge into the blue leaves you mesmerized by the colours and shapes playfully exchanging while looking towards the sea floor.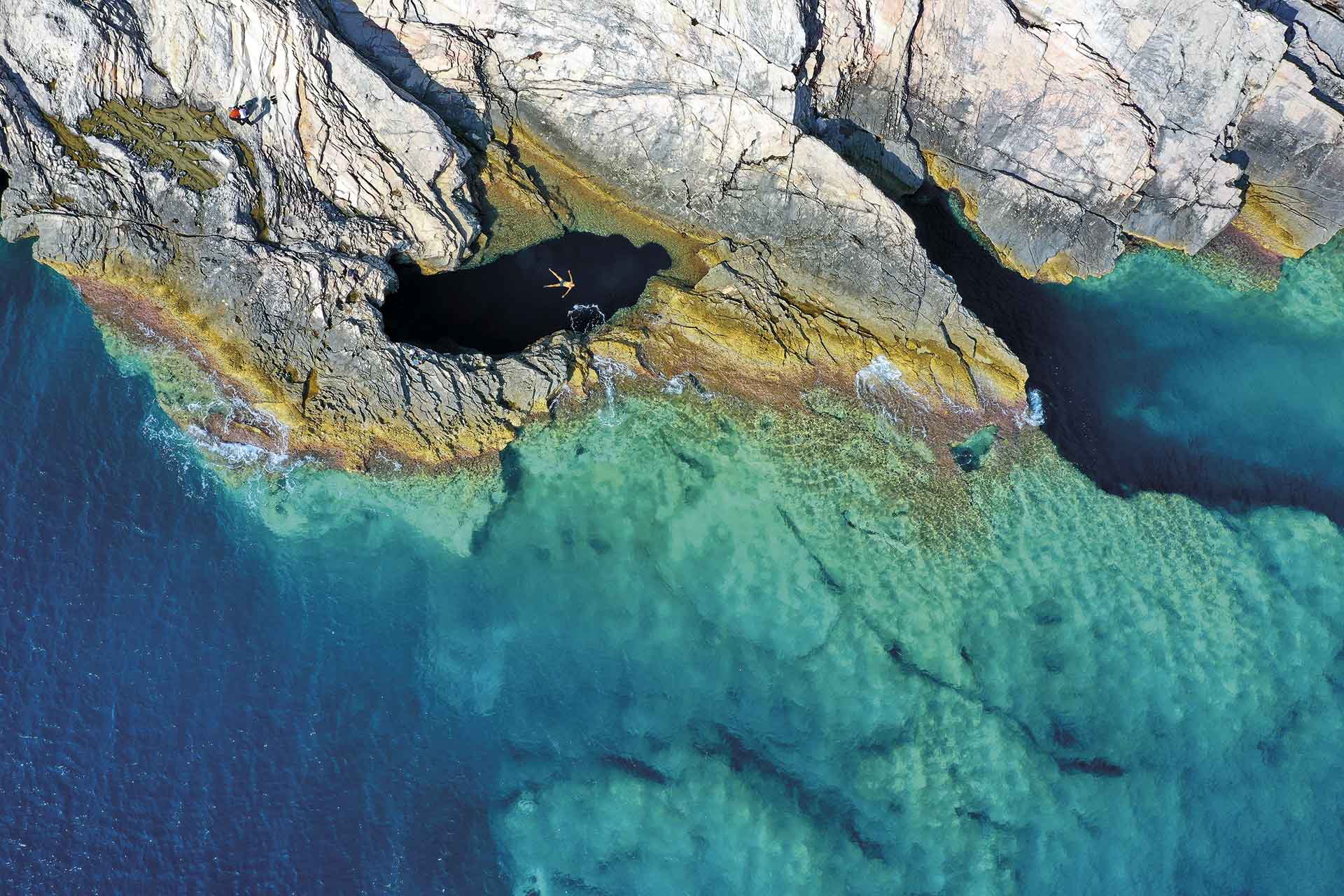 Adriatic is home to 6.000 plants and 7.000 registered animal species as a result of geological, climate and biological influences that have been shaping the sea in the past ten million years. As opposed to the tropical sea, the Adriatic Sea is not that rich in colours and life but represents a world of its own worth discovering.
Marine wonders, transparent shallow waters, shipwrecks, caves or simply the underwater wildlife, are some of the inspirations you might be attracted by. In addition, we wish to present a short guide of the sites convenient for the underwater explorations, from the shipwrecks to underwater safari and caves, to make a long story short, a pick for everyone.
Diving in Croatia
Dugi Otok and the unique Telašćica
The North Dalmatian island is part of the Zadar archipelago and home to the beautiful Telašćica Nature Park, and its bays, beaches, and, of course, Telašćica as the largest and safest bay in the Adriatic, offer numerous snorkeling opportunities, from cliffs near the Veli Rat lighthouse, the wreck of Michele, Mežanj Island, to Brbiščica cave on the west coast of the island. In Telašćica Bay itself, there are 250 animal and 300 plant species, from jellyfish, starfish, crabs, and good dolphins who still like to come to this bay and delight swimmers and sailors.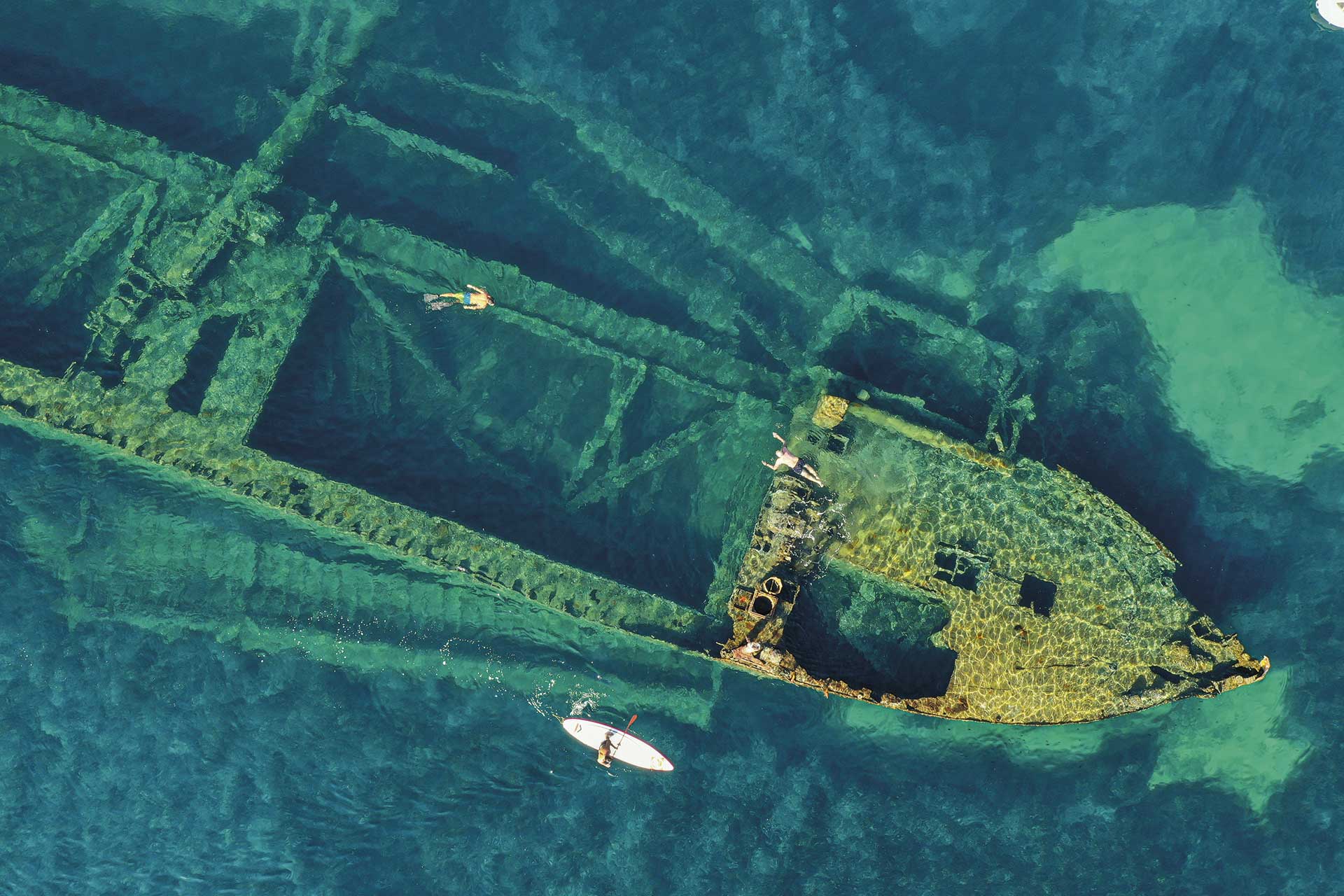 In the north, in the bay of Široka on Premuda, there is one of the most famous locations, an underwater cavern called the Cathedral. However, for more in-depth exploration, it is necessary to dive with tanks and a guide. But south of Dugi Otok, the scattered Kornati islands will greet you with an abundance of underwater life, incomparable to any location on the Adriatic, due to the protection laws of national parks.
Pakleni Islands
Not far from Hvar, this small paradise of almost twenty Pakleni Islands hides, with their beautiful morphology continuing directly into the crystal-clear underwater world. This world-famous archipelago has been rightfully declared a natural monument. No wonder that since prehistoric times, sailors have settled here, and the underwater world hides not only the ancient remains of ships but also infrastructure. Next to the most famous location, Kampanel Rock, which rises from 46 meters of depth to about ten meters below the surface near Veli Vodnjak, there is an interesting Sika made up of several vertical rocks rising from the seabed to the surface.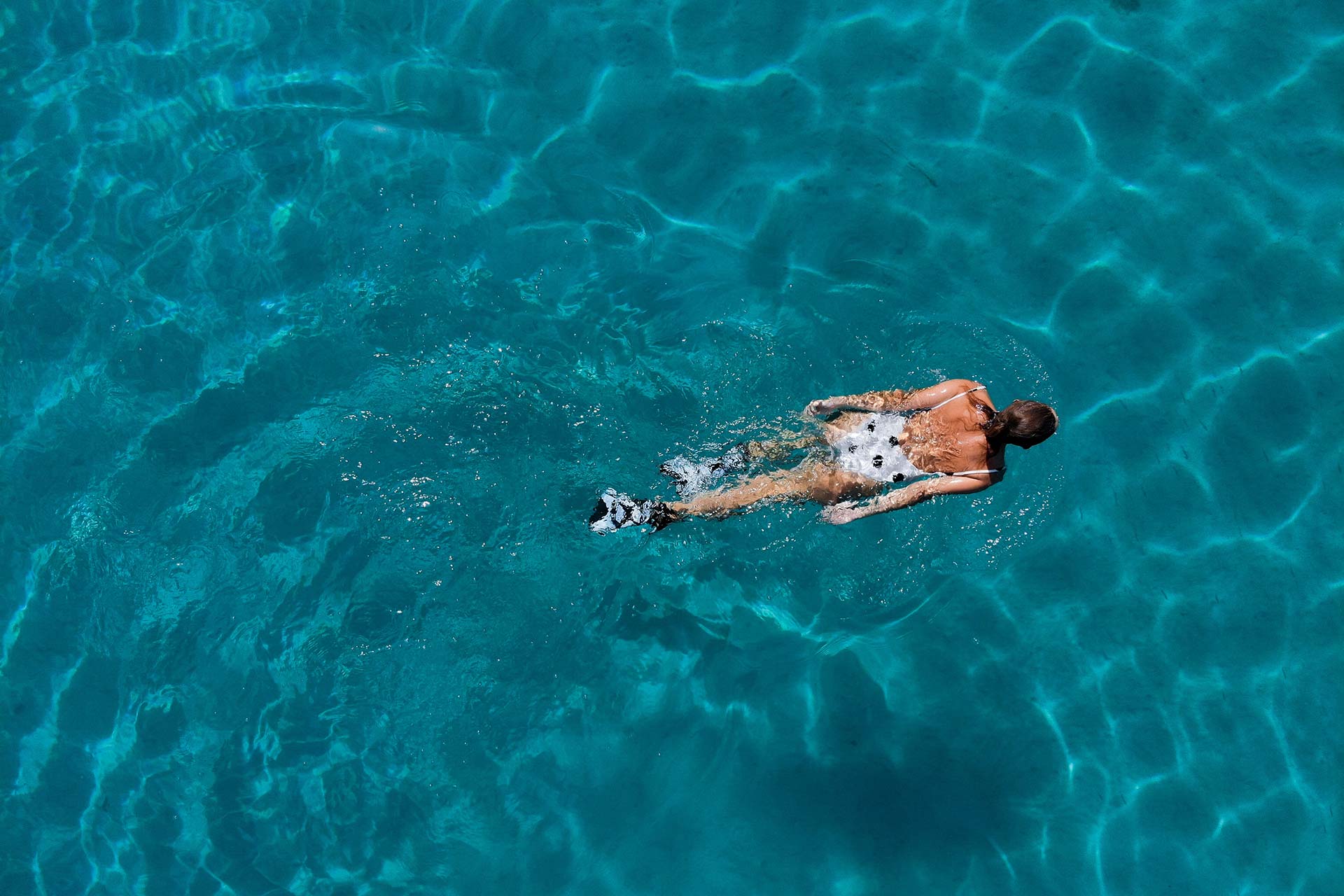 At the tip of Hvar, known as Cape Pelegrin, or further south, there is Vela Garška with an underwater cave 30 meters long and an entrance at a depth of only five meters. However, the most beautiful thing about these heavenly islands is that in almost every bay when you jump into the water from a boat, whether on Paržanj, Dobri Otok, Marinkovac, or the largest St. Clement, you will discover a limestone wealth in which numerous fish and crabs have found their habitat, from shellfish and octopuses to the queens of the underwater world, groupers.
Vis, the island of pirates, underwater walls and wrecks
With its strategic position, Vis has been a port of salvation for millennia as well as the cause of many conflicts, so it is not surprising that numerous sailors have found their final resting place in its underwater world. Therefore, whether it is snorkeling or scuba diving, natural beauty, or historical wrecks, Vis might be the best diving destination on the Adriatic.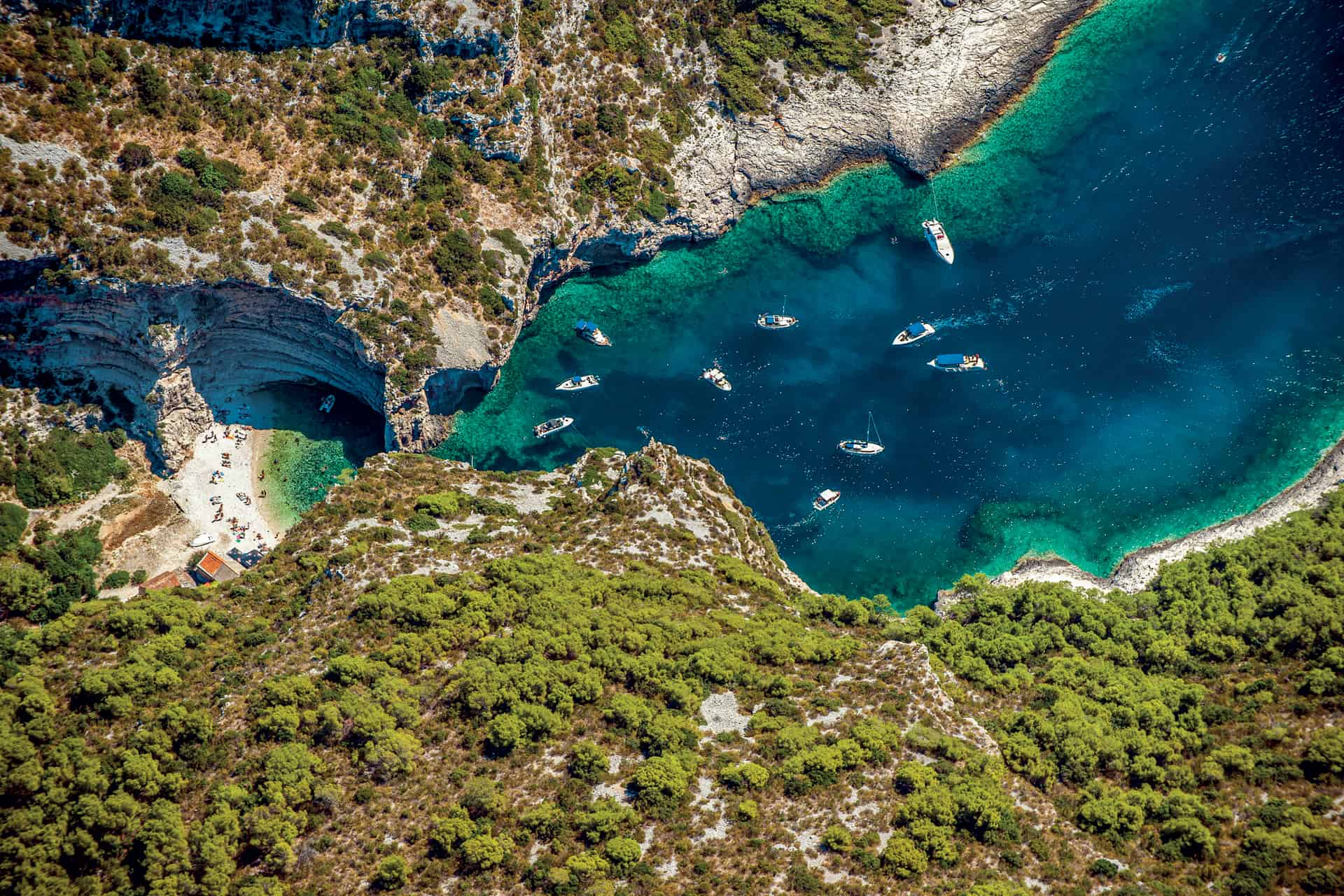 Stiniva and Srebrna are undoubtedly the two most popular snorkeling locations, as they offer safe anchorages and are relatively shallow and interesting. On the southern part of the island, the coast continues vertically into the sea, reaching depths of over 100 meters, and such walls often teem with life.
But a real treat for underwater photographers is the Green Cave on Ravnik Island, as the cave's vault with two entrances allows sunlight to create an almost surreal play of light, and only a fraction of what lies underwater is visible on the surface. On Biševo Island, the Blue Cave is more attractive, but at least in season, you won't swim there.
However, on the same island, look for Medvidina Cave in the bay on the south of the island and feel free to dive into the incredible ambiance, once inhabited by the Mediterranean monk seal. As the wrecks are far below the level of recreational snorkeling, look for professional guides in local diving centers and prepare for dives of a lifetime, from submerged steamboats to American bombers.
Sunken Secrets of Šolta
The island of Šolta, especially its southern side, hides unique and somewhat unexpected locations for anchoring with a boat, and its depths conceal numerous sunken secrets. For snorkeling, it is enough to anchor in front of Maslinica near the islet of Saskinja and circle the entire islet with a mask and snorkel, or swim to the nearby Polebrnjak. In Senjska Bay, there is also an underwater cave with an entrance at 10 meters, so without guidance and equipment, we do not recommend going further or deeper.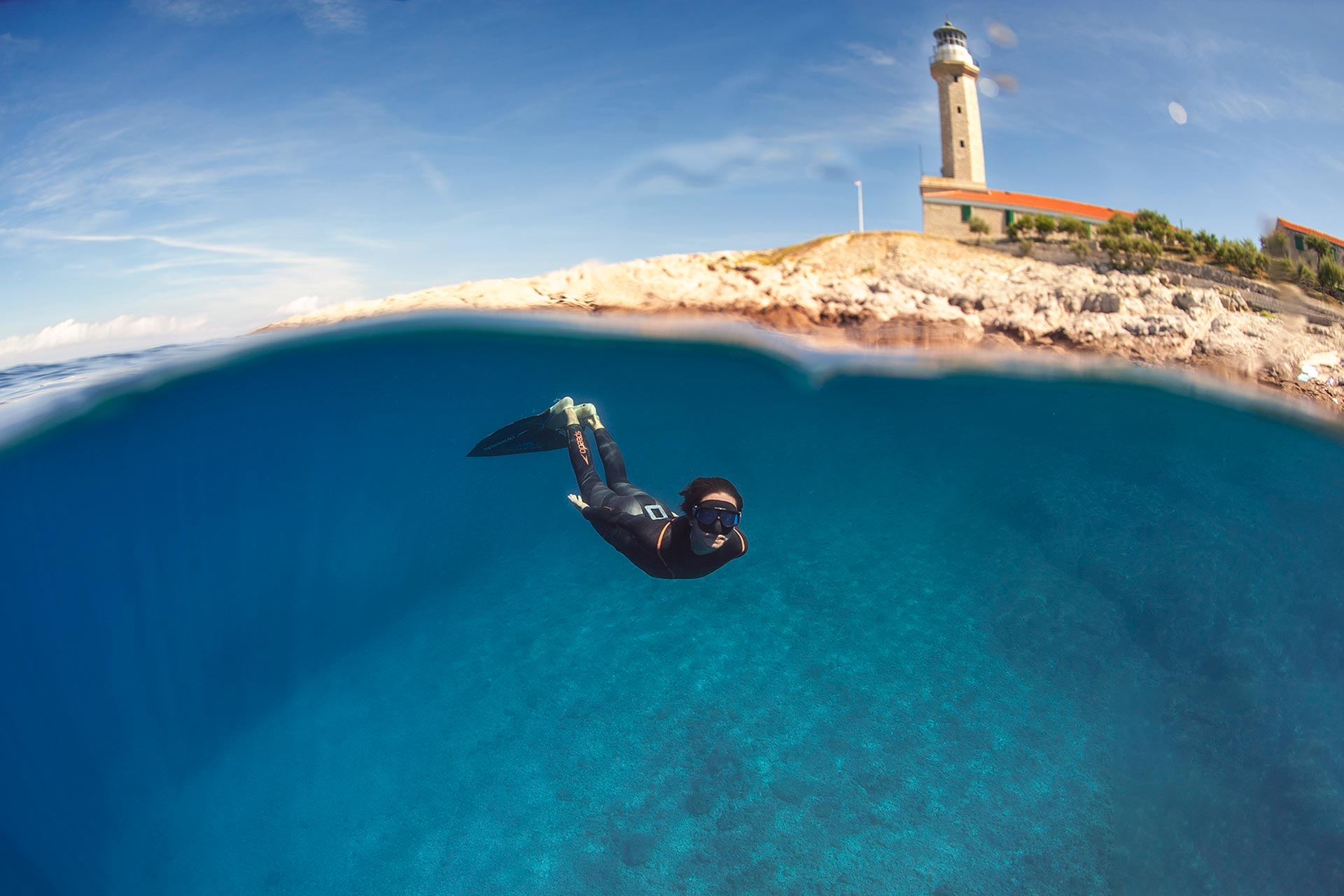 In the middle of Tatinja Bay, which is beautiful for anchoring and where you can even anchor without crowds in August, there is the Školjić Reef. Rowing or swimming to it, a visit to and diving on this reef, especially if accompanied by your little ones, is a sure candidate for a summer memory. If you are a fan of shipwrecks, in Potkamenice Bay, at the very bottom of the valley, just below the surface, lies a sunken ship, as well as south of Stomorska, where you can capture a shipwreck rich in marine life at a depth of 20 meters in crystal-clear water, perfect as a model for underwater photography.
Underwater gallery, two miles from Trogir
The city of Trogir, one of the most beautiful and smallest UNESCO pearl cities, is also an excellent starting point for either day trips or multi-day cruises. Not only because of the nautical infrastructure but also because of the proximity of a group of small islands and reefs on the way to Mali and Veli Drvenik, each of which is intriguing in its own way, while on the islet of Kludu, you can tie up at the end and, apart from diving, take a little walk.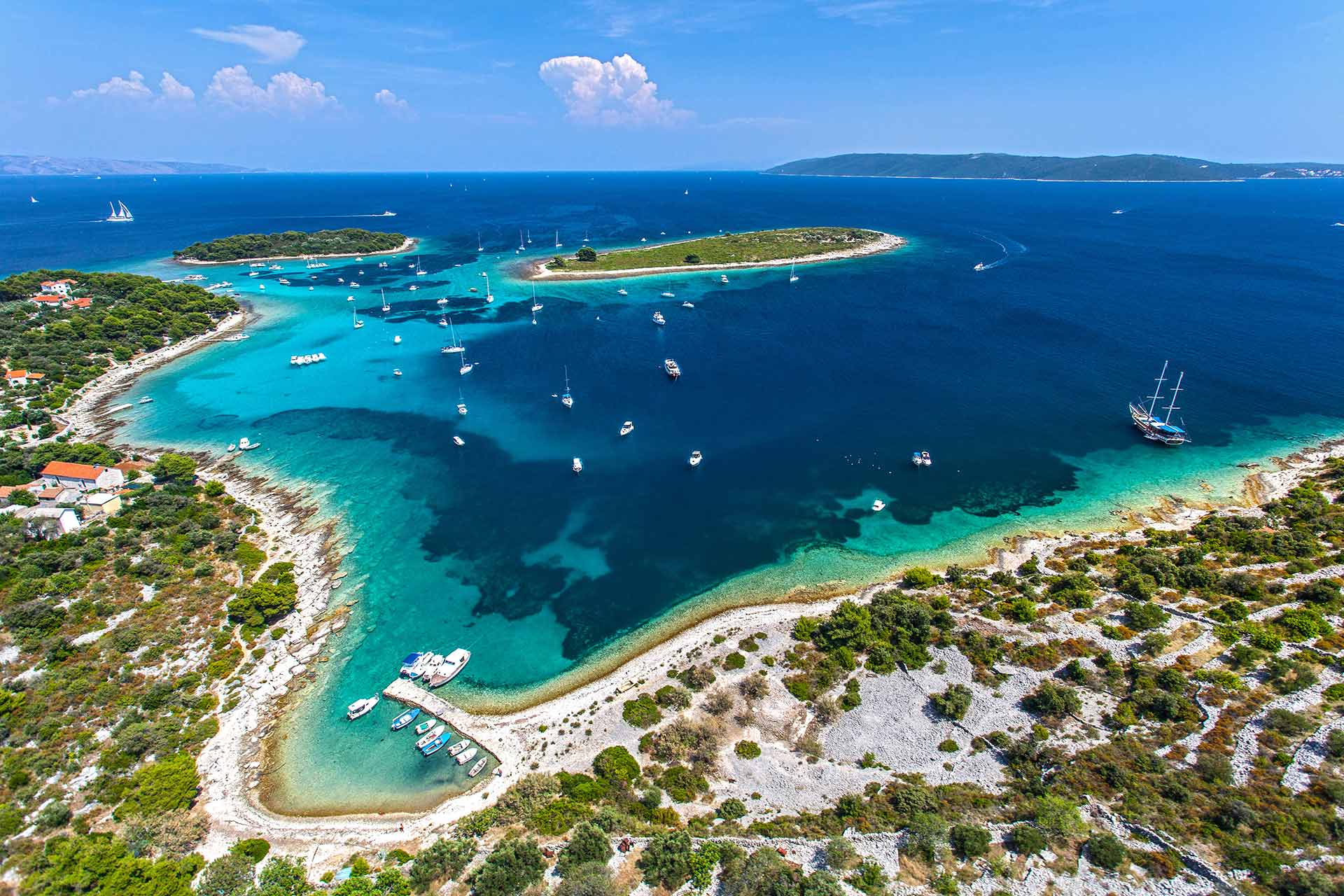 Veli Drvenik and Krknjaši Bay are interesting for diving but often occupied, while on Mali Drvenik, better known as Ploča, you can dive along beautiful sandy beaches and, most importantly, in peace, which will suit families whose children want to take their first steps in exploring the underwater world. A special attraction in this area is hidden in Jelinak Bay, west of Trogir, and could completely enchant you.
At a depth of four meters, 52 underwater statues have been installed, each hand-made, to tell the story of the Stations of the Cross, but underwater. So instead of walking in the sun, dive through the stations because we believe you will be captivated by the statues at the bottom of the sea.
Mali Drvenik
Not far from Veli Drvenik and the famous Krknjaši lies Mali Drvenik. Mainly popular due to its blue lagoon, ideal for underwater photography, this islet is a real challenge for diving as well. At shallow depths just a hundred meters from the shore, it is possible to observe interesting underwater landscapes with a high chance of encountering various fish species. The rugged underwater world will easily draw you into a long exploration of this fascinating islet.
Diving as a lifestyle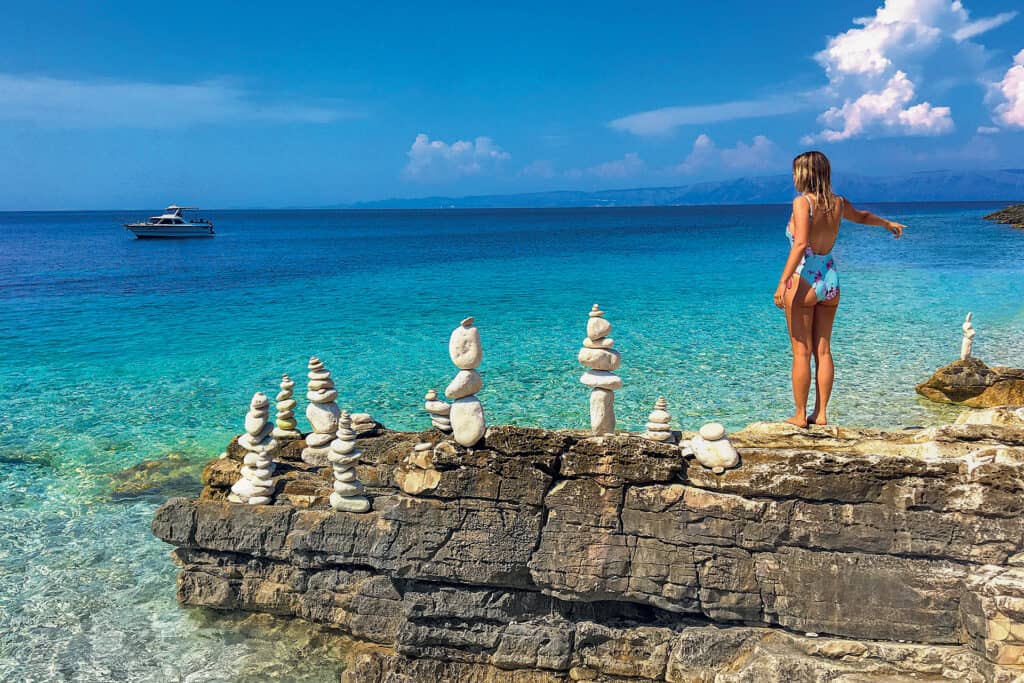 The southern side of the island of Hvar, Mali Krknjaš, Odysseus' cave on Mljet, Punta Križ on Cres, the southern side of Pašman Island, Proizd, Lastovo, and Elafiti are also places worth exploring from the other side of the surface.
If observing from the surface inspires you to dive deeper and experience the sea at another level, we suggest freediving. As with any outdoor sports activity, of course, there are certain rules best learned with the help of a freediving instructor to make the whole process even more enjoyable. With proper education, the Adriatic will then become your playground and literally leave you breathless.
Photos Vitomir Maričić, Mario Jelavić, Ivo Biočina & Boris Kačan