Combining hi-tec proven systems with imagination, flair and the construction experience that has delivered thousands of high quality yachts, Wider 150 Genesi represents not only shipyard's first significant launch, but a completely fresh outlook for the whole superyacht yachting sector
Ever since Wider first released the first conceptual renderings of their 150 project, we've been eagerly anticipating the opportunity to spend some time aboard her. For many, the fact the yacht includes as many complications as a piece of fine Swiss horology, the sophistication level for a debut superyacht from a new shipyard seemed like an overly ambitious undertaking.
Wider 150 Genesi design
How would the complete rearrangement of the GA work–given there is no traditional engine room and instead four variable speed generators are located in the bow and linked aft to pod propulsion with heavy electrical cables? How would this diesel electric propulsion system perform? With as many folding elements as a Swiss Army knife, was there a danger of over-complicating the engineering?
We're delighted to report that all these questions, and many more, have been answered emphatically and the Wider 150 Genesi exceeds the extremely highly levels of expectation that surrounded her.
Usually, allowances are made in our reviews on hull #1 in a new line, and even more leeway is given to new shipyards that commonly improve with experience, but with Wider 150 Genesi no such quarter was given or required.
Should we really have been surprised by the exacting precision and perfection of the fit and finish, the high quality nature of the build, the exceeding of projected performance figures and overall success of the design? Not really.
With Tilli Antonelli at the helm, working in tandem with long-time design collaborator Fulvio De Simoni, this was always a project that was in safe hands. Putting their experience and reputation on the line however, they tore up the yachting sector's traditional form books and, determined to create a new chapter, they started the Wider 150 project with a blank sheet of paper. Take her beach club for example, there is nothing that compares.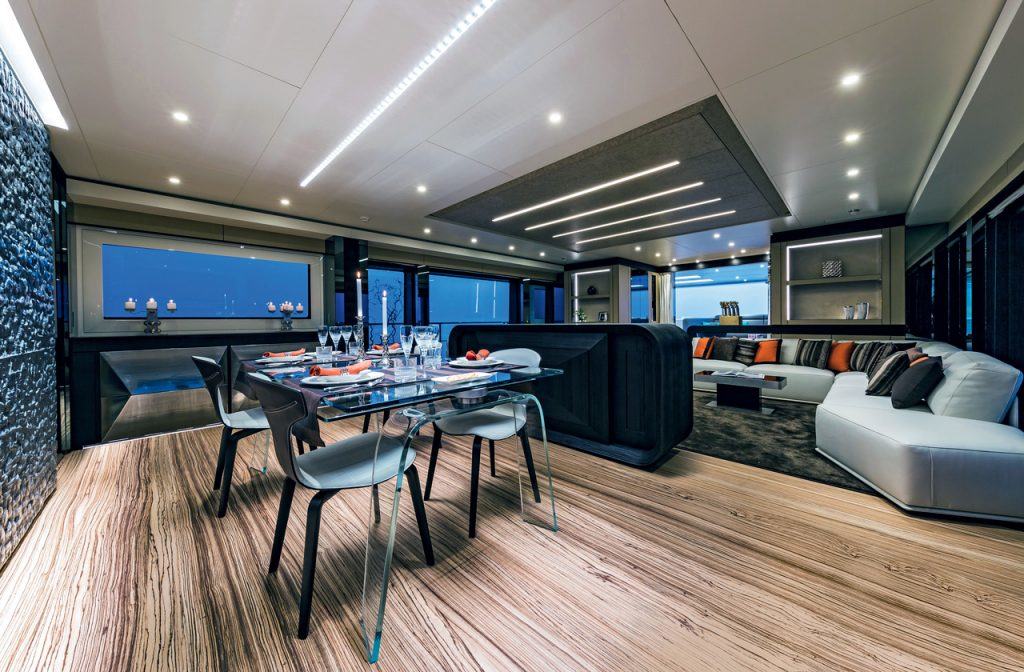 Accessible from with the cockpit or directly from the salon, one descends into an area that would usually be associated with a yacht of half her length again.
With lateral shell doors folding down to create a full walk-around platform around her stern, there's over-water lateral terraces to port and starboard large enough to accommodate freestanding sun loungers, plus a vast aft bathing platform that creates an impressive impression on those alighting the yachts' 32' tender.
With Genesi yacht Wider made no compromises
To launch the tender the transom plate is raised, but to create the huge bathing platform it is lowered–the differing operations requiring a double hinging system that involves locking pins for the articulation of this considerable piece of structure. The concept has previously appeared on yachts from Custom Line, but has never been previously attempted on a yacht of this size.
Again it is ambitious, successful and demonstrates that while pushing boundaries Wider also incorporate 'the tried and tested', optimizing the success of all system included in the yacht. Inside the tender garage Genesi yacht have again made no compromises. It is luxuriously dressed in stone and when the tender is deployed seawater fills the recess it occupied to create a jaw-dropping 'indoor' swimming pool.
During our sea trial the launch and recovery of the tender was demonstrated and while slick and undeniably impressive, operations will obviously be limited in unconducive sea conditions – as is true with all water-level garages. Rather than rest on their laurels of creating an innovative spectacle, Wider yacht have used the beach club to again demonstrate their attention to detail by ensuring the experience, safety and convenience of guests is optimized.
Where one would expect a variety of different levels given the complexity of the moving elements involved, decks have been kept flush to avoid tripping and the painful stubbing of toes. The swimming pool can be altered in length, with a 'dance floor' articulating out of the transom plate to cover the aft section when required–when this configuration is chosen a vertical insert is slotted in to prevent pool users sliding under the platform.
The cockpit and bridge deck aft terraces are generously proportioned
Even the metallic liner overhead, textured to reflect the shimmer of the sea, plays a role in transforming an already ingenious engineering accomplishment into a luxuriously hedonistic grotto.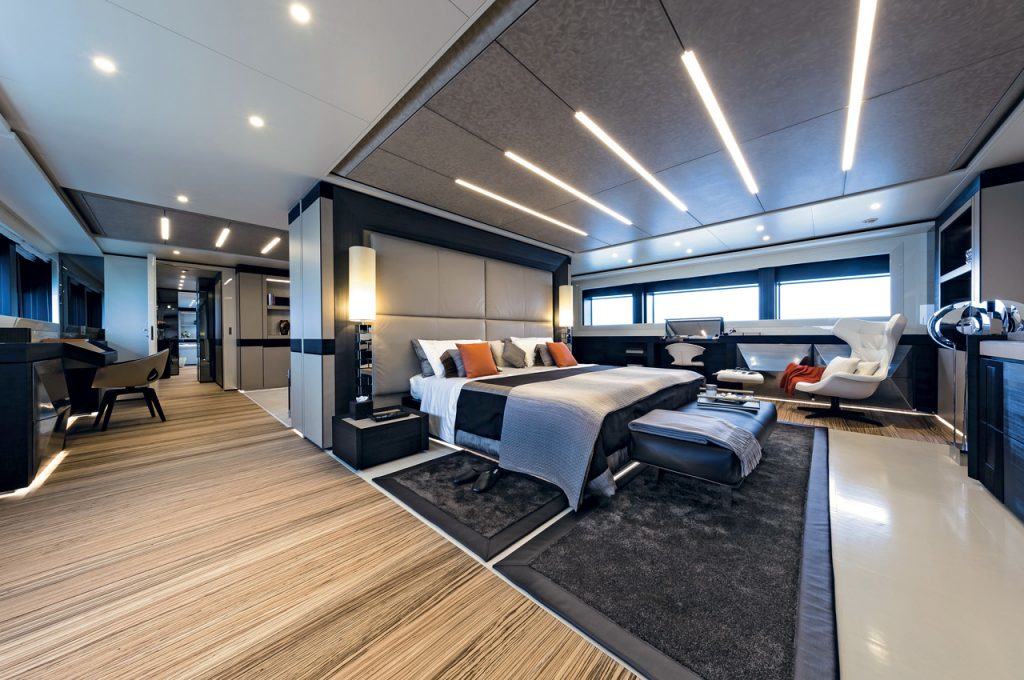 Whether used as a beach club in the day or a waterside nightclub after dark, Wider Genesi's aft section leads the way. The cockpit and bridge deck aft terraces are generously proportioned and prove to be hospitable reception, dining and relaxing areas, decked out as they are with freestanding furniture that will allow the yacht's future owner to replace or arrange according to their personal preference. The piece de resistance in exterior entertainment aboard Genesi yacht however is her vast sun deck.
Amongst the many creative facets of Simoni's design is the optimization of guest space on the bridge deck, and again Wider 150 Genesi introduces a first. Instead of selecting one of the traditional compromises–lateral passageways and a smaller sky lounge, or full beam sky lounge and restricted crew and guest circulation, Wider Yachts have cleverly achieved both.
The interior design exhibits a highly original approach
A full beam sky lounge is maintained by extending the wing station protrusions aft along the remainder of her deck, thus allowing full access around the exterior and creating natural balconies for the upper salon's port and starboard picture windows. During our time aboard her in Monaco's crowded Port Hercules however, this was a challenge the crew and systems proved to have surmounted effectively.
The interior design exhibits a highly original approach through the partitioning of space right through to the materials and processes used. The salon, dining area and sky lounge are all deserving of a more detailed description than we have space for here, so we'll instead concentrate on one of our favorite guest spaces–the master stateroom. Occupying the forward section of the main deck, entry into a versatile space that can be used as a private salon, office or cinema makes this master a true suite.
The inclusion of a sliding partition allows for either an open plan layout that accentuates the generous proportions of the 75sqm apartment, or creates two more intimate and private areas, as the situation requires. In the master cabin the balcony again emphasizes Wider's philosophy of offering ultimate versatility and a seamless application.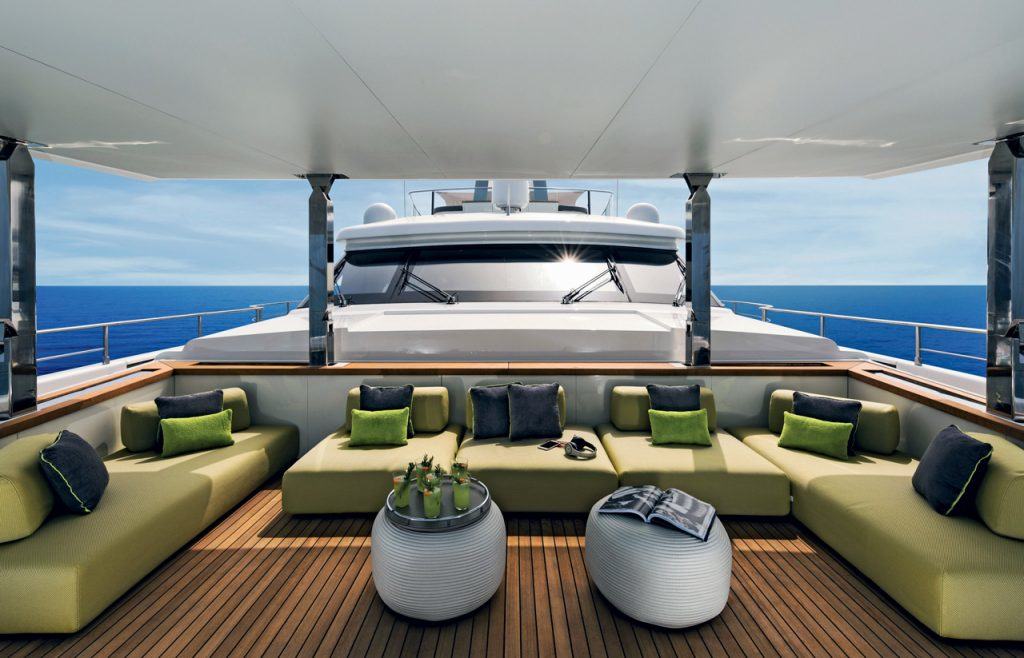 The opportunity exists to either remain completely enclosed, open just a section of the window, or to create a full 5.6sqm terrace over the sea. This is no simple 'drop down' balcony either.
To avoid unsightly teak decking on the vertical surface under the window, the balcony opens and a complete deck surface appears out of it's letterbox slot at the touch of a button–it's a sophisticated system, but one that's simple to operate for the owner without the need to call for crew.
Wider 150 Genesi layout
On the lower deck, thanks to the absence of a traditional engine room, not only do the guests enjoy increased real estate and four more generously proportioned cabins than one would usually expect on a 150' craft, but they are also buffered from the variable speed egenrates that occupy the forepeak by the entirety of the crew accommodation. The eight guests can be split between two double staterooms aft and two twin cabins forward, while five cabins are provided for up to eleven crew.
Being a diesel electric powered yacht, and having four variable speed generators plus a lithium polymer battery pack to power the electric motors that drive her pods, Wider 150 Genesi is extremely versatile in the manner in which she can be powered.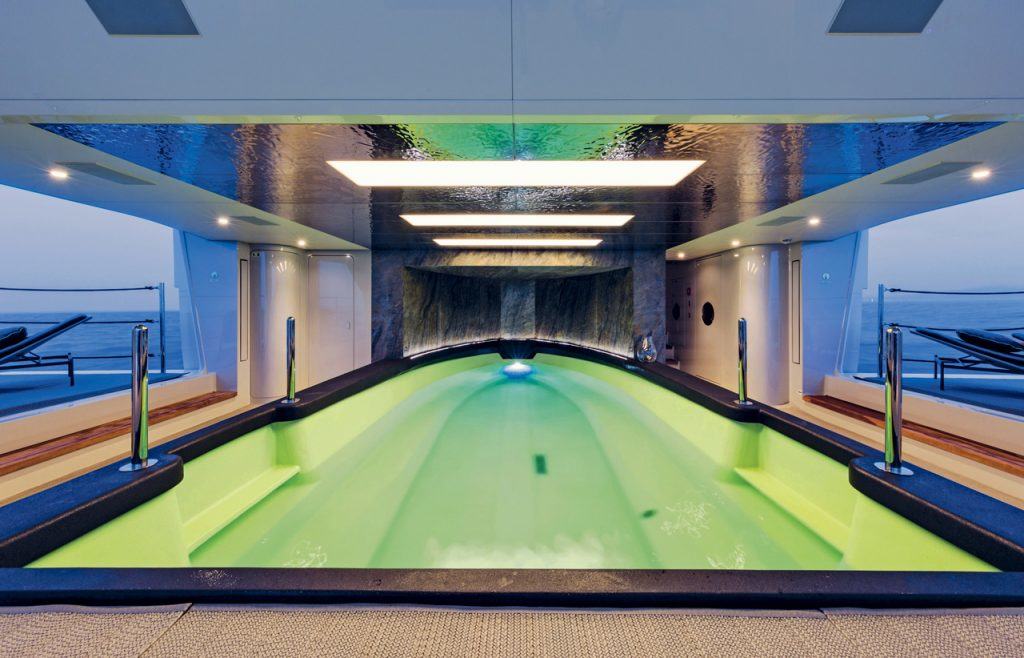 Hotel loads can be provided by the battery pack, at night for example, for totally silent operation, and this feature also allows for up to six-hours cruising at 5-knots in Zero Emission Mode.
Genesi is one of the most fuel efficient yachts in her category
Alternately, a sophisticated piece of power management software determines the number and output of generators required for the operations being undertaken.
This is an important factor not just in Wider 150 Genesi being one of the most fuel efficient yachts in her category, but also in the loads exerted on the primary power generation systems and their subsequent lifespan and service intervals.
In terms of performance, as a fast displacement yacht Genesi tops out at 14.1-knots, but does offer an ocean crossing 2,000nM range at that speed!
A further 25 percent increase in range can be attained  by throttling back a touch to 13-knots, but if you think that's impressive, there's an even more startling figure coming up. We can only advise that if you have the opportunity to visit onboard during the fall shows you grasp it with both hands, we promise you'll not be short of a conversation piece for weeks to come!
No tags for this post.