He may be famed for his over-the-top histrionics, but it is the quiet, discreet performances that make Al Pacino the one of the greatest actors of his (or any) generation
'That guy? That little dwarf? No! No f**king way. I tell you this, over my dead body is this kid being cast in this damn movie.' It is the early 1970s and Hollywood is in its customary state of turmoil. The man about to slam the phone back into its cradle is Robert Evans, the already legendary Head of Production at Paramount Pictures. The movie ruining his day, as it has many others, is The Godfather, Francis Ford Coppola's sprawling, already troubled, epic tale of the machinations of a New York crime family. And the kid who is vexing him so much? Some guido from the Bronx, by the name of Al Pacino, who Coppola insisted play the role of Mafia scion Michael Corleone. Evans had very different ideas. He had argued hard against Marlon Brando as Don Corleone for a start.
The Wild One star might be a living deity to these hungry young tyros on the East Coast, the Hoffmans and De Niros who were the outriders of The New Hollywood, and who prized actorly verisimilitude over trivial considerations such as the box-office, but he hadn't opened a movie in decades, his weight had ballooned and he was known for being a royal pain in the ass on set. For the Michael role he had Robert Redford in mind. Perhaps Warren Beatty. Not this scruffy Italian who, as far as he could see had only starred as a smack addict in a thoroughly depressing drug-drama. He was, he knew, losing the battles on almost all fronts. But he is holding firm on Michael. This will be the last he hears of this Pacino guy. No way. Over his dead body. Robert Evans, it turned out, was wrong about a lot of things. When Al Pacino was four years old, Rose, his mother, nicknamed him 'The Actor'. In the evenings after they came back from the movies, where she worked as an usherette, to the cramped little tenement in the South Bronx, she would laugh as he re-enacted scenes from whatever film he's just snuck in to see.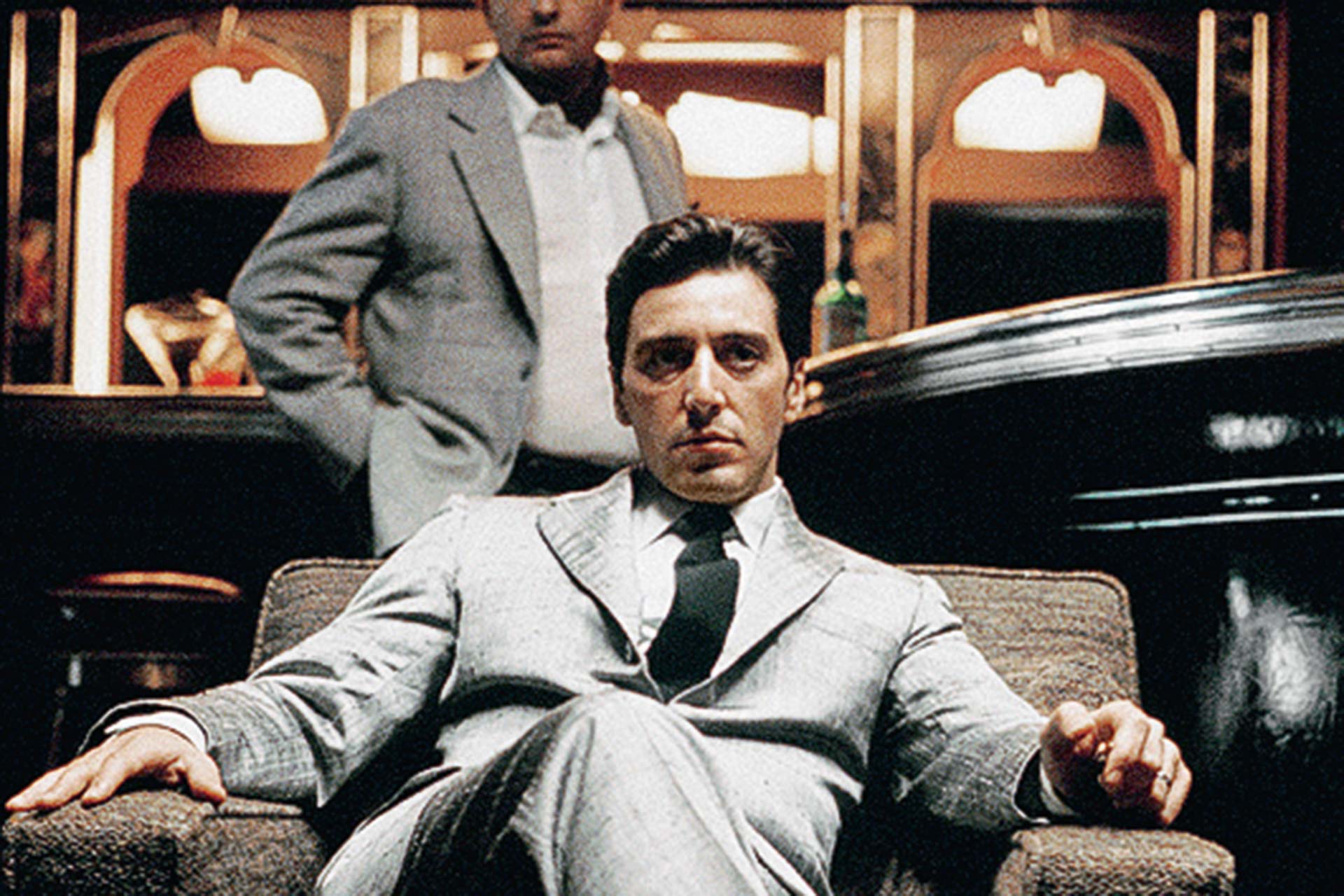 A perennial favourite was a scene from The Lost Weekend, the 1945 Billy Wilder classic about a chronic, self-destructing alcoholic on an extended bender. Little Sonny Pacino would ransack the apartment, wrenching open cupboard doors, upturning the furniture, in an overheated imitation of Ray Milland desperately searching for a drink before falling to the ground in mock desperation provoking hoots of laughter from his extended family, the aunts uncles and their kids who packed the tiny dwelling. Sonny couldn't see what they were laughing at. As Pacino remembered it decades later that he had though the scene to be anything but funny. But he welcomed the attention, and later, at school, his ability to mimic and mug would serve as a useful defence against the bigger boys, who called him 'bambino the bastard' and liked nothing other than to beat him up.
His father, Salvatore, a jobbing stonemason, had been just 18 years old when Sonny was born in the late Spring of 1940, and he was still only 20 when he abandoned them barely two years later. Rose, a nervous, timid woman, who later Pacino would say was much like a character from a Tennessee Williams play, doted on her only child. Replacing Salvatore in young Sonny's life was his grandfather, Gerard, a first-generation Sicilian immigrant who had arrived in America at the turn of the century and who had forged his way as a carpenter. They would sit on the roof of their tenement block as Gerard puffed his pipe and told Sonny tales of the early days, of trying to forge a way in the New World. 'I guess he knew I was an actor because he told me stories of what it was like in East Harlem in the 1900s,' Pacino told Playboy magazine years later. 'It was one of the great relationships of my life. I would spend the nights up there, just him talking to me. It was almost like a grandfather and a grandson on a fishing boat, but there we were in the South Bronx, up on a roof.'
At school he was a moderately disruptive presence, his mother often called in by the principal to sort out some malfeasance or other. His acting talent finally got him noticed though. 'He has the ferocity of the great Sicilians!" an eighth grade drama teacher gushed after a particularly striking recitation of The Rime of the Ancient Mariner. 'He can sure act better than he can catch,' was the school coach's more sanguine observation after Sonny and the ball made a rare connection on the baseball field and the kid reacted with a fusilade of crowd-pleasing somersaults. Brando and then Dean became his icons, their powerhouse performances, delivered what seemed like the magic of The Method, mesmerised him. A spell at Manhattan's High School for the Performing Arts came to nothing though, victim of Pacino's self-admitted 'dunderhead' nature when it came to book-learning. ('What do I know from Stanislavski, He's Russian. I'm from the Bronx.')
But his passion for acting abided. 'When I act I can talk, I can speak, I have something to say,' he said, 'It's close to magic.' There were odd jobs: he was a drugstore clerk, a removals man, cinema usher, a brief spell as a building superintendent where he once deliberately fused the lights of an attractive girl's apartment so she would have to seek his help (it didn't work). After an increasingly successful career on the stage, in the kind of challenging, envelope-pushing dramas dominating off-broadway in the late '60s, a chance meeting with manager Marty Bergman finally got him into movies. The result was The Panic In Needle Park (1971), the hard-hitting tale of a heroin addict that so displeased Robert Evans. The movie, now a fascinating celluloid artifact, a memory of the kind of earnest, socially-conscious movies that emerged from the independent film industry of the time, was well-enough received by the few that dragged themselves to it, and Pacino's notices encouraging.
'He doesn't look like he's giving a performance,' wrote the doyenne of British film critics Dilys Powell. 'It looks real.' The shooting of the Godfather is a saga on its own, its thrillingly convoluted production nightmare well covered since its release in 1972. The studio hated the rushes, Coppola was permanently on the brink of being fired and rowed endlessly with his cinematographer, the late Gordon Willis, aka 'The Prince Of Darkness'. Evans complained about everything – he couldn't see through Willis's gloomy lighting ('Have I still got my f**king shades on!' he once yelled, squinting at the screen) and pointedly asked Coppola whether he was going to subtitle Brando's thickly accented dialogue. For Pacino though, the experience of shooting it was a strangely muted, lonely one. 'Apart from Francis I felt really unwanted on set,' he said later. 'We were like the odd couple on that set,' agreed co-star Diane Keaton, with whom Pacino would later have an on-again-off-again relationship. He had not done much to ingratiate himself with the rest of the cast or crew. Listening to Stravinsky between takes he set himself apart. It was, though not his natural shyness, which according to those who know him is real enough, which was to blame, but the technique of an actor who would make a habit of slowly disappearing into his roles, quietly mimicking the physical and psychological tics of his character until it enveloped him.
For an actor who would later be accused, with a little justification, of sometimes recklessly turning the dramatic volume up to eleven, his performance of the Godfather is a marvel of exquisite, precise control and measured pacing. When we first meet Michael, fresh faced at the family wedding, spiffy in his dress uniform, he's an outsider to the family's bloody business, and if Michael wasn't a true, blooded, Corleone, at least not at the beginning, then Pacino felt he similarly couldn't join the on-set fun, and his distance, together with his underplaying the role, bewildered many of his fellow players, who felt he was ruining the film. It's easy to dismiss this kind of thing as harmless thespian baloney but the proof is in the pudding. The subtlety of his performance, its 'slow uncoiling until it finally fills the screen', as one critic memorably put it, remains the film's great marvel. Despite, perhaps because of, the dazzling professional success a demon loomed in the shape of a shot glass.
He had been a boozer from an early age, nine or ten as he remembers it. But now there were belts of scotch after whatever show he was performing in, sometimes before it. Upturned glasses punctuated the long walks in New York when he'd bop alone along the streets, flitting from bar to bar. Breakfast consisted, on occasion, solely of a glass of wine. There were longer, darker, lost weekends and three-day benders that boded ill. It was having an effect on his love life. His earliest long-term relationship had been with actress Jill Clayburgh. One day Clayburgh wandered into the bathroom to find Pacino sitting pie-eyed in the tub. 'I feel lonely,' he remembers her saying. 'But you're drunk.' On another occasion he remembers them finding themselves teetering on stools in some dive bar.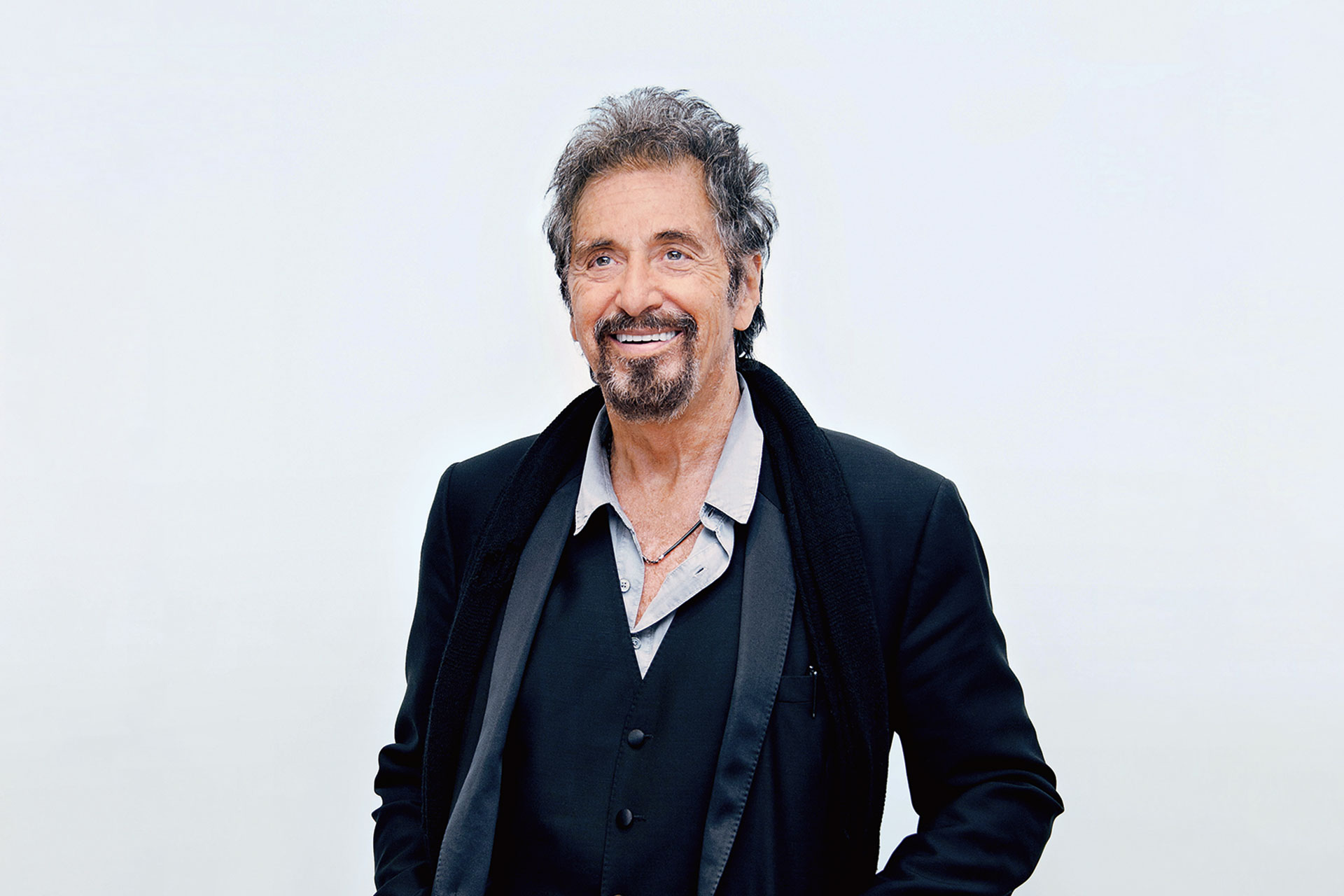 'What day is it?' he asked Clayburgh. 'Wednesday,' she answered. 'Let's go,' he said. 'Three days is too long to be drunk.' He quit the booze, for good, in the late '70s. If Francis Coppola was Pacino's first filmic godfather, then, he had two subsequent consiglieres, Sidney Lumet and Brian De Palma; directors who both managed to coax out of him performances that showcased his uncanny skill for vanishing completely into a role. Lumet had not originally been involved in Serpico (1973), his first film with Pacino. The veteran director of 12 Angry Men was brought on at the last minute to replace John G. Avildsen (who would go on to stratospheric box-office with triumph with Rocky) but in both that and Dog Day Afternoon (1975) Lumet coaxed performances out of Pacino that perfectly captured his ability to walk a tightrope between passion and excess. His explosive performance as Tony Montana in Scarface (1983), the stunning excess of both it and Brian De Palma's gimlet eyed direction (its subsequent devotees in the rap community apparently blithely unaware of the film's satirical underpinnings), is still a thrill to behold. But it might, for a while at least, have pushed him too far away from the subtlety of which he was a past master, towards a kind of hysterical cliché. Perhaps that's why, Scarface aside, the '80s were not good to him.
After the twin debacles of William Friedkin's Cruising (1980), a ludicrously misconceived gay serial killer movie, which managed to offend almost everybody, not least the critics, and Hugh Hudson's notorious Revolution (1985), which helped sink its British production outfit Goldcrest, he retired from the screen, returning to theatre only to be chivvied back by Diane Keaton. 'What do you think you're doing?' he remembers her telling him as money became relatively tight. 'Do you think you're going to go back and live in a rooming house again? You've been too rich, too long buddy. You can't go back.' The Pacino who returned was often more muted, the wattage turned down slightly, any excess in the name of comedy. He introduced himself to a new generation as Alphonse 'Big Boy' Caprice, wickedly sending up his reputation for on screen fireworks in Dick Tracy (1991); gained his first Oscar win for Scent Of A Woman (1992), an irresistible, ruthlessly refined piece of Hollywood hokum in which he played a suicidal military man to Chris O'Donnell's dewy-eyed schoolboy.
The quality roles delivered some of the quiet, burning intensity of his earlier work: Lt. Vincent Hanna, the obsessed detective playing cat and mouse with his long time foe in Michael Mann's Heat (1995) and his depiction of obsessed 60 minutes journalist Lowell Bergman teasing out Jeffrey Wigand's tale of corporate malpractice in The Insider (1999) both showcased both the old dedication to immersion, and a new slower more deliberate, less jagged Pacino to great effect. Now 75, bobbing amidst the wreckage of Hollywood's second golden age, Pacino is notable for this admirable keeping of the faith; the fate of Robert De Niro, reduced to a frat boy jokester, hanging as a grim warning.
There have been stellar turns in sadly TV-confined HBO dramas You Don't Know Jack (2012) and Phil Spector (2013). This year alone sees him in three movies including Danny Collins – in cinemas this month – and a touted further collaboration with Brian De Palma, a biopic of disgraced American football coach Joe Paterno, is tantalisingly on the cards. Like his performance in The Godfather, his career has been, is, a long slow burn, and the fire looks in no danger of being imminently extinguished. 'The day I turn around and say 'What I did in this role was a real winner,' he recently wrote, 'I hope you'll have the courage and decency to throw a wreath round my head, and then ever so quietly and compassionately… shoot me.'