An accessible and versatile model, AMEL 50
AMEL unveils the latest model of its range and announces its official launch at the Cannes Yachting Festival in September 2017. At the same time, true to the fundamental principles of the shipyard, AMEL 50 affirms a real will for change characterized by a variety of lines and technical choices.
With this 15-metre unit, the La Rochelle shipyard opens the AMEL concept to a new category of clients, with a wide choice of navigation programs. With more accessible dimensions and price, the AMEL 50 is also a high-performance, extremely comfortable yacht. Of course, the AMEL 50 is designed to sail around the world. But with her less challenging hull length, access to harbours and marinas becomes easier and navigation possibilities expand. The ideal solution for both short-term and long sea trips.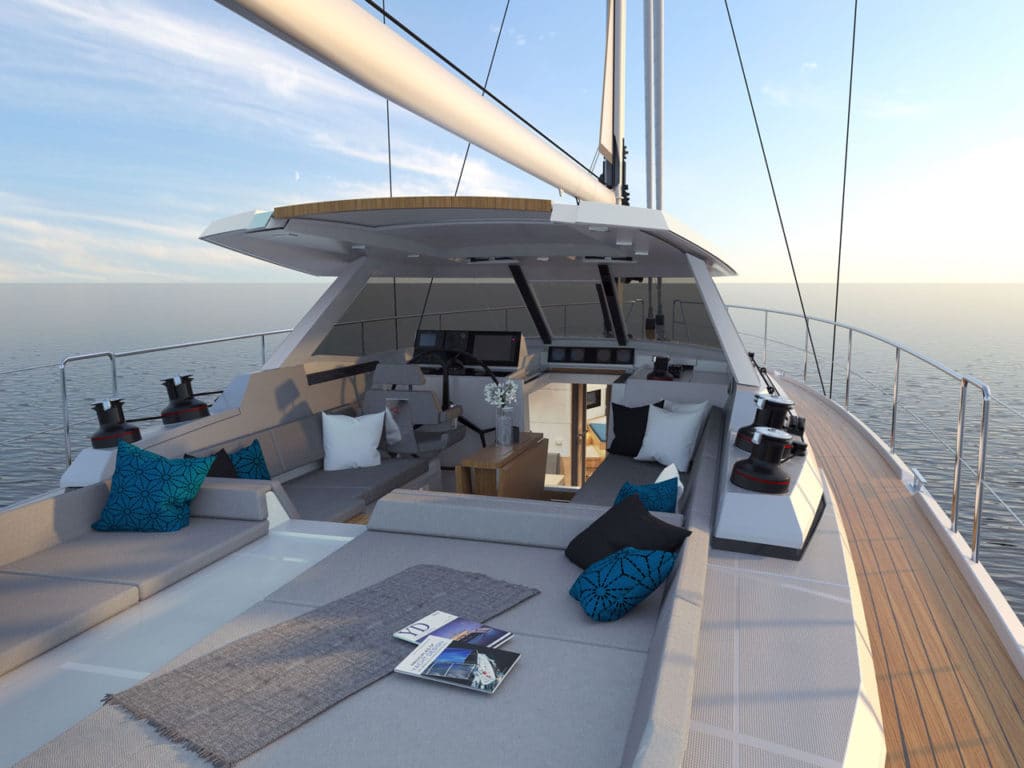 Easy to handle, the AMEL 50 is a genuine AMEL yacht. Tools that facilitate navigation include electric sail furlers and winches, centralized controls in the cockpit and the self-tacking staysail. Navigation safety is ensured by the quality and ingenuity of AMEL construction: rigid cover, deep, protected central cockpit, stainless steel handrail surrounding the deck. Among the innovations on this new model, the choice of a straight, powerful bow is a break from the shipyard's habits. The waterline is extended to improve performance, making the front part of the boat more spacious. The addition of a bow sprit makes it possible to move the anchor and the chain away from the stem, as well as tacking an additional sail such as an asymmetric spinnaker or a code-0.
The new AMEL can accommodate six people, thanks to the two large cabins each with a double bed and one cabin with bunk beds. There is plenty of storage room; under the beds and the benches, in the wardrobes and lockers. The galley, positioned in the starboard passageway, offers a very generous living area in the saloon, maintaining optimal ergonomics. Open, bright and refined, everything has been designed to showcase the yacht in keeping with the AMEL spirit. Noble materials have been favoured, especially the choice of wood species. Style and elegance is taken even further with the contrasts created by the different materials used, on which the natural light provided by the large hull portholes and skylight is reflected, and by direct and indirect lighting.