OPV 56 is a custom yacht developed in partnership with Fulvio De Simoni and has an aluminium hull and superstructure and a clearly military inspired styling
Antonini Navi wins the confidence of another customer who books a slot for three months to build an Offshore Patrol Vessel (O.P.V.) 56 metres in length under 500 GT. It took several months of intensive work to fully satisfy the owner, involving Architect Fulvio De Simoni for the design and the shipyard's technical office for the engineering and all preliminary planning work.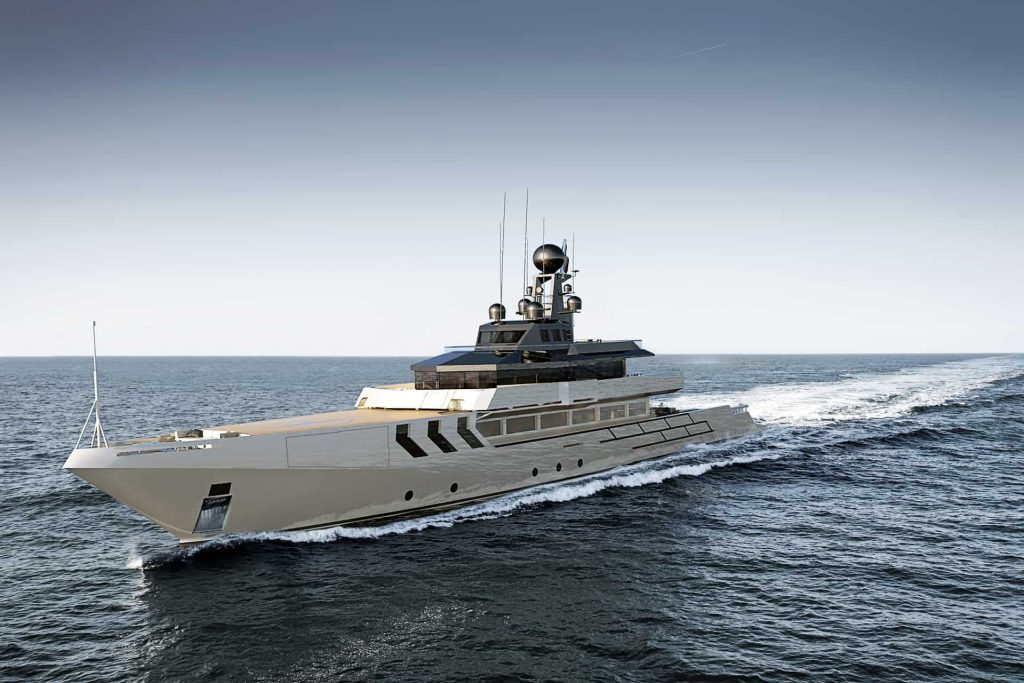 OPV 56, a 56-metre yacht with austere lines and unequivocally military inspired styling, was designed with a 'functionalist' approach, where every aspect of the project reflects its purpose. 'At sea, simplicity is an added value: seagoing performance, easy to use onboard spaces and services, and rational construction are qualities that experienced owners cannot fail to appreciate', commented naval architect Fulvio De Simoni. 'This mature and substantial vessel reflects the values embraced by Antonini Navi, whose experience and specialisation in marine and naval constructions at the very highest level ensures exceptional quality and safety'.
The design features an imposing high bow to ensure safe navigation and clean, pared down lines that give the ship a unique personality. The continuous foredeck is designed to accommodate a helipad, while the upper deck is entirely devoted to the master suite. The aft deck, occupying over 150 square metres, is multifunctional and can be adapted to cater for any solution and customisation.
Photos Antonini Navi
No tags for this post.