With their new model First Yacht 53, Beneteau have opened a new chapter in performance cruisers, a segment they have ruled for decades. As you can find out from our review, new First 53 presents brand vision of performance as something that needn't exclude luxury and style
At first, before this review we thought the new Beneteau First Yacht 53 thrilled us so much because of a simple personal preference for sailing yachts – especially properly designed sailing yachts. But even after taking a step back to assess the new model more objectively, our opinion held, for several reasons. Firstly, the 53 is the embodiment of all the qualities this extremely popular and enduring series stands for – launched back in 1977.
Beneteau sailing yachts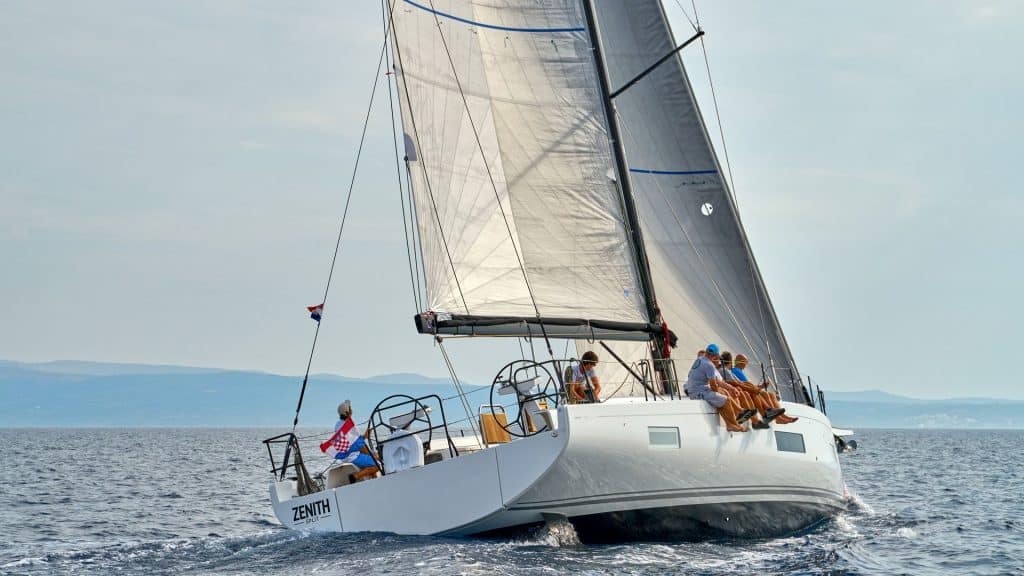 She is also the biggest First in history, designed by a brand newcomer, has a new hull concept and is the first model to belong to a new category, dubbed Luxury Performance by Beneteau. Finally, new Beneteau First Yacht 53 is available for charter in Croatia, in Split, with Beneteau dealer Ultra Sailing.
Beneteau First Yacht 53 performance
The very first thing that impresses us on this Beneteau First Yacht 53 review are her performance-related features. Although built within same dimension range as models of the beloved TP 52 class, the new First is not a single-minded racer like her professional 'cousins', but a well balanced sailing yacht with two rudders and a multi-use sail plan that on its own sets her above the usual available-for-charter crowd. The unit we tested was equipped with an aluminum mast, and a 2.5-meter deep keel, as well as a set of North Sails XI Tour sails.
In addition to her 5m wide aft, the model has a new concept hull, ideal for moderate speed. Beneteau opted for a soft chine, allowing Beneteau First Yacht 53 performance to glide effortlessly with almost no wind, and reach interesting speed in record time should the wind speed change.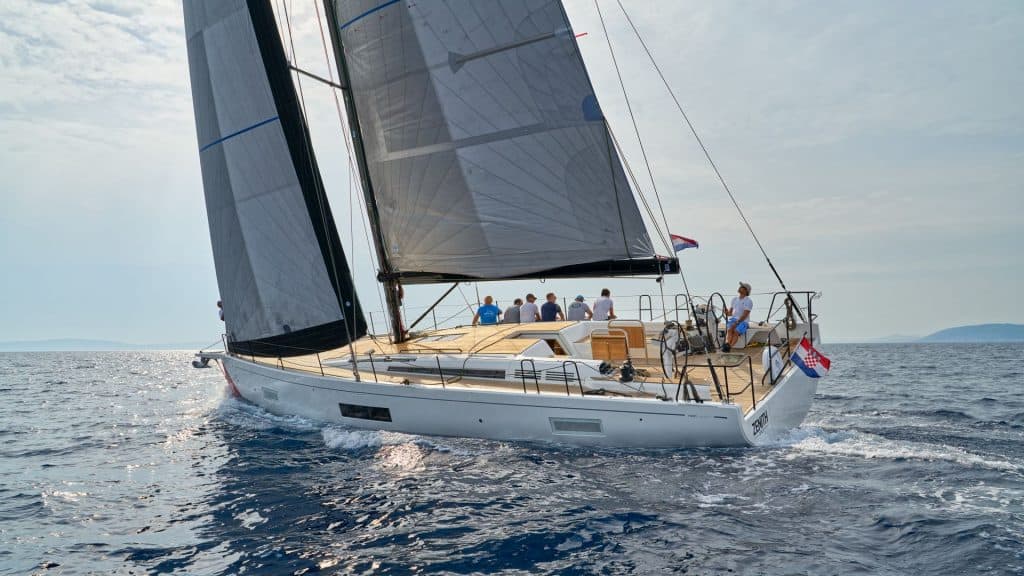 During our test, 10 knots of mistral allowed us to pass seven knots of speed easily, while 12 knots pushed us over 8 knots. Sailing downwind using a gennaker pushed us to 10 knots of speed and spurred some jealousy of those who'll get to push Beneteau First 53 speed to her limits during a proper race. We couldn't help but noticing how lively the model is, how promptly she reacts to even smallest changes in the speed of the wind – sing of a truly well designed yacht considering her weight is in excess of 15 tonnes.
We must also mention the Code 0 sail, the additional front sail that helps a lot when the wind decides not to, and pass on the observation of the tested unit's owner, who spent the entire summer sailing around: 18 knots of wind are enough to force you into the first reef. Still, the owner acknowledged one summer was not enough to prove his sailing skill and is looking forward to an interesting sailing fall.
Performance sailing yacht
Attractive on the outside, this Beneteau First Yacht 53 review confirmed it is equally appealing on the inside, which, in our opinion, is another page in that new chapter Beneteau opens with this model
Beneteau First Yacht 53 isn't equipped with mainsail traveler, but does have electric winches for trimming the main. Another couple of details we have noticed missing are an electrically powered hydraulic pump for the backstay, as well as a mainsail vang, but we're aware this is a perfectly well equipped sailing yacht of her size and type, not a flight of fancy in the style of Perini Navi. Even without these things, First Yacht 53 is pure joy for everyone who really enjoys sailing.
Beneteau First 53 layout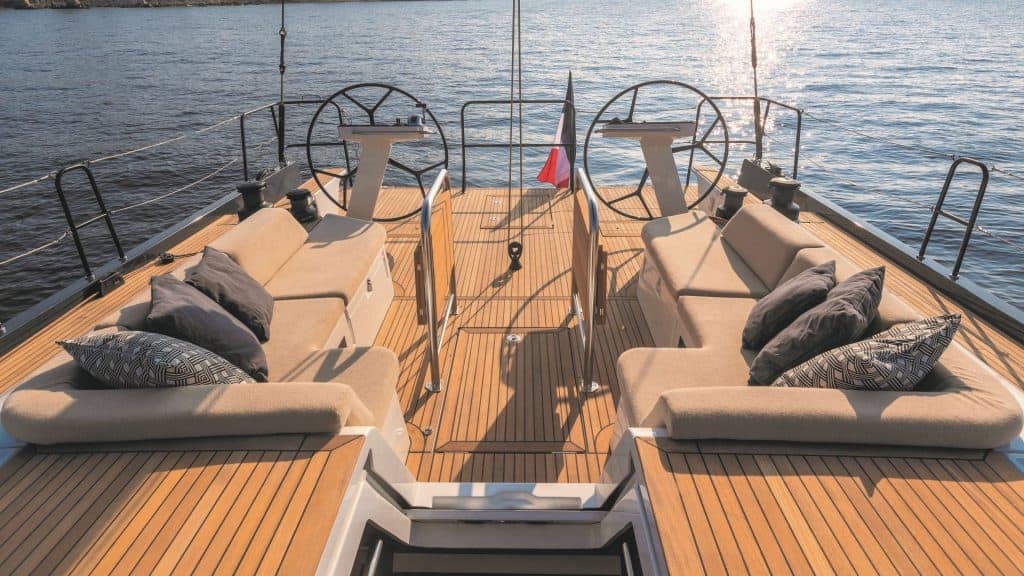 With sails down, new Beneteau First 53 Yacht layout is as cozy and comfortable as any yacht her size. Her open and clean deck is covered in teak, all ropes are hidden under the cockpit roof and the deck is ideal for hanging around or even doing yoga. The cockpit is impressive, with two long benches and teak tables that can change size and shape as needed. The two steering wheel consoles are positioned wide apart and allow easy access to the aft, where you'll find a truly magnificent aft platform fit for a motor yacht, accessible by teak stairs and descending all the way to the sea.
The cockpit and the aft platform of First 53 Yacht are so well designed they belong in the top ten in her class, and designer Lorenzo Argento deserves a special mention if only for that detail. That space is easily protected by a spray-hood and a bimini in navigation, or a big soft top at anchor.
Beneteau First Yacht 53 interior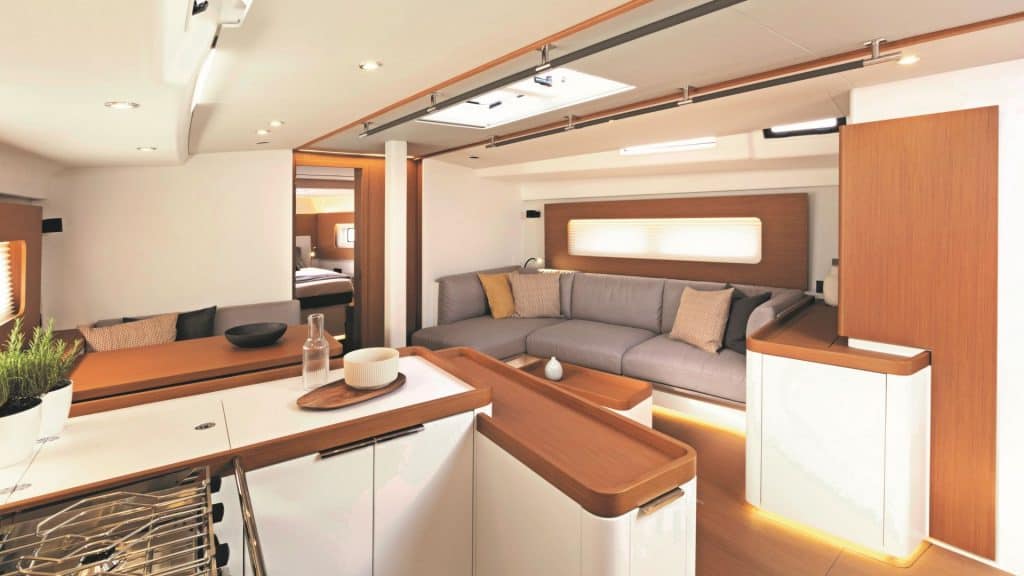 The final surprise awaits below deck, Beneteau First 53 Yacht interior is pleasant as all the previous ones, with noticeable touch of luxury. The French giant Beneteau had no qualms about hiring Italian designers for the interior, and opted for a studio best known for working with one of their Italian competitors, best known for exclusive and expensive sailing yachts. Gentle, soft forms of the salon seem to glide and melt one into another, inviting the eye to roam from the moment you step in.
Plenty of natural light that seeps through two side panels – that also allow uninterrupted view of the sea in navigation – and combination of light and dark details give the interior a breath of exclusivity, while the wood in the interior in its entirety is molded as if it belonged on a luxury motor yacht. Attractive on the outside, this Beneteau First Yacht 53 review confirmed it is equally appealing on the inside, which, in our opinion, is another page in that new chapter Beneteau opens with this model.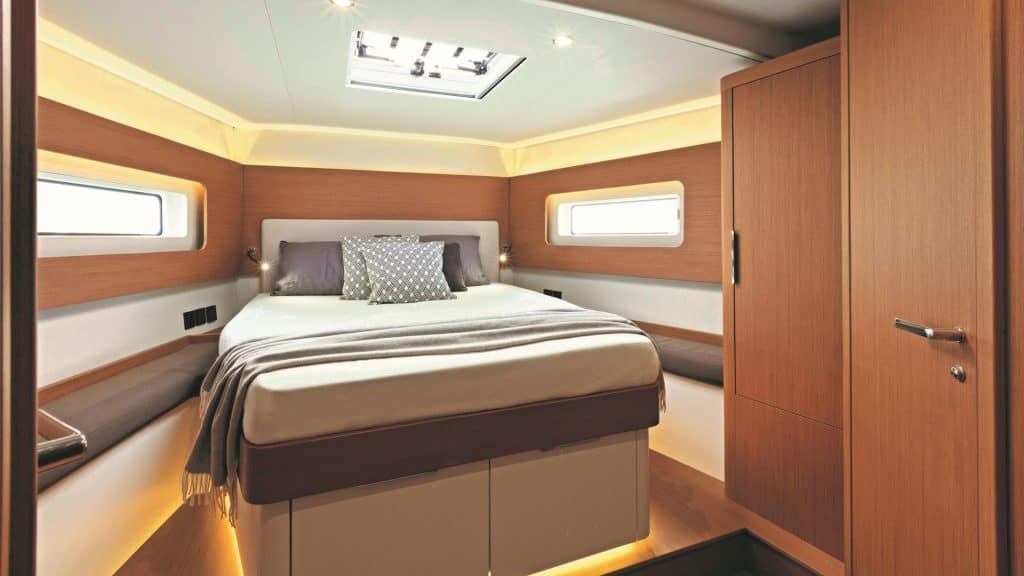 Beneteau opted for only one version of the model, with a three-cabin layout, and the only option available is the addition of a third head. The First Yacht 53 we had on test indeed had three heads, as well as an extensive extra equipment package – including a wine cooler, air conditioning systems in all cabins, a dishwasher and a microwave oven, a 9 kW generator and a full set of B&G navigation instruments. In the bow, the tested unit had the skipper's cabin, and 1.5 meter further aft from the forestay, a storage unit for the jib.
YACHT SUGGESTION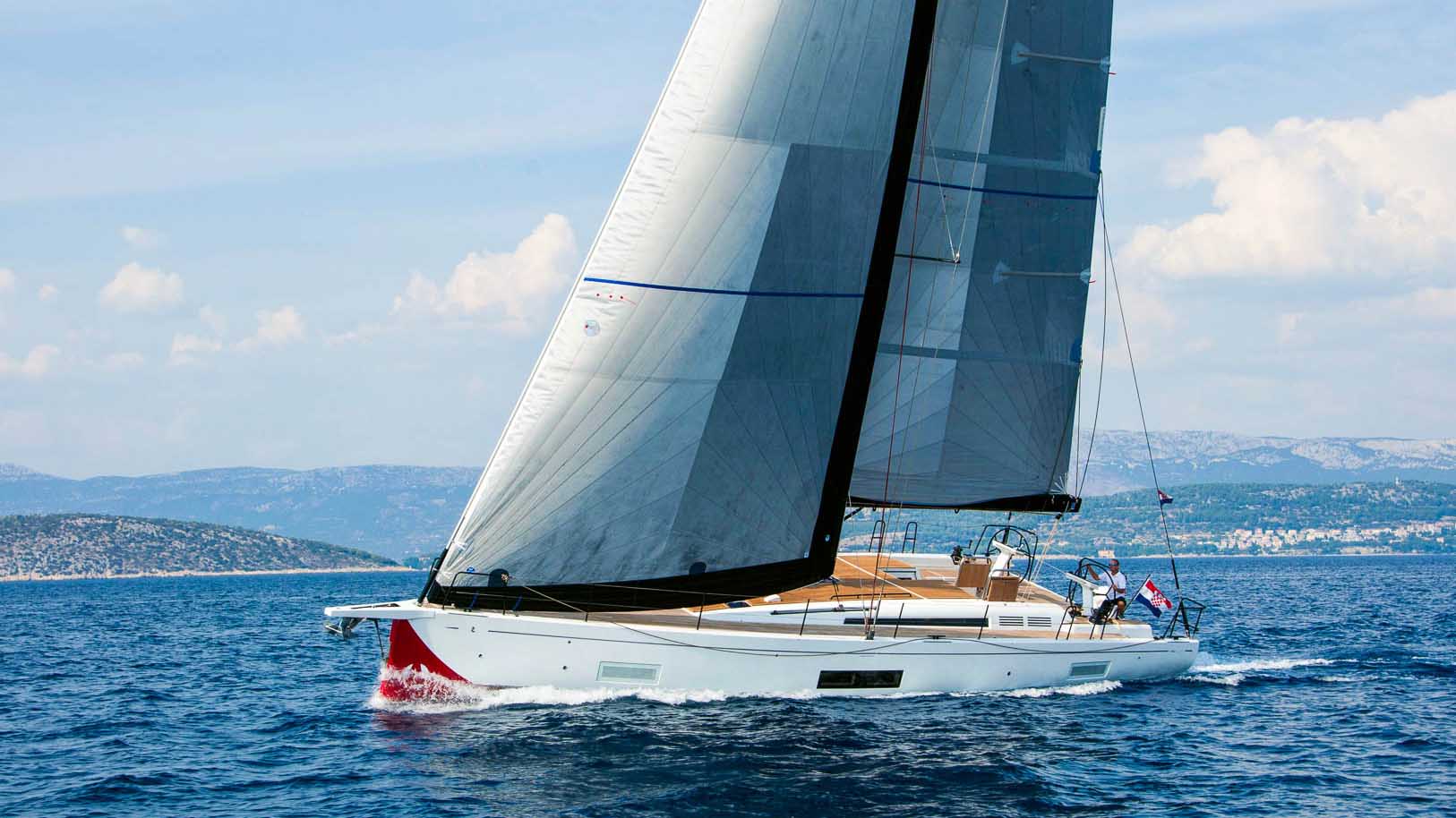 Modern, fast, sporty and comfortable is a new First Yacht 53. First 53 will take your breath away with its striking and racy shape, sleek design and plenty of space underline the comfort onboard.
Croatian fans of either Beneteau or sailing interested in purchasing a First Yacht 53 can try her for themselves, no matter whether they are planning to take her for a fast ride, or simply relax and enjoy her unusually cozy interior and exterior, a bonus to all her excellent performance capabilities. Beneteau First Yacht 53 price will also be a good reason to take a closer look at this sailing beauty.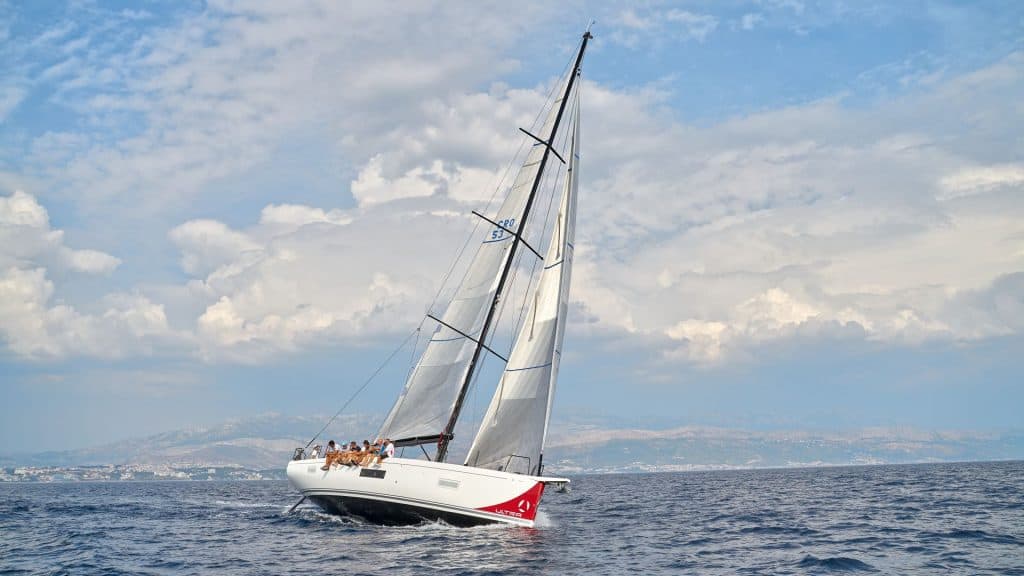 Text Darko Šupuk
Photos Mario Jelavić & Beneteau
Video Yachts Croatia