Lobster boats and trawlers with timeless appeal
With a tradition of more than twenty years, this company's misson is to build boats that are practical, solid, fitted out with functional modern equipment and brimming with timeless appeal
'Our business experience has taught us that certain opportunities have to be seized on the fly. The acquisition of Cantieri Estensi was a rational decision that came straight from the heart: such a prestigious Italian yacht brand deserved the chance of a relaunch and for us it was an excellent new business opportunity'. This is how the shipyard's product manager, Mattia Garlini, describes his family's decision to put together a syndicate of businessmen in 2015 to acquire one of the most aristocratic brands in Italian yacht building. Cantieri Estensi was established in Ferrara in 1995. Since then it has produced over 500 boats in 14 different models, earning a reputation for being a skilled builder of yachts that are permeated by timeless appeal, can navigate anywhere in any weather conditions, and deliver excellent performance at sea. The first model of all, launched in 1996, was the Queentime.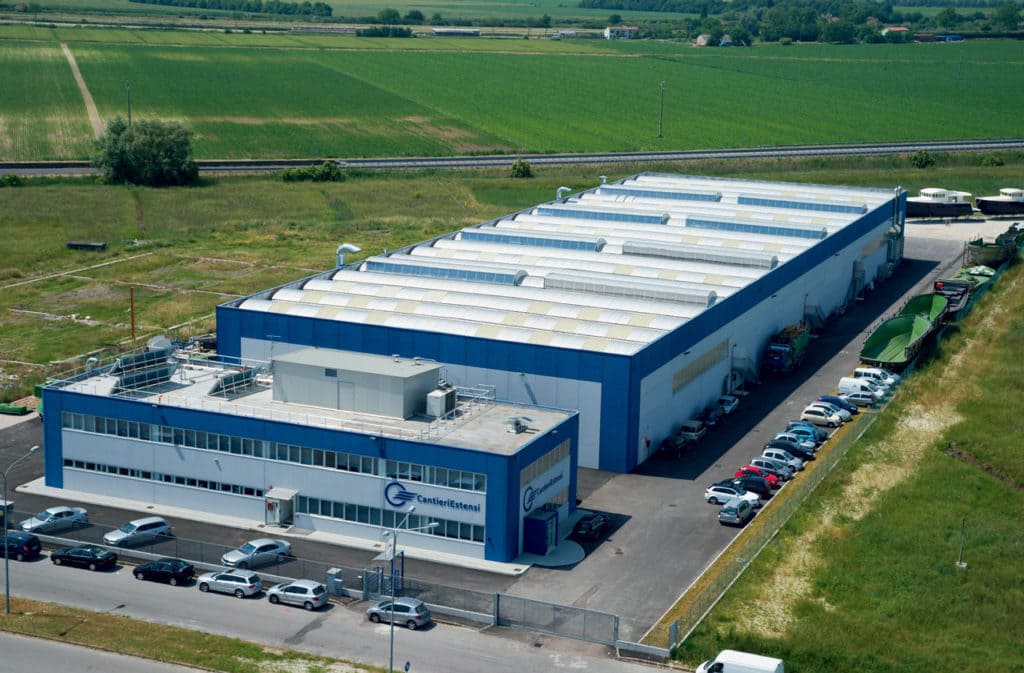 This exclusive motorsailer was an immediate success, so much so that over 80 were produced and sold in two different versions. Starting in 2000, with the new Goldstar range the shipyard began specialising in the production of lobster boats. Its ability to adapt this type of boat, with its unmistakably American identity, to reflect Mediterranean style, successfully combining simple, elegant lines with contemporary design accents, has been instrumental in positioning the shipyard as a benchmark for the category in Italy. The Maine series was launched in 2006. The trawlers in this range opened up new scenarios, standing out from the crowd because they brought innovation to what are objectively mature products, by combining classic design with contemporary new features. These exclusive boats are the epitome of prestige, with semi displacement hulls and cruising speeds between 8 and 18 knots. In 2009, the company officially opened its brand new production facility and in September 2011 the fleet's new flagship emerged from it: the 640 Maine, a boat that embodies today's functional approach to cruising and the experience of life onboard.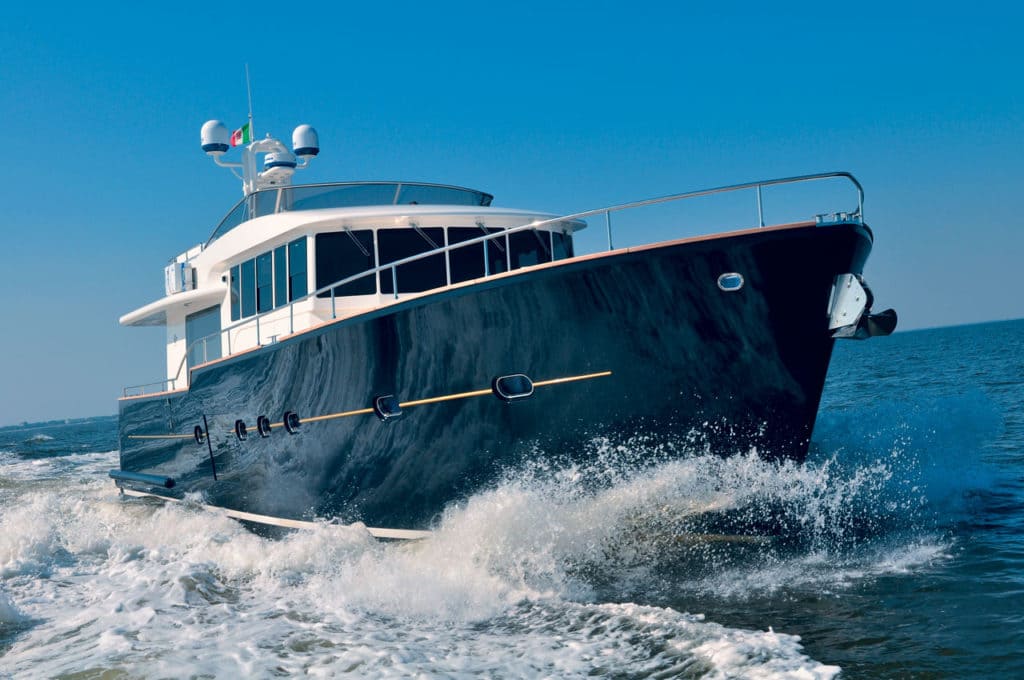 In 2015, after a difficult period caused by the financial crisis, Cantieri Estensi was acquired by the Garlini family, which became the majority shareholder, with a stake of 55%. The ambitious challenge they have set the business is to develop the prestige and quality of the boats it builds and to relaunch the brand on Italian and international markets, while maintaining the shipyard's twenty-year history intact. In 2017, the Garlini family acquired the company shares from the old management and now detains 70% of the shares. Excellent products and service are the strong points of Cantieri Estensi. The shipyard works alongside customers right from the early stages of choosing their boat, helping them experience the full pleasure of cruising. Every owner is involved in the construction process and fully aware that their boat can be personalised to a remarkable extent, drawing on a huge selection of multiple combinations that give Cantieri Estensi products their unique and unmistakable style. The strategy of the new owner is to build premium boats featuring classic designs that don't go out of fashion and combine luxury with the highest construction standards. The first step is to renew the product range and expand into export markets through a new sales and assistance network, with dedicated centres in Italy, Monte Carlo, France and Spain. Also, the new facility officially opened in 2011 raised the production capacity of Cantieri Estensi to a new level, seamlessly combining industrialisation with hand craftsmanship.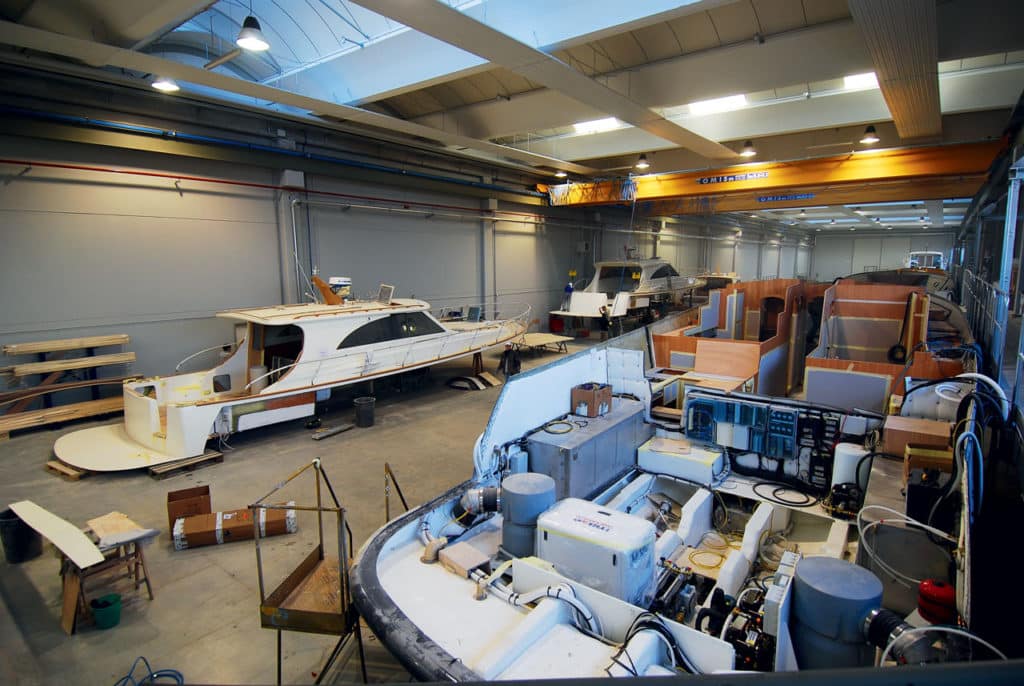 In it, meticulous manual creative work joins forces with the latest industrial processes to obtain a result that is there for everyone to see: solid, comfortable and safe boats that combine excellent seagoing performance with the consummate quality of Italian design and the elegant luxury of fine woods and materials. The shipyard proposes two lines, both designed by Marino Alfani and with engineering by Sergio Cutolo: the Goldstar line of lobster boat-styled models from 8 to 18 meters, and the Maine line of trawlers from 14 to 21 meters. A third brand new line called America is about to be launched in 2017. The Goldstar series draws its inspiration from the fascinating lobster boats used in the Southern United States and features Classic and Sport versions. The former are closer in spirit to the original lobster boat, while the latter are more streamlined and aggressive, but both share the same peerless elegance and comfort. The Classic version is also available on request with a flying bridge. The series consists of 10 models, ranging from the smallest, the 360, to the 560 Classic flagship. The Maine series is inspired by American trawlers and designed for long, relaxing cruises in total comfort. The series consists of three models ranging from 15 to 20 meters in length. Built to make life onboard as comfortable as possible, they offer plenty of room, lots of stowage and spacious flybridges. Designed for year-round use, Maine series boats are ideal both for long crossings, where their incredible range of 1,250 miles without refuelling comes into its own, as well as for quick trips and enjoyable periods at anchor. It seems that Cantieri Estensi have set a radical product restyling process in motion making motor-powered pleasure crafts with a distinctly classic style with a view to re-launching the brand on international markets. Nautica del Delta collaborates with Cantieri Estensi, they are the dealers for the Croatian area, using in loco assistance centres and with direct intervention if necessary. Two new Cantieri Estensi units were delivered in Croatia during the season 2016. Starting from 2017 Nautica del Delta opened a new Croatian company, Yacht Class D.o.o., which is in charge of the Croatian area.