This innovative Italian cruiser is a sophisticated little yacht brimming with fresh ideas, boasting delightfully designed interiors
After the great success of their first cruiser – central console day cruiser Regina 340 – relatively new Italian yacht builder FIM debuted an even more ambitious model in Cannes. 470 Regina is a full fledged central console cruiser, with a tall hull and sides, but as slender and the smaller previous model, thanks to the dynamic profile rising slightly from the aft to the bow, and the black hull window line parallel with that rise.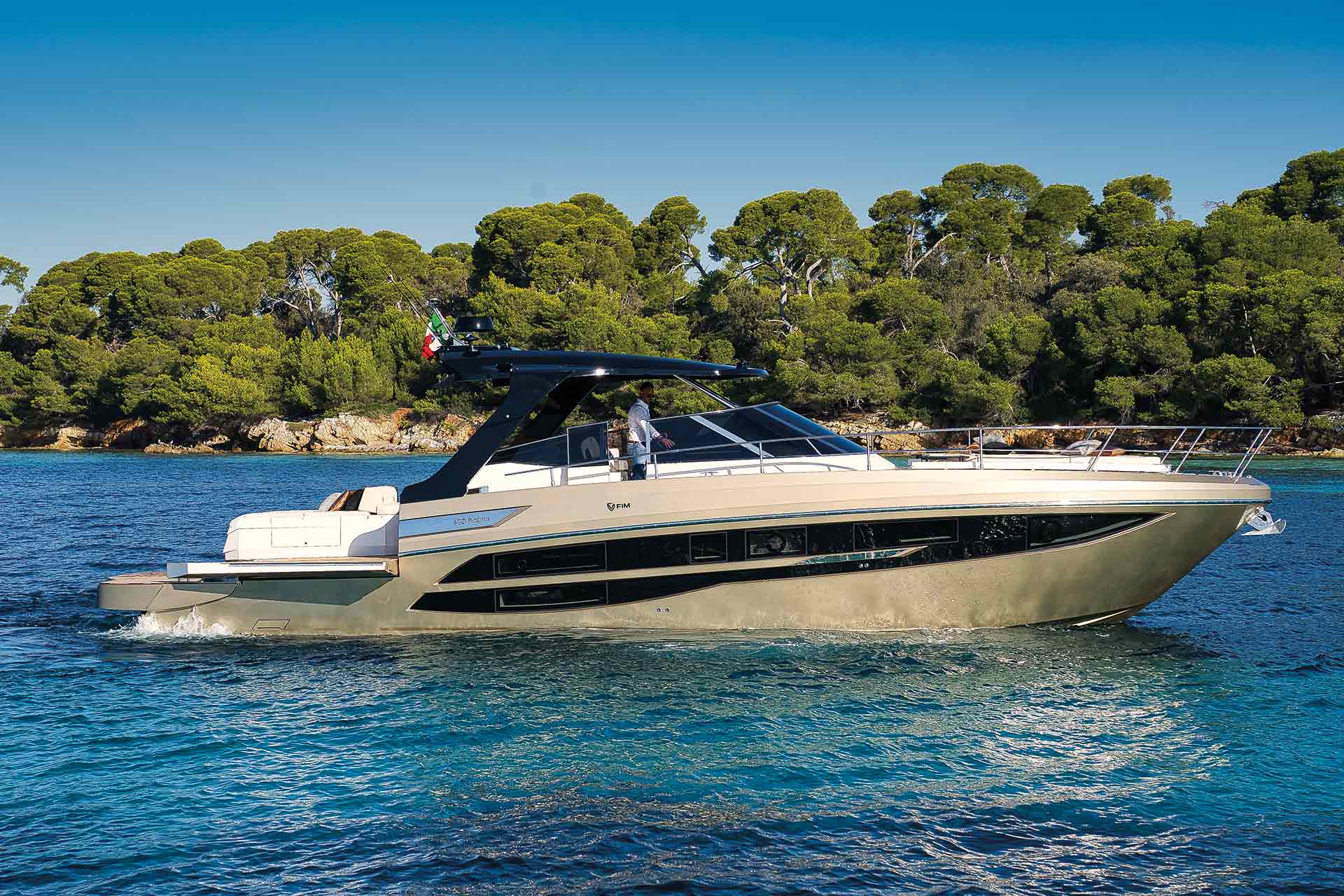 Peeking above the sides, the central command console is shielded by a T-top and a tall windshield. Just like on the previous model, colors are important on this one, as well, and the new FIM 470 Regina is available with a golden hull, white superstructure and sofas, and black T-top.
The large aft platform is submersible, to allow easy access to water to swimmers, and make tender maneuvers easier. When in lower position, the platform allows access to the main deck.
On the main deck, right next to the platform lies a large sunpad, available as a single or two-mattress (option), and with folding backrests that allow transformation into deck chairs. The platform lies next to the cockpit, a step higher, and different in style.
The cockpit is furnished with an L-shaped sofa and a bar with an electric grill, a wine cooler and a sink, all adequately sized. In front of the bar, the central command post is served by three seats and protected by a T-top and w aide windshield, perfectly suitable for all weather conditions.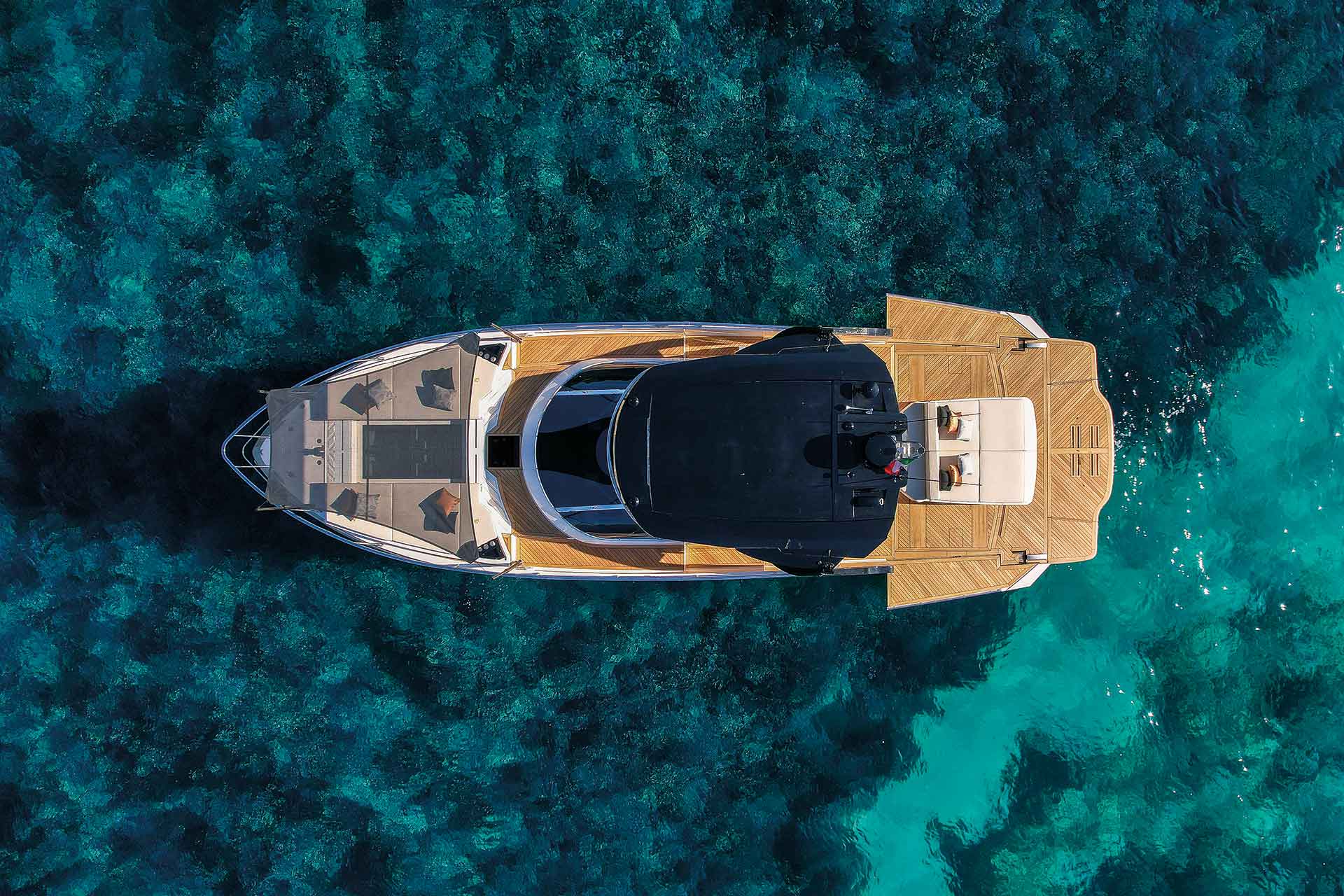 The command console is meticulously designed, made in stylish black PVC and served by two multi-functional Raymarine touchscreen displays with a dedicated interface. Next to them, there is one smaller screen serving the Volvo engine system, as well as a compact steering wheel, two Volvo throttle levers and the IPS joystick. The bow looks simple enough, until you take a closer look and discover another innovative solution, Bow Life: the bow sunpad splits into two side pads, with a large skylight of the below deck VIP cabin between them.
Below deck, the designers have worked just as hard and demonstrated just as much genius as on the deck. The unit debuting in Cannes had light wood furnishing, dark wooden floors and white leather ceiling, but FIM offers full customization. Next to the command console, there are stairs leading below deck and into the small galley, which serves as a foyer of sorts, connecting the three cabins; the full-width mid-ship master, and two guest cabins.
The master boasts standing height, and has a double bed set at a 45-degree angle right, and a cozy sofa left. In addition to double-height side windows, the master has another glass panel, connecting it to the shower cabin (option). The bathrooms are stylish, with ceramic finish designer stainless steel sinks, and PVD-coated faucets and showers protected from scratches. The VIP cabin in the bow has one large bed in the very bow and a private head, as well as a large desk. This study corner is in the three-cabin version is replaced by a small guest cabin with Pullman beds.
In standard version, FIM 470 Regina is powered by 2 x IPS 650 (2 x 480 hp), while in Cannes we tested a unit powered by 2 x Volvo IPS 800 (2 x 600 hp). We reached planning speed at 17 knots (200 rpm, 112 liters of fuel per hour), and went 0 to 20 in 11 seconds. Optimal cruising speed is 26 knots (2500 rpm, 155 l/h), and fuel consumption goes up to 230 l/h at 33 knots of cruising speed. Top speed is 39 knots, with no load.
FIM 470 Regina is a meticulously designed model showing vision and potential worthy of a much larger model by a much larger builder, and another proof that smaller builders can be more than competitive in the market.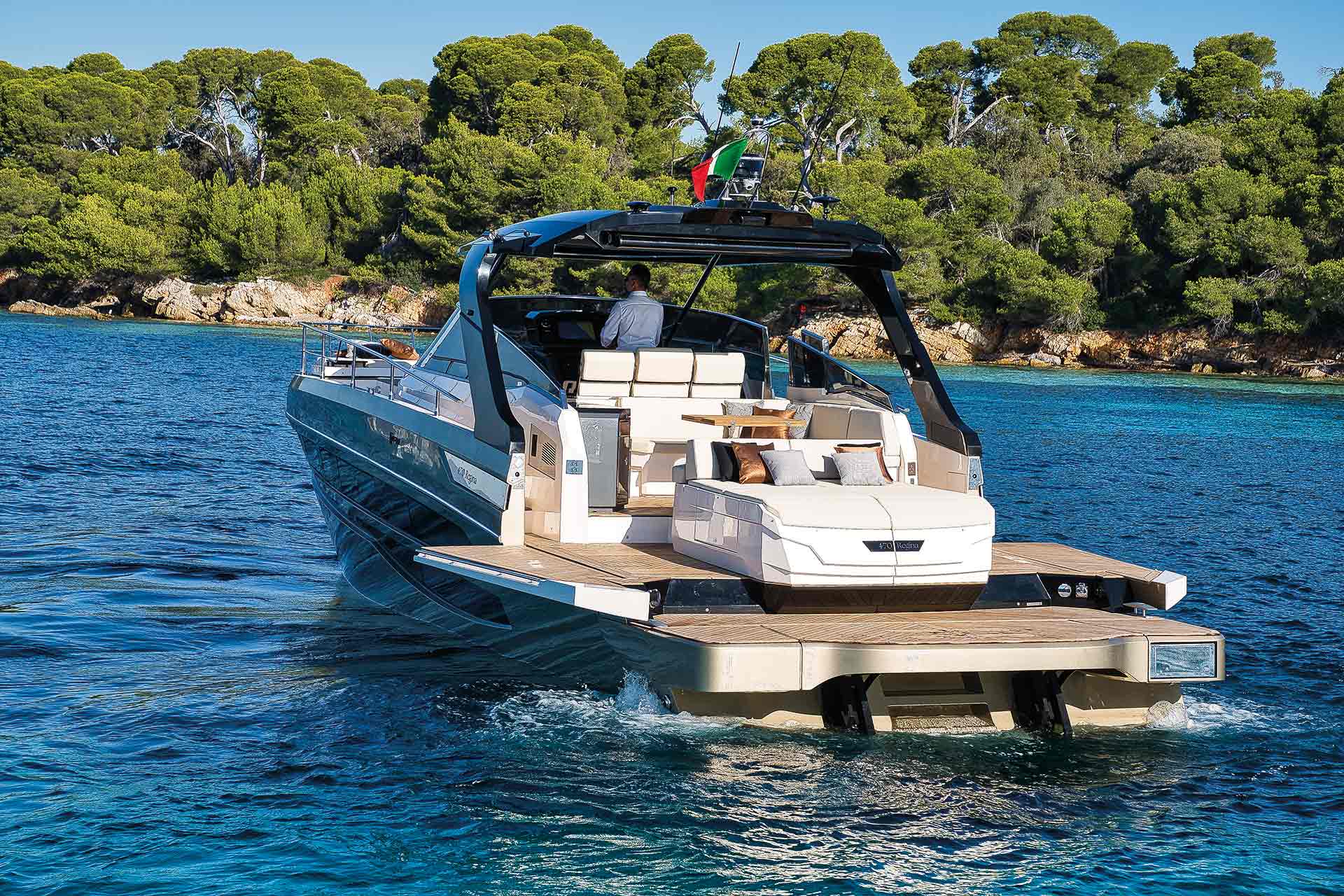 Tekst Mlađan Marušić
Fotografije FIM