These four restaurants in south Croatia has a true fan base, ready to sail for a hundred-mile pilgrimage to their kitchens, promising more than just good food
Culinary enthusiasts and sailing aficionados will easily resist the charms of Dubrovnik and its offer and set off wandering through the south Croatia waters in search for the restaurants with special kind of combination of ambience and cuisine, which might evoke unforgettable memories and strike up new friendships.
---
Embark on a culinary journey to the four gastronomic temples of South Croatia, where yachtsmen can savor the region's rich culinary heritage and indulge in exquisite dishes prepared with fresh, local ingredients.

---
Bowa, Šipan
An old storeroom for boats from 16th c. at the bottom of Vrbova bay on the island of Šipan in the Elaphiti Islands, is the center of a small culinary fantasy called Bowa. A forest surrounded by wooden cabanas is one of those places that are jealously guarded and recommended only to a close circle of friends.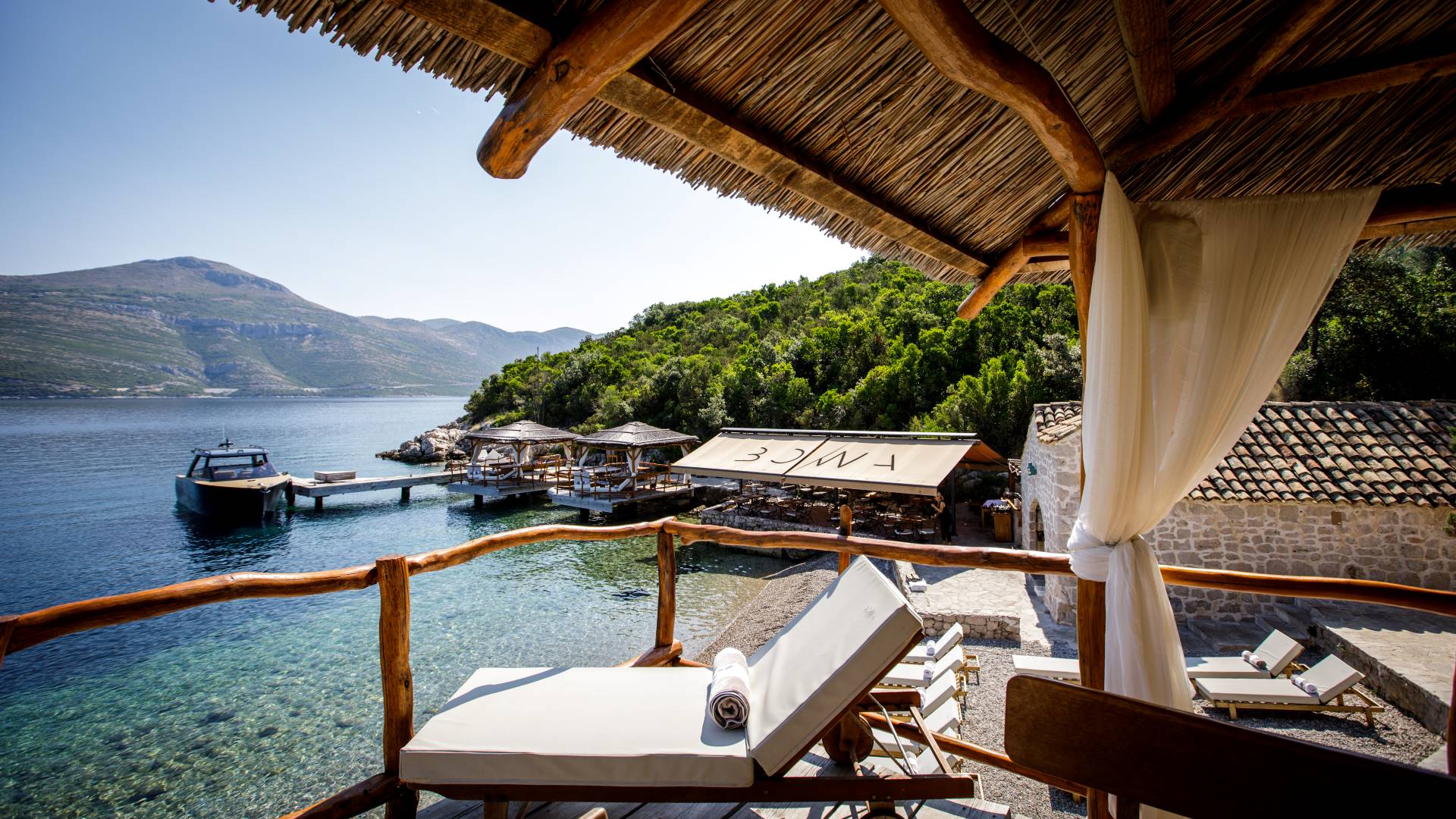 True, that circle of friends and fans has expanded so much that we definitely recommend booking because it's getting harder and harder to find an available table at the Bowa Restaurant.
It's no wonder because the owner Pero Šare brought part of his family culinary tradition to a uniquely unusual place in a small bay filled with silence and turquoise waters.
Its late owner Alen Perišić saw Bowa restaurant as a place for fine dining in the jungle. Architect Mate Braćić designed the cabanas gathered around the little beach, which are just the basis for the pleasant family atmosphere the restaurant offers.
The staff and owners all had their say in the design of the restaurant, so it is little wonder they are now happy to work there and welcome their guests. You can dine at the table from 11 am to 6 pm because the owner is a passionate fisherman who spends all of his free time fishing with his friends.
Bowa's tasting menu offers scampi tartare, raw tuna and greater amberjack on a bed of fresh vegetables as well as sea urchins, but we went crazy for the fried octopus à la Bowa, a simple, yet delicious appetizer which goes beautifully with Miloš rose wine. For the main course, you must-try white fish fillets or tuna with marinated veggies from Šipan island, or even beefsteak for those who cannot go a day without meat. But with such a great offer of fish dishes, we recommend you skip meat and go for fish.
Carefully selected wine list includes the likes of Pošip wine, Malvasia wine from the Dubrovnik region, Plavac and Dingač. You can choose and try some of the world's fines champagnes to go along with the appetizers or as a light drink before noon.
Featured Yachts
Kod Marka, Šipan
Kod Marka tavern is an institution for every lover of good food and self-respecting sailor. Guests have been coming back to this restaurant, and only for this restaurant, for the past thirty years because they know what they can expect here.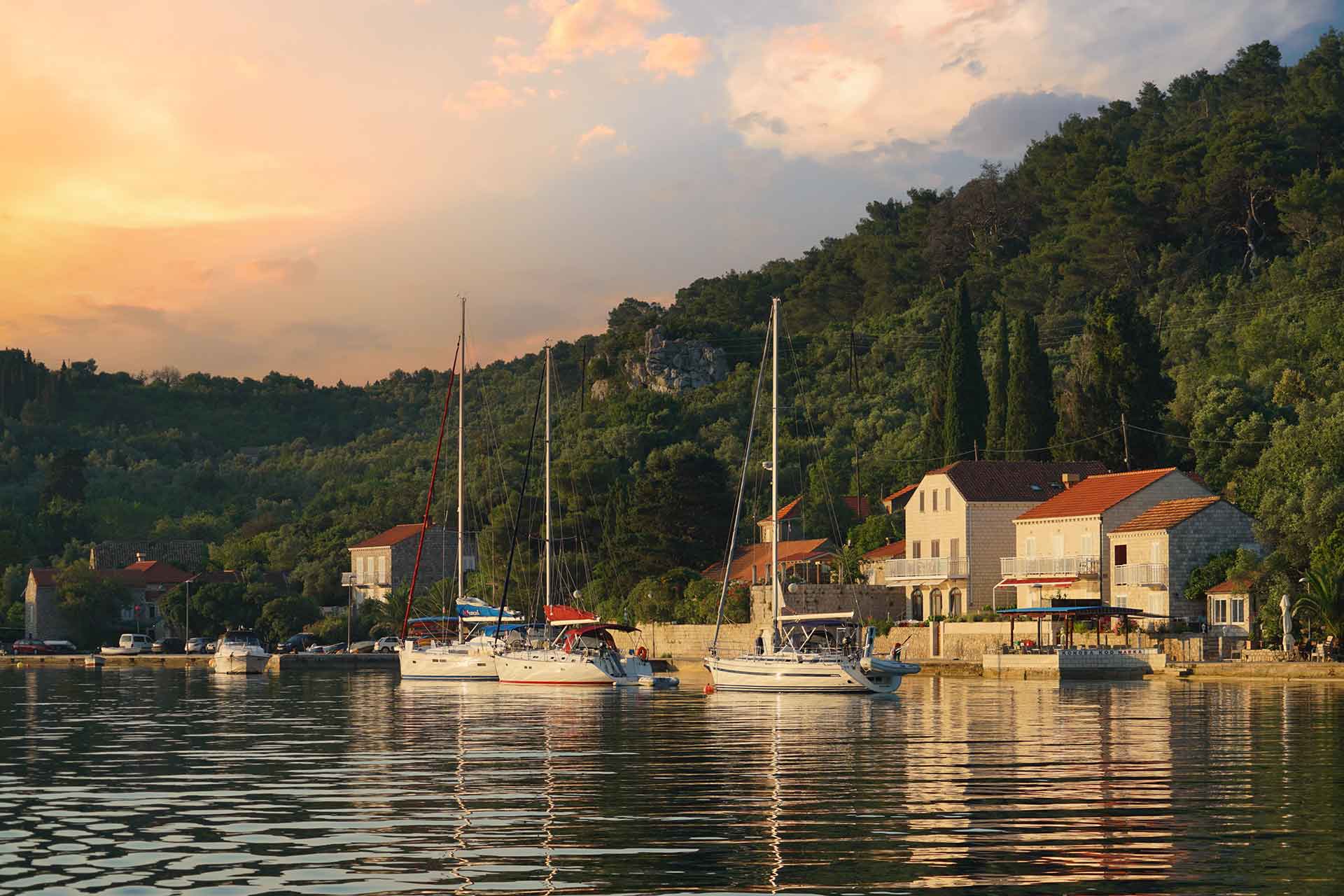 Top service, fresh fish directly from the fishnets and trawl-lines of Šipan fishermen and a relaxing atmosphere on the terrace overlooking the sea and the beautiful Šipan harbor. Even though there are only three buoys in front of the restaurant, there is still plenty of space in the bay for anchoring or mooring by the waterfront for sailors, the most dominant and best type of guests who often come back, sometimes even three times a year.
The restaurant operates by booking in advance, there is no crowd or uninvited loud guests because the terrace houses fewer than 40 people, not counting the interior of the restaurant. Đino inherited the small, but legendary tavern from his father Marko, and, as it should be done, he left all the great dishes on the menu and added new ones inspired by what he tasted and experienced while travelling the world, such as the raw food movement.
Indeed, his approach is not just about trying to please the palate, but also educate people to try out something new offering as many indigenous dishes as possible. There are all kinds of dishes on the menu, but, on that evening, we have been served creamy shrimp risotto, their famous octopus balls and a large piece of grilled barracuda.
'There's not much I can invent', says Đino, 'as vegetables and fish change according to season, and are prepared in traditional way with home-made olive oil, so there are no dissatisfied customers.' There is a large number of vegetarians and people who are allergic to gluten, which is why he tries to come up with dishes for them, too, such as various kinds of spreads, cold appetizers, marinated and raw food.
Augusta Insula, Lastovo
The island of Lastovo, as the farthest inhabited island, was a common target for pirates, but nowadays there is a completely new type of pirate in the bay of Zaklopatica – the owner of the Augusta tavern – Antoni Jurica, known as Lučo. The fact that he is indeed a real pirate is evidenced by the four cannons placed around the restaurant, which sometimes do go off.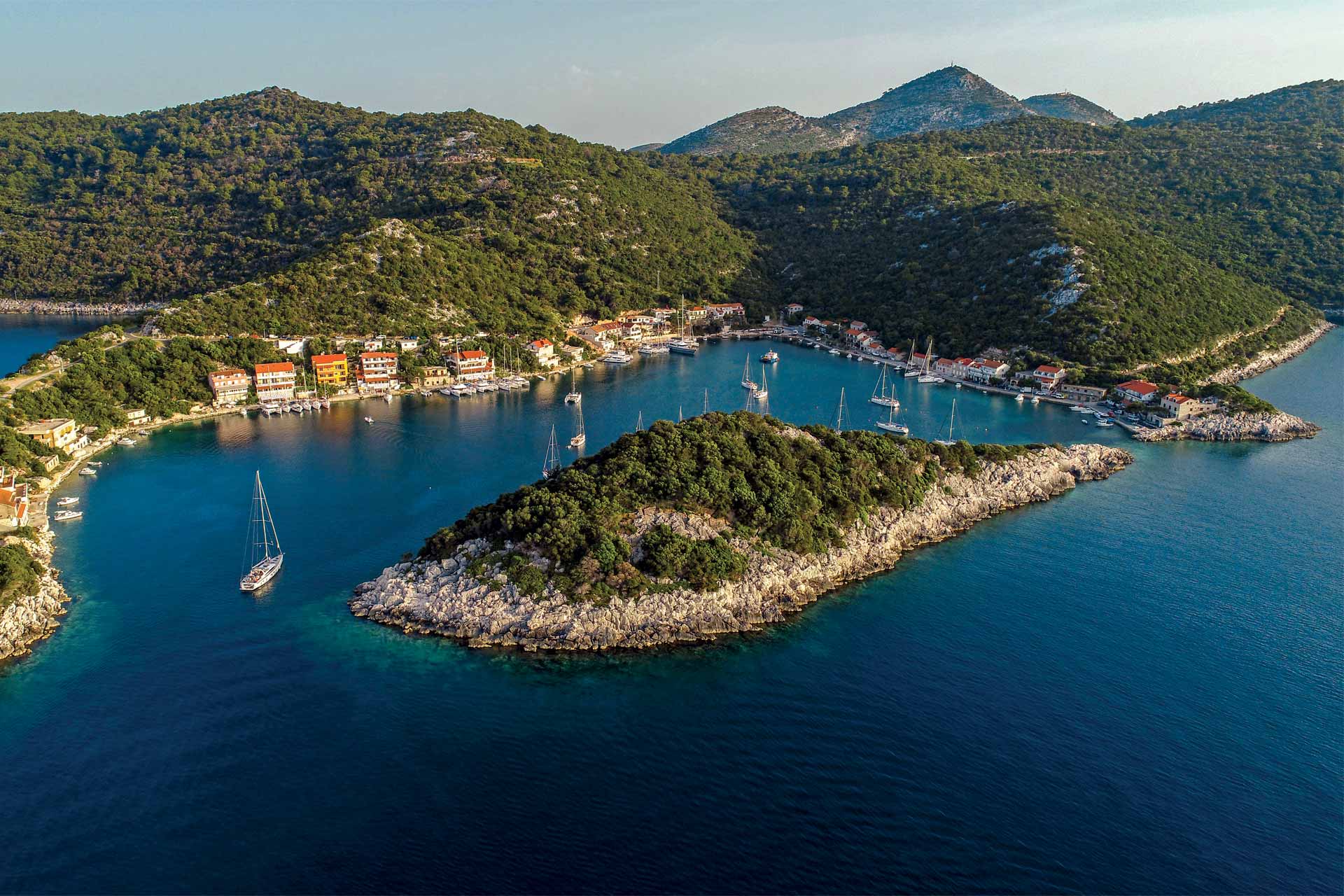 The always-cheerful Lučo announced the pirate dress code for the staff for the next season, along with parrots, and bottles of specially made prosecco wine labelled 'Pirates of Zaklopatica' for the guests. When it comes to food, there is no piracy, perhaps thanks to his wife Dajana, who runs the kitchen.
She says that they aren't changing the basics because they are a traditional family restaurant! There are no complicated dishes made here, everything is fresh and you can taste it in every meal, because there are dozens of fishermen working for the restaurant, and vegetables are farmed in ecological methods by a family farm. Whether it is a vegetarian risotto or a shrimp risotto, made in all kinds of ways, but always creamy, it has homemade ingredients, which makes everything taste better.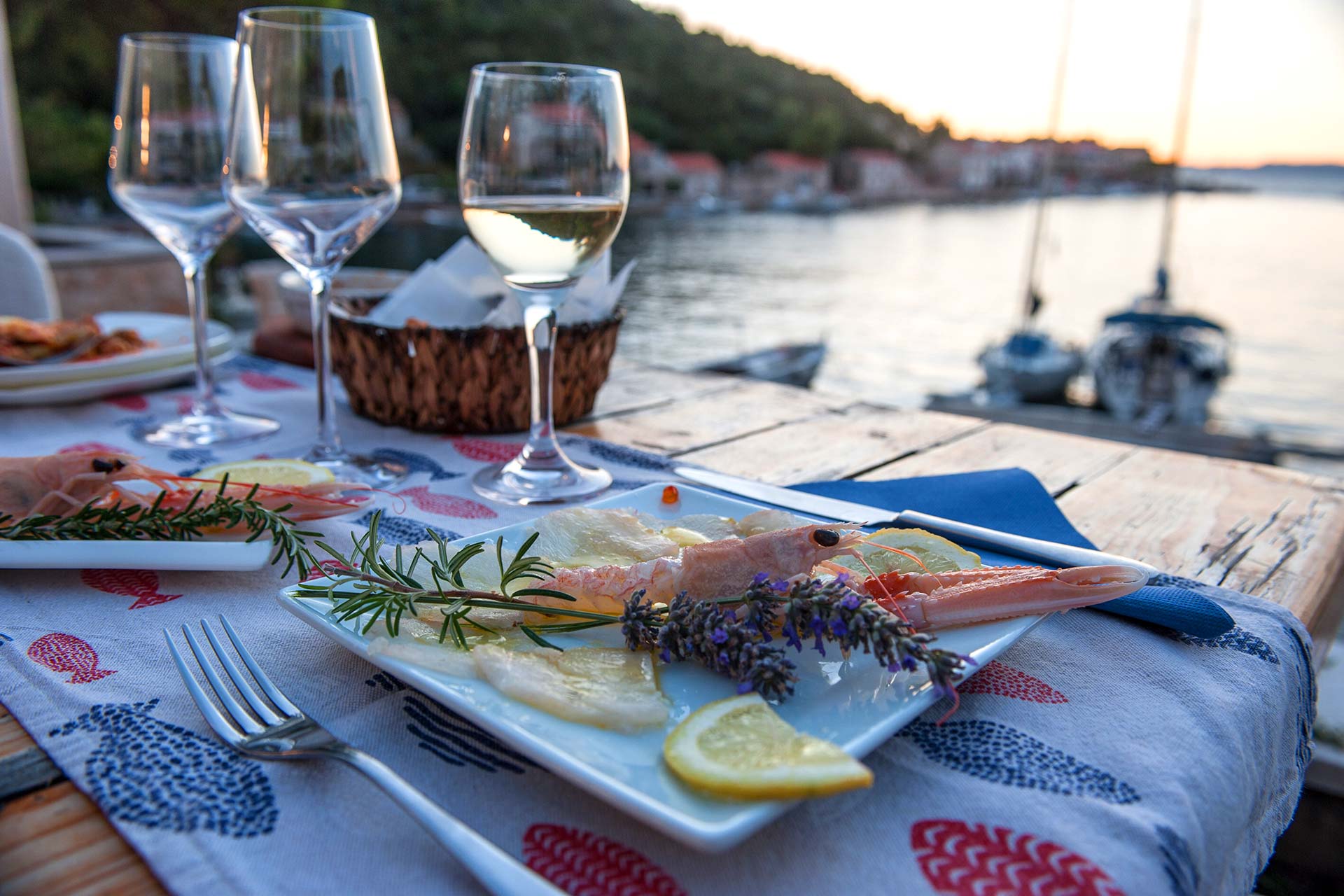 There are no sea breams nor sea basses on the menu, but there are lobsters swimming in pots underneath the restaurant, which usually end up on grill or, more often, in their most recognizable dish- with sauce and pasta. However, after a couple of days cruising, we were really blown away by their homemade tomato soup and fennel bread.
The musaka that followed, actually a parmigiana made following a twenty-year old recipe, with homemade vegetables mixed with tomato sauce and grilled cheese and eggs on top was so good that even some vegans at the table closed their eyes and ate the eggs. People should be delighted and swept away by the appetizers, because the main dishes are mostly the same as before, says Lučo.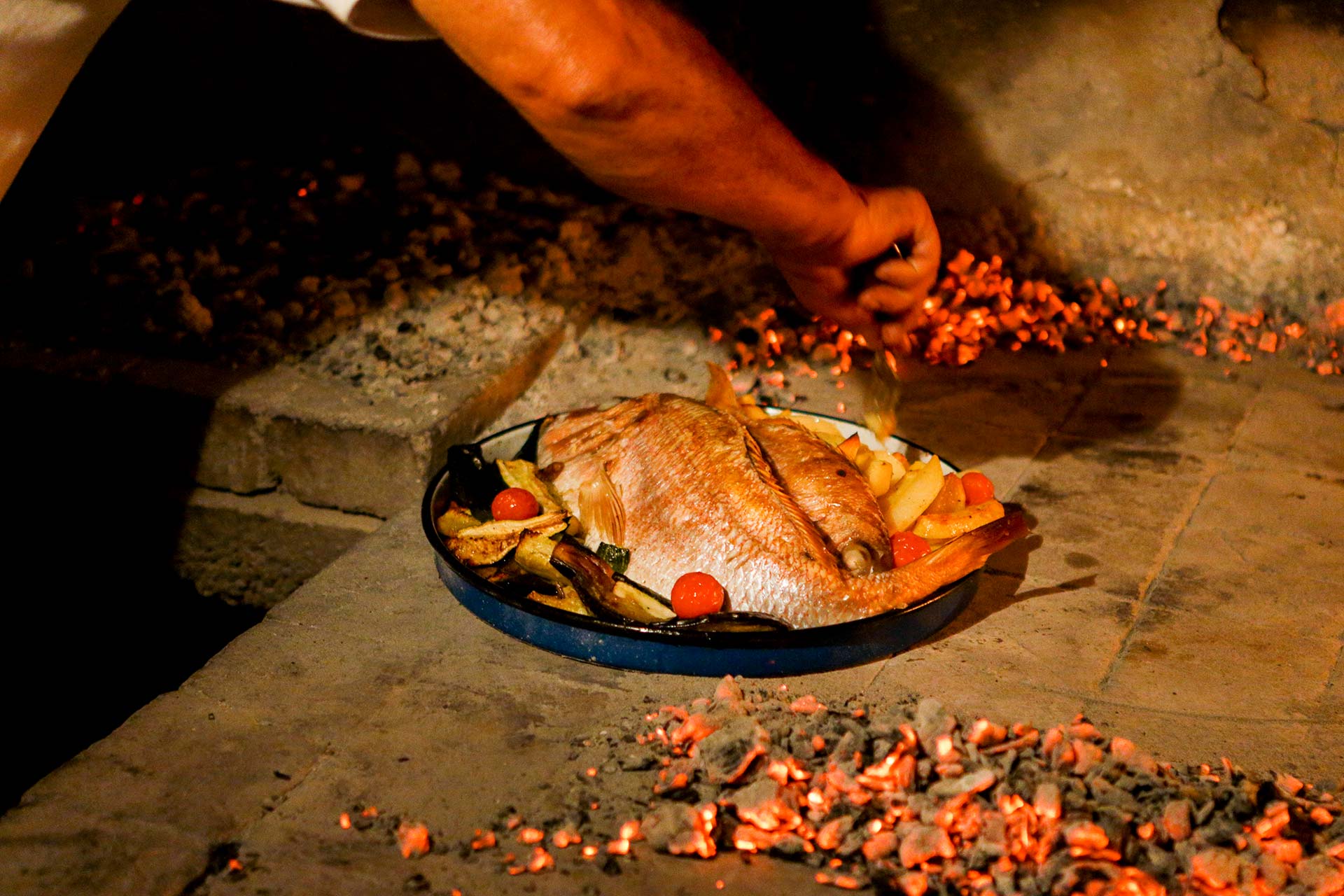 There are some beautifully decorated antipasti, dentex carpaccio, tuna tartare, sea urchins, grooved sea squirts, fresh salad made from sea fennel and capers, even fried sea anemone which the guests adore. To our question of how he became so popular among local and foreign boaters, Lučo, without blinking, immediately gave us the answer: friendship. 'It's all about having a good time and eating good food, then everything else just falls into place.
Gastro Mare, Pelješac
Once you hear how Toni Bjelančić aka Bjelko, the owner of the iconic Gastro Mare restaurant and internationally renowned chef, started his professional journey with just a few bucks in his pocket to winning international culinary awards, you will not be able to wait for the story to unravel and see it all in action.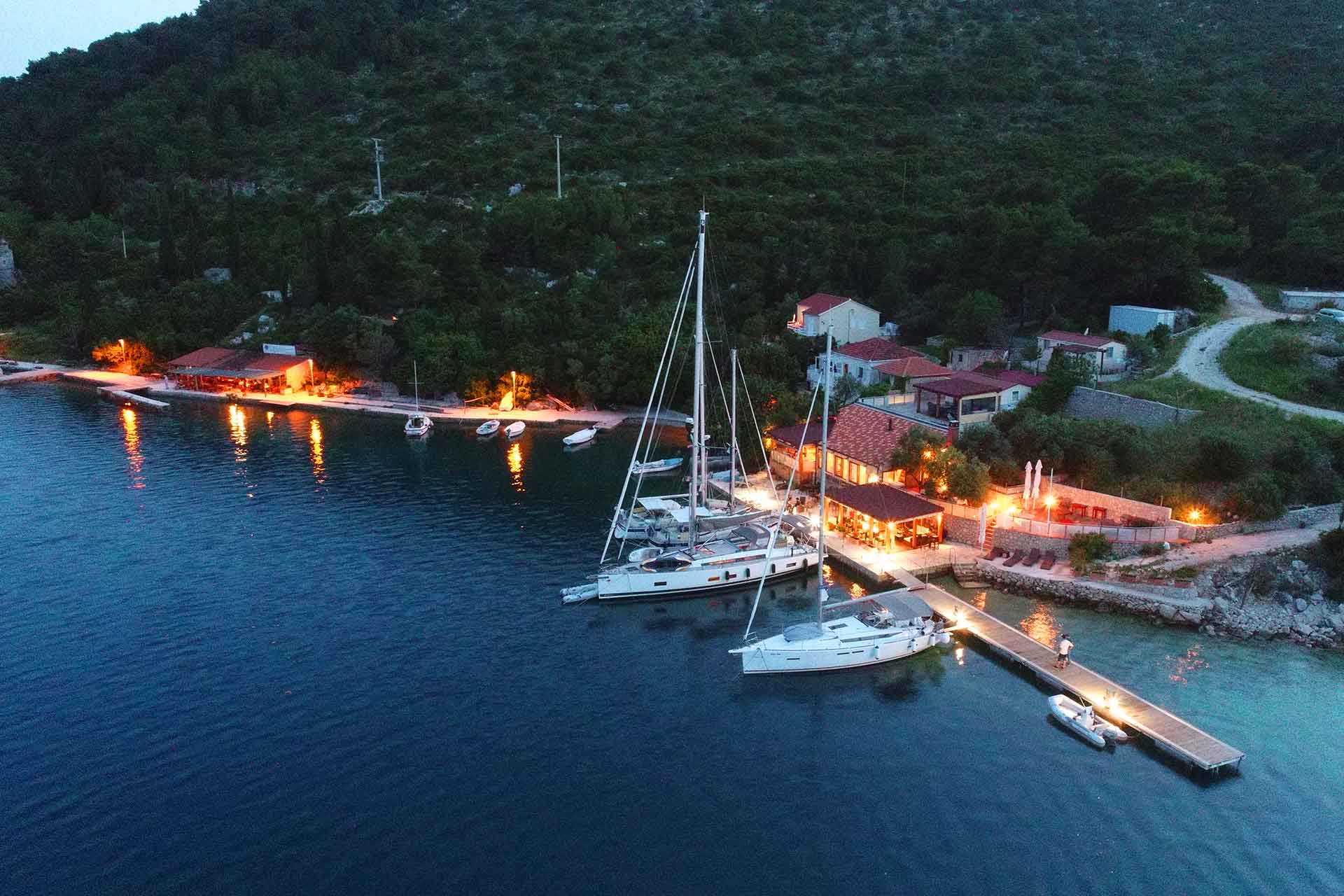 Actually, waiting isn't so hard when you're soaking up the smells of cooking while standing in the open kitchen, tasting all sorts of marinated shrimp, cheeses, olives and creating flavors which wake up Bjelko's memories of the Pelješac peninsula, a place he keeps coming back to after numerous experiences around the world.
As he recalls stories about his beginnings in the galley, his success in America and Norway and his final crown achievement – a fish restaurant in Vienna, he keeps on holding a knife, a pan or some kind of food in his hand. In the kitchen Bjelko feels like an artist. As he skillfully cuts zucchini, asparagus, fennels and tomatoes and makes up a dish on the spot for his vegetarian friends, which he will complete with the emulsion of olive oil and butter, we are starting to understand what he is talking about. The creativity to make a fantastic dish at any given moment using only ingredients he has is what sets him apart from many other chefs.
All this magic would not be possible if it wasn't for the fact that Bjelko has his own 'guy' who supplies him with fresh vegetables, that the fishermen bring him fresh fish two times a day, and that he, as a true Dalmatian, often goes fishing, even just to catch small fish that are great for making stock, which is his obsession.
He produces his own olive oil, which is one of the foundations of his entire culinary philosophy, and uses it practically in every dish, but especially in emulsions. Seafood is the main ingredient in the menu which consists of three to seven dishes. You can try and eat only a few bites, but who could stop oneself when such rhapsody starts out with perfect scampi in a butter, lemon and olive oil emulsion.
Text Filip Bubalo
Photos Bowa, Mario Jelavić & Filip Bubalo