Harrison Eidsgaard designers have developed an explorer yacht capable of ensuring great functionality and ease of use while also boasting elegant exterior and unique interior design
The 86 metre explorer is the first collaboration between CRN and Harrison Eidsgaard studio. Ben Harrison told us more about this collaboration. 'This is the first collaboration between Harrison Eidsgaard and CRN, coupling the best in yacht design with the superb engineering and craftsmanship from this world-famous yard. From the outset we were extremely excited to be working together, and found that the flexibility and dedication in creating a truly unique and custom yacht incredibly refreshing.'
The term 'explorer' is used a lot in this business – what is the characteristic of this yacht (it looks quite modern)?
We took a brief from a client rep for a vessel that would not look out of place in the Med, would excel in high latitudes, could undertake serious expeditions and at the same time provide guests with the highest level of comfort and luxury on board. Since the inception of this project back in 2014 we have seen a number of 'explorer' type vessels launched, but none have been finished to this level of sophistication and refinement. In that respect the Harrison Eidsgaard/CRN 86m conforms in every way to the client's original brief.
What were some of the challenges you faced when establishing the concept? Why did client choose it?
The challenge comes where function exceeds form as a requirement, and you as the designer have to ensure that the two sit harmoniously together. From the outset of the project it was necessary for the vessel to have the ability to carry two 40ft tenders whether a racing sailing yacht, covered support tender or mini sub. In order not to limit those options, we designed the yacht with a large area in the bow serviced by a commercial style crane, capable of speedy launch and recovery, but allowing us to maintain the pretty sheer line of the hull.
Heliskiing, diving in a submersible or riding quad bikes?
This project has been designed to maximise the operational flexibility and carry whatever toys, tenders, subs etc are required for each individual expedition or passage.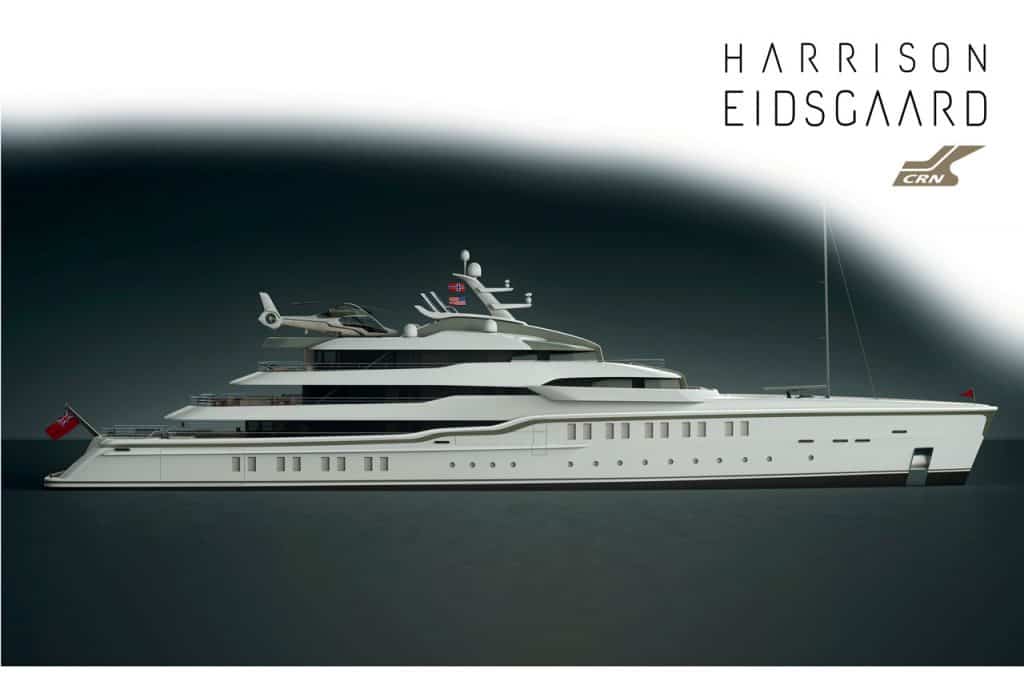 Interiors, what will be the guidelines and are there going to be Italian producers involved?
Taste is of course highly personal and while we relish the challenge of creating a truly unique interior design for each and every owner if I were to find myself in the position of commissioning such a yacht I would more than likely have it fitted out in a contemporary and sophisticated beach style. Comfortable, relaxed but with a high degree of sophistication and elegance, for me life on board is all about experiencing and enjoying the environment that surrounds you, and being able to use the yacht as a base from which to explore and enjoy the ever-changing surroundings in which it is located.
What would designer select as his highlight in this project?
One of the areas that I think would provide an incredible highlight is the indoor pool and spa area on the Lower deck with weather proof glass doors internally behind the shell door. Imagine enjoying the finest spa treatments within the warm confines of the spa while looking out at panorama of northern lights and arctic sea scape.
'CRN has been a pioneer in the design and construction of an explorer yacht, the first one in international pleasure yachting – the F100, designed by Gerhard Gilgenast in 1982. With Harrison Eisdgaard, we now want to go back to the values of versatility, functionality and elegance that have led us to be what we are today. We are really excited about this new cooperation, which has resulted in a very original concept,' answered Stefano de Vivo, CRN Chief Commercial Officer and Executive Board Member, on the question which details are important for the future of CRN with this project and why.
Photos by CRN and Harrison Eisdgaard