Discover fine spots of the Hvar archipelago and find out about local history and ways of life
Everybody is crazy about Hvar and it's not just because of its beauty and charm coming from stone buildings, cathedral, old theater, arsenal, fort and numerous little alleys with lively bars and restaurants. Hvar also owes its fame to the archipelago of Pakleni islands spread out East – West with almost six nautical miles in length.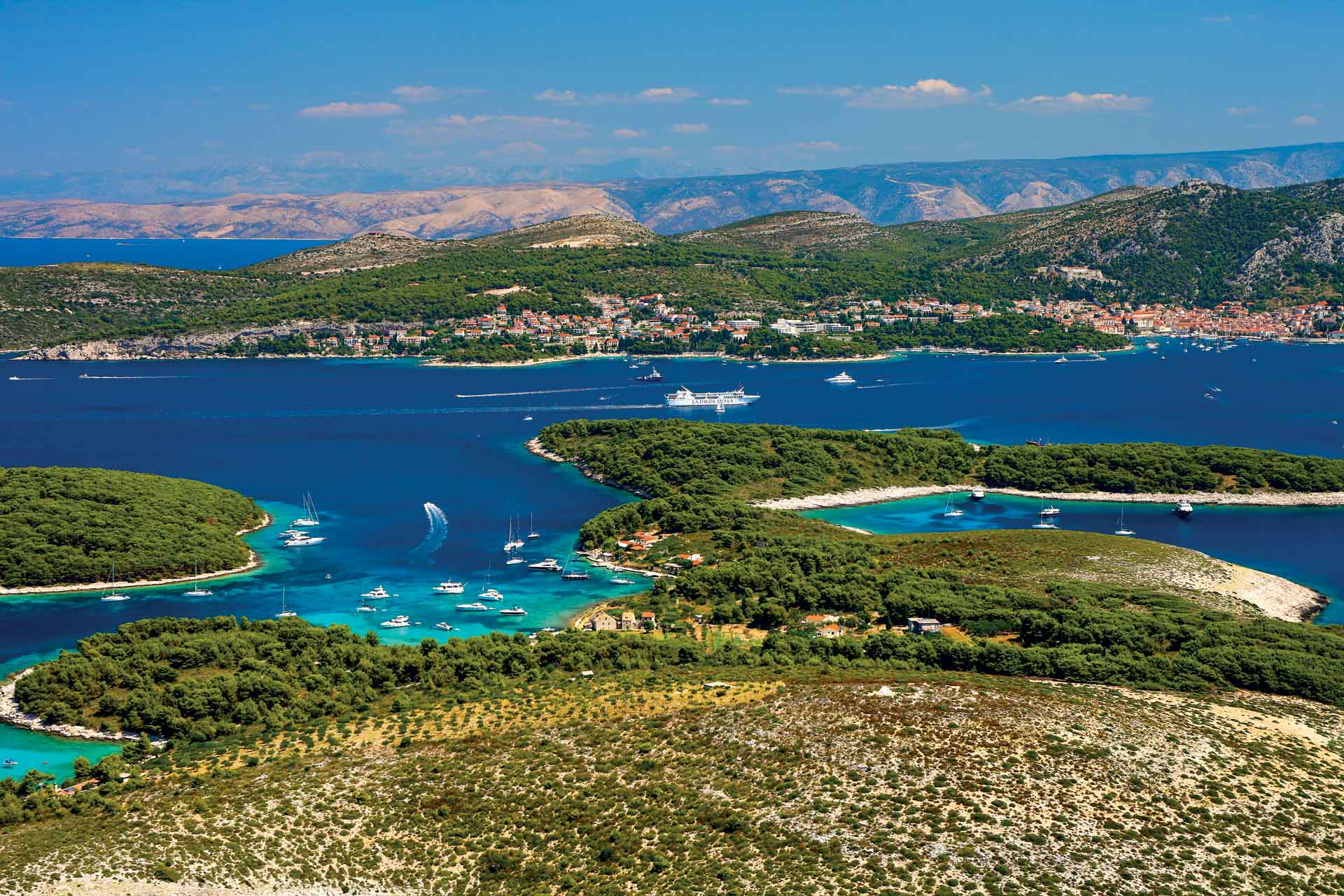 Hvar outdoor activities
Home to various legends throughout history they provided valuable resources of wood and resin (paklina) for wooden boats built in the past mainly for fishing purposes. The fishermen of Hvar are still a common sight in the area, yet in the season there are more visitors anxious to feel the vibe and charm of the little islands, its restaurants, pebble beaches, crystal water, protected and secluded coves.
Hvar rainbow hike
An old, picturesque road winding will take you from Hvar town to Velo Grablje village. The village is nowadays scarcely inhabited in spite of its rich history and wonderful geographic position. From there you can hike down into the gorge to find another neglected gem of almost extinct Dalmatian architecture known as Malo Grablje – village completely abandoned in the fifties of the last century.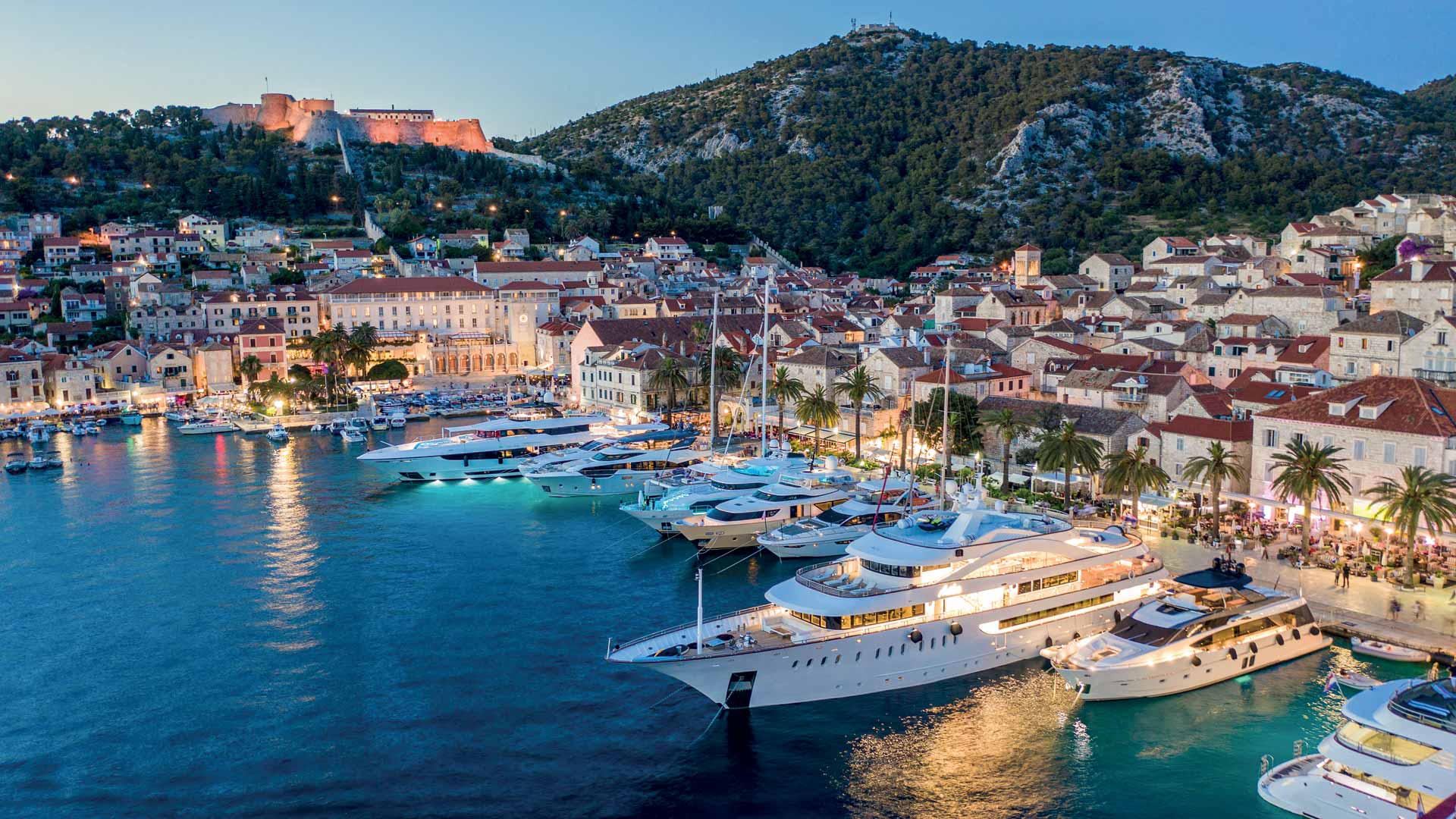 You'll walk through little alleys to discover its most interesting corners. Continue your hike down to the village of Milna on the water and there you either finish the tour or go on following the coastal trail that will like few others reveal the true Mediterranean features and eventually take you back to Hvar town.
We also suggest a hike on Saint Nicolas whose peak towers 625 meters above the water and the water is all around just like great views to the mainland and other islands spread out on the horizon.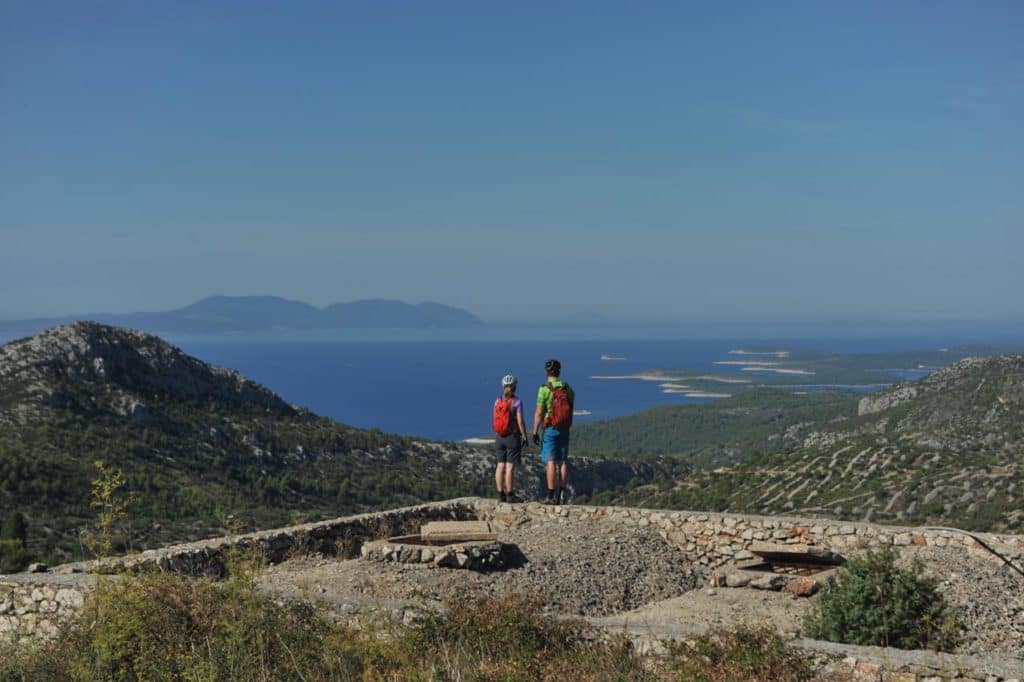 Firstly you get transfer in all-terrain vehicle from Hvar taking the island's less traveled roads as the inland reveals in form of thousands of kilometers of drywalls, traces of nearly forgotten past, overgrown and cultivated fields… You start walking very close to the top so when you get there everything is immediately displayed and apart from panoramas you can see how the trail goes down but it's only along the way that its secrets and details are truly discovered.
Steep vineyards on the south slopes representing an attraction itself are a home to some of the best red wine in Croatia while the cave where a religious order had settled centuries ago is likely to surprise you with its setting and perfect shade.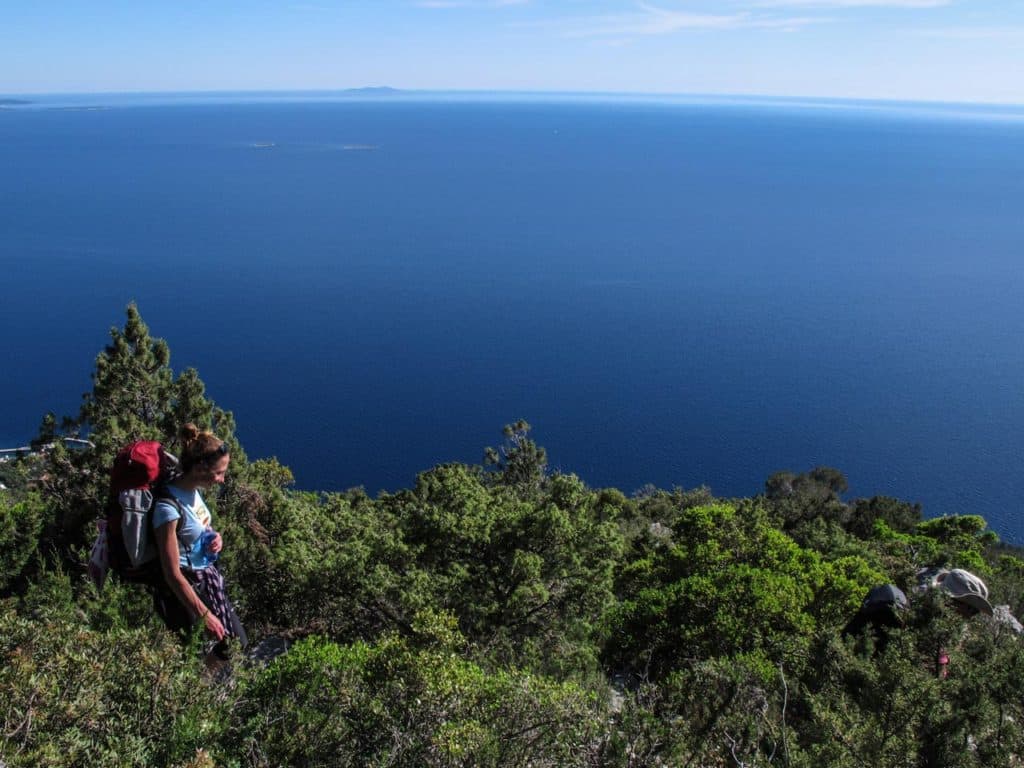 As you climb down the bluest sea is getting closer too and having past the upper little village of Sveta Nedjelja you arrive to the water level with an option to go for a swim as the ultimate refreshment. After short break transfer will pick you up and take you by a very exposed gravel road high above the water and at the same time under stunning cliffs but before returning to Hvar town you can stop in a restaurant for lunch.
Climbing above the town of Hvar
Somebody said that climbers always seek the most difficult line and the easiest way to do it and in this case it's mostly the second part. At rock climbing above the town of Hvar there are routes ideal for beginners, people who mainly climb indoors, as well as people with some previous experience that can put in practice their climbing technique and perhaps acquire new moves. The rock is limestone, and the site itself offers amazing view to the town of Hvar and the archipelago of Pakleni islands.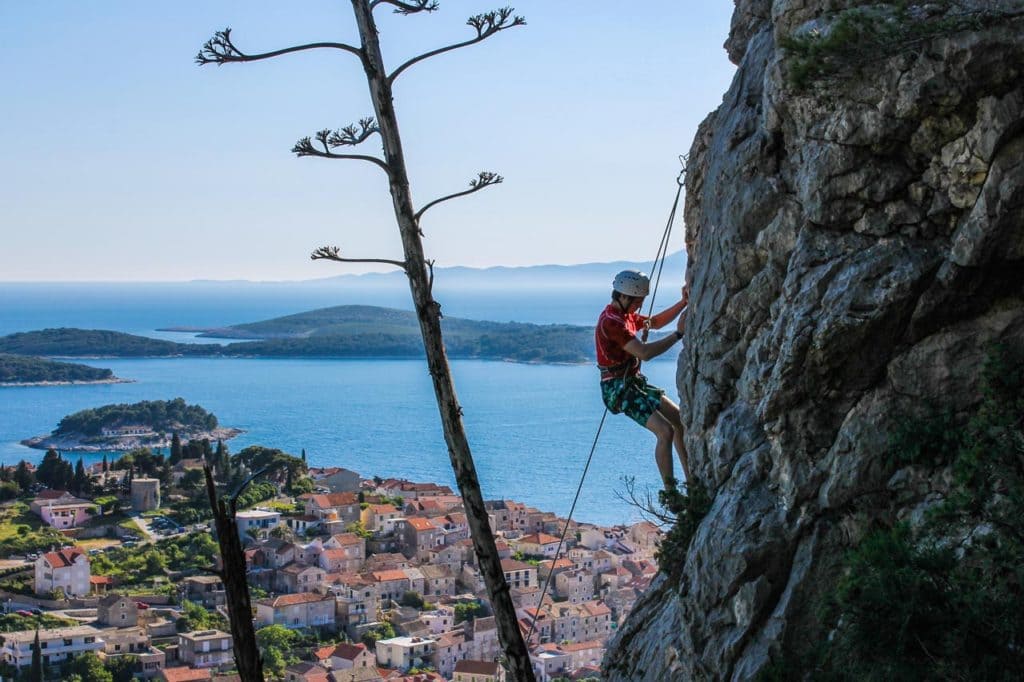 But there is a catch – in order to get that reward and see all that beauty you need to arrive at least half way up a route, which should motivate everyone additionally to push the limits of their comfort zone, even for a bit.
Although this is not a climbing course the guide will be there to answer your questions regarding climbing gear and safety, assist you with the knots, basic techniques and moves so that your experience is as complete and rewarding as possible. The guide will also lead the route and then it's your turn to climb top rope – and the fun part starts.
Hvar sea kayaking tour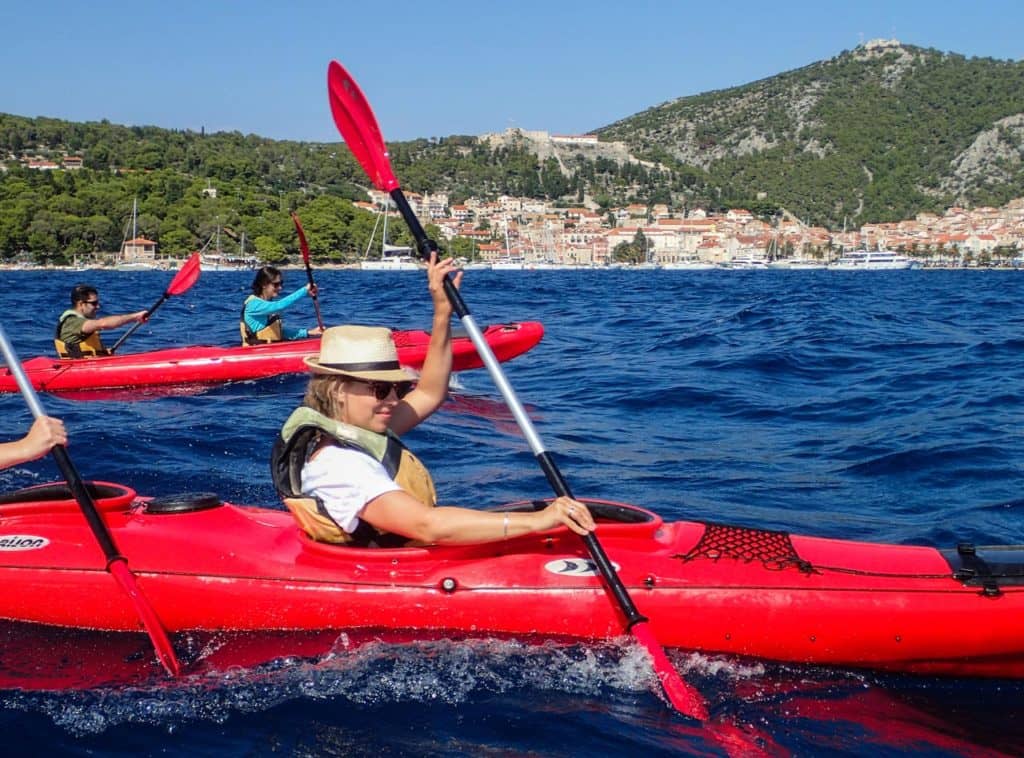 At kayaking tour you will set out from a beach near the center of the town, cross the strait and head out towards the islets to explore them. Whether your pace is faster or slower you'll find some nice spot(s) to swim, rest, have light lunch and get to know the area.
Sea kayaking in these waters gives a unique perspective and interaction with the ambiance that no other vessel can match. This tour is intended to those seeking moderate physical effort and firsthand experience of this corner of the Mediterranean, all in one.
Photos Archives