Top restaurants for yachtsmen in the most famous Croatian island – Hvar
Hvar. For yachting enthusiasts, these four letters have an almost mythical meaning. During the summer, the most famous Croatian island turns into an open-air theater full of life.
Owners of superyachts and students full of expectations walk through its small streets brimming with history, world stars anchor in the Pakleni Islands alongside with small local boats, all with the same goal – to breathe in as much of Hvar's elixir of life as they can, and lose track of time.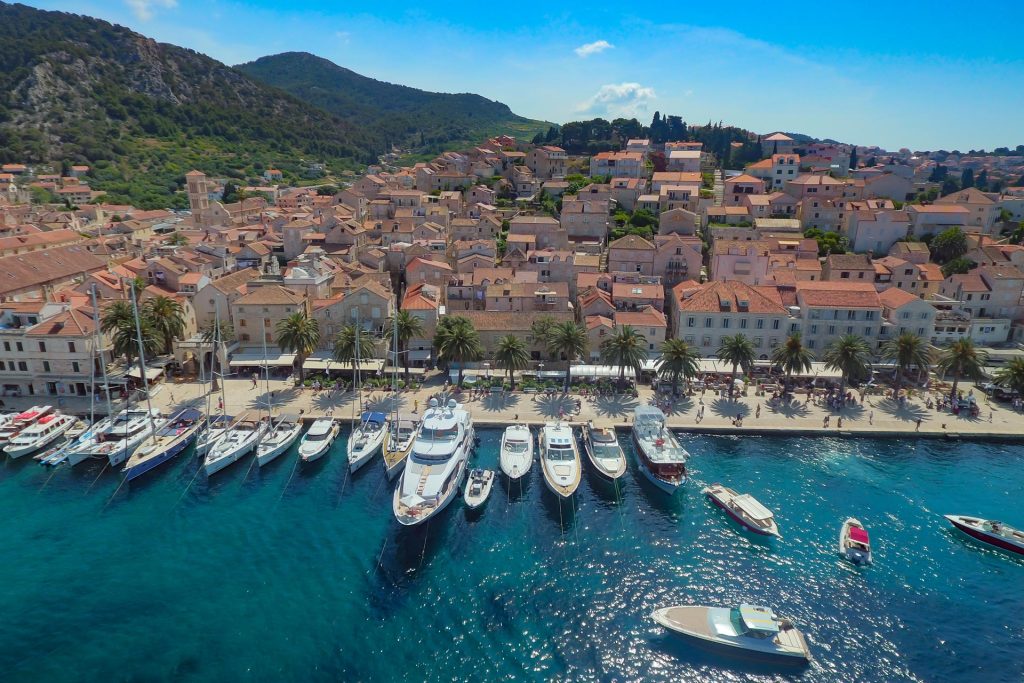 Cruising through beautiful Hvar's landscapes is not possible without good food and wine, so this text is intended for yachtmen who like to enjoy local gastronomy.
Gariful restaurant, town of Hvar
What do Prince Harry, Giorgio Armani, Michael Jordan and Charlize Theron have in common? Apart from the fact that everyone of them is planetarily famous, these people are also connected by their love of cruising the Croatian coast, especially the waters of Dalmatia, and the fact that during their almost mandatory visit to Hvar they always decide to drop by Gariful – a family restaurant located on Punta Riva, near Carpe Diem.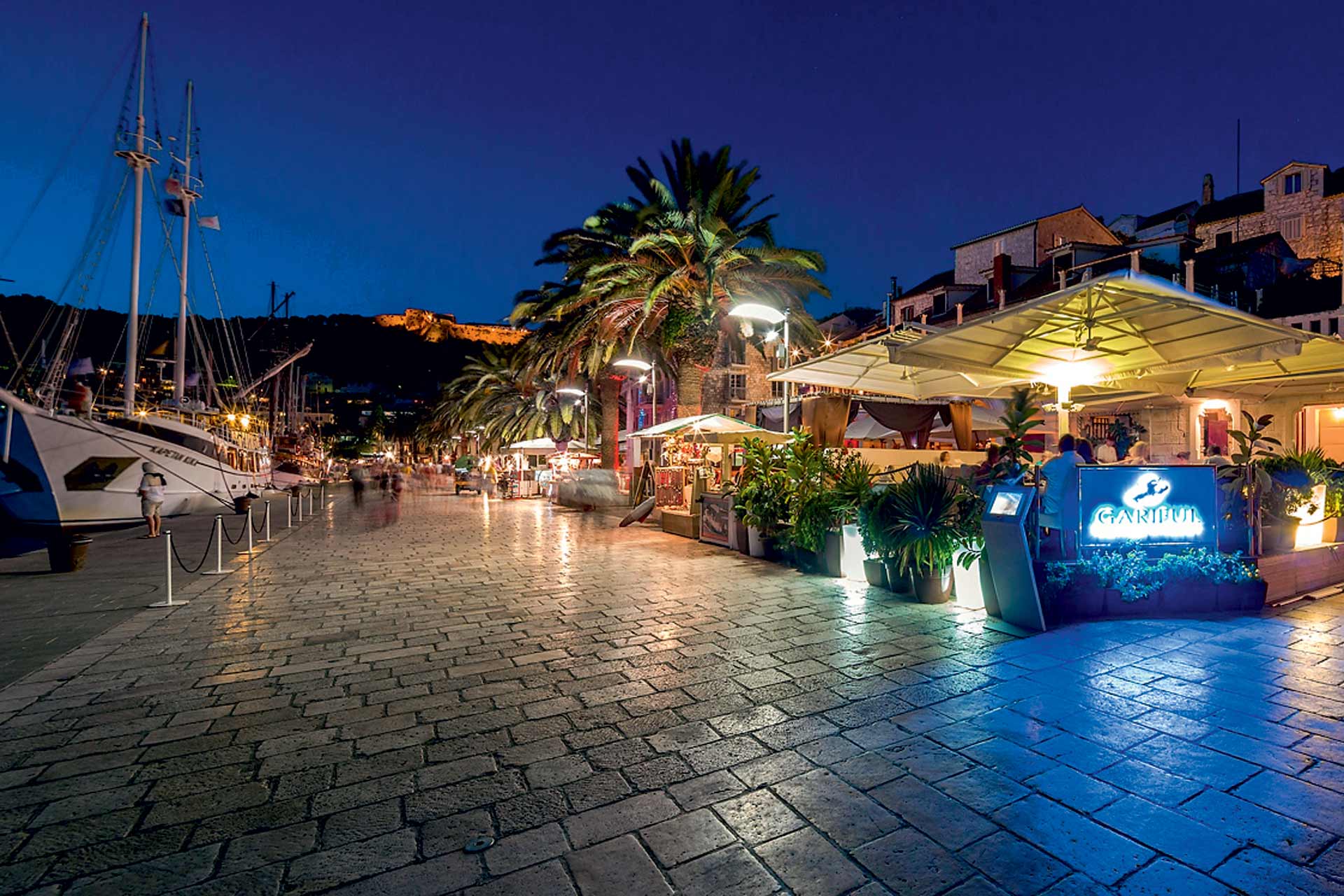 The restaurant has become the most exclusive and sought-after foodie destination on the island of Hvar. Insisting on quality always pays off, and Gariful has become popular due to a number of factors: fantastic location, great staff, friendly atmosphere and of course, always fresh, always homemade food.
In the summer months, Gariful comes to life in the afternoon, when the sun begins to set towards Pakleni islands, and the staff brings out just caught fish and fresh vegetables.
From the terrace of the restaurant, the delightful smell of fresh grilled fish and crab lures and attracts guests like a magnet from, reacing even luxury yachts moored on the Hvar waterfront.
Where to eat on Pakleni Islands near Hvar?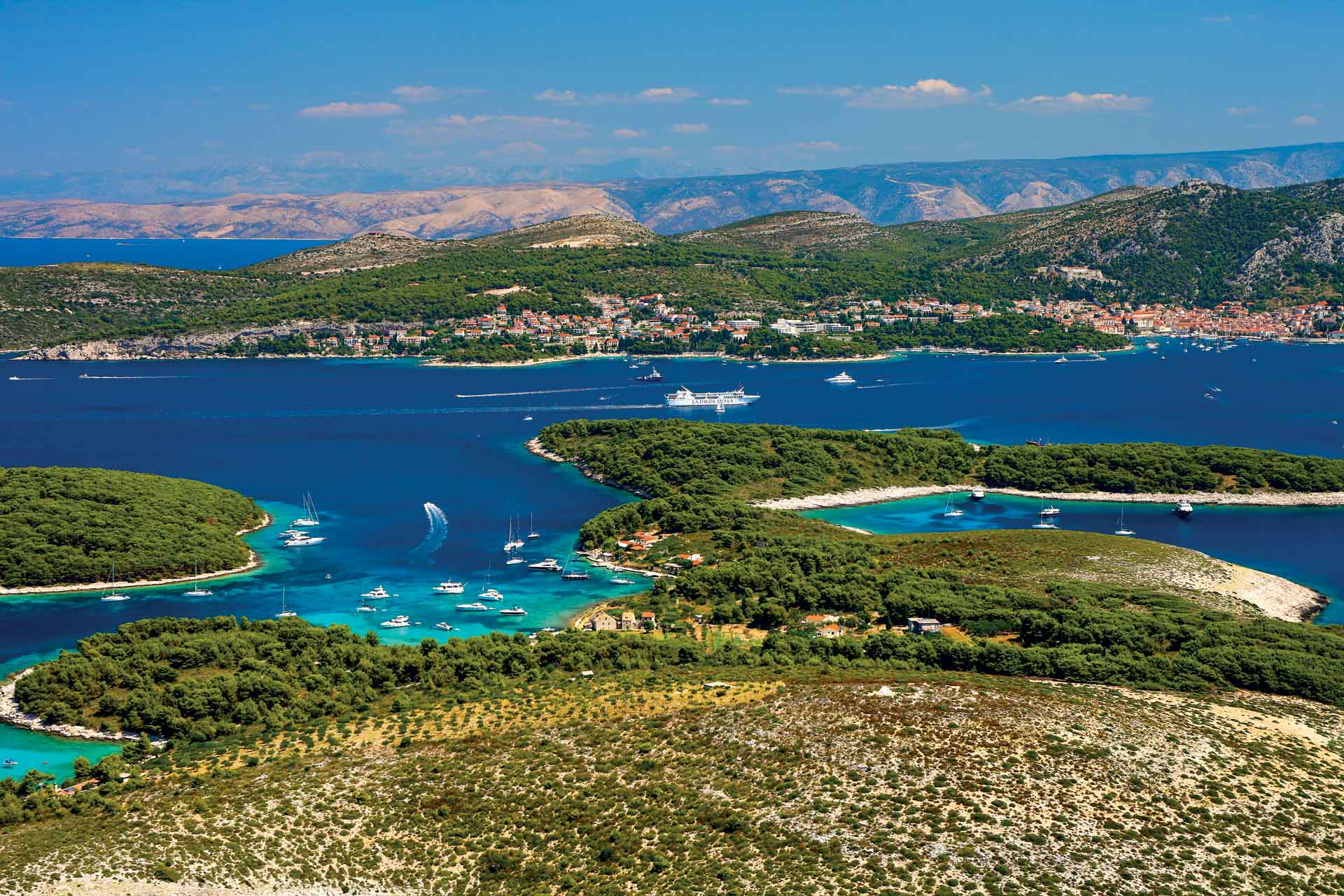 The Pakleni Islands (Hell Islands) still read as the favourite oasis of many local and foreign yachtsmen, the root of the modern nautical tourism, providing genuine gastro quality. The Vinogradišće Bay on the south side of the St. Clement Island, the Ždrilca Passage together with the Taršće and Soline Bays still belong to the central anchorage spots for yachtsmen.
Since the Hvar maritime zone, with its high popularity rate and important historical meaning, plays a significant role in development of the nautical tourism, we wish to present you stories of some of the best restaurants in Croatia to visit by boat.
Restaurant Antonio Patak, Ždrilca (Marinkovac, Pakleni Islands)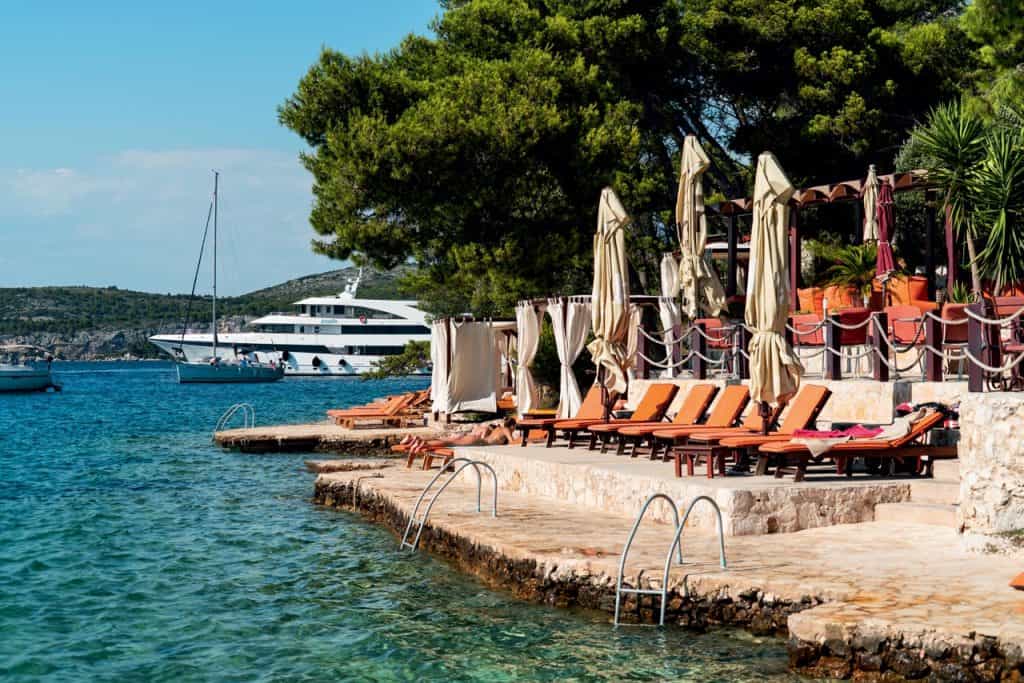 'Buckle up for fine food' reads slogan of the Antonio Patak Restaurant, portraying fabulous atmosphere that has been attracting generations of yachtspeople for decades, choosing on their routs one of the most famous Pakleni Islands Bay – Ždrilca.
Judging by the moored yachts in summertime, this sea passage resembles the most popular anchorage spot in the Mediterranean, and the main reason this bay buzzes with yachts is their favourite restaurant growing over the years into 120 seating places.
This family facility ran by spouses Ante (the famous Patak) and Nada Dujmović with helping hands of their daughters, Marijana and Katarina, beams with that special charm and taste of the traditional kitchen and home atmosphere 'spicing up' the food served.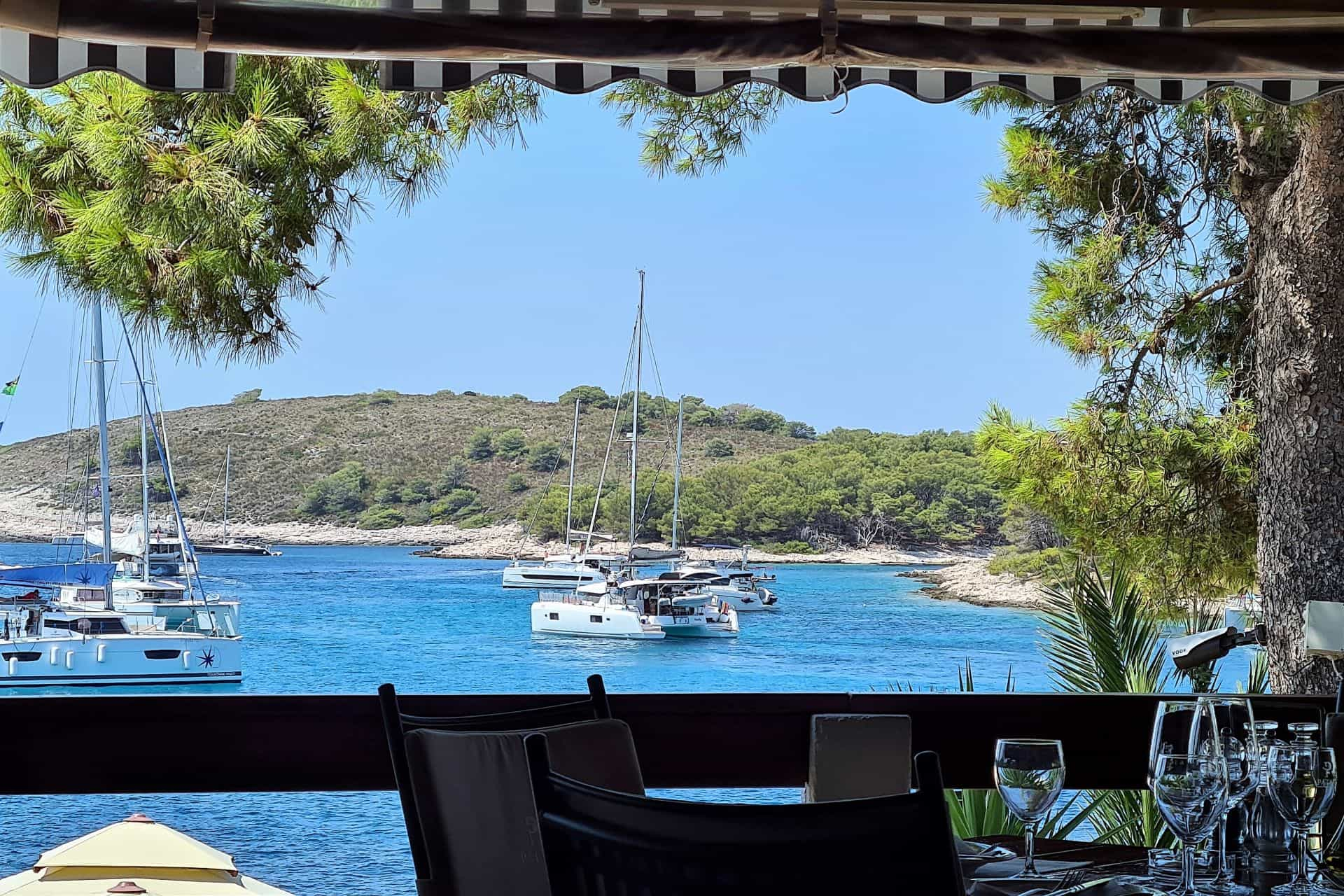 With great pride, the hosts emphasize fresh fish delicacies caught within the local fishing zone, however Mrs. Nada's cooking technique of minimum food processing respects the indigenous taste of the ingredients, so octopus salad might be the best starter, since it stands as a fusion of all fresh foods blended by the homemade extra virgin oil, representing the fundamental backbone of all dishes.
Unmistakeable choice for bigger crews would be fish dishes like brodet or 'gregada', keeping in mind that the strong sea currents in this passage represent a perfect sea-storage for preserving fresh shellfish and lobster.
Laganini Lounge bar & Fish house, Vinogradišće (Sveti Klement, Pakleni Islands)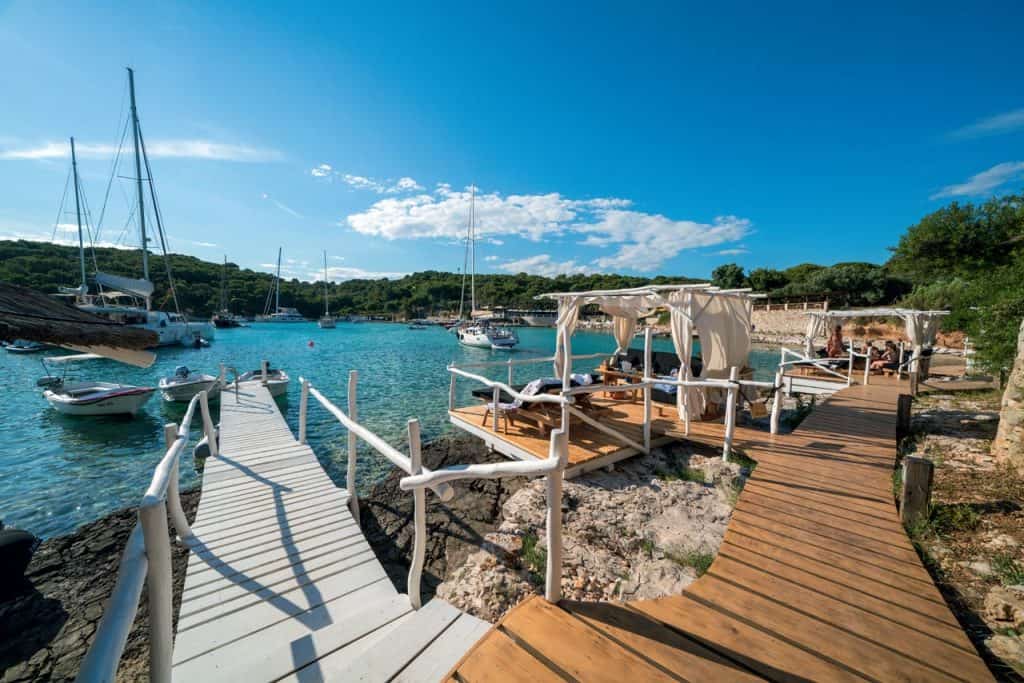 Even though the Laganini Lounge Bar & Fish house seems like an ideal beach destination for young partiers yearning for all-day-fun, especially known for 'after beach party' events at dusk, the owner Ivan Novak extended his offer beyond cocktails and premium champagnes.
He created a pleasant oasis in the backstage where you can try innovative island cuisine. Fresh seafood dishes are the perfect introduction to Dalmatian tradition spiced up with inventive preparation techniques carefully created by Laganini's chef and culinary team.
What makes this restaurant in Hvar different from others is ability to apply modern culinary principles on seemingly dull ingredients, yet always fresh, coming up with a new perspective, thus truly tempting your taste bulbs.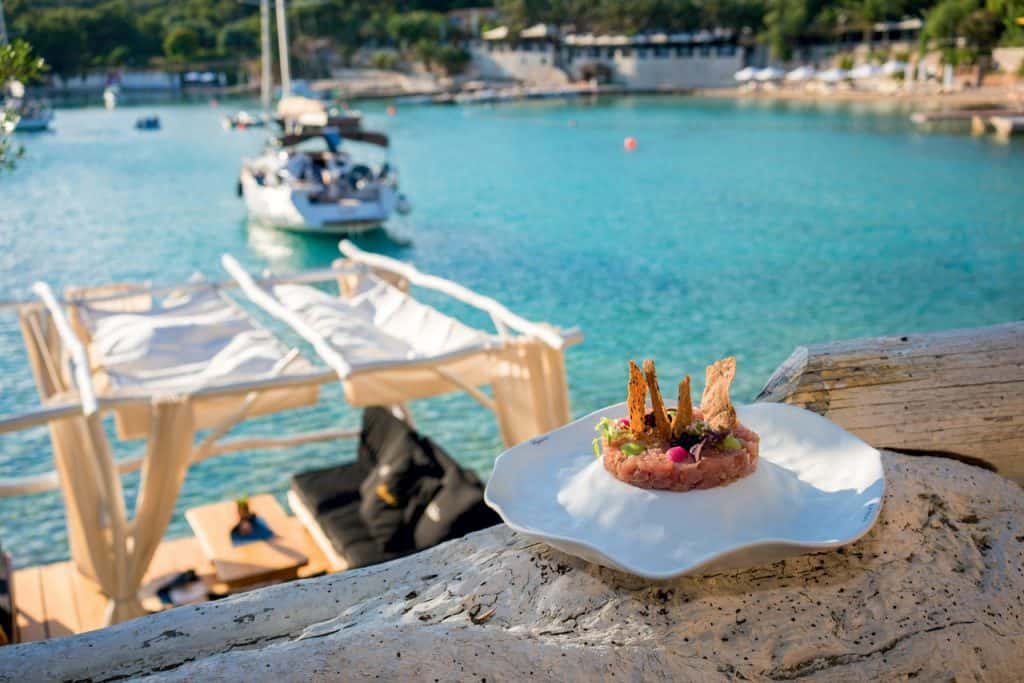 They say some traditional meals shouldn't undergo changes, and tradition should be respected, but once one manages to add another dimension to the meal, then everything is allowed just like in rock'n roll.
Toto's  Restaurant, Vinogradišće (Sveti Klement, Pakleni Islands)
Named after the father of the nautical-gastro style and father of the restaurant owner Đenko Meneghello, Toto's belongs to a must point of yachtspeople.
It's nested on one of the most beautiful Adriatic terraces right above the beach in the Vinogradišće Bay, only a hundred meters away from the Meneghello Restaurant offering a unique ambience of a botanical garden with more than 60 palm tree species taken care of by the family for decades providing a breath-taking view across the bay and the open sea.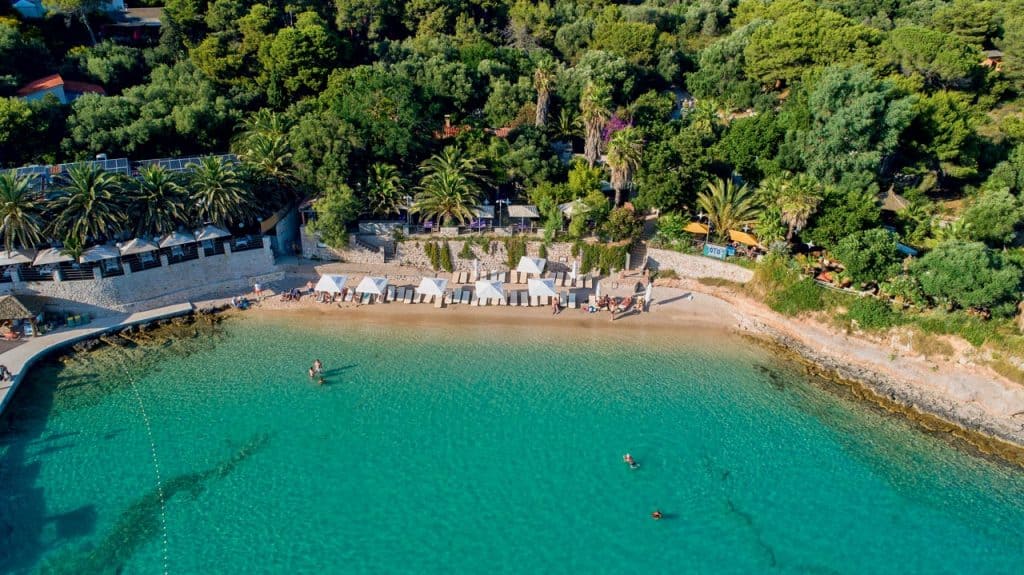 Yet the restaurant menu based on sea delicacies out-tops the atmosphere since Đenko's know-how fisherman features promise a top ingredient on the Toto's menu. The philosophy of the Toto's dining experience is perhaps best reflected in the fact that, although it is the biggest restaurant in the bay, it is also the one with the least number of places – just 96.
While there is no compromise on the quality of the food, the aim is to provide a relaxing and natural environment in a living arboretum, with many tables in secluded privacy surrounded by a sea of green.
The gate leading to the beach making Toto's an ideal base for a combination of food and swimming. The menu is classically Dalmatian, with an understandable emphasis on seafood.
Meneghello Restaurant, Vinogradišće (Sveti Klement, Pakleni Islands)
In the Vinogradišće Bay, modern tourists so wrongly label as the Palmižana Beach, the simplest way to say – is where everything started. A hundredth birthday of the Meneghello Restaurant, celebrated twelve years ago, testifies of its origin. People who used to spend time with the late Toto Meneghello, the person meritorious for development of the entire St. Clement Island, still sail across the Adriatic.
The Meneghello family wears the title of the founders of tourism, they cultivated the entire land of their island estate and planted extremely rich flora.
Each generation throughout more than one century has contributed to the superb and indigenous gastro name of the Meneghello Pamižana Art Resort Restaurant, providing one of a kind exceptional ambience enriched through valuable art collection of Mrs. Dagmar Meneghello. The town of Hvar has awarded this family with acknowledgment for exceptional contribution to the tourism development.
Another acknowledgment fact – during our restaurant visit a gentleman sitting close by has been enjoying a historical connection with this restaurant ever since the 50s of the last century, meaning he has been around longer than Mrs. Dagmar. Amazing restaurant terrace is crowded with people enchanted with restaurant's appeal turning them into devoted clients for years.
Restaurant Dionis, Vlaka (Sveti Klement, Pakleni Islands)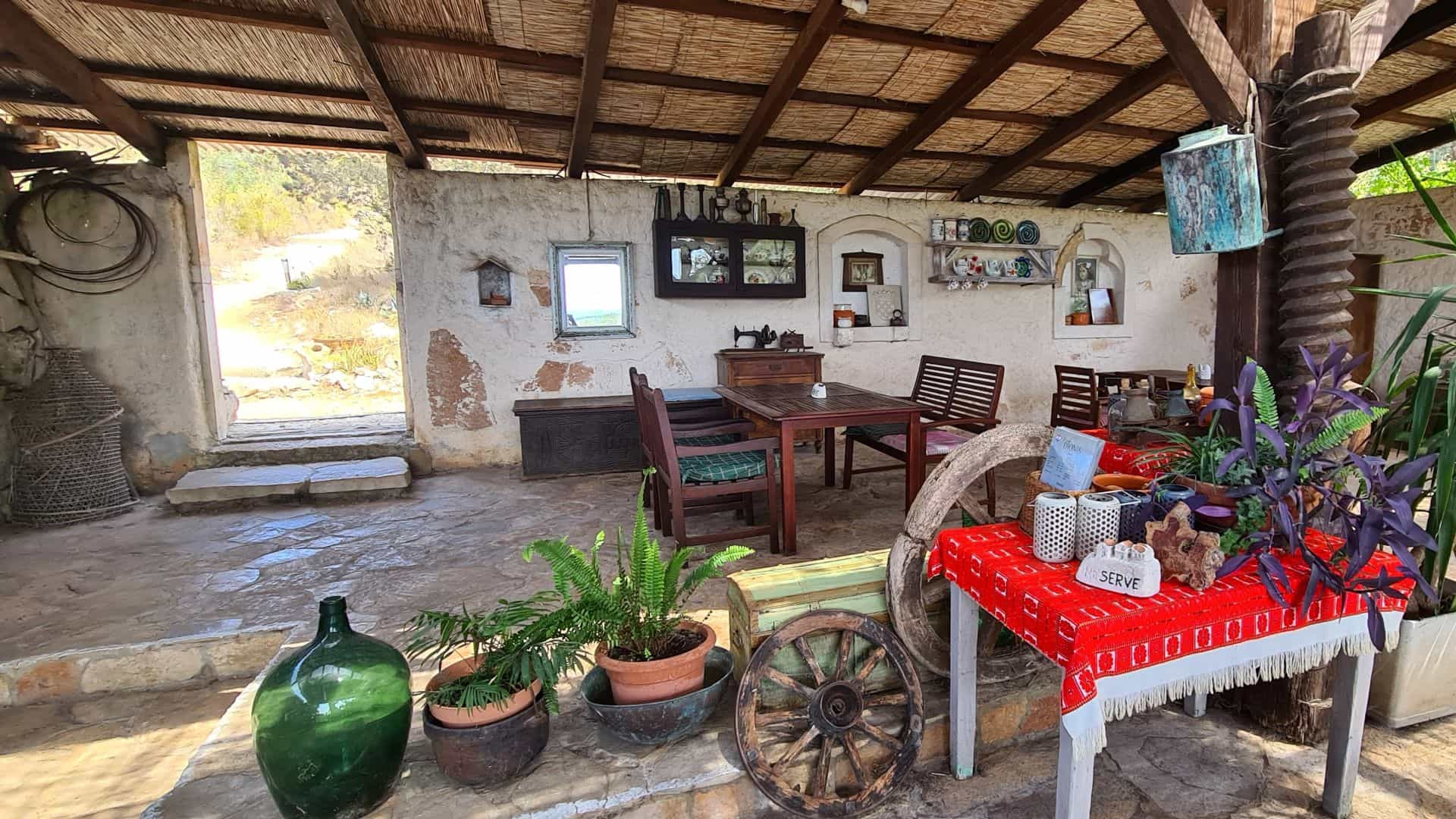 The Vlaka Bay has been for ages a synonym of a cult spot – the Dionis Restaurant, a destination that surpasses space and time frames, cherishing island attitude in life and gastronomy.
The menu does not offer poached fillets, glazes, dehydrations and deconstructions, but genuine bites under a magical ambience taking you back through time when traditional fisherman dishes were first made. Simple, refined, flavoured with basic spices – a true heart & soul of these dishes.
With every bite of their most famous appetizer – eggplant and tomato sauce cake, you slowly sink into atmosphere of this preserved archipelago, with the view on vineyards and olive groves bringing back the time when food was a source of earthly enjoyment.
The next step after you finish with fresh grilled fish and a bottle of pedigreed homemade wine, will make you wish for laying back underneath a nearby olive tree where you can immerse in smells and sounds of the ancient spirit of the Mediterranean.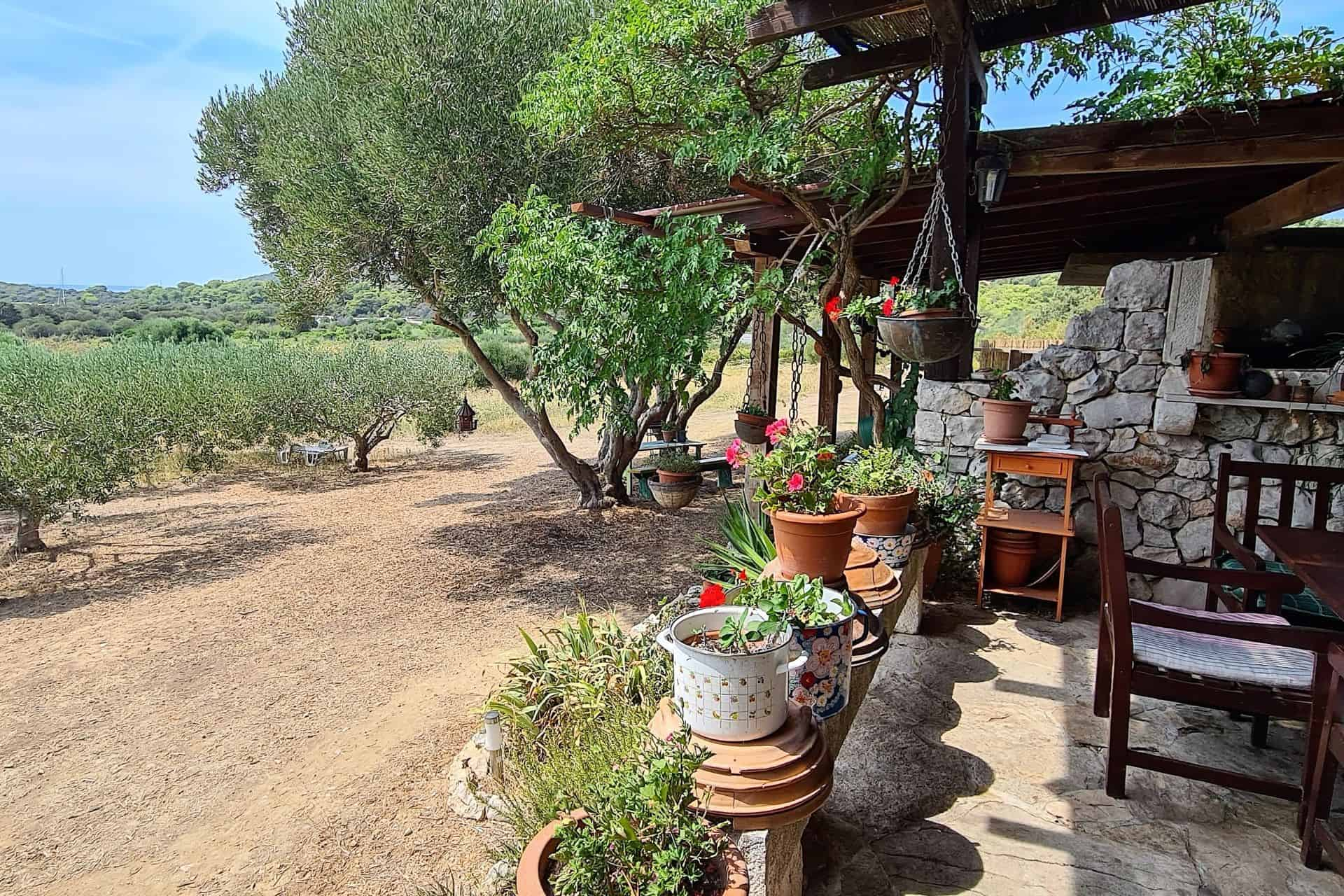 The owner Pjerino Šimunović is also an enthusiastic history researcher of this area exploring times before Greeks and Romans and with zest in his voice she showed us a copper fish-hook he has found recently in his field.
The historical value of this area is undoubtful, and Pjerino counts as one of the most devoted guardians and gastro-hosts offering you a place on his porch, a spot that might help you understand the synergy between man, island and sea providing a simple living space of this Olivetan dweller of St. Clement.
The FisherMan's House & Rooms Tonči, Vlaka (Sveti Klement, Pakleni Islands)
Humble, but delightful, The Fisherman's House Tonči is a small and beautiful oasis on the Pakleni Islands that has since 1964 been a testimony to the foodie tradition of the island.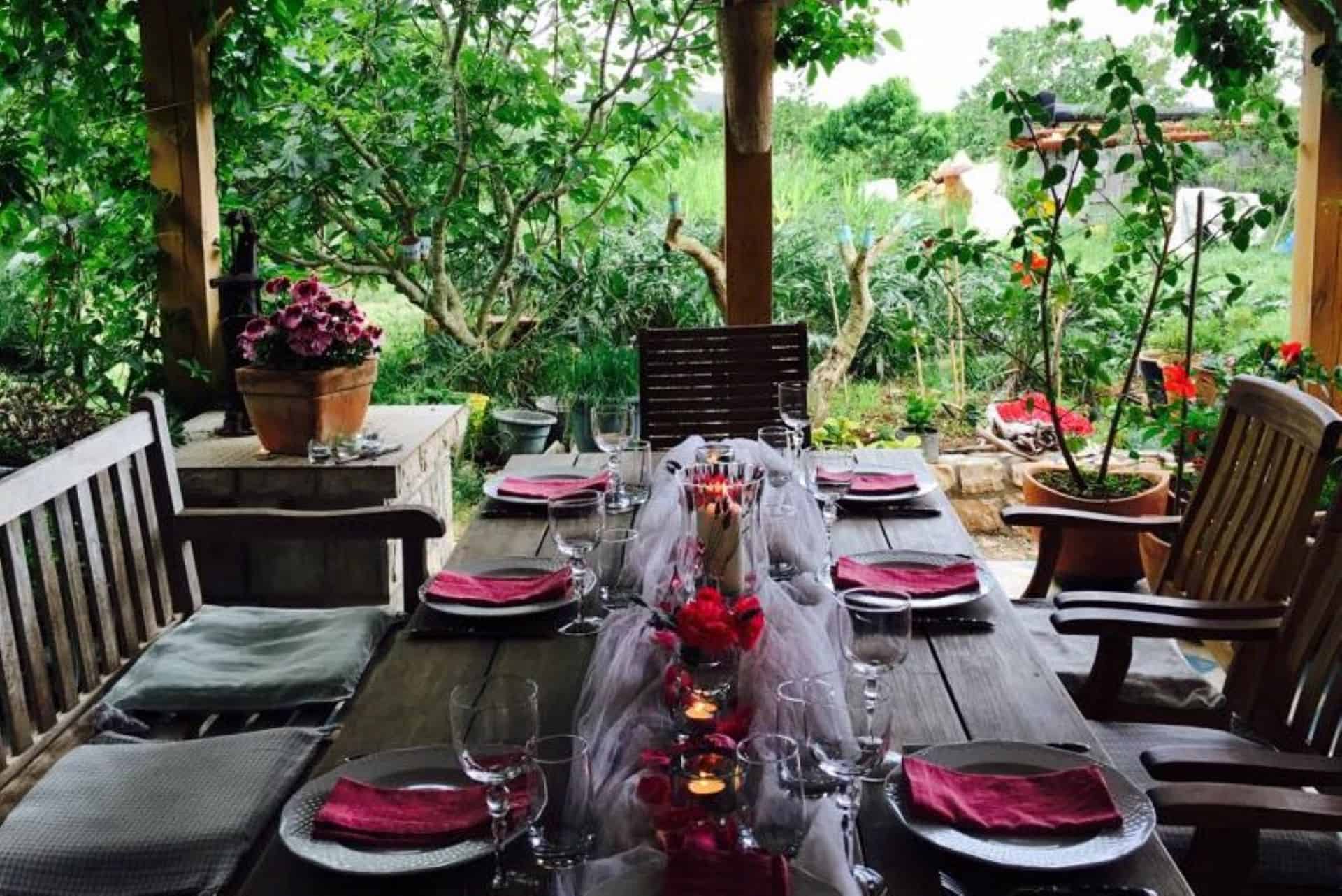 Unlike the usually crowded bays of Palmižana and Vinogradišće, the lonely Vlaka bay might not as well be on the same island, and it is there that The FisherMan's House delights the palate with fresh fish and seafood prepared in any and all traditional ways.
For several generations, the Matijević family, whose matriarch is now Perina, have been faithful to their expression and cuisine devoid of trendy ambitions.
Their foodie style is best refected in dishs like cioppino alla Tonči, or their famous gregada, a local seafood dish with potatoes, but no usual tomatoes, cooked on open fire.
Although the closest path to the restaurant is from the Vlaka bay itself, we recommend anchoring in the Taršće bay on the south side of Sveti Klement, and taking a romantic walk to the restaurant.
Colnago Winery, Vlaka (Sveti Klement, Pakleni Islands)
The Vlaka Bay in Pakleni Islands, reachable by boat or on foot along a charming trail from the marina Palmižana, hosts the Colnago Winery. Looking from the west this is the first post where you will encounter that special feeling distinctive for the biggest islet in the archipelago – St. Clement.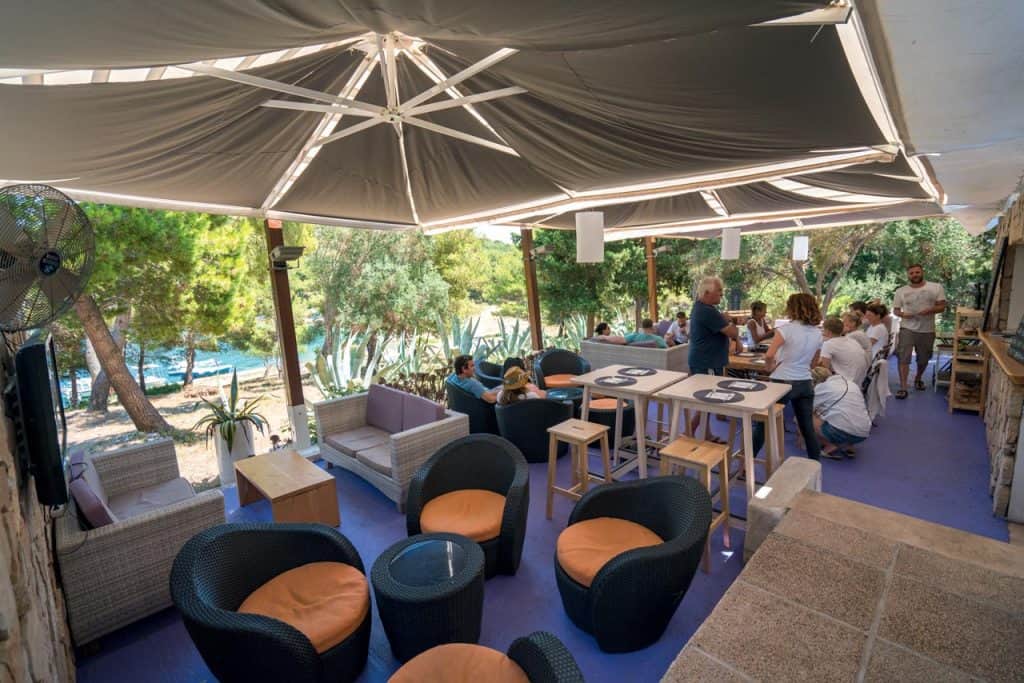 Nikola Colnago, the man in charge will greet you with selection of his own wine, plavac mali and white maraština from the local vineyards, treated under special conditions even science was involved in due to the fact Nikola graduated from the university defending Zinfandel (crljenak) thesis, now growing on St. Clement thanks to his effort.
In the little winery with cellar still developing and prior appointment needed, three generations of the Colnago family will greet you at their unique summer terrace of exquisite ambience offering supreme wines Nikola Colnago has been growing for more than a decade.

Restaurants in Stari Grad, Hvar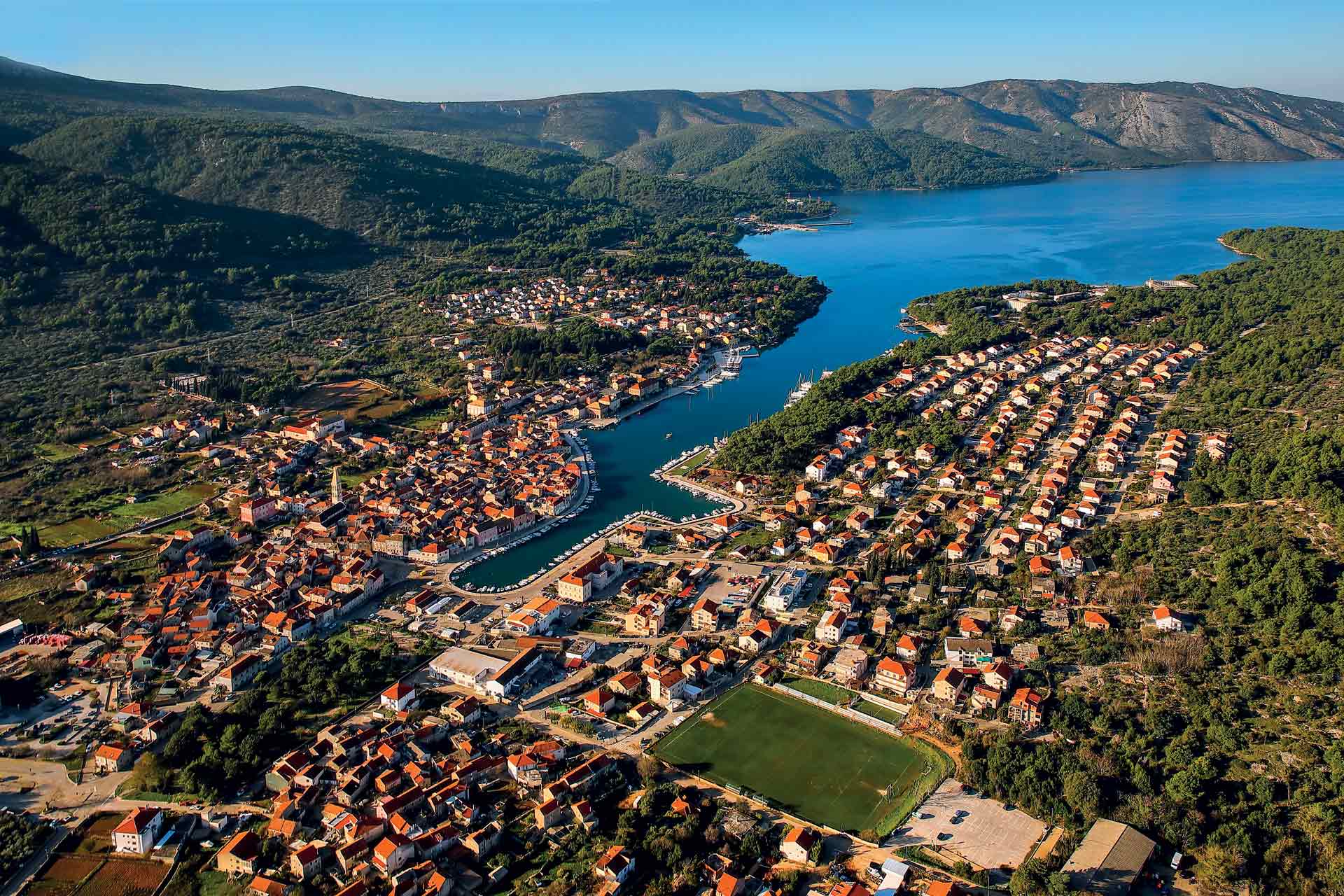 Alongside the restaurants in the town of Hvar, a few years ago Stari Grad and Jelsa found their way to the map of favorite anchorages in the Split archipelago, and the summer crowds proved that the northern side of Hvar has many aces up its sleeve.
After mooring in one of the safest natural harbors on the Adriatic, get to know the fascinating world of Petar Hektorović and his fortress, where everything that lives and breathes under the sun is equally welcome.
Soak up the fairy tale atmosphere of Škor, find out why Šiberia is just as cold as Siberia, visit Starogradsko polje – or as the locals call it, Starogrojsko poje – and add a little dot on your cultural map of the world, but above all, enjoy the aromas and flavors of a tradition that has been around for more than 2400 years.
Maslina resort restaurant, Stari Grad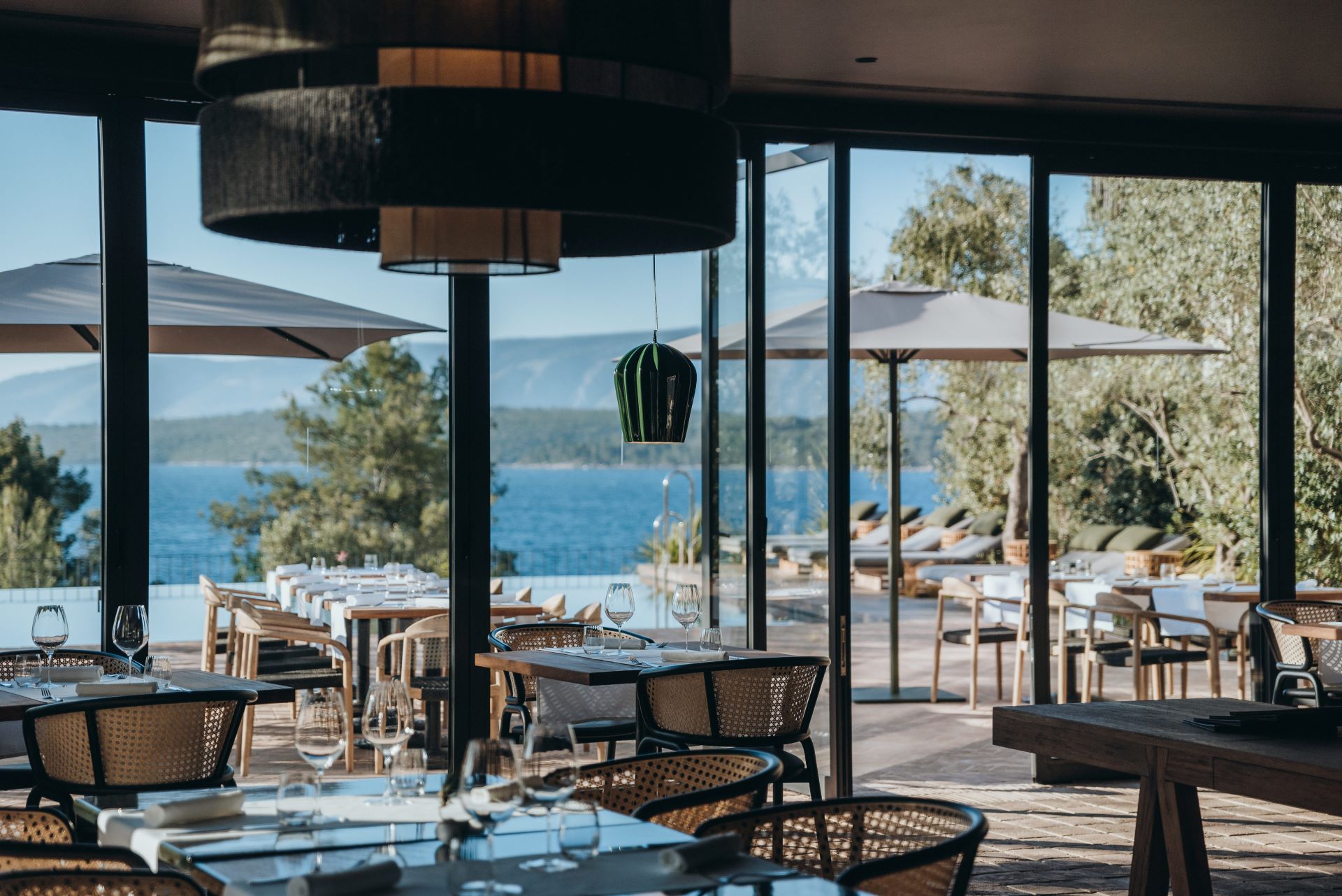 Also, you can spoil yourself with luxury in Maslina Resort near Stari Grad, a chic hideaway enveloped in rich history, untouched nature, culinary arts, and cultural heritage. Yachters can visit the resort's Michelin recommended restaurant, which can be described as offering a Mediterranean Diet with a contemporary flair, with many ingredients harvested from their 7,000sqm Organic Garden (!).
Promoting a 'garden to plate' philosophy with more than 80% of products locally sourced, Daily à la carte menus with tasting menu options are complemented by a selection of Croatian and French wines, spirits, and classic and craft cocktails inspired by the island of Hvar.
Tavern Stori komin, Malo Grablje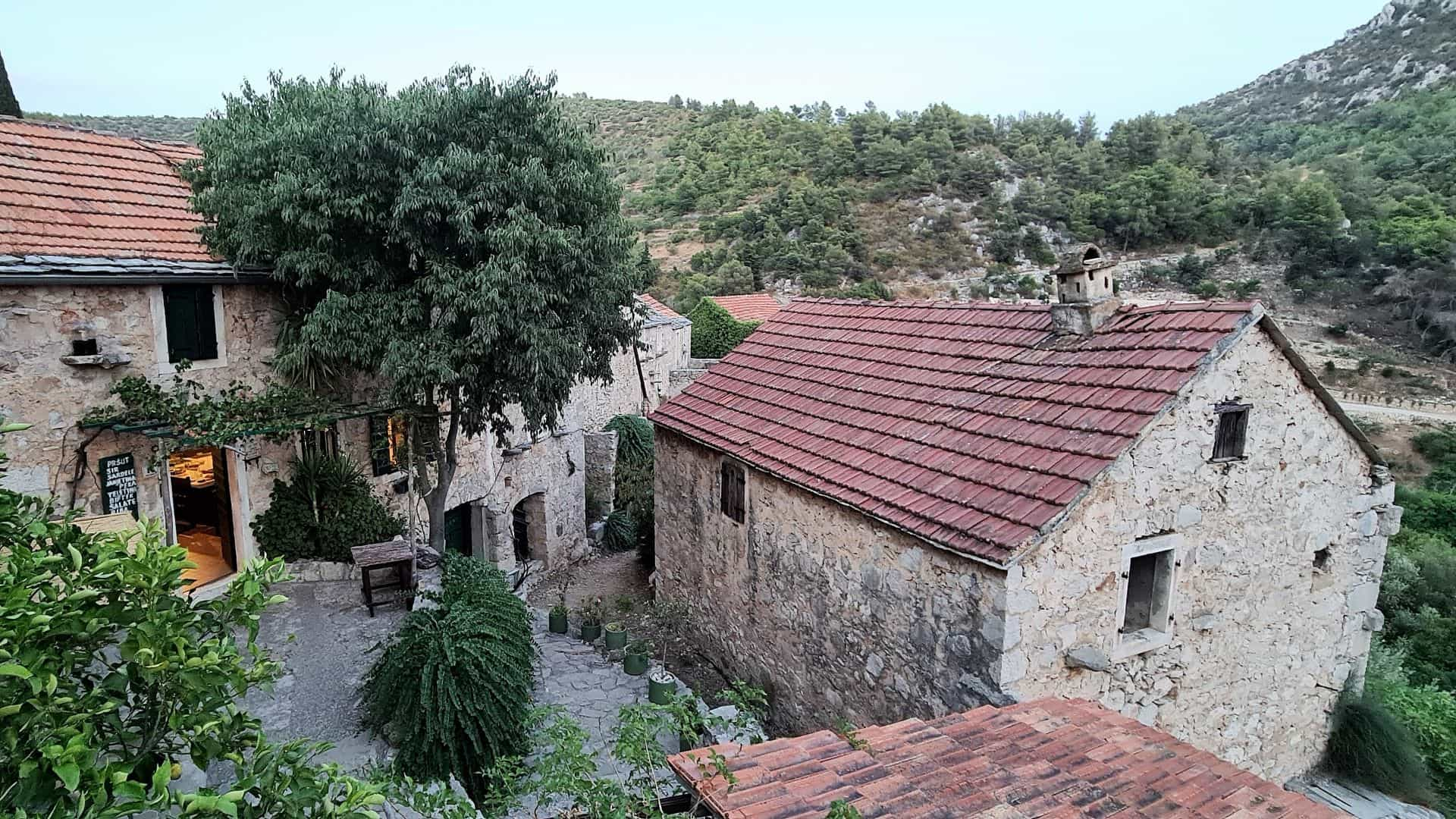 Even though this tavern is a bit out of hand, regardless of whether you are staying in Hvar or Stari Grad, Stori komin is not to be missed. Located in Mali Grablje, a village abandoned during the 1950s, when a pest called phylloxera destroyed vineyards and other agriculture in the area, tavern Stori Komin lulls you into a Fellini-like atmosphere.
There are two roads leading to Stori Komin, both equally beautiful and mystical; the one via Hvar and Milna to Mali Grablje, and the one via Stari Grad and Veli Grablje. Near the turn for Velo Grablje there is a spectacular lookout point with a beautiful view of the Stari Grad Bay.
Mali Grablje looks to perfect to be real and at first you might think you have walked onto a movie set. As you take your first steps into the village, you feel as if the time machine has taken you back at least 50 years, to a Dalmatia that is almost impossible to find these days.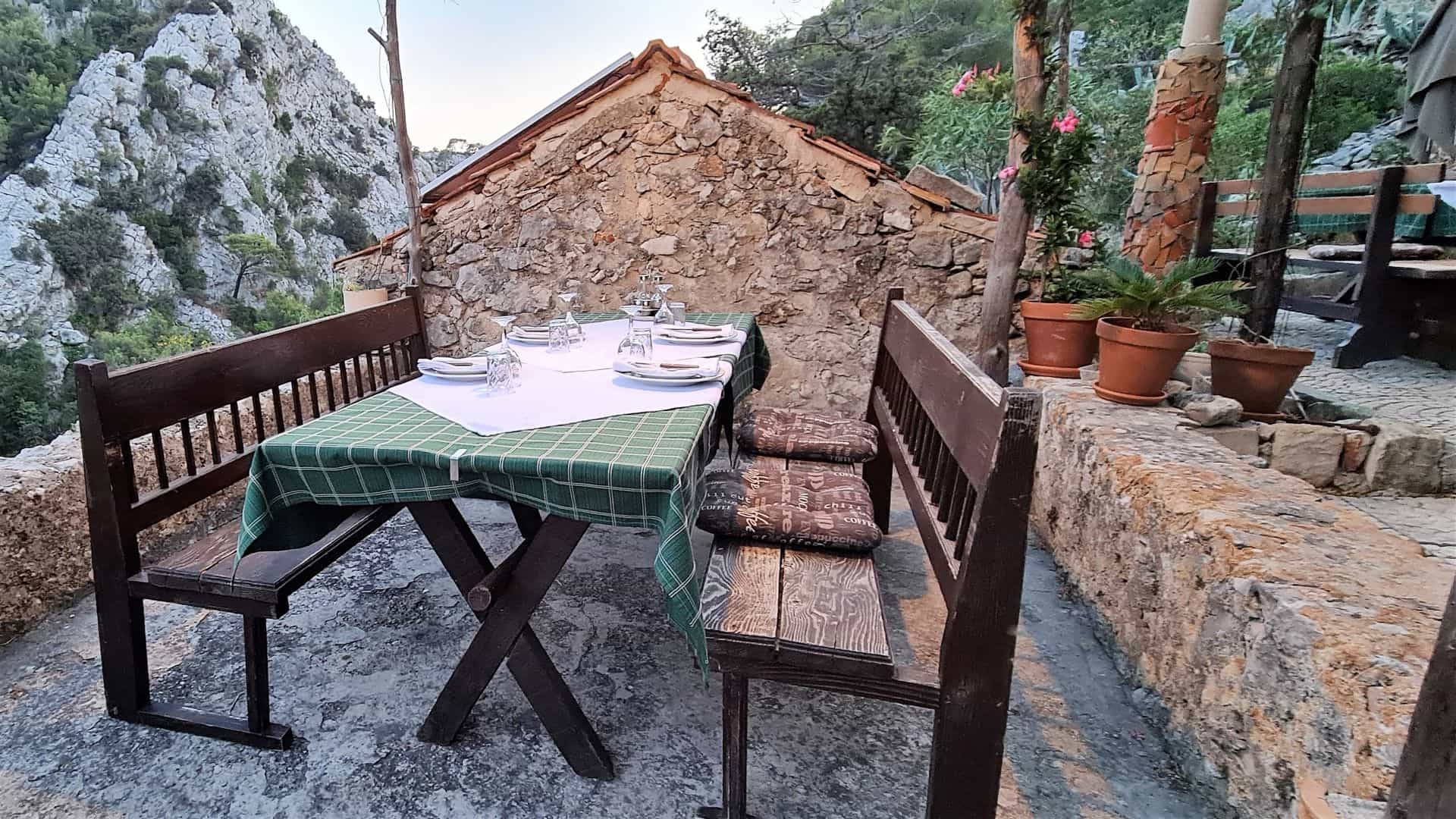 You'll have no trouble finding the tavern – just follow your nose or ears: the owner, Berti, hums klapa tunes as he greets guests with a homemade brandy of welcome. The menu includes traditional dishes such as prosciutto, cheese, salted anchovies, lamb or peka.
Restaurants near Jelsa, Hvar
Beyond the charming city streets, unique scenery and ancient stories that these towns abound in, there lies a fairytale world of small Hvar villages, stone houses, the scent of lavender and artistic compositions of dry stone walls in which the rich history of Dalmatia flourishes. Scenes from old 'kartolina' – postcards, and traditional taverns and wineries serve as the setting for this unique island story.
Tavern Vrisnik, Vrisnik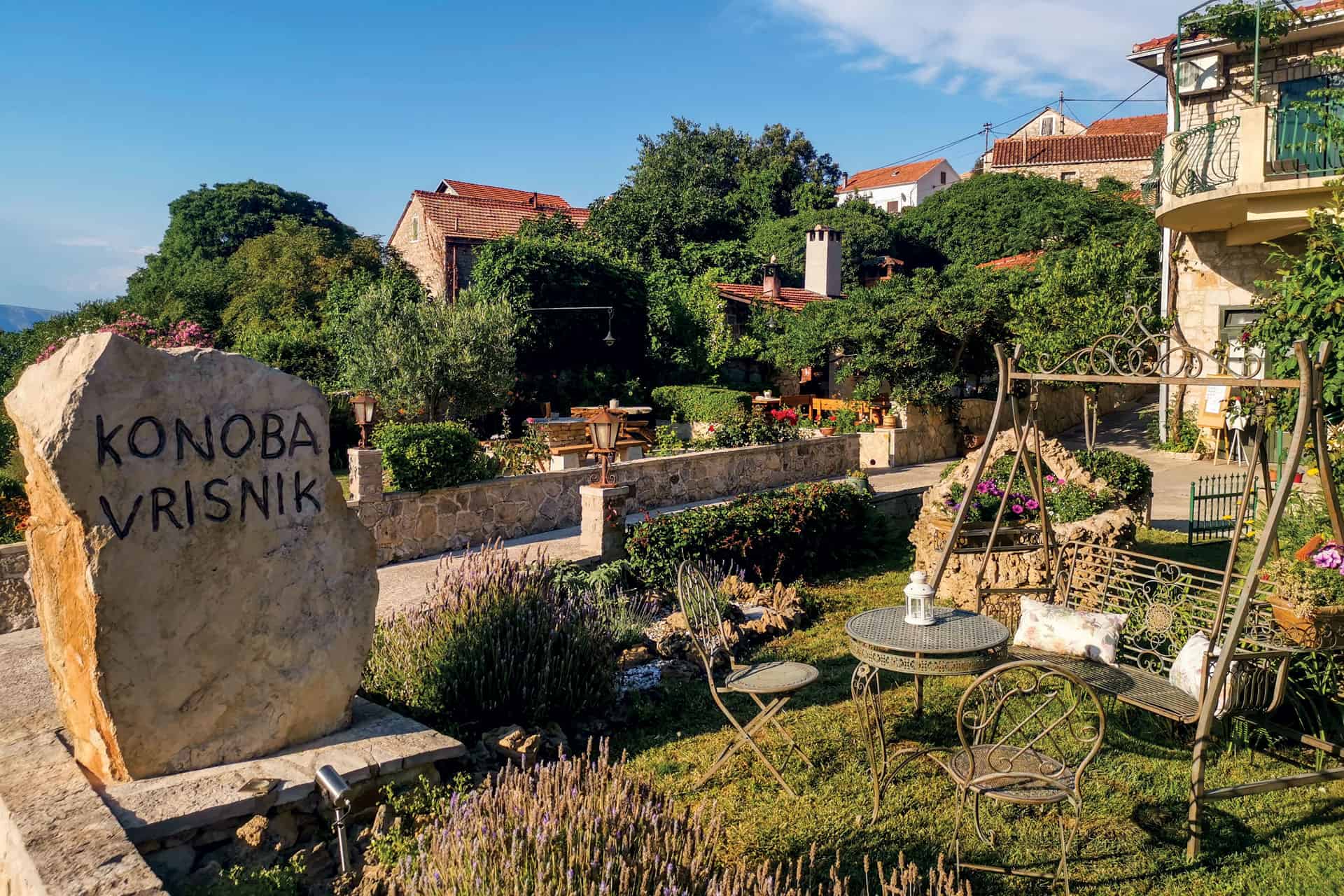 For two decades, the Grgičević family have run a tavern that has now become one of the favorite epicurean spots in the interior of this part of the island of Hvar. The word of the mouth has done a great job, apparently, as the owner tells us in high season you need to book your table days in advance.
Vrisnik is a charming village sprouting at the foot of the hill on which rises the church of St. Antun Opat. The tavern is located at the very beginning of the village, so the second you set foot in it, you will feel as if you have been invited to a family dinner.
Andro and Prošper Grgičević will win you over with their sincere hospitality, and Mrs. Julija's kitchen with her sincerity and full flavors of traditional dishes.
Prosciutto, cheese, various cold appetizers, risottos, octopus – and that's just the beginning. In the middle of the tavern, a large brick oven reveals straight away that the most interesting food on the menu is either grilled or oven-roasted.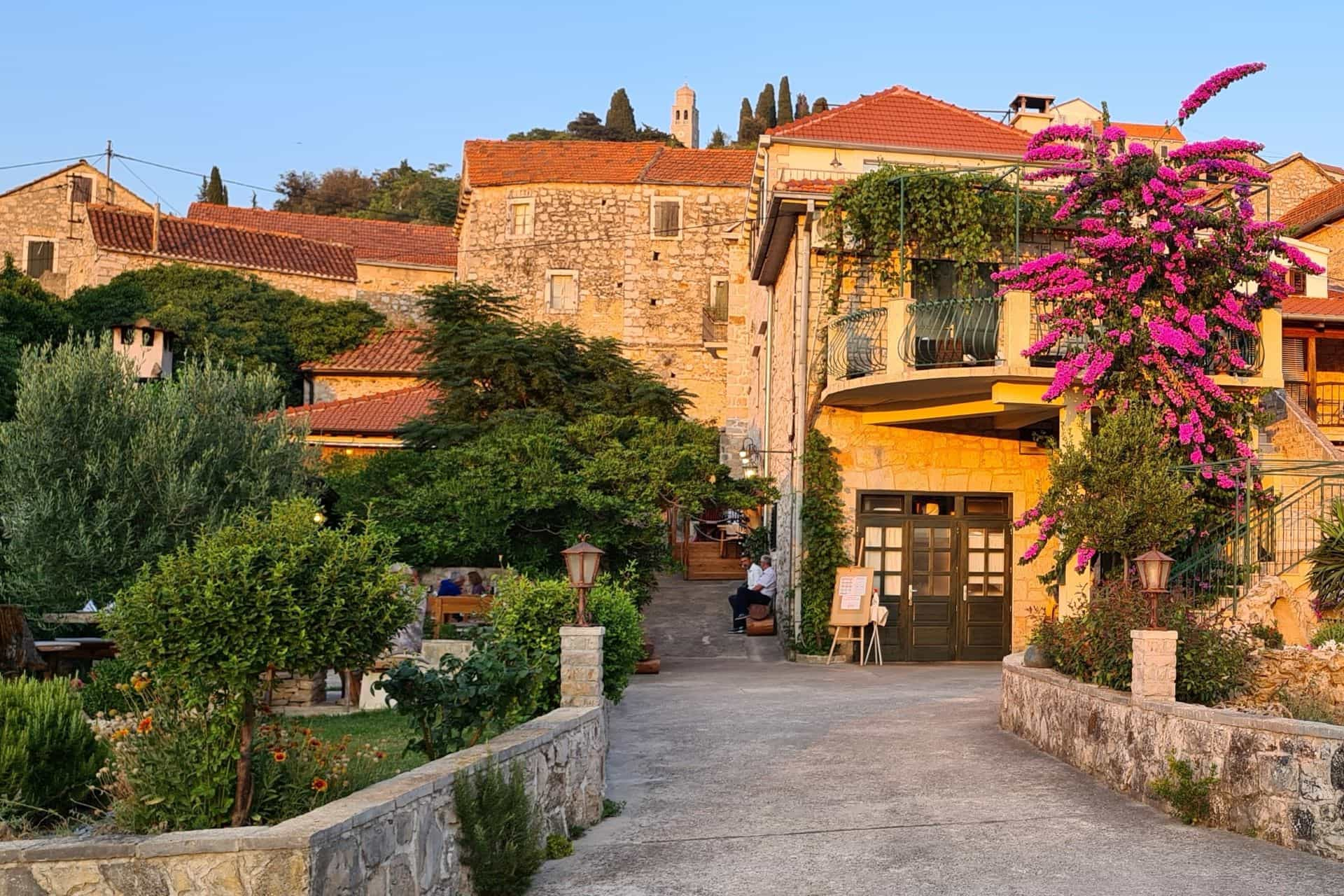 On the 'organ', as this oven, Božji creates dishes we can only describe as divine, using his own technique, perfected by time. Side dishes served alongside meat and fish are here in no way considered less important, and in those simple creations like potato salad or polenta with zucchini you'll taste the ingenuity of Mediterranean cuisine.
In the beautiful garden where the tables are set on small terraces, you'll find many other boaters who have decided to moor in the nearby Jelsa, Vrboska or Stari Grad.
This tavern and its owner Andro are famous enough to attract visitors from afar, and are perhaps the best example of sincere love of food we have ever seen. Knowing what we know and having tasted what we have tasted, we expect you to become one of their many regular guests.
Konoba Maslina, Vrisnik
In the place where the old road to Jelsa winds towards the fields and disappears into the gentle Hvar landscape, leaving olive trees and vines to show travelers the way, lies tavern Maslina (olive).
Spectacular views of Svirče, Vrbanj, Pitve, Jelsa and Brač, rustic atmosphere and almost insolently charming location are the perfect setting for getting to know all the treasures of autumn in Hvar. Maslina is especially pleasant during the evening, during long sunsets in serene silence.
Tavern Maslina is one of the few places you can still taste traditional Dalmatian dish škartoceta – a local twist on beef braciole – which used to be prepared only for special occasions. The owners are especially proud of their dessert – ice cream with figs in prosecco.
Olive Garden OPG Gamulin, Pitve
Unlike other places where you sit down and order from the menu, in Olive Garden you are given the opportunity to prepare your own meal alongside the owners. Mario and Haja have decided a few years ago to mix catering and art together into a unique experience.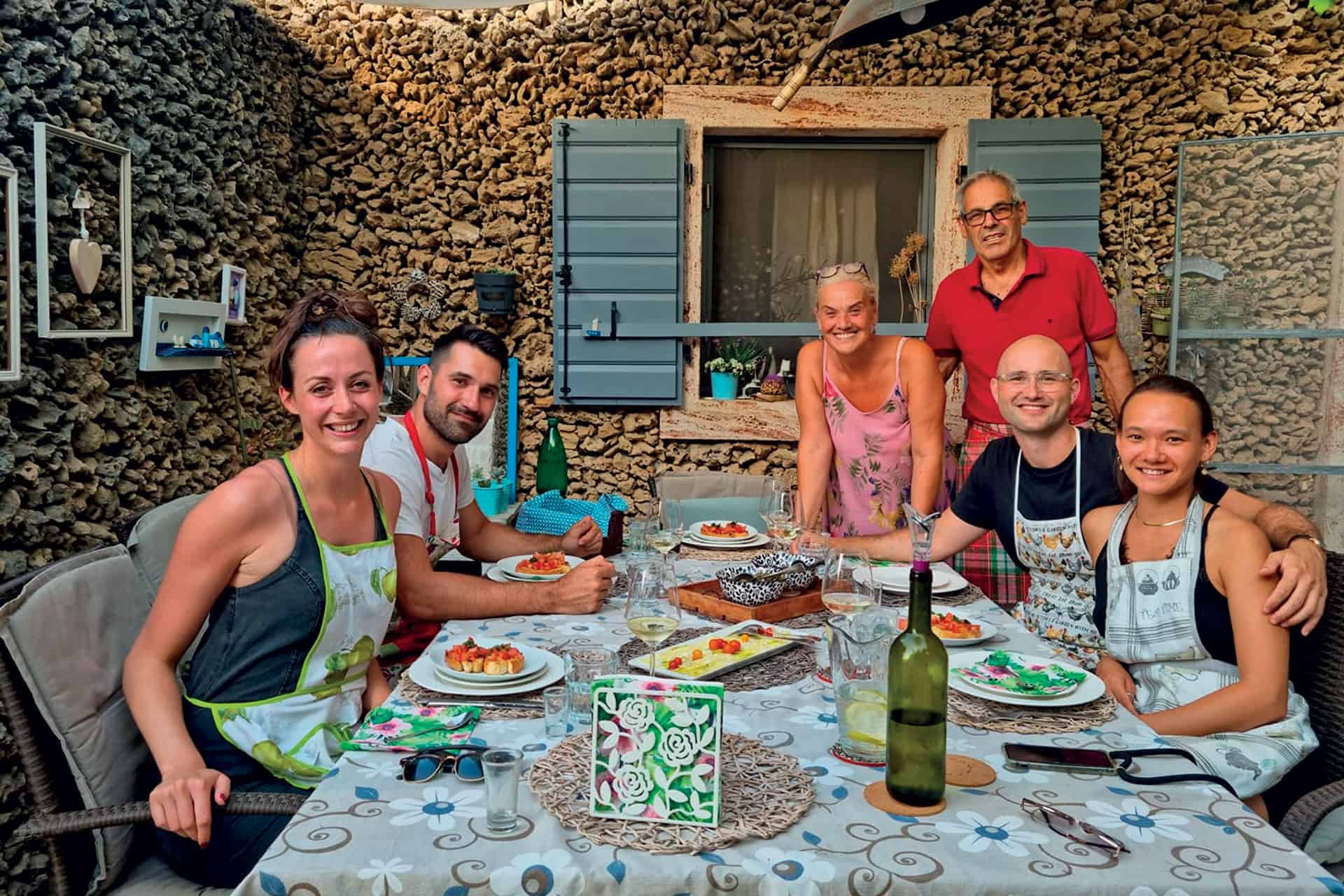 Their self-sufficient stone house in picturesque Pitve has since welcomed many students of their cooking course 'From the Garden to the Table'.
This lesson in Mediterranean living begins begins with a herbal aperitif or two, and olive oil tasting, followed by strapping on an apron and getting busy preparing traditional dishes with the assistance of the hardworking hosts who, in addition to recipes, will reveal their beautiful stories about island of Hvar and its history.
As you cook, enjoy Haja's artwork bearing the Art of Heart logo. But the most valuable thing you will take away from Pitve is the humor, warmth and love with which Mario and Haja run this project.
Photos Mario Jelavić, Ivo Pervan, Đorđe Stošić & TZ Jelsa / Vedran Rafael Janjić