Car manufacturers have always been fascinated by speed, and the combination of beauty, strength and brutal performance has secured cult status for some models. These petrol powered hypercars turn drivers into fighter pilots. So, buckle up and prepare for take-off!
Koenigsegg Jesko
The Swedish rocket on four wheels was named after the company founder's father and its over 1,600 HP promise a performance that falls within the category of planes. In a country known for its sturdy Volvos, Christian von Koenigsegg designs and manufactures seriously fast cars whose only mission is to be the fastest in the world.
Featuring many technical solutions from Formula 1, the Koenigsegg Jesko responds quickly and drives beautifully, and when you sit inside, you'll instantly become a fighter pilot of a jet with a top speed of 300 mph.
YACHT SUGGESTION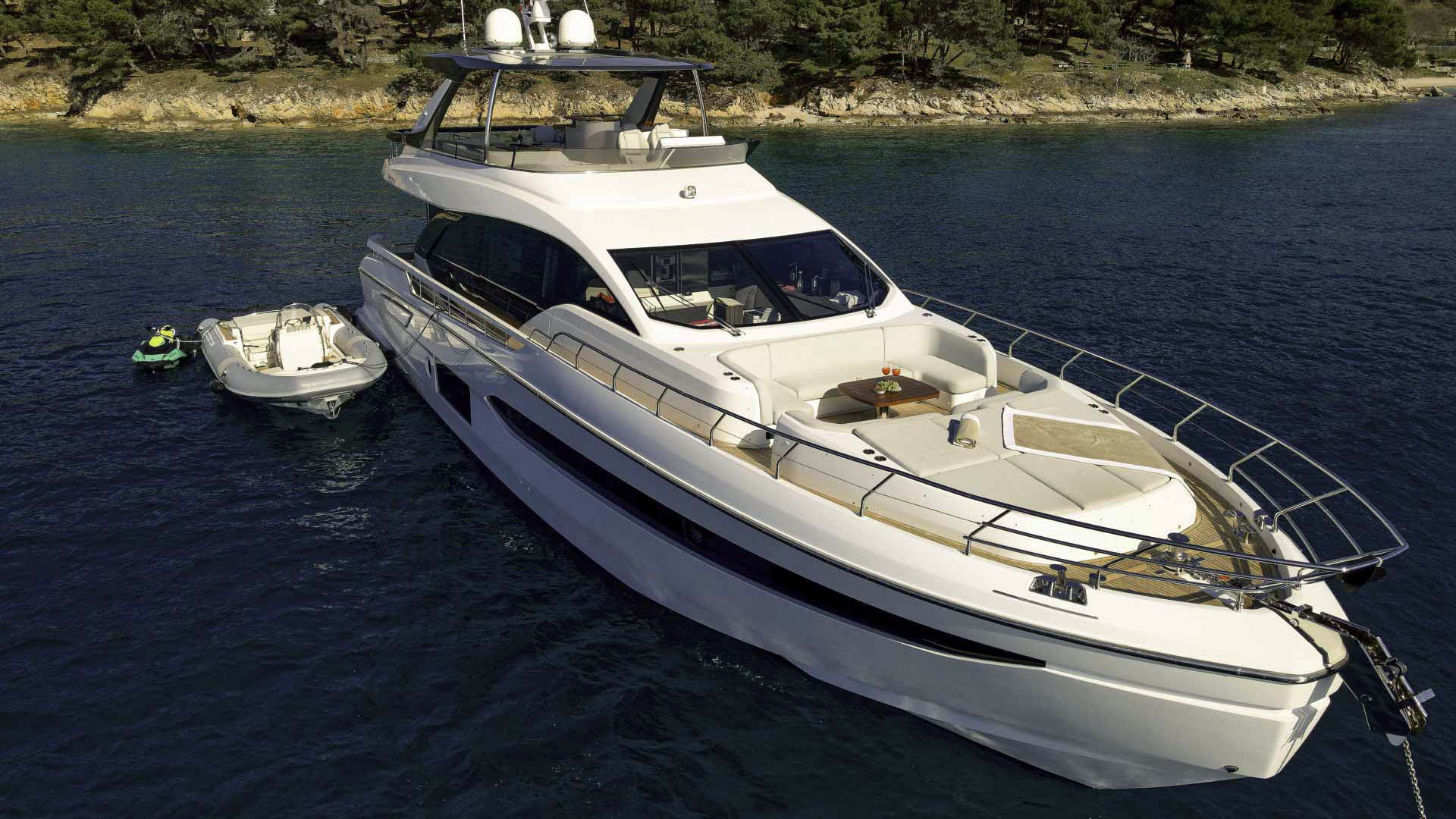 Azimut 78 Flybridge combines the stylistic features of the nautical and automotive industries, without limiting functionality and spaciousness, which is the greatest art in nautical design.
Bugatti Mistral
Named after the strong wind blowing on the coasts of France, the Bugatti Mistral Roadster is the legendary W16 engine's last tango, producing a whopping 1,600 HP. The latest Molsheim model pays homage to the 1934 Bugatti Type 57 Roadster Grand Raid, one of Bugatti's most elegant models.
The combination of black and yellow is an homage to company founder Ettore Bugatti, as these were his colours of choice for personal cars, including his Type 41 Royale. For brand enthusiasts, it's a timeless visual pair. Designed for performance and according to highest standard of craftsmanship and luxury, the Mistral represents a perfectly happy end of an era.
SSC Tuatara
The SSC was founded by an engineer called Jerod Shelby, with only one goal in mind: to design and produce an American hypercar that is a worthy opponent to European models. A true Need for speed, American style.
With its jet fighter inspired teardrop canopy, the SSC Tuatara is a car that would make even Top Gun's Pete 'Maverick' Mitchell happy. The heart of the Tuatara is an all-American 5.9 V8 engine able to produce nearly 1,800 HP and a sound that can rival an F-18 on take-off. In addition to the 'normal' Tuatara, the SSC also offers two extreme models: the Aggressor and the Striker.
Pagani Utopia
The Italian manufacturers unveil a new model every 12 years, so every time a Pagani is introduced to the world, car lovers treat it as a holiday. Horacio's new hypercar, or, better yet, creation, follows a principle of simplicity and elegance, blurring the line between art and automobiles.
The Utopia is so striking and refined that it should be on permanent display in a museum. Even more spectacular is the interior, where Paganini celebrates the mechanical beauty of precious metals and analogue instruments. There's no hybrid power in Utopia, just a 6.0-litre, twin-turbocharged V12 developed by AMG that produces 864 HP.
Photos Koenigsegg, Bugatti, SSC & Pagani
No tags for this post.