Jens Gerhardt – Renaissance (man) of Hanse
This year is another one of growth of Hanse Group, presenting two new models and developing new products marking undoubted success of German boat builder on the world market, but also in Croatia
We met general manager of Hanse Group in Split during Hanse Cup regatta. He didn't only visit very nice event organized by local distributor Croatia Yachting, but also arranged a sales meeting on the sea, checked the boats condition and performance…
Living Hanse would be maybe better said then managing?
Next November will be my fifth anniversary in Hanse, I am very happy, this is the best job in my life. I am a change manager, I come in the stressed companies and turn them around, I did that a lot of times in mobile and IT industries and at other consumer businesses, in North America, all over Europe and even in India, but never for almost five years. This is the first time it is so long, dealing with product is so appealing, sexy itself.
You are here both for the regatta and business reunion?
We try to combine both, to be with this fantastic regatta that Domagoj (Milišić) and Croatia Yachting are organizing each year and support them, but also we use our products (yachts) on the location where they are meant to be, and we combine this with internal sales meeting. At least we combine three things, if not more. We have to meet anyhow, our team is around the globe and we do the business meeting here.
Croatia Yachting is doing great job for Hanse?
They are our strongest charter dealer worldwide. I think this is combination of really great business performing by Domagoj and the way he runs the fleet. The boat on which we are talking has been chartered 23 weeks last year and you don't see a scratch. We deliver good product, it has good management of Croatia Yachting, and other part of their success is I think this great sailing area, you have one of best destinations in the world. I think British Virgin Islands and Croatia are the top locations on the world for sailing. Croatia Yachting has largest Hanse fleet in charter in the world and also sells to the others and by far they are the benchmark not only in selling, but also what is more important in keeping the customers happy, which they do very well.
Hanse is not a typical charter boat but makes good result in this business too?
We are very, very, very strong in the owner's business, but we have a charter package. What we don't do is creating a charter boat because the boats should be solid and strong and usable for owners, that is also good for charter, but we don't create a charter version. Our boats are faster, easier to handle, look better and we don't take design away, or easy handling, to make it more 'charterish'. I think the genes of Hanse are well developed for owners, and when charter people realize how fast and easy at the same time Hanse is maneuvering, they fall in love with it. So, I don't think there is a need for charter version itself.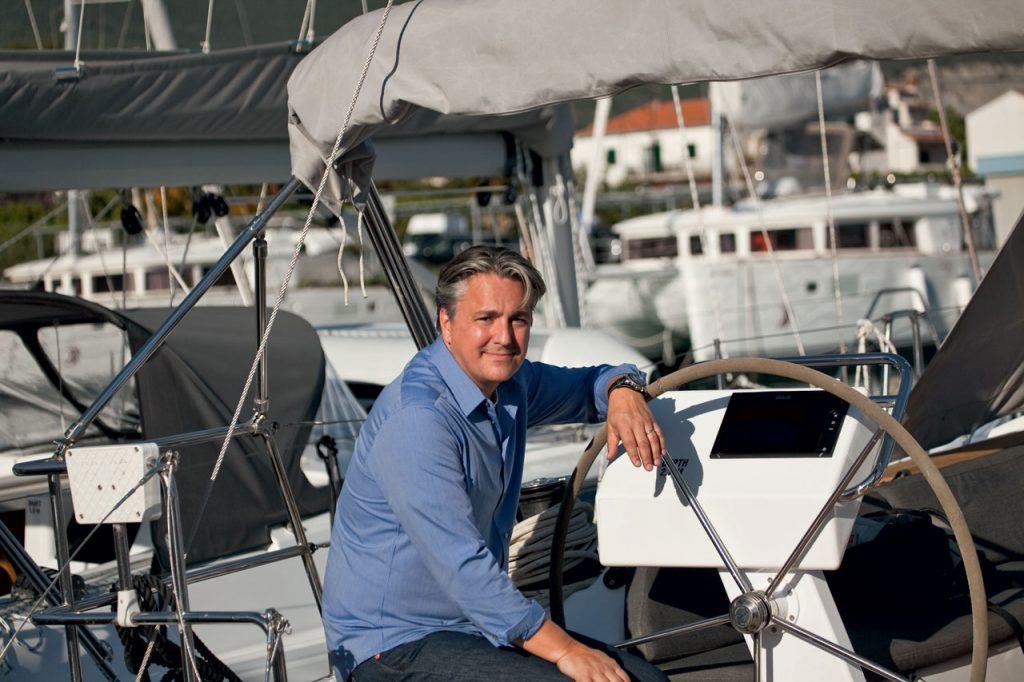 Your business is constantly growing?
We have been growing this year for 10 million euros again, we grew every year by 10 millions in revenue, that means 100 people more each year, and this is third year in the row where we could have taken more orders than we can fulfill. I think we just need to continue this way. We will improve our EBITDA by 3 to 4 million euros each year.
This year is marked by presentation of Hanse 675, your biggest boat so far?
This is a dream, two boats are in the water already sailing with three more in the production. It sails well, I did 13.5 knots, apart performance it looks very beautiful, it is pure Hanse. It is very innovative, you can maneuver it without a crew and it is almost 70 footer, it has lot of space, and it has many unique features like fixed bimini and boat looks very nice with it. It has second companionway for the crew and the style is like in the rest of the boat, it has a big saloon of 5 to 6 meters like a lounge, it has a very new owner's cabin, a bathroom with a stone wall, that is the first time we use stone veneer. There are a lots of innovations, that you can expect on the big boat. But we also presented very succesful 315 that has almost as many innovations. It has standing height everywhere where you need it, it has a shower unit of  41 footer, and it sails very well. We produced 60 of it already.
Dehler is another brand that grows under your management?
It is a bit different story, it is not a real racing boat, but it is very stylish, very nautical – and fast. We have come up with the boats that are exactly in the middle between cruising and racing. If you want to cruise you have perfect cruising boat, but you have six winches, Cunningham where you need it, but if you go inside you will not lack any comfort. In USA the Dehler 38 has won for the both cruising and performance boat of the year, they couldn't decide in which category to put it, and that is exactly what we meant. In summer the new 34 is coming, after 38, 42 and 46 we already have.
But Sealine is not moving fast?
For ten years we have Fjord, but that is a niche market, and Sealine is heading in the mass market section, and when you build it up from the scratch it takes about six years. Three years ago we bought 90 trucks of the equipment from the UK from bankruptcy company, and the 50 years old brand. We wanted to take the shortcut and we sold some existing models. We now have three models, F530 is the new model, and we are completing two new models each year, already we are selling 80 boats per year, that is nice. Together with Fjord we are producing 120 boats per year, and every year with 20, 30 boats more we are heading to be amongst 10 biggest builders in the world.
What is next for Hanse?
We had some big steps, and now we can put some products in between, there are holes to fill. We have a big capacity to build new boats, existing models are looking great, but we are not sitting and waiting them to look old. This is not only aesthetical but also we increase general quality of the boats, shapes etc. As we produce so many new boats with Judel & Vrolijk, we have Hanse, Dehler and Variante, with each new model we make them better and faster as we have proper feedback.