For the largest Croatian marina chain, the future is busy. ACI is looking at several new projects, all aimed at client satisfaction
Kristijan Pavić began his career as an electronics officer on a cruiser within the Carnival Cruise Line, an American-British cruise line, holding 24 ships. After six years at sea Pavić returned to Croatia in 2006, as director of the Dubrovnik county port authority, as well as director of the Dubrovnik city port authority. He had a clear strategy in mind to make Dubrovnik one of top destinations for cruisers. Mr. Pavić holds a sizeable reputation within the industry and in 2016, was selected by colleagues to head MedCruise, the Association of Mediterranean Cruise Ports with 72 port members and 30 associate members. In August 2016, Mr. Pavić took on what is probably one of his biggest professional challenges so far and accepted the position of the CEO of ACI Marinas.
What is your vision for ACI, Croatia's leading nautical tourism company?
ACI is the largest company of its sort in Croatia and one of the largest in the Mediterranean. The history and the tradition gives the name instant recognition and the sheer number of marinas make it an attractive choice. However, that doesn't mean there's no room for progress. My mission is to cement ACI's leading position, so to speak: to increase the number of marinas, to develop and implement an extensive array of services and to reach excellence in every detail. The competition is formidable; there are many companies offering services similar to ours and they are also efficient and excellent at what they do. Yachting tourism is gaining momentum in Croatia, the market is becoming demanding and the bar is constantly being raised. ACI is well known for setting standards in Croatia and our plan is to hold on to that position, as difficult as it may be.
Marina Veljko Barbieri in Slano is doing as well as expected?
Yes, the Slano marina is finally reaching its full potential. The marina is located at a beautiful spot at the entrance to the Elaphiti Islands and has basically developed into a part of the town of Slano. That micro-region is ideal for yachting and the numbers reinforce this. The marina was full, at maximum capacity all season long. The town itself has benefited from the proximity of the marina and has now started to develop their own tourism offer. ACI marina Slano and the town of Slano are living in a wonderful symbiosis.
Next stop: Rovinj.
Complete reconstruction of both the on-land and under-water infrastructure at ACI Marina Rovinj is going to be our biggest venture in the following year. What we're doing is basically building a brand new marina. The reconstruction started this spring, but came to a halt during the summer season. We are restarting now and planning to open the marina in July of next year. ACI Marina Rovinj will be oriented to luxury yachts, 20m to 40m in length, which is something new for us. We are going with a contemporary aesthetic for the marina and incorporating truly fresh, technological solutions. Everything, including the service, will be up to par with the top, international marinas. ACI Rovinj will be the first five-anchor marina in Croatia.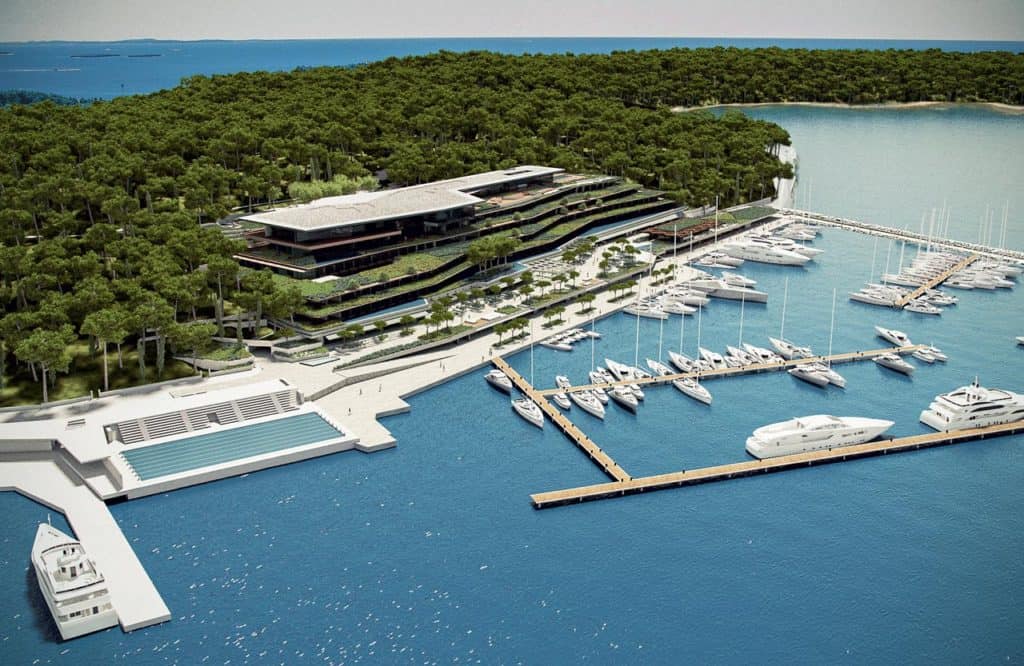 Are you planning on rebuilding other marinas?
Earlier this year, we added two travel-lift pools (130tonne and 60tonne capacity) at ACI Marina Dubrovnik. This significantly increased our competitiveness around the southern Adriatic. We are preparing for the reconstruction of the Sorkočević manor in Dubrovnik, which will partly be funded by the EU. Several smaller projects are close to completion, like repairs on the breakwater in ACI Marina Korčula, where we are also considering extending the infrastructure. Finally, we are considering increasing in-water capacity of our marina in Vodice. We have already begun negotiations with the city council.
Do you have any plans for developing new marinas?
We are most definitely looking to build new marinas and add berths, but we don't have final say in deciding where and when we build. Ports and towns are decided by proposal, we keep a close eye on things and should our analysis show that a project is viable in terms of investment-profit ratio, we apply for it. Our plans do not only include the rebuilding of existing marinas, of course; but also developing or even buying new ones. We also manage marinas outside of our system. I must say, ACI has excellent investment capability, funded by our own capital and with zero credit-debt.
Your loyalty program is becoming a big hit.
ACI Smart card gives rewards to clients who annually subscribe to our services. Rewards are available for use in any of our 22 marinas and at sea. They include 50% off for dry dock, six days of dry dock cost-free (depending on the contract conditions) for purposes of servicing and maintenance, 50% off staying in our condos in the ACI Marina Cres, reserved car parking in the home marina and many other benefits. Every new year of membership multiplies your loyalty points. The program is attractive enough to ensure that our clients return year after year, some of them as long as 25 years. While in transit, members of the ACI Club can book a berth online, at no extra cost, via our digital platform. Multi-year contract clients can get anywhere from 20% to 50% off their booking price. Our long-term plan is to allow our clients to transit seamlessly between our marinas, to use creative technology to save them time and money. One of the benefits we are especially proud of, available starting this year in Opatija and Cres, is our electric-vehicle charging stations. We are currently considering installing charging stations into other marinas, given that there is a need for them.
How does the company feel about superyachts?
The superyacht segment is probably the most lucrative segment within the luxury industry and allows companies to tap into a niche and use it to their advantage. There are certain conditions that everyone looking to enter the into the superyacht business, in any capacity, must meet. Primarily regarding size and infrastructure, but there's also the luxury element, as superyacht owners expect a certain standard. Several ACI marinas have the superyacht capacity, mostly on daily basis. However, we are definitely looking to enter that segment. The Rovinj marina will be our first attempt to join the superyacht segment: it will offer everything needed for superyachts and their owners to feel that they are receiving VIP treatment. The ACI marina in Dubrovnik is also a natural choice when considering the superyacht segment, due to its prestigious location. We are working out a plan, adding to our repertoire there in order to make the marina more attractive to the superyacht crowd. That is precisely the reason why we're rebuilding the Sorkočević manor and its botanical gardens – it will be part of our luxury package – and following the completion of the manor, reconstruction of the Dubrovnik marina will commence. We have already begun working on the service centre and the dry dock, by building a travel-lift pool that is suitable for superyachts. As I've mentioned, superyacht owners expect a certain level of luxury wherever they go. So, we are making steps in that direction too. We have built a Golf range simulator and are currently thinking about what else to add to make sure our guests have a great time on an expected level.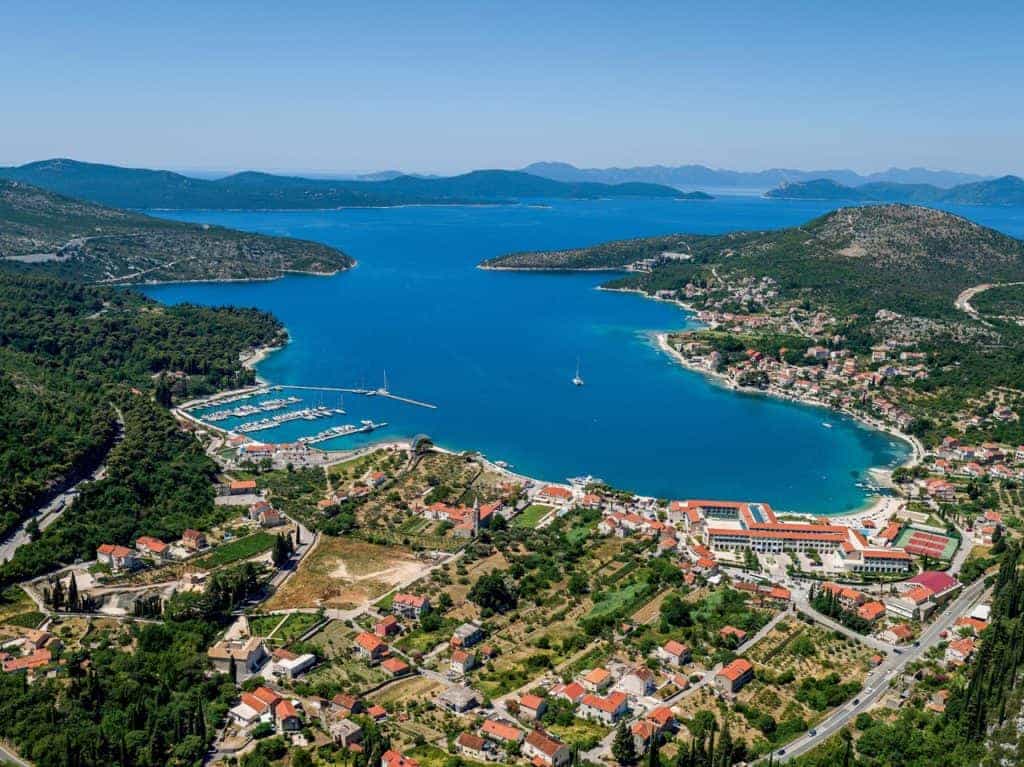 What is next for ACI as a company?
Company development strategy is primarily based on defining the role every single one of our 22 marinas holds within the system and how it functions in regard to its location. We are planning to define or redefine the direction in which each of our marinas develop, to invest into rebuilding or restyling the marinas, or even into reconstructing them fully. Part of our development strategy is developing new services, adding to the repertoire, so to speak, of every marina individually. Basically, we will design an individual character for each and every ACI marina. On the other hand, ACI is always on the lookout for new locations. We are always ready to buy existing marinas and to develop new ones, to increase our presence in the Adriatic region. There are several marinas that we have in mind, as we are working on entering the superyacht segment. Naturally, the marinas we are looking into have the existing capacity for or can be adapted to accommodate large yachts. One of our immaterial goals, so to speak, is develop better, faster, easier platforms and systems to allow our clients to book or do whatever else they need. We want to offer our clients the option of doing everything from the comfort of their sailing home, via a mobile platform. Finally, as a big player in the region, ACI bears certain environmental responsibilities, which means we are constantly working on making our projects sustainable. It is our goal to make each and every one of our marinas environmentally friendly – we already use electricity derived from sustainable sources, which is our modest contribution to CO2 reduction. ACI is constantly investing into systems promoting environmental protection, which these days, is a necessity, not a luxury. As a leader in a sector based on nature exploitation, we are fully aware of the importance of protecting the environment.
You are redesigning the ACI catalog.
Yes, this year's catalog has been completely redesigned. We have changed everything, starting with the core concept and the start of a new media project. What was, until now, a simple catalog of our marinas will now become an actual yachting, lifestyle and luxury magazine. We have named it ACI No. 1, after our famous, racing boat which participated in the Columbus Atlantic race. What we are hoping to achieve with this magazine is to gather in one place and present to our clients and readers, interesting tidbits and exclusive content. As well as interviews with the most interesting and successful persons from many sectors: sports, science, art, economy and gastronomy. We plan to publish one issue per year and make it a true, luxury project with 300 pages. The catalog in its new form will be published in 50,000 copies and mailed directly to our clients, partners and guests. The catalog will be translated into four languages and be published in print, as well as in digital form – and as such, will be unique. This is the final detail confirming that ACI is, both in size and quality of service provided, the undisputed sector-leader in both Croatia and the Mediterranean. Promoting excellence in every aspect and looking to stay on top as the provider of the highest quality of services, in the most elite segment of tourism.
Photos ACI