The MCY 76 Skylounge offers a wide aft terrace on the upper deck, with an open air galley and a lounge area to be customized according to the owners preferences
After the successful unveil of the MCY 70 Skylounge at the Miami Yacht Show 2020, Monte Carlo Yachts is ready to launch the second model of the MCY Skylounge Collection: the new MCY 76 Skylounge. Designed and crafted with customers interests at heart, the new range focuses on the concept of a yacht as a home-away-from-home to be enjoyed in every season.
The Skylounge series features a wide and customizable enclosed Flybridge, which offers the owner the possibility to enjoy and experience high levels of comfort onboard all year round, with a 360 degree view over the horizon. The positive feedback received for the first Italian-crafted enclosed Flybridge model has revealed an important market demand for this kind of project and it perfectly matches the growing search for privacy, escape and freedom that we are observing in these unprecedented times.
The ambitious project continues with the launch of the MCY 76 Skylounge and it is the result of a long-lasting collaboration with the renowned Nuvolari Lenard design studio. The fruitful partnership has brought to the development of a new line distinguished by extreme comfort and safety on board, always remaining faithful to the company's philosophy of creating yachts of a timeless elegance.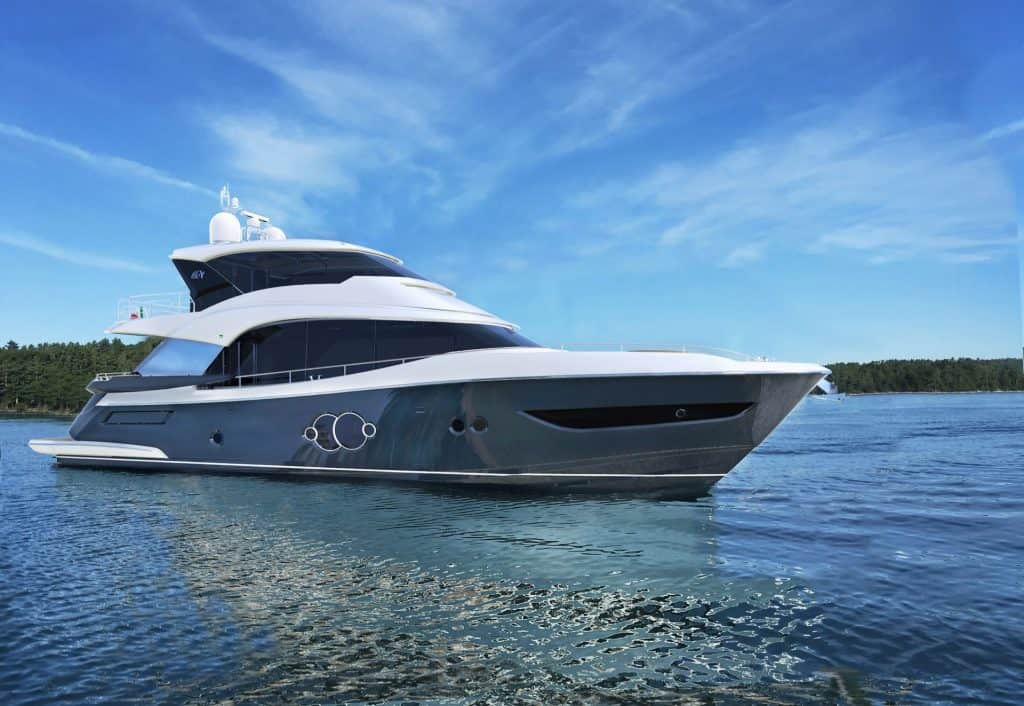 The latest MCY creation offers a wide aft terrace on the upper deck, with an open air galley and a lounge area to be customized according to the owners preferences. Alongside wide external areas, the new MCY 76 Skylounge distinguishes itself for the versatile and spacious internal volumes of the upper deck incorporating the sole helm station fully equipped with cutting-edge technological elements. This solution made it possible to obtain an enlarged main deck with a flexible and functional layout that can be further expanded thanks to the close connection with the wide al fresco dining area located in the aft cockpit.
The fully customizable interior decoration follows Monte Carlo Yachts philosophy of delivering iconic and sophisticated yachts characterized by Italian made design elements. The owners can choose among a wide range of high quality textures and materials in order to decorate the yacht according to their personal taste.With the MCY Skylounge Collection, the Italian shipyard aims at delivering unique experiences to all of its worldwide customers by further enhancing the levels of well-being onboard. The new concept enables the owners to experience comfort and safety onboard of yachts designed to fit their dreams. Soon, the new MCY 76 Skylounge will be cruising together with the other models of the MCY Collection.
'We focused on designing a yacht able to offer a close connection with the sea, providing at the same time maximum comfort on a craft that is meant to be enjoyed at all times of the year', say Carlo Nuvolari and Dan Lenard. 'The result is a model that embodies a perfect balance between functionality and aesthetics, making each day onboard a unique and pleasurable experience'.
Photos Monte Carlo Yachts