Zagreb store Štof is a place that brings together people who appreciate high-quality furniture, authenticity, craftsmanship and sustainable development, while the large selection of indoor and outdoor fabrics and top service motivate them to extend the shelf life of cherished items
How many times did you give a sympathetic look to a battered old armchair or a sectional with dents in the back or upholstered parts and decided that something needed to be done about it? There's practically no family that doesn't have an item like this, but families differ in how they treat them once these items lose the initial appeal and freshness and become weathered. The entire philosophy of their owners is reflected in how they treat the once beautiful and comfortable piece of furniture that is indispensable for moments of relaxation in every home.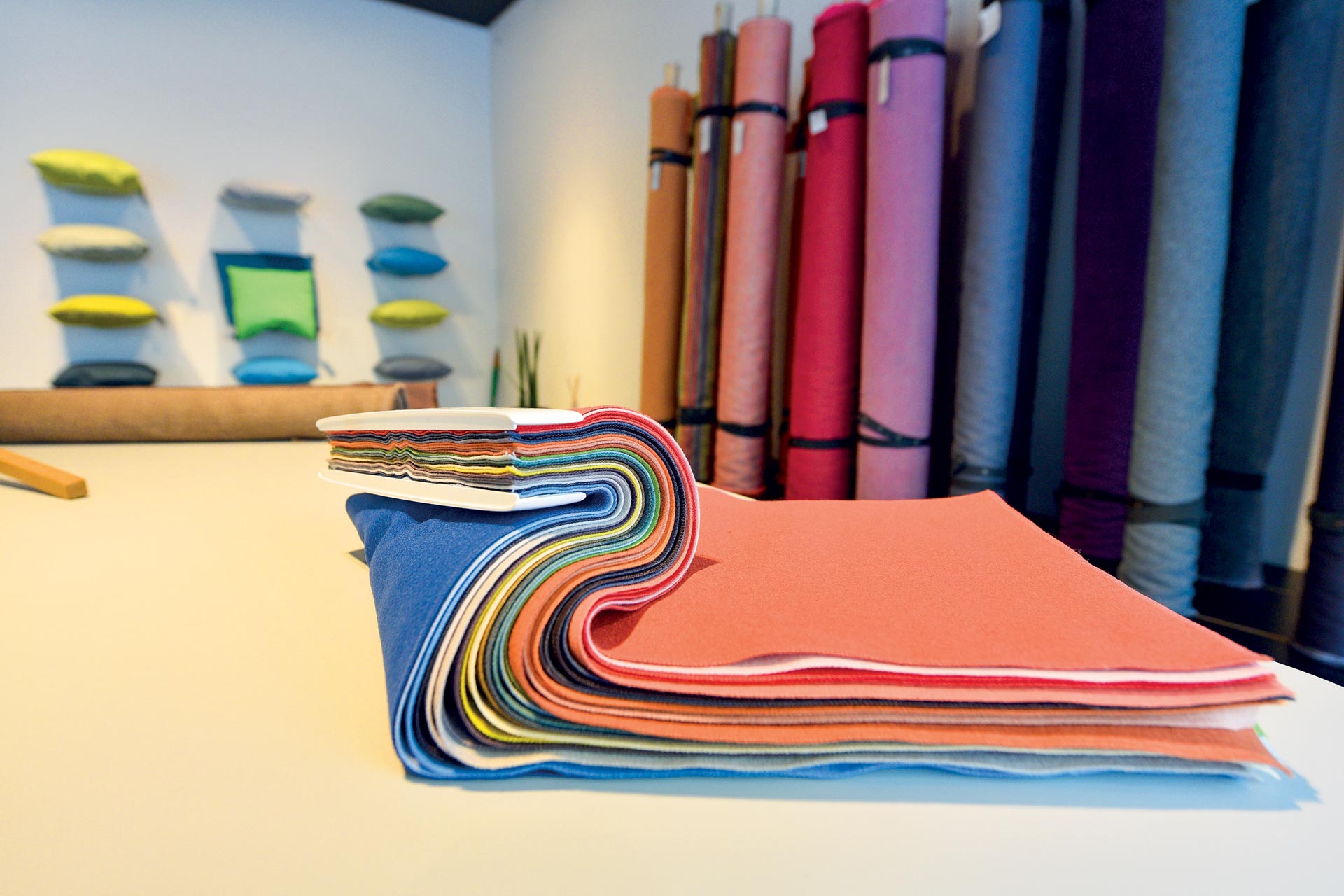 Some people don't even bother with battered furniture. Slumped in their battered old armchair, they buy a new one in a few clicks and won't think twice about discarding the old one as bulky waste. There are, however, some people who get emotionally attached to their battered armchairs. It's as if they merged into one over the years. Beverage stains remind them of when their children were growing up, the moments of sadness and joy that alternated in their lives. Besides, these are designer pieces, beautifully crafted with a sturdy wooden structure, which never comes cheap.
Home and boat fabrics should be picked at noon, when sun is at its highest point and shade is the most accurate
It's simply not polite to get rid of it just like that without offering it a second chance at life. Even a change of pillow fabric can freshen up the interior of a room or a boat. Andreja Bašak and Morana Radočaj, textile designers and sales representatives at 'štof by prostoria', a fabric store for upholstering old furniture and custom-made pillows and covers, see for themselves on a daily basis that each armchair, couch sectional or pillow on yachts have their stories. The store is located at Bauerova Street 9 in Zagreb, close to the Prostoria designer furniture store. During its 11 years, Prostoria went from artisanal to industrial production in a state-of-the-art factory based in Sveti Križ Začretje in the Croatian region of Zagorje.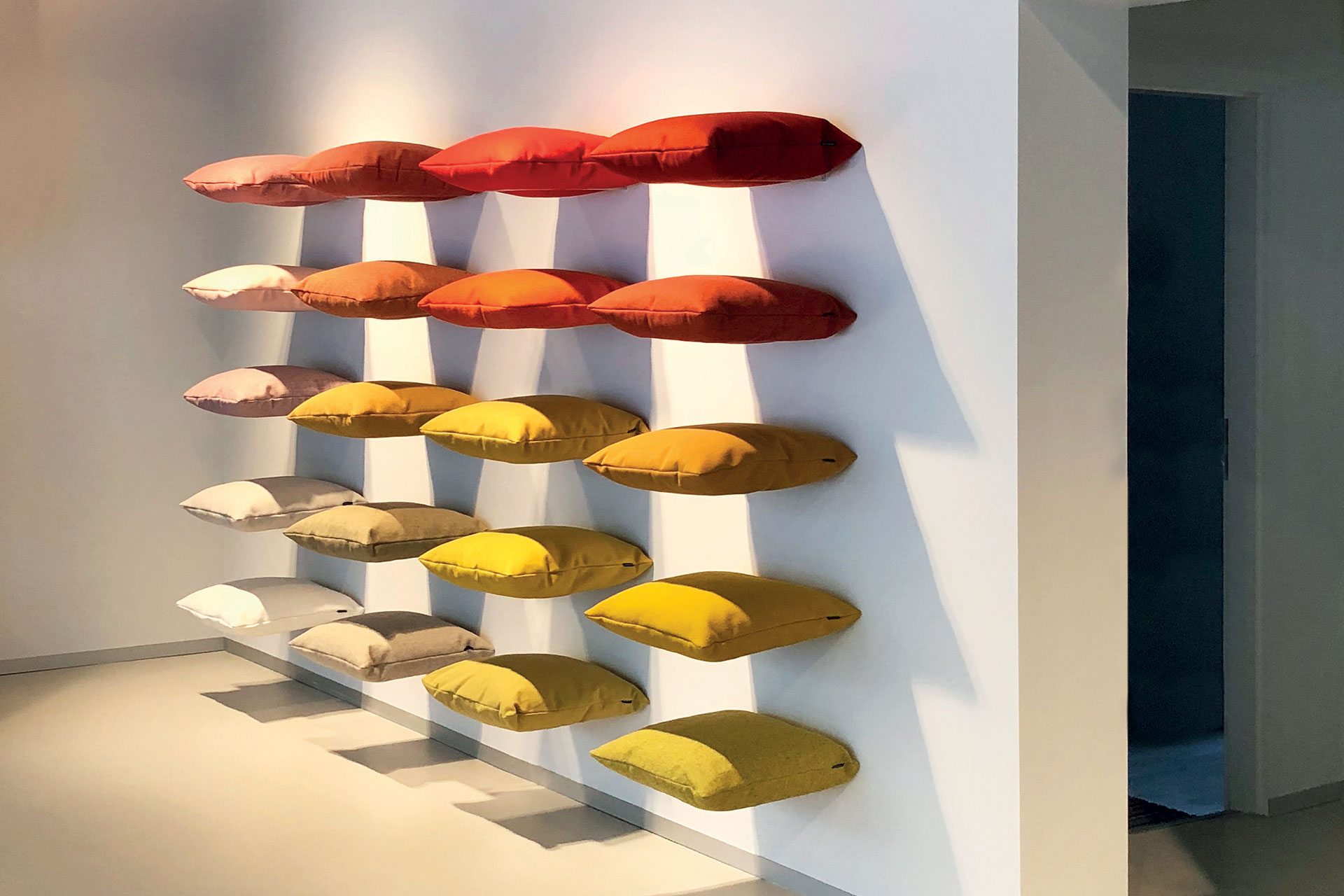 However, the thing that sets them apart remains unchanged: top quality, comfort and modern design. Prostoria has more than 200 employees and sells furniture in over 60 countries in 5 continents, with three of their stores being located in Croatia, in Zagreb, Rijeka and Split. Their Revolve sofa, Polygon and Trifidae armchairs, Up-Lift sofa and Straind and Oblique chairs have already gained cult status. Moreover, their initial pieces are ripe for a refurbishment and, as founder and owner of Prostoria Tomislav Knezović has been advocating sustainability and new values since the beginning, they founded Štof in 2018.
Sustainability has been an integral part of Prostoria since the beggining, they produce long lasting furniture that can be handed down if properly taken care of
'We wanted top fabrics by world-renowned manufacturers to be available to everyone in retail. Besides, we offer fabrics from our current and former Prostoria furniture collections and smaller pieces of fabrics left over after furniture is produced. At Štof, we sell them at retail prices or recycle them and make new products, such as decorative pillows and V shopper bags made from durable fabrics that have an appealing structure, weave and pattern,' says clothing and textile design graduate Andreja Bašak, who is particularly interested in furniture, materials and furnishing. She has been working at 'Štof' since day one and, according to her, when they first started, upholstering services were not planned. However, customers that had already been familiar with Prostoria would stop in front of the store window, admire fabric rolls and many would come inside and ask – Can I have my sectional upholstered here? So Štof added an additional service, offering buyers a one-stop-shop where they can choose a fabric they like and have their favourite piece of furniture upholstered with it.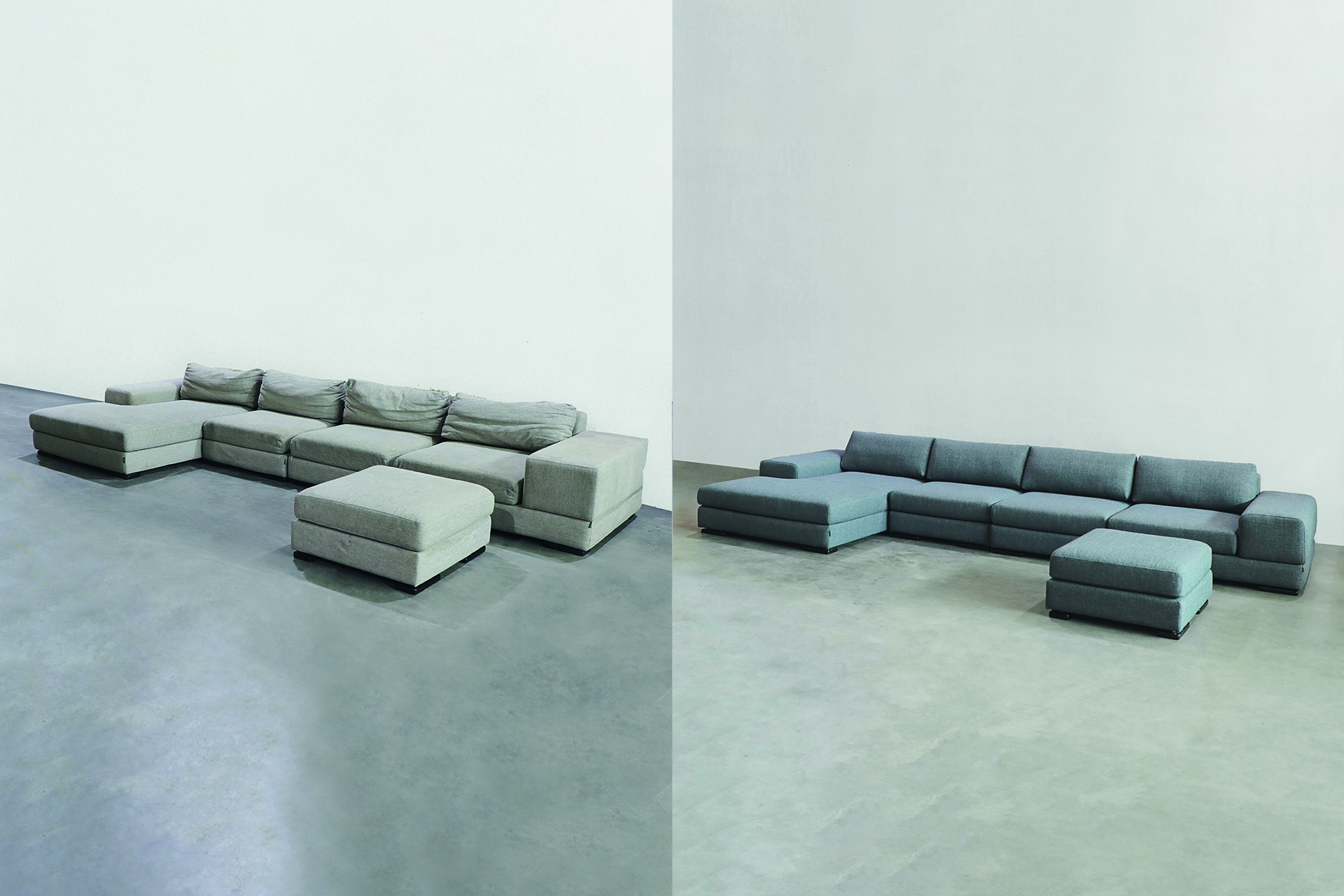 'Our store carries top textiles by world-renowned manufacturers from around the world, such as Denmark's Kvadrat, Germany's Rohl, Italy's Torri Lana and Mario Sirtori, as well as high-quality outdoor fabrics for terraces or boats. They are made from natural materials, such as wool, cotton, linen and their blends. They meet the high standards of being fire-retardant, no-pill and wear-resistant. Buyers can choose from more than 100 types of fabrics and a thousand shades. Not many can decide right away once you show them only a small selection', says textile design graduate Morana Radočaj. Together with Andreja, she uses her experience to help them solve any dilemmas quickly. Each buyer comes in with an idea, wish and a budget. A number of elements need to be taken into account before embarking on a big change in a room in their home or a place made for hedonism.
'We first ask what their lifestyle is like: are there children or pets, how many people use it, is it for their home, boat or a rental, will it be used on a daily basis or will it be purely decorative… Every other buyer wants their furniture to be as similar to the original as possible, but some are open to upholstering a period piece of furniture with a modern fabric to make it fit a new space. Colour selection is a special story, so we always ask if they are fine with watching the shade they have picked out every day. It's also important to know what will be facing the sectional, if people are after harmony or contrast. We ask for interior photos to help them choose an appropriate one from our general database of fabrics that fit all pieces of furniture and spaces', Andreja and Morana explain.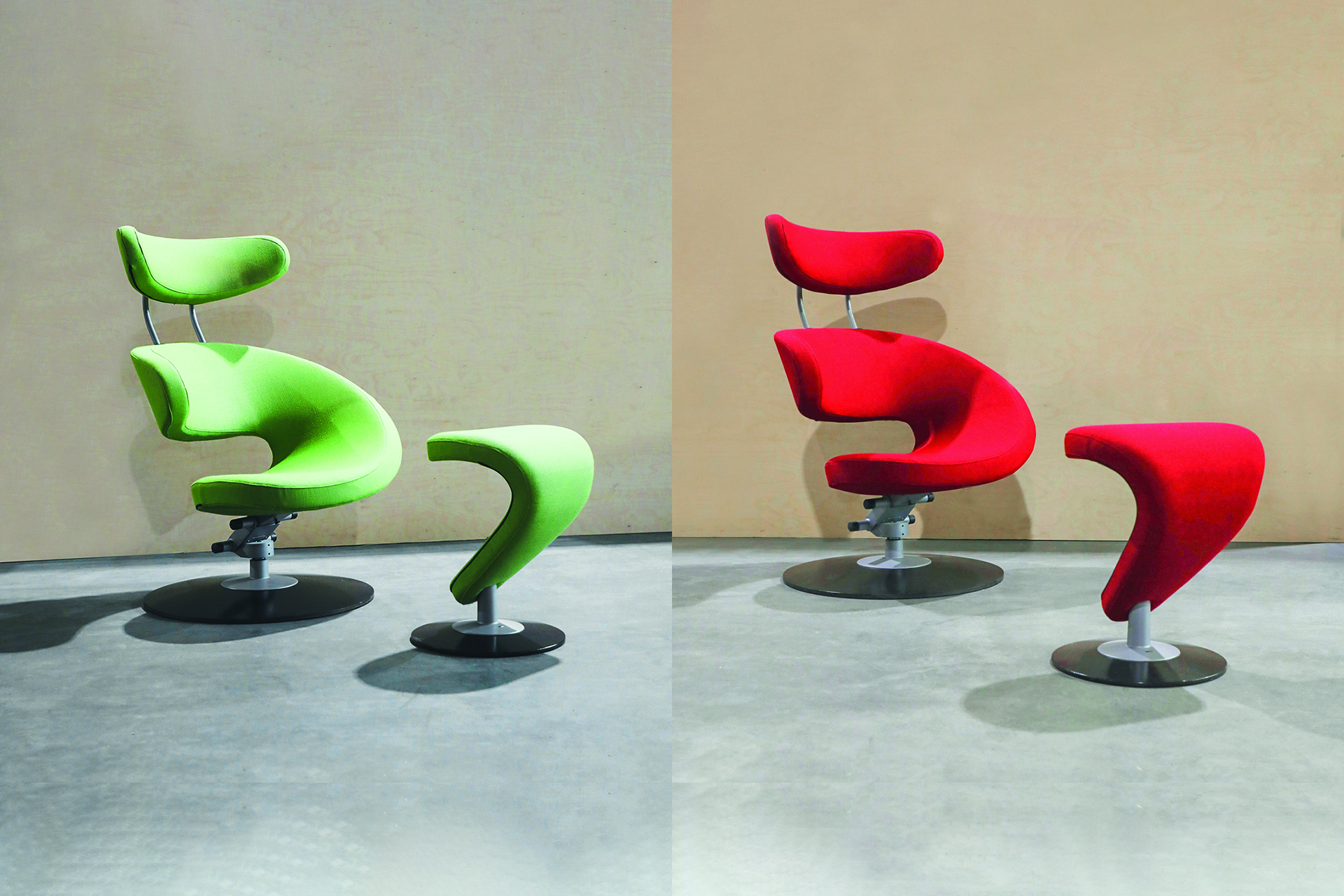 People often fall in love with a shade of a fabric when going through a catalogue or a magazine, so their search for change ends in half an hour. However, some visit five or six times, take samples home and then sleep on it. Just as herbs should be harvested at noon because that's when the smell and concentration of essential oils are the highest, fabrics should be picked in the daylight, best at noon, when the sun is at its highest point and the shade is the most accurate. Morana and Andreja say that they have seen that the selection of colour can tell you a lot about a person.
'Some fit the stereotype, while others break it. We were surprised when a group of artists opted for monochromatic shades – black, white and grey. However, they probably don't want anything distracting them during their creative processes. On the other hand, doctors and lawyers, which we see as strict professions, choose yellow or red fabrics because they probably want their home to be completely different from their place of work. Large corporation people opt for leather. It's in great demand, always in fashion, more expensive than fabrics, but when we list its qualities to people, there's no dilemma. Nowadays, there are new kinds of leather, minimally treated, that fit the environmental sustainability narrative perfectly. We avoid imitation leather because of its short lifespan and peeling, which doesn't happen with genuine leather', Andreja and Morana tell us.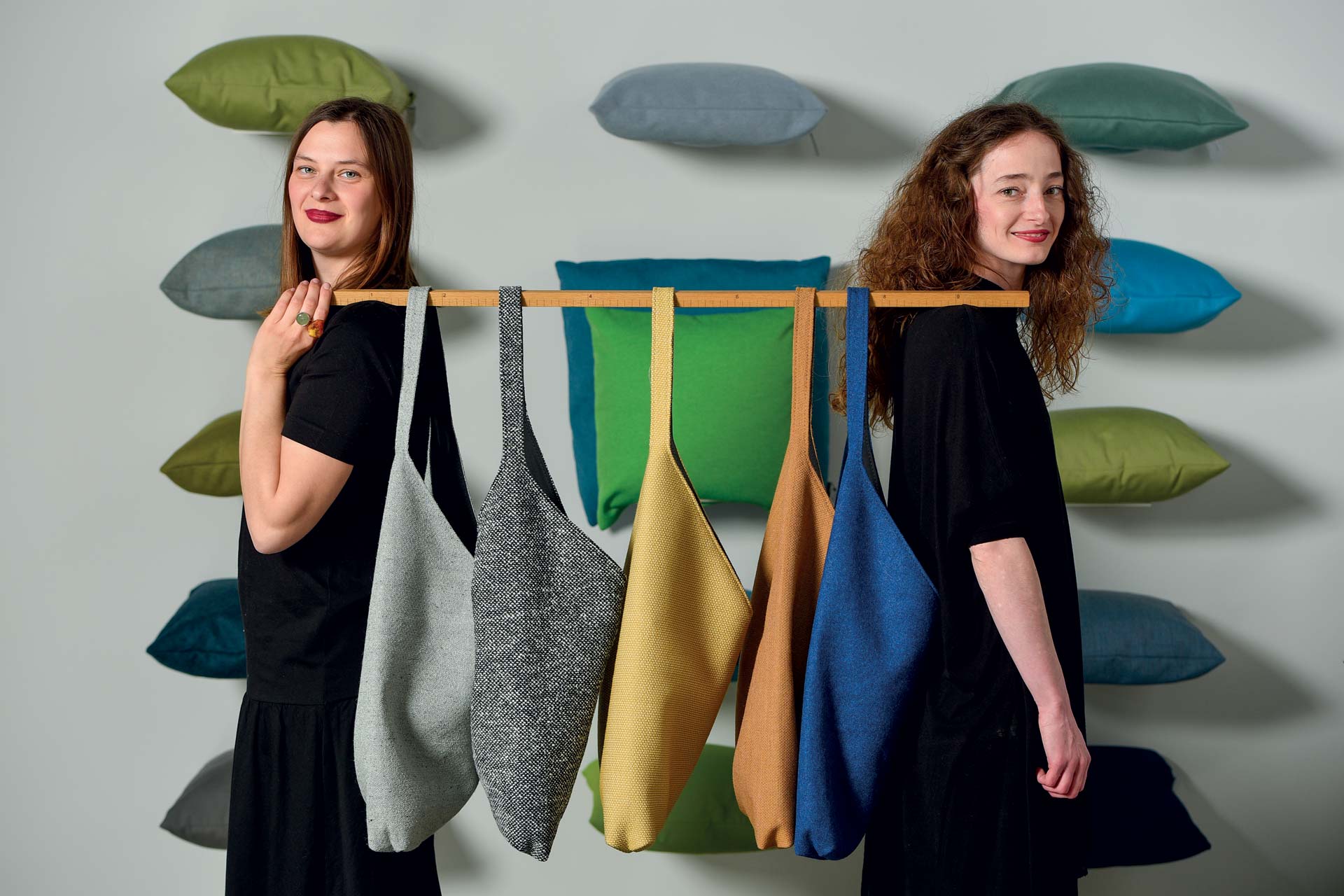 Trends in fashion also have a major effect on the selection of fabrics and colours. Brown shades that used to be repulsive are now in, monochromatic shades are always in demand, while some, such as purple, aren't popular. 'Weave is more important than colour', Andreja and Morana explain. 'New knit fabrics that emerged a few years ago allow organic furniture shapes to retain a gorgeous form for a long time thanks to fabrics. This desire to preserve furniture is important to our story. Sustainability has been an integral part of Prostoria since the beginning, we produce long-lasting furniture that can be handed down if properly taken care of. We get visits from buyers who don't want to throw away high-quality furniture, but want to keep it for sentimental reasons or it just suits them because of its style, quality or size. Some buyers may not know that a mid-range piece of furniture costs as much as upholstering a high-end old piece. However, once you explain how much handwork is involved in cutting, stuffing and upholstering, once they find out about the advantages of top-quality fabric or leather, it doesn't take much convincing for them to agree to give new life to their old furniture.'
Text Dubravka Tomeković Aralica
Photos Damil Kalogjera & prostoria Video štof

No tags for this post.