Sirena 88 review: Boutique Hotel on Water
Spacious, smart and comfortable, Sirena 88 is above all else beautiful. Luxury is reflected in every thought-through detail and designer touches on this floating villa that well justifies her builder's motto: Go further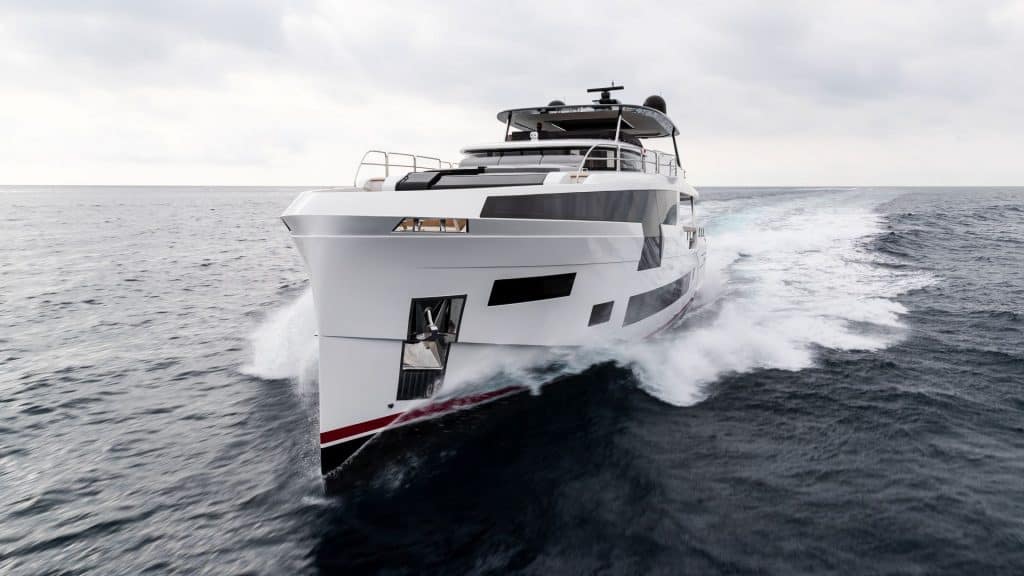 Sirena shipyard entered 2020 guns ablaze, after having sold five units of their Sirena 88 at the Cannes Yachting Festival. Their largest model up to date, the heir to the popular Sirena 64, is appealing for many reasons: designed by German Frers, the yacht is an exercise in luxury. Spacious, smart and comfortable, Sirena 88 is above all else beautiful.
Sirena 88 layout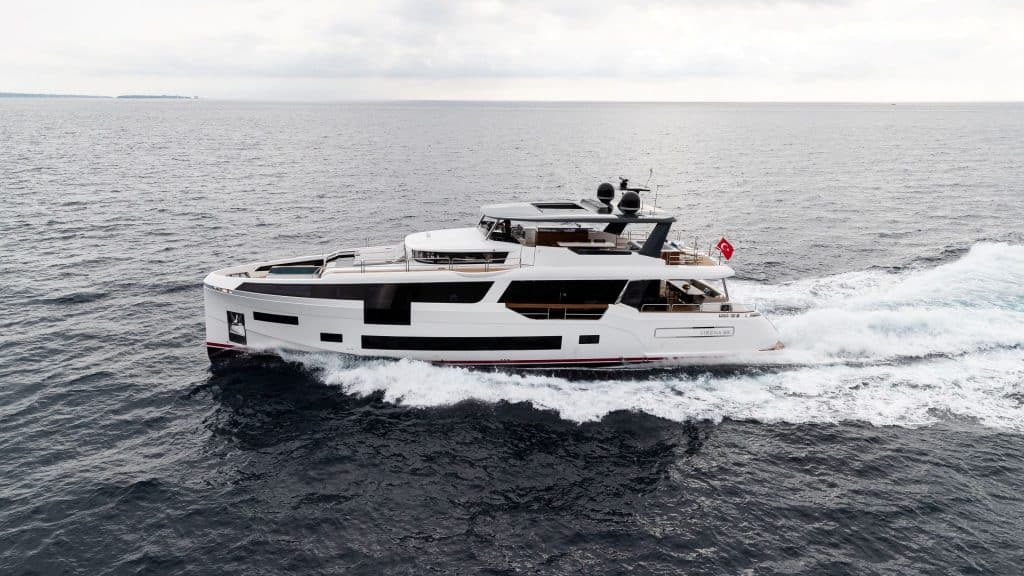 Built in hybrid carbon laminate using vacuum infusion for all the hull, superstructure and deck, which resulted in very low drag, the yacht uses interestingly little fuel at all speed, and boasts impressive autonomy. From the very first step aboard this 27-meter long yacht you'll get a feeling of being in a luxury boutique hotel.
Seven meters wide, Sirena 88 uses all that space wisely both on deck and indoors, while low silhouette, bridge and fly bridge moved toward the bow and wraparound glazing – give her an impressive appearance.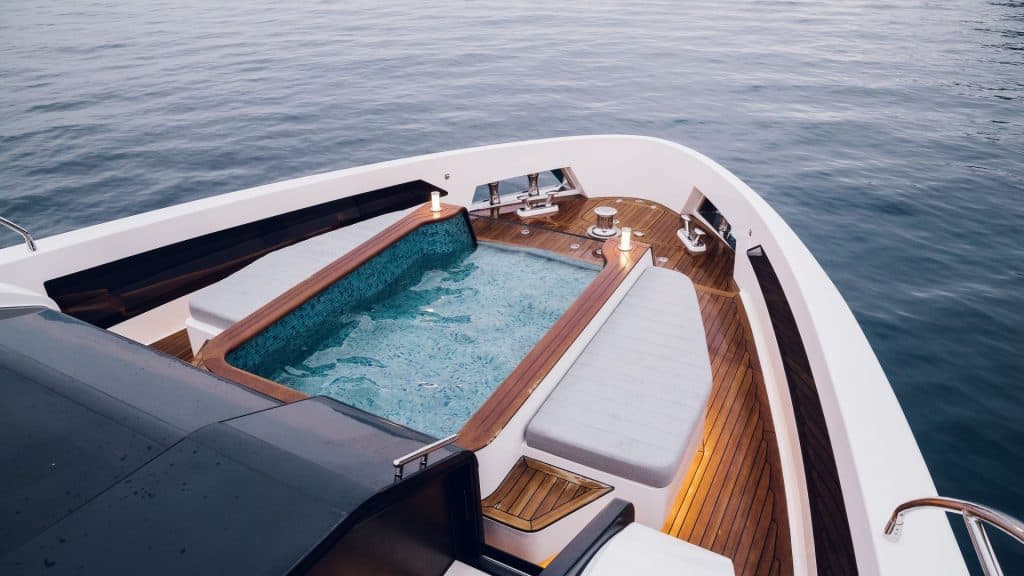 The aft cockpit is as cozy as can be, with an eye-catching teak table and a wrap-around sofa for ten plus guests. From there, the sliding glass doors lead into the main deck salon, and a set of stairs toward the fly bridge. Beach club is impressively wide, and owners who don't need a 4-meter beach can use that space for storing tenders or sea-bobs, or as an easily accessible launching platform for water toys.
The main-deck salon is wrapped in glass surfaces, has more than two meters of clearance and reminds in style and quality of a hotel lobby.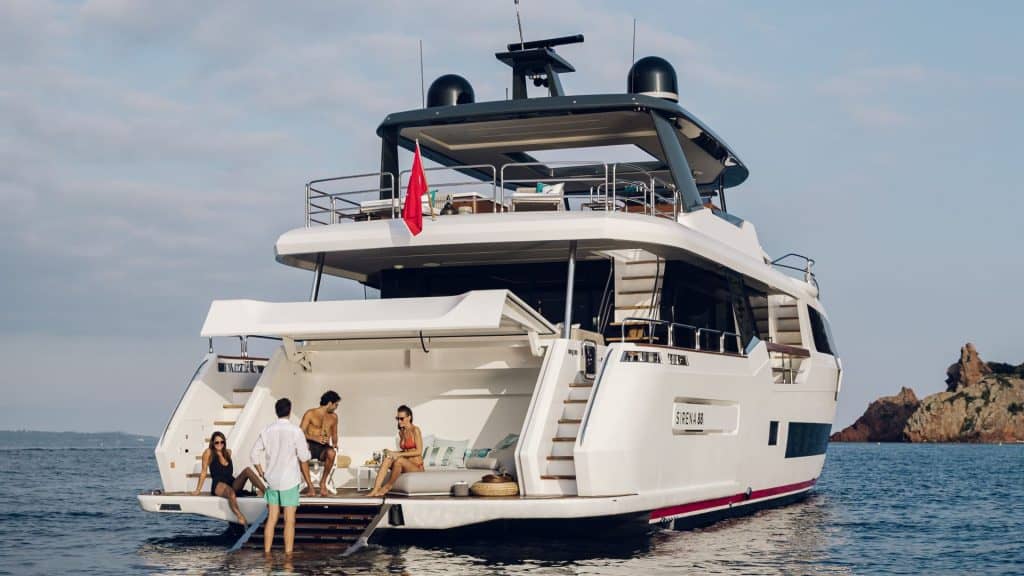 One of the most beautiful details on the Sirena 88 is the dining room table, an impressively long element seating for at least ten guests and the centerpiece of a room that could easily be mistaken for a dining hall of a Michelin-starred restaurant
House designers co-operated with studio Cor D. Rover on creating inviting, cozy interiors whose warmth is underlined by plenty of natural wood, white leather and gleaming steel details.
Behind the superbly finished surfaces lies plenty of storage space for everything you might need at sea, and every bit of space is used. Two large sofas placed right under the windows offer plenty of comfortable space for laying around in front of the TV.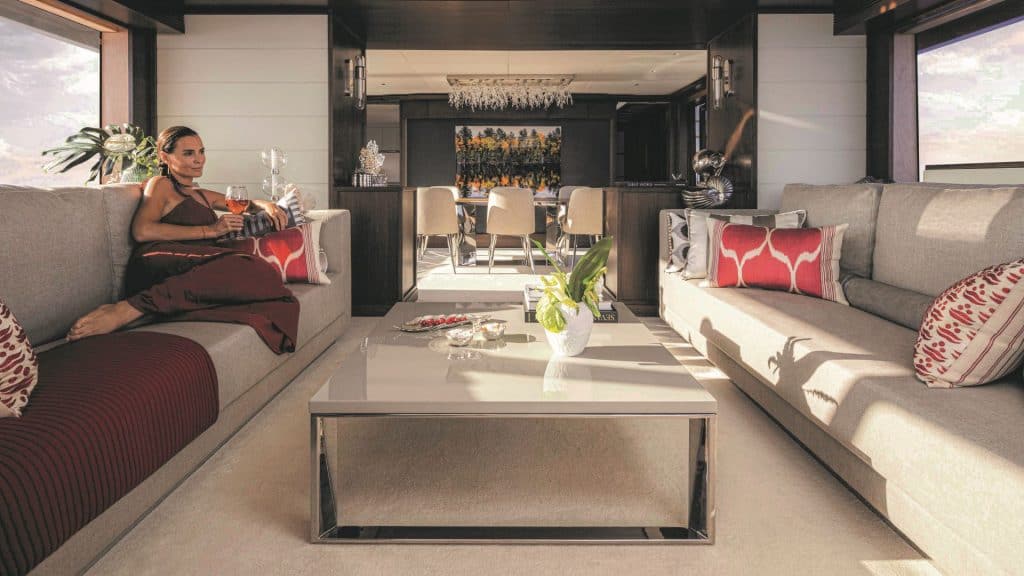 This part of the salon is well connected with the cockpit, and is homey enough to make even glum days at sea enjoyable. The Turkish builder spared no expense and the results of such approach are visible and delightful.
One of the most beautiful details on the Sirena 88 is the dining room table, an impressively long element seating for at least ten guests and the centerpiece of a room that could easily be mistaken for a dining hall of a Michelin-starred restaurant.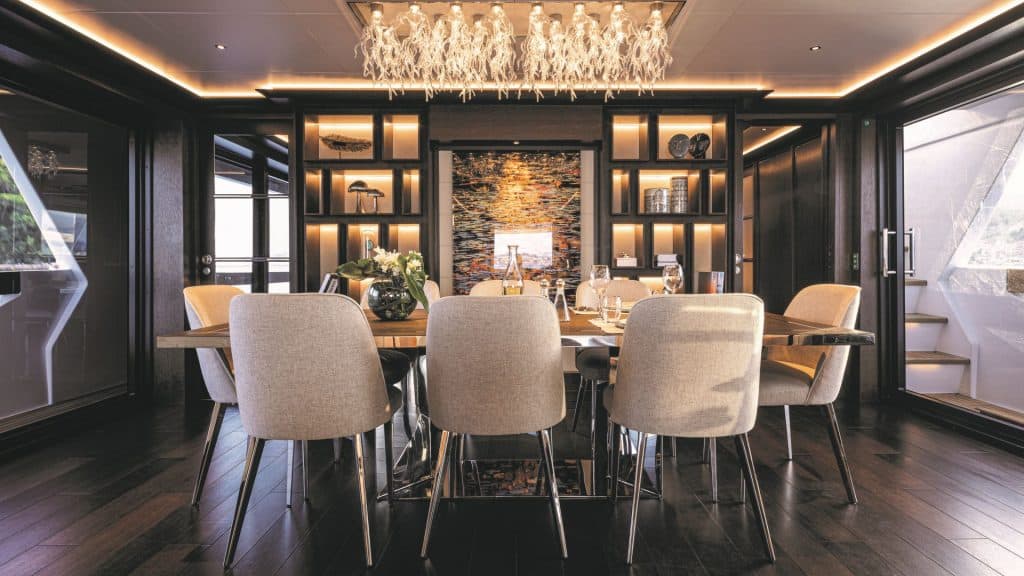 Impressively large master cabin
The diner is the most stylish space aboard, with a beautifully painted glass-door cabinet and lighting element inspired by branches of a tree that lift the style another notch. Accessible from both the salon and the bridge – and separated from the cockpit by a massive glass panel 2.74-meters wide – the diner is the heart of the main deck.
Various layouts are available, with some of them allowing for a larger galley, and all of them sharing a feature that will delight buyers: the master cabin is impressively large.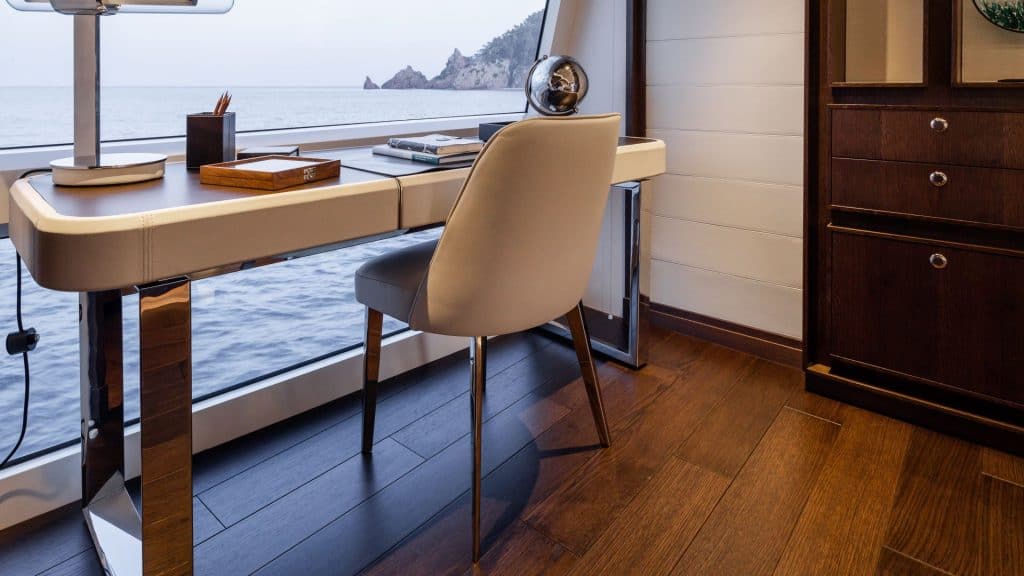 Accessible by a passage that connects the bow and the aft almost in a straight line, the cabin is furnished with a large double bed, has glass surfaces floor-to-ceiling and uses the entire width of the hull. Another delightful detail – the glass surfaces open into private terraces, for even more contact with the sea. Other cabins aboard the Sirena 88 are no less impressive: two of them are VIP; one placed centrally and one in the bow, with walk-in showers, over two meters of clearance and beds mere 10 cm shorter than the one in the master cabin.
The private bathroom is encased in glass from almost all sides, separated from the cabin by sliding glass doors. From the private bathroom, the owner can access the infinity pool on the bow, which might be small, but is delightful and functional. The fly bridge is accessible from the bow as well as from the aft cockpit, via a smartly hidden door starboard on the bow.
Sirena 88 range
The command post is excellent in every aspect, from position to dimensions, from visibility to accessibility of commands. Powered by two MAN V-12 1550hp engines, Sirena 88 is equipped with the latest navigation technology operated via two Simrad 18'' touch screens, with joystick, trim control and thrusters – all doubled in the safe engine room below deck.
As stable as she looks, Sirena 88 is a real joy in navigation. A true trawler in every aspect concerning navigation, stability and maneuverability, the yacht is extremely calm and comfortable on long cruises.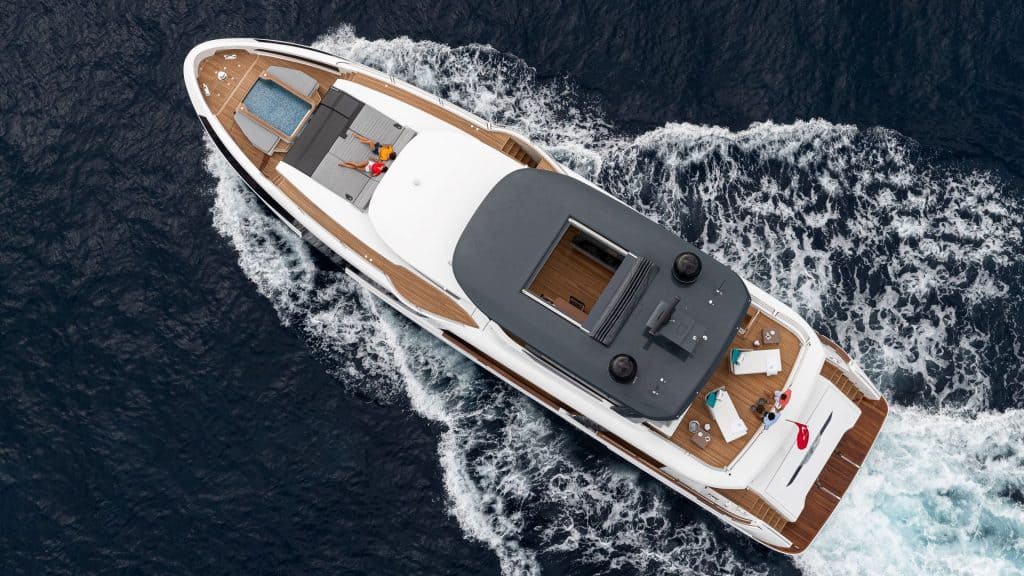 Reaching 10 knots at 1000 rpm, Sirena 88 has range of 1600 miles, which is what she was designed to do. Confirmation of her trawler identity is the significant loss of autonomy at greater speed (461 miles at 16 knots). On our test we didn't reach the 23.3-knot top speed, as our steering wheel suffered a temporary blockade, and we did feel the impact of some side rolling, created by our own maneuvers – another confirmation Sirena 88 feels most comfortably cruising at low speeds, without harsh maneuvers.
Even more attractive due to endless options available to the owner, Sirena 88 is designed to be unique in every way, justifying even in that aspect her builder's motto – Go further.
Text Filip Bubalo
Photos Sirena / Jeff Brown