Silent-Yachts continues an exciting journey to the bright and green future. The innovative Austrian shipyard introduced a new version of its popular Silent 60 model – now with another level of space and comfort for its guests
The Silent 62 Tri-Deck is based on the Silent 60 platform. However, it includes a third deck and adds two feet to the hull's length. One unit has been sold to a client in Europe & two units to clients from the US. The Silent 62 Tri-Deck has an extra deck instead of a flybridge which comes with the standard Silent 60. This allows to add 50 m² of useful space for guests. Three different layout options are available for the third deck: open sky lounge, closed sky lounge or an owner's suite.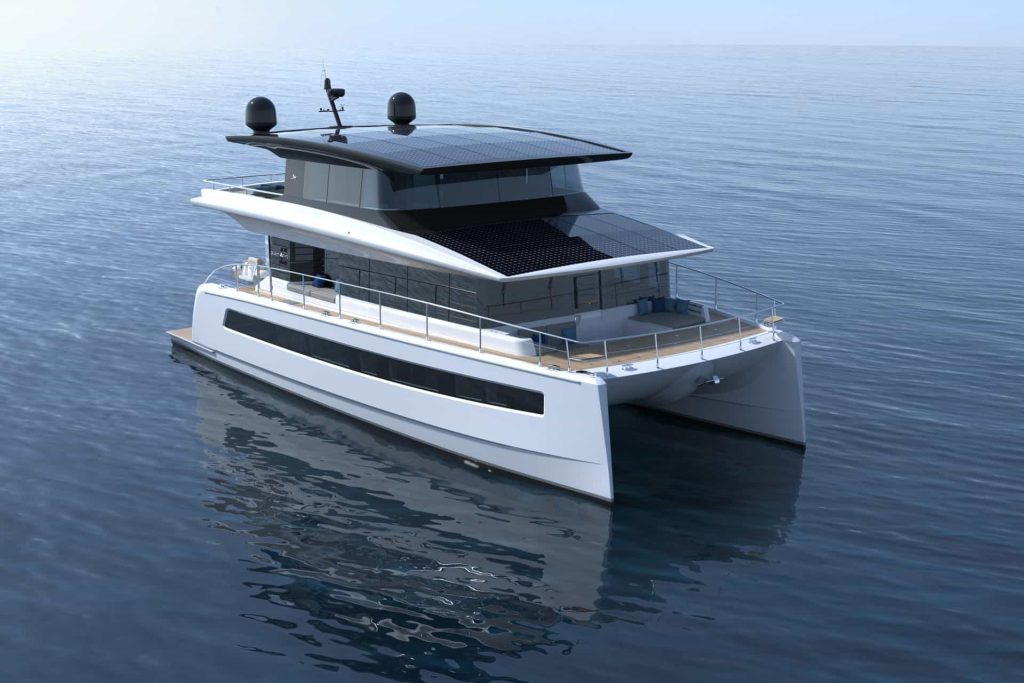 Open sky lounge version: instead of the standard flybridge with 21 m² of space, the open version offers a 50 m² open fly deck with bar and galley, a dining table and bench for 10-12 persons, several sofas and lounge areas and a fly helm.
Closed sky lounge version: provides an 18 m² closed fly deck equipped with a bar, a second galley and a dining table offering an unobstructed 360° panoramic view. Aft of the sky-lounge there is a 32 m² terrace with several sofas and lounge areas.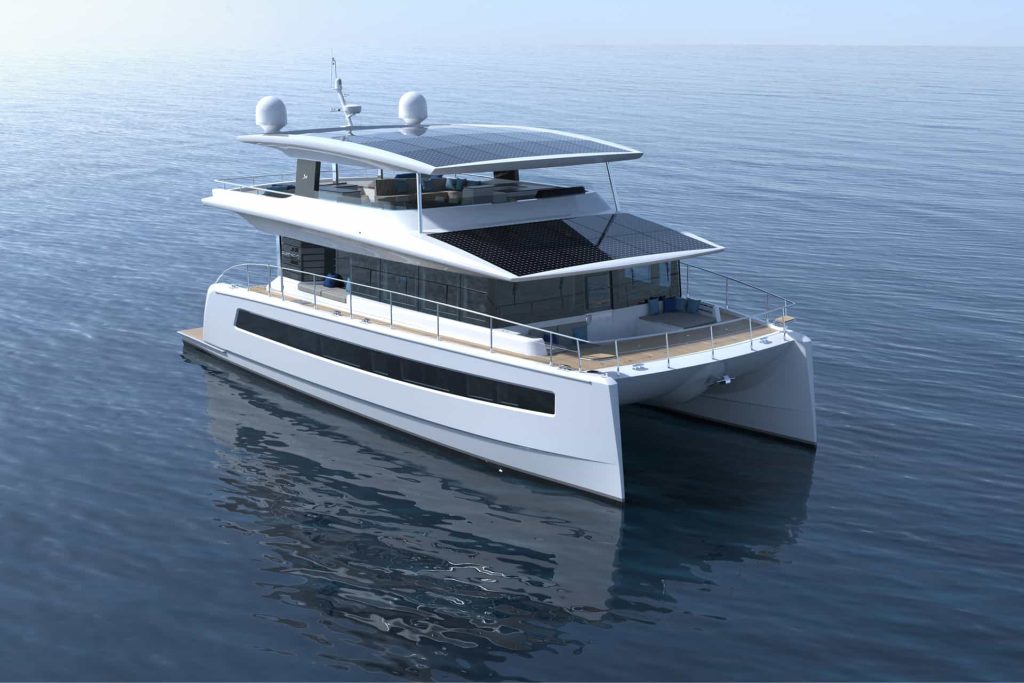 Owner's suite version: offers a generous 18 m² owner´s suite with an en-suite bathroom and an unobstructed 360° panoramic view. Aft of the owner´s suite, there is a 32 m² private terrace with several sofas and lounge areas. The Silent 62 Tri-Deck has a high-performance hull shape that has been optimized with CFD study, with longer waterline and reverse bow.
Her exterior design's signature details are the long window stripe at the sidewall of the hull and more window surface overall. The yacht can be handled by two people with ease and offers plenty of space for families and crew.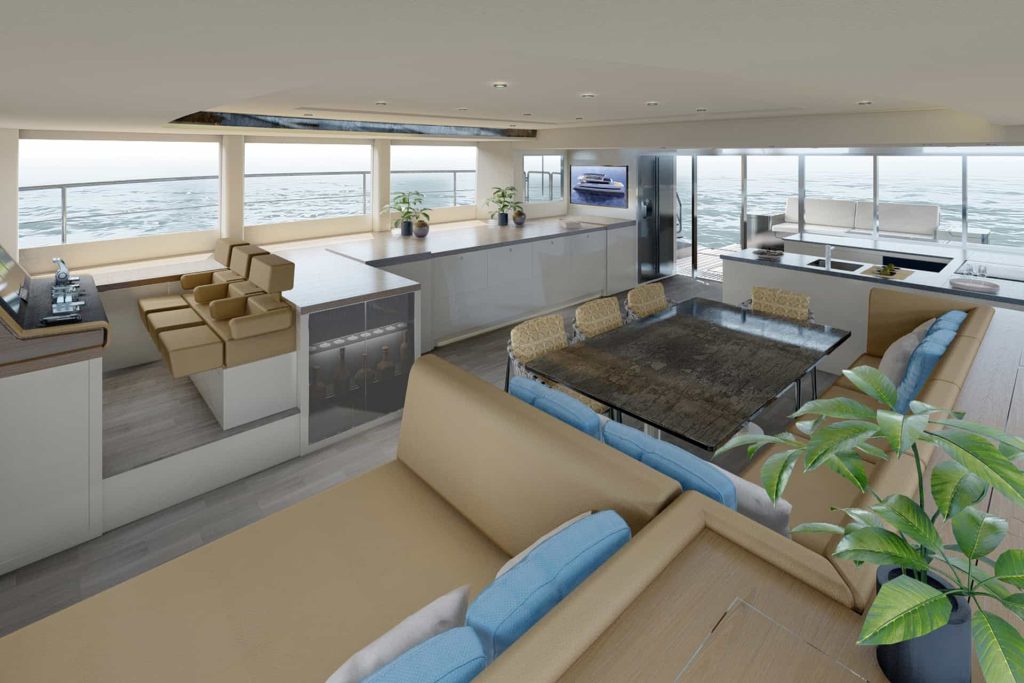 The optional hydraulic stern platform which also serves as a swimming platform, can accommodate a tender of up to 4.2 m in length. For adventurers, additional water toys, SUP´s, kayaks and e-bikes can be stored in the bridge deck. The Silent 62 Tri-Deck is equipped with 42 powerful solar panels achieving up to 17 kWp.
The self-sufficient yacht uses silent electric propulsion for unlimited range with no noise or fumes and minimal vibration. The Silent62 Tri-Deck is available in several layouts ranging from three to six staterooms on the lower deck with a maximum of six bathrooms.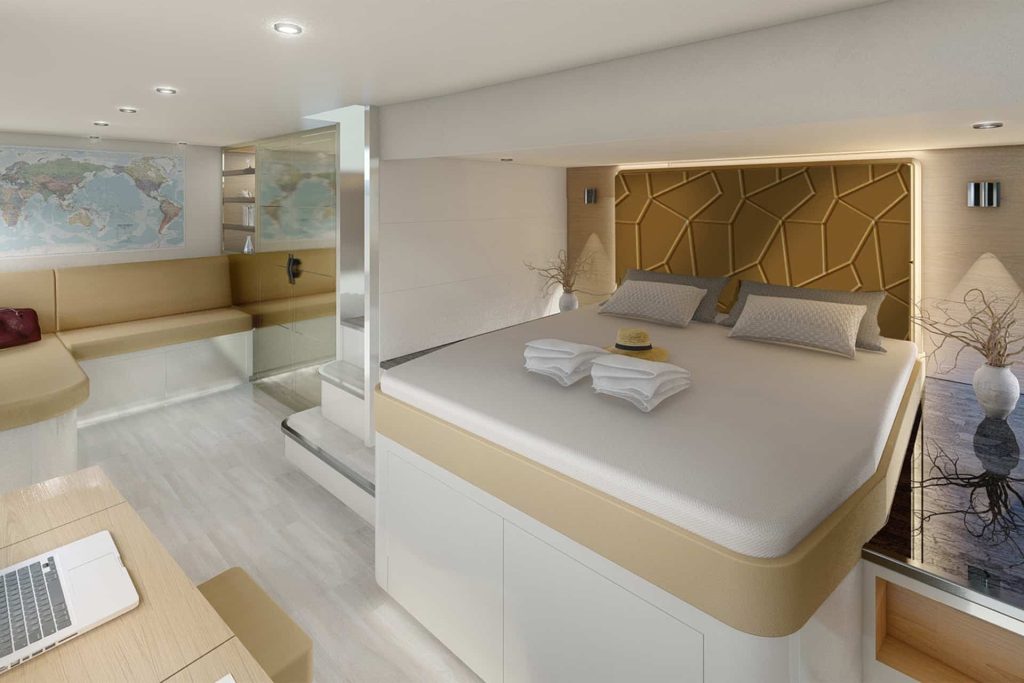 All staterooms offer double or twin berths, and all heads include a separate shower. The Silent 62 Tri-Deck is a true ocean-going cruising yacht. She can cruise efficiently for up to 100 miles a day for weeks. At the same time, the arrangement of the components enables the yacht to power all on board systems without the need to run a generator.
The generator is only used to recharge the batteries in the rare case when it is required to sustain higher speeds during longer periods of time or when the weather conditions are unfavourable for several days.
Photos Silent-Yachts