Bernardo and Martina Zuccon are the designers behind the new BGX60 presented at the 2020 Genoa Boat Show. The new yacht joins the Bluegame range, based on an idea by Luca Santella, and offers all the functionality of her big sister BGX70
The main characteristics of BGX60 are the remarkable flexibility of her onboard spaces, the desire for seamless contact with the water, and constant interaction between indoor and outdoor settings.  After the huge success of BGX70, Zuccon International Project embarked on a new challenge: the exterior and interior design of the new Bluegame BGX60, a product created to enjoy a crystal clear interpretation of life at sea.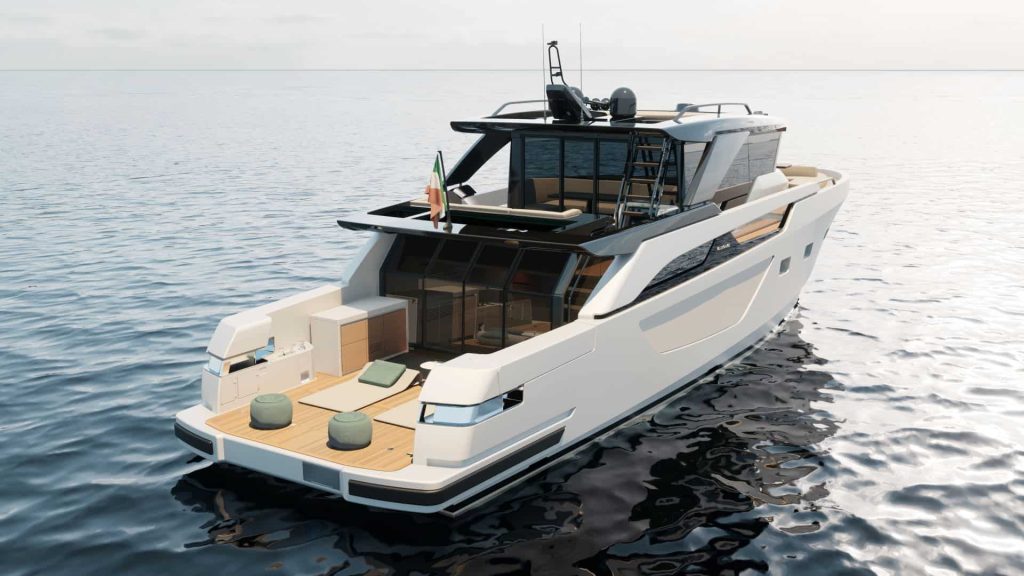 The project, which is a synthesis of marine expertise, performance and functionality in which every element is designed to express the concept of being at sea in the deepest possible way, is the result of typological research that unites the Rome-based firm and Bluegame in the creation of typological scenarios and onboard lifestyles that break with tradition.
Bernardo Zuccon describes the origins of the project like this: 'After the successful launch of the BGX70, it came naturally for us to think about designing a range. Bluegame is a concept developed around a 'marine philosophy' that considers people and their experience of onboard spaces as key development drivers. The boat is seen as a structured and flexible container of living experiences, where the spaces are broken down to offer different perspectives and adapt to reflect the owner's needs'.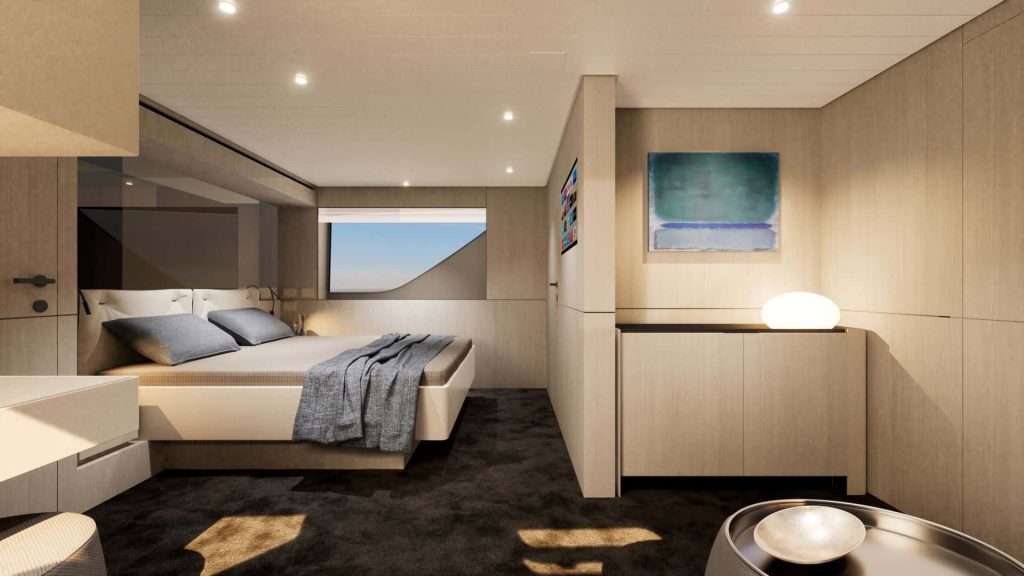 This model too represents a typological synthesis in which different products are blended together to form a single experience, one created to enjoy in ever changing ways on long cruises and in unparalleled comfort. The BGX60 represents continuity for the Bluegame yacht range, based on an idea by Luca Santella, who as an architect and former Olympic athlete loves the life at sea with a passion, going beyond the experience of an entrepreneur: all the style and functional content generated by this idea is retained and proposed again on a smaller scale. The exterior lines, in particular, show a clear family feeling, not least in the desire to preserve stylistic hallmarks like the open stern with tender on view.
Turning to the layout, the designers have worked to scale down the content and concepts that were so powerful on the BGX70, the main challenge being to ensure the same wealth of information of the previous model, but in smaller dimensions. Key to this was designing the day area on two different levels linked by an interior stairway, creating two different living areas. Martina Zuccon commented: 'With the creation of two different living areas on two different decks, plus two service stairways leading to the various interior areas, the result is an extremely flexible onboard living experience, with different settings that coexist in harmony, offering the owner and guests a series of encounters with a variety of outdoor and indoor 'living spaces' as they move around on board.

Light plays a very important role, particularly in the living areas, where the proportion of glazed surfaces is so high that outside and inside seem to form part of the same environment. Turning to the materials, the hull is made of fiberglass, while it was decided to opt for the naturalness of fabrics, leather and wood in the interiors, emphasising the close contact with the water, and the colourways have been chosen to create settings permeated by great harmony and balance.
Illustrating this new step forward for such an ambitious and innovative range, Bernardo Zuccon said: 'The Bluegame experience means choosing to live life at sea, 'loving and fearing it' as the great men of the sea teach us'.
Photos & video Bluegame