Projects such as elite Michelin-starred restaurants around the world prove that the skilled artisans at Artisan can tackle any challenge, no matter how big – perhaps they will soon be ready for luxury yachts?
Passion, art, ode to handiwork and life, or as creator of today's collector's dream cars Horacio Pagani said, 'intellettualità manuale' (manual intelligence) – that special connection lives in every artisan, every skilled worker who uses his hands to turn the designer's vision to give life to unique, handmade objects. That connection is the concept behind Artisan, modern designer furniture, brought to life by a unique creative and production process.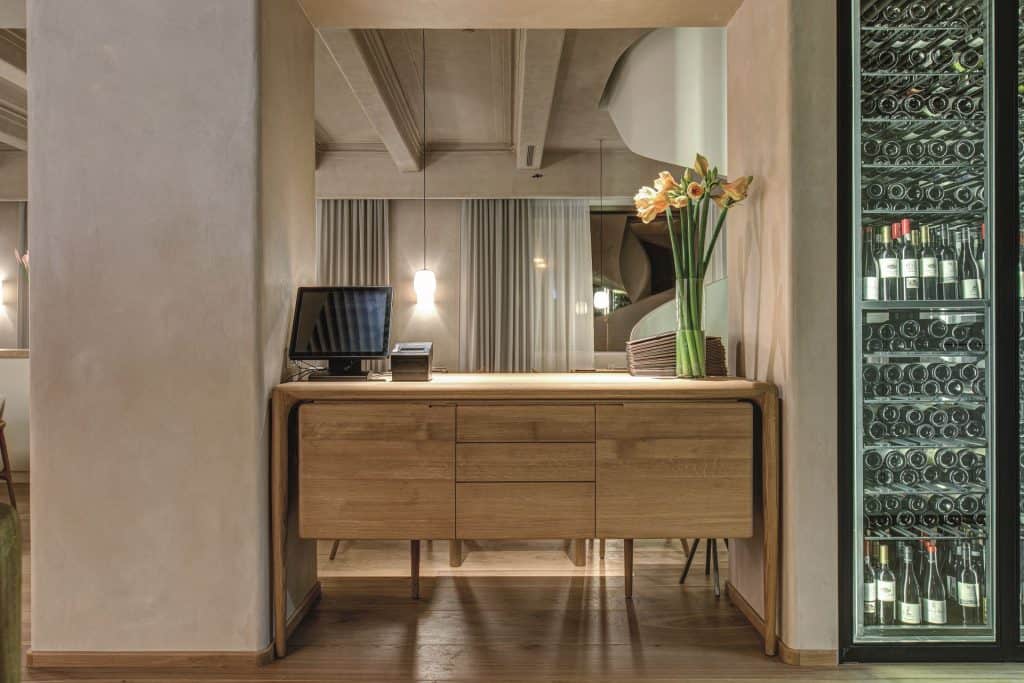 Cosy and warm interiors by Artisan
The functional, contemporary design perfectly complements the simplicity of the natural materials used. Artisan specializes in handcrafting of high quality furniture in massive wood, and that is what sets the studio apart. Wooden furniture gives any space a warm, cozy atmosphere, and will never lose popularity due to its clean nature. Not only homes, but many public spaces choose wood – especially restaurants, where wood elevates the atmosphere.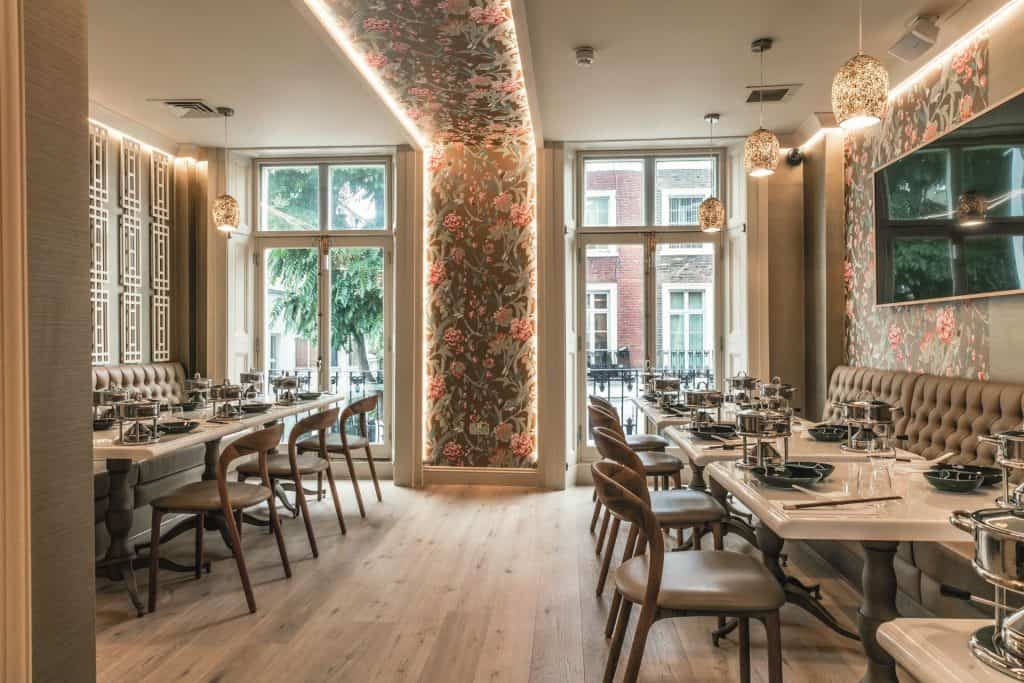 Any visit to a fine restaurant must bring pleasure to all senses, and furniture by Artisan has the elements that please the eye and touch. Several Michelin-starred restaurants have chosen Artisan for their interiors, every one of them for a unique reason. The philosophy behind Artisan proved to be the perfect match for the Helsinki restaurant Nolla. The Finns started out determined to prepare food in a manner that has no negative impact on the nature whatsoever, and wood was the obvious choice.
Ecology is more than a hashtag
At Nolla, ecology is more than a hashtag, as the restaurant not only avoids all plastic – even for food packaging – but uses sustainable linens and is mindful of energy consumption. Latus table, Neva light, Neva chair and Neva bar stool found their home in Helsinki, and send a clear message on the restaurant philosophy: wood is the king. Restaurant Black Swan in the quaint village of Olstead in the UK, near the North York Moors National Park, is set up in a stylish 16th century building.
At the helm of the restaurant, that three years ago was selected as the best fine dining establishment in the world, is chef Tommy Banks, the youngest British chef with a Michelin star (awarded in 2013). The food at Black Swan has character and depth, combines contrasting flavors, and is itself in a stark contrast with the very traditional setting. The success of the old-meets-new concept is perhaps best visible in the interior, where Artisan furniture works with, not against the ancient wooden beams and hearth.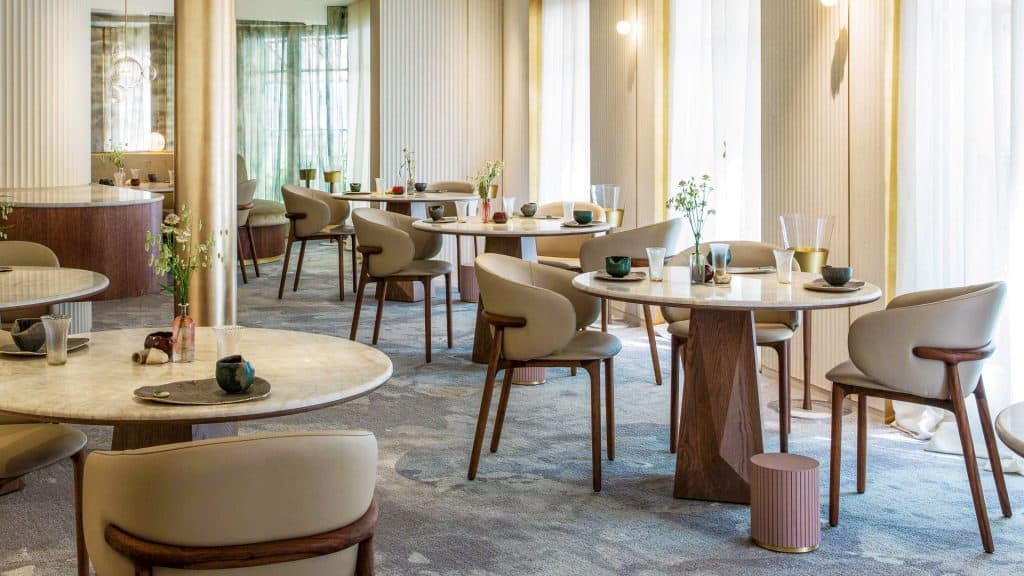 Across the Channel, Parisian restaurant Marsan par Hélène Darroze on the left bank of the river Seine is the polar opposite of the quiet English restaurant. Surrounded by chic boutiques and other classy eateries, Marsan par Hélène Darroze seats 60 – on Artisan Mela chairs. The very artsy model was selected as companion to the artistic cuisine, while wood here gives the classy, elegant space plenty of light and warmth.
Miracle of modern architecture in Slovenia
Deeper into the continent, Koeln restaurant Ox&Klee (two Michelin stars) chose Latus and Lakri tables, Neva chairs and Shift lights for its modern interior. Located by the river Rhine in the new part of Koeln, in a very bright building with views on the marina, the restaurant is famous for their motto – Experience taste – and very original, sophisticated plates.
Artisan specializes in handcrafting of high quality furniture in massive wood, and that is what sets the studio apart
Similar to Ox&Klee in concept, but original in every way, is the Harvest in St. Petersburg. This sustainability-conscious restaurant has a very simple, but visually highly effective design where Neva and Neva light chairs, Latus, Jean and Lakri tables, and Latus chest are stars.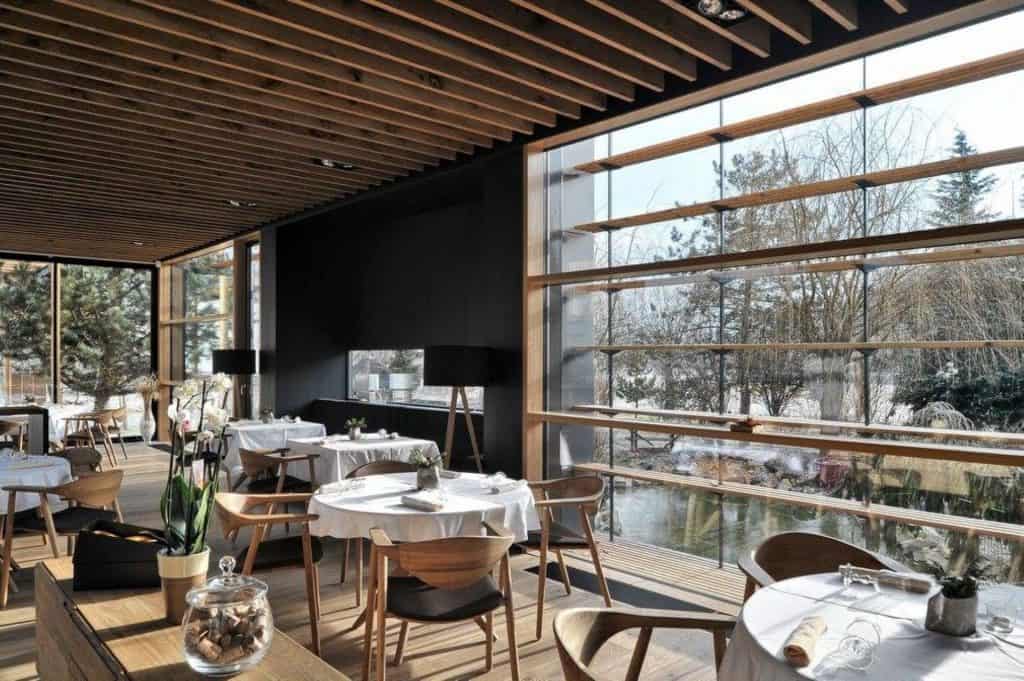 The picturesque wine road between Maribor and Pohorje in Slovenia and Austrian Styria houses a miracle of modern architecture – Hiša Denk, a restaurant that was earlier this year awarded one Michelin star. This peaceful oasis where silence and good food reign is furnished with Naru chairs, Lakri tables and Tesa chests.
Across the Atlantic, in the glamorous South Beach, restaurant and lounge bar Milla serves creative dishes based on Japanese and Mediterranean cuisine. The minimalist interior is brimming with wooden details, among them Nara and Neva light chairs, Pivot table and Neva light bar stools.
Ajuala in a sophisticated neighborhood of Santo Domingo, capital of the Dominican Republic, demonstrates that Tesa chair and chest, Latus bar table and Neva light bar chair fit well even into Caribbean setting. Sprinkled all over the globe, Artisan handmade furniture follows the same simple, but effective philosophy that created the studio in Tešanj – passion and love can create miracles.
As the yachting industry is powered by the same ideas, we can definitely see a yachting project in the studio's future – the masters at Artisan have themselves stated they are ready to tackle luxury yachts, and we couldn't agree more. Their unique and creative free-standing furniture pieces would add sophistication to any yacht interior.
Photos & video Artisan