The Azimut Grande 30M, which will be presented to the public in 2025, represents the culmination of stylistic innovations to break down the barriers that limit contact with sea and sky.
The interiors are designed by m2atelier, for their first collaboration with Azimut, while the exteriors by Alberto Mancini take the two elements that established the success of Grande 26M and Grande 36M to their fullest expression by integrating them: the Deck2Deck Terrace and the Infinity Skydeck.
The Grande 30M's Infinity Skydeck is the natural evolution of the one the Shipyard made for the Grande 36M and for the first time goes from 'semi' to fully walkaround. The Upper Deck of the yacht runs flush from the stern to the extreme bow, allowing guests to experience this space like never before and pushing the concept of fluidity between exteriors and interiors to the extreme.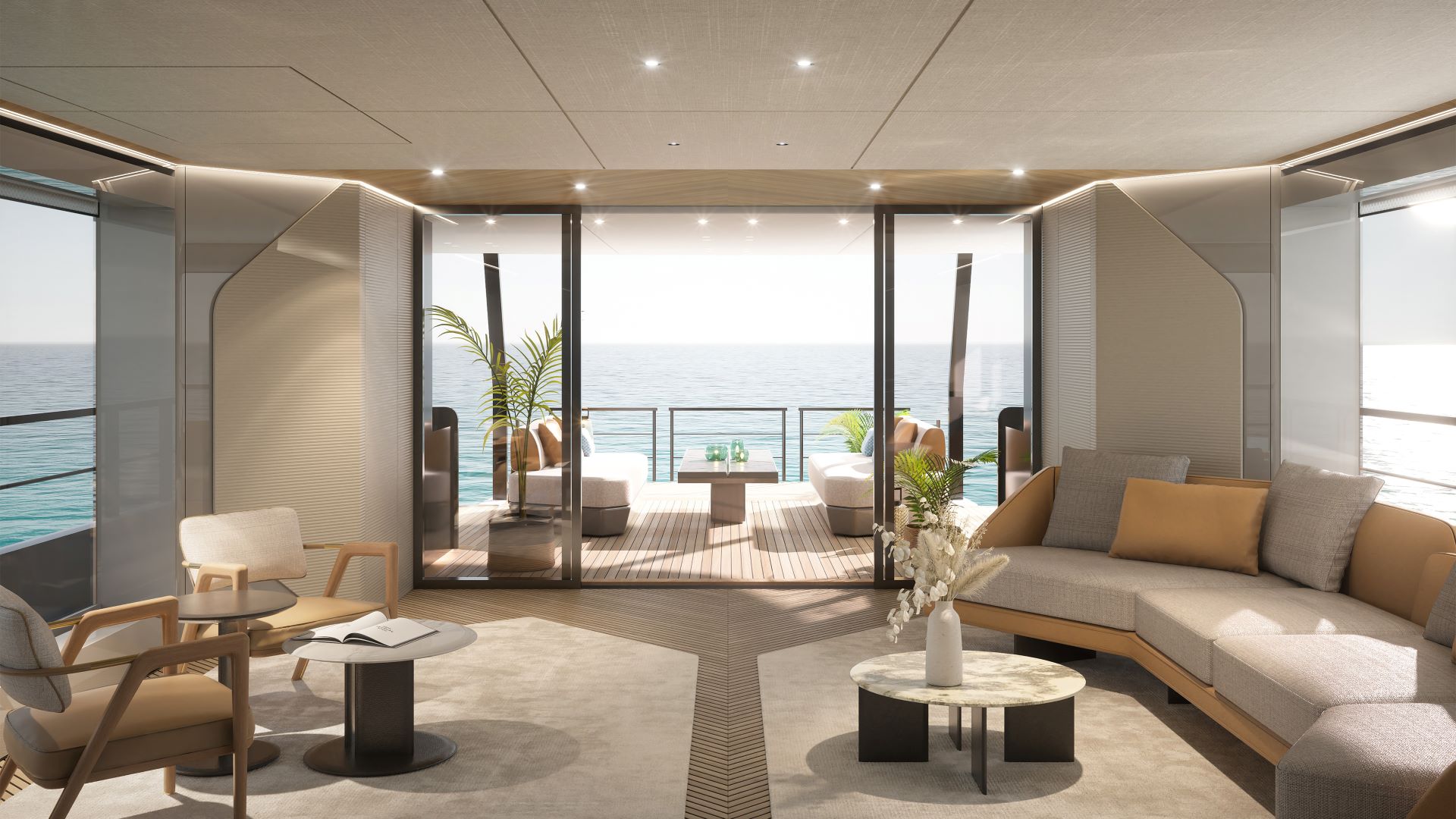 The Glass House of the Upper Deck is transformed – thanks to the fully disappearing full-height windows – into a veranda open on three sides, establishing a union between the large aft lounge and the Infinity Pool which overlooks the sea off the bow.
The feature that best embodies the desire to expand the spaces on board and look to the horizon as a profound vocation of cruising is the Deck2Deck Terrace, an extension of the transom obtained by raising the teak hatch of the garage to become a continuation of the cockpit and a real terrace over the sea.
The signature of m2atelier, an international architecture and design studio founded in Milan by Marco Bonelli and Marijana Radovic, is evident in the architectural language that draws from different fields, from residential to contemporary art, to create fluid and informal spaces, to be lived and used in great relaxation and freedom, where time passes slowly and where the perception of light is the heart of the experience.
Light is the protagonist throughout the spaces on board the Azimut Grande 30M: from the large, floor-to-ceiling windows to the internal staircase, made ethereally light to give this structural element an artistic interpretation and create a cascade of light that descends from the Upper Deck to the Main Deck.
This architectural concept embraces attention to detail and the ability to combine different materials in a relentless pursuit of a sustainable minimalism that is attentive to people's wellbeing and respect for the environment.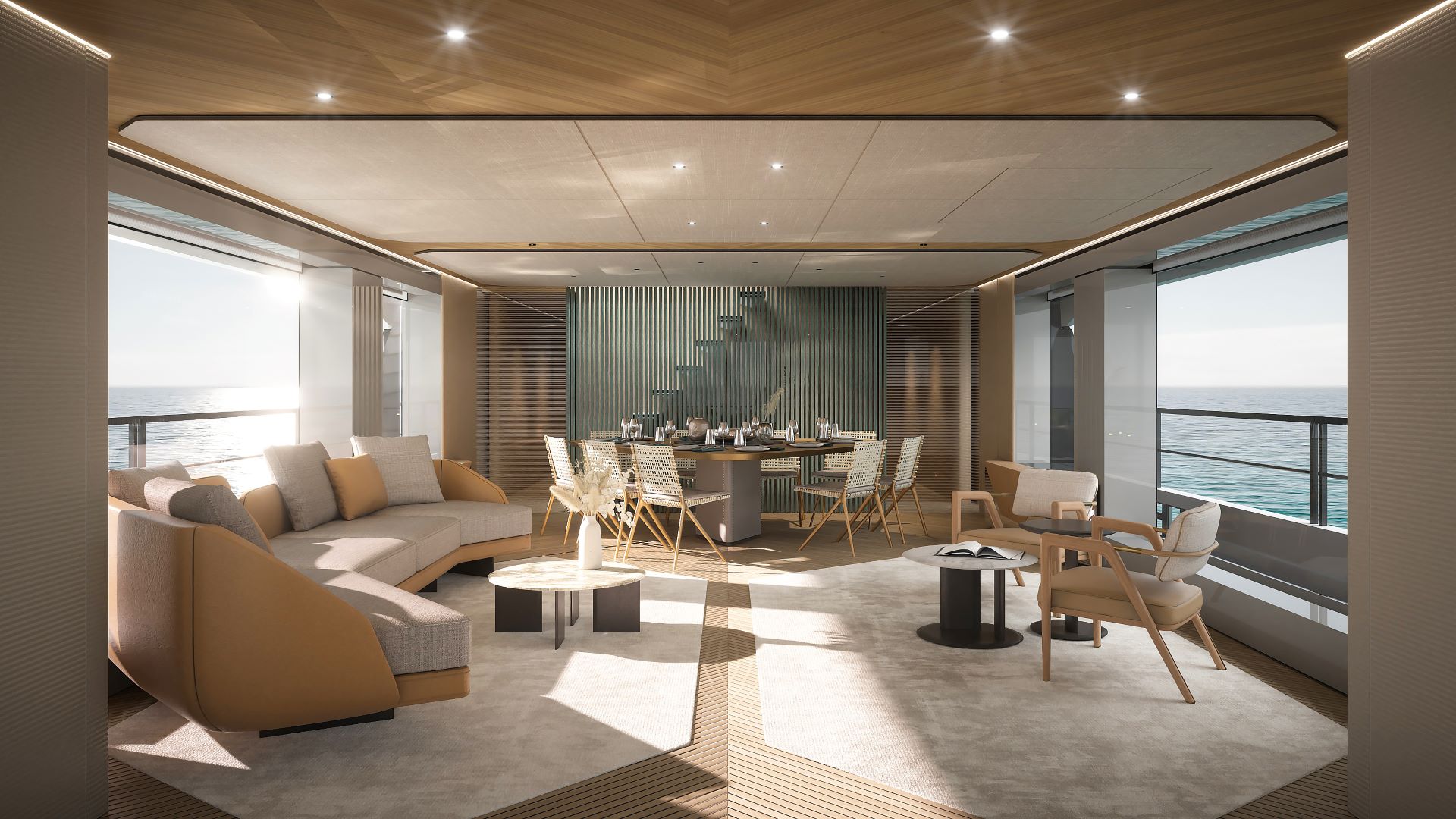 Grande 30M is one of Azimut's Low Emission Yachts, which include more than half of the brand's models. Low Emission Yachts guarantee a reduction in consumption – and therefore in CO2 emissions – of 20 to 30% compared to models of similar size with hard-chine hulls and traditional shaft line.
These results are possible through the combination of three key factors: weight reduction through the extensive use of carbon fiber; the development of increasingly efficient hulls, designed ad hoc to suit the mission of each Series; the use of innovative propulsion, such as the POD system installed on board the Grande 30M.
Photos Azimut Yachts