It was exactly 200 years ago that Madame Clicquot innovated the production process of rosé champagne and produced an enchanting champagne – Veuve Clicquot Rosé
Pink champagne used to be produced by adding and mixing older fruits. However, Madame Clicquot was not satisfied with this method. Two hundred years ago she had an audacious new vision in which colour, taste, and aroma were vital to the quality and so she broke with accepted norms, and re-created the process of making rosé champagne. Madame Clicquot was very fond of red-wine grape parcels from the Bouzy region of Champagne, and she elaborated her own red wine from the area.
Inspiration struck and in 1818 she decided to blend this with her still white wines. This is how the first known blended rosé champagne with exceptional taste was made – Veuve Clicquot Rosé! Today, as in 1818, Veuve Clicquot Rosé is made using Madame Clicquot's two-century-old method of adding red wine. This traditional savoir-faire creates premium rosé cuvée, with a full taste and exceptional elegance. Cellar Master Domonique Demarville and his team of experts select excellent quality red wines and still wines from some of the most sought-after vineyards in Champagne, to find the flavours and characteristics that perfectly express the Veuve Clicquot Rosé style.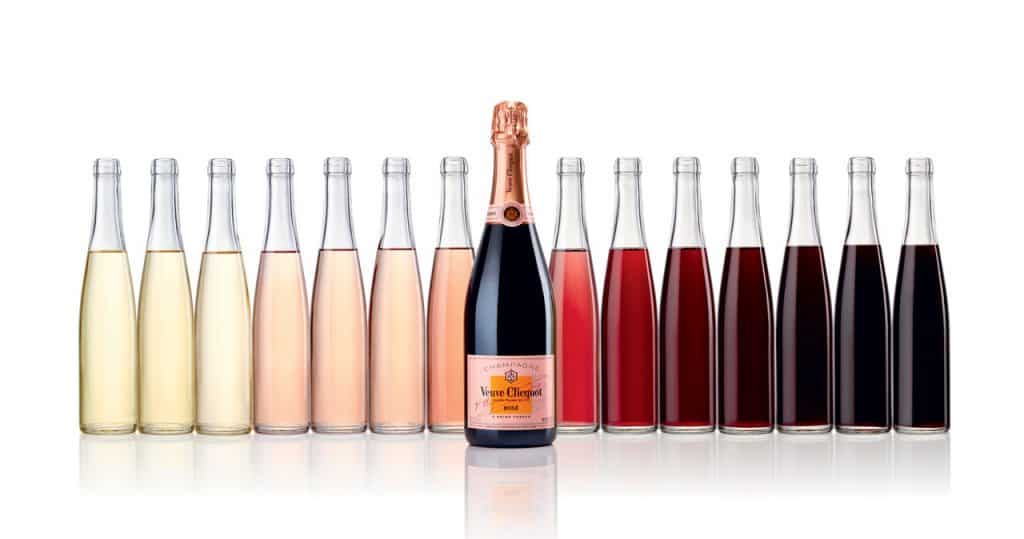 The blend includes reserve wines originating from several harvests (usually 5 or 6), which ensure the consistency of the Veuve Clicquot style. Older wines are kept separately to preserve the unique qualities of their vineyard and vintage, and the mix is then filled up using 12 – 13% red wine with red grapes. After stirring, the wine is put in bottles and kept in the cellars for at least three years. Madame Clicquot was an extraordinary woman, and today she is synonymous with elegance, success and courage. The story begins very unexpectedly (for the era). In 1772 Philippe Clicquot founded a winery named Clicquot. His son, François, inherited the family business and married Barbara Nicole Ponsardin.
After his untimely death, his young widow (veuve – widow in French) who had just turned 27, despite prejudices and overall disapproval, decided to continue his work, becoming the first woman to run such company. Nowadays she is considered an innovator and first business woman of the time, with a strong vision and a great driving force that created one of the most prestigious and most successful champagne brands. The company was renamed Veuve Clicquot Ponsardin in 1810 and, step by step, Madame Clicquot used her entrepreneurial skills to develop the exceptional 515 ha vineyard area in the heart of the Champagne region. The Veuve Clicquot brand nowadays embodies contemporaneity and celebrates expertise and entrepreneurial courage in France and around the world, with a special emphasis on top quality.

Photos Veuve Clicquot