Zagreb-based Terra Nauta got their name from an old Komiža legend. Their models Terra Nauta 30 and 40 are designed for people who truly enjoy sea and sailing
Croatian boat-builder Darko Valentić is rather famous in certain circles – his name is well known among all Croatian sailing fans, as the name of the founder of Croatian brand Terra Nauta, makers of unexpectedly charming motor boats. Unlike many builders, Terra Nauta first presented a large model, in 2008 – and waited another ten years to debut their smaller one, Terra Nauta 30. Even a fleeting look at both models is enough to understand how deeply and passionately Valentić and his crew love all things sea and sailing. Still managed by the founder, Terra Nauta has managed to sail through choppy waters of the past few years. We talked to Mr. Valentić about what Terra Nauta has become and what they are planning for the future.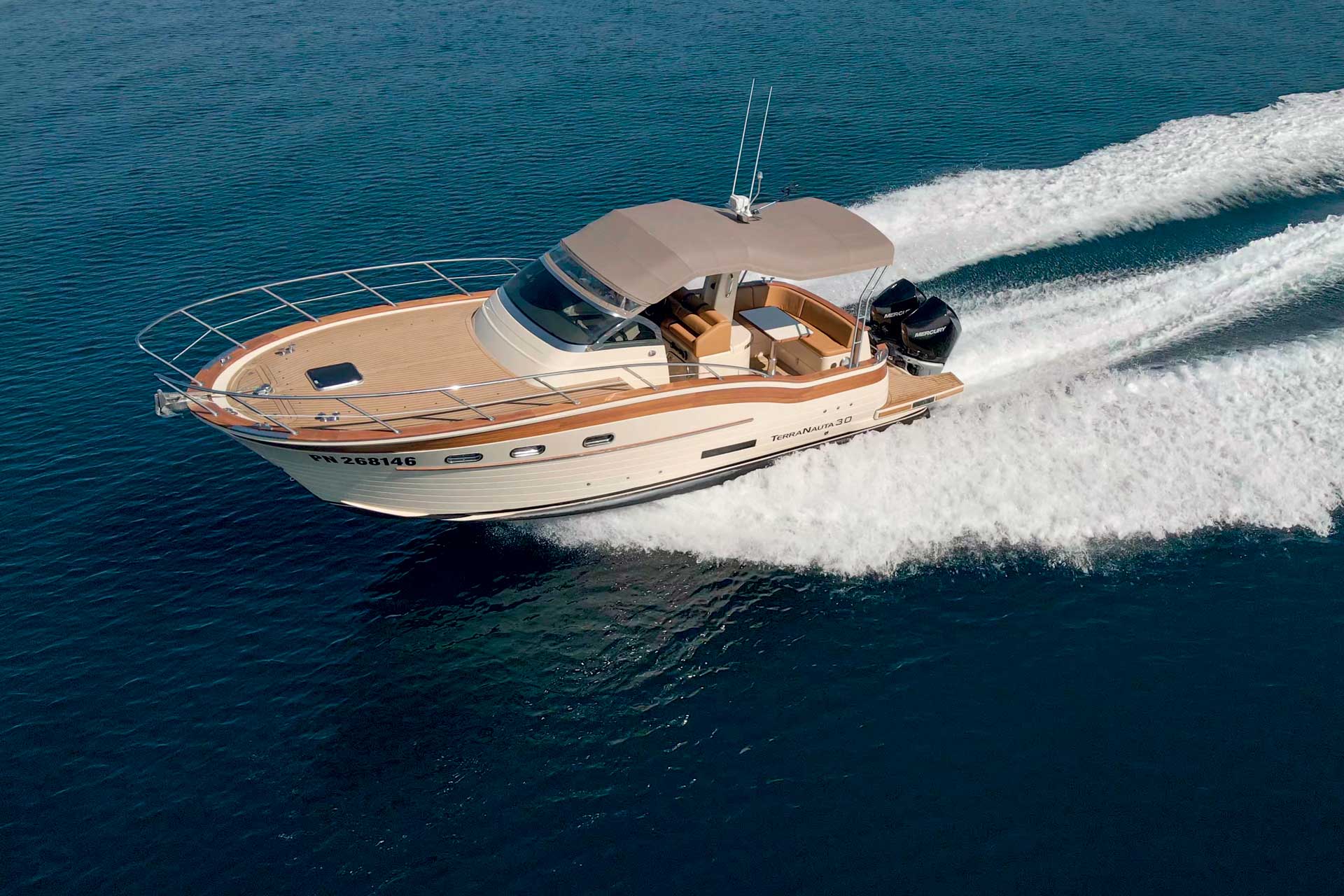 What made you interested in boat-building?
Before I embarked on this yachting adventure that has changed my life in more ways than one, I bought a 10-meter boat that simply did not satisfy my needs. I wanted to change a million things on it, and at one point I sat down and started sketching a better boat. This imaginary boat that was supposed to meet all my needs was supposed to be comfortable as well, and if possible, beautiful. Then later I started educating myself, learning how to design a boat – and drove several designers insane in the process – to finally debut Terra Nauta 40 in 2008.
Where did you get the idea for the name?
I had the name much before I had the brand. I read a story in a yachting magazine, written by a Croatian historian, about a shipwreck off the coast of Vis – if I remember correctly, in the 12th century an Italian nobleman from Ancona set sail for the Croatian coast, but got caught into a storm on his way over here. His boat caught fire and Komiža fisherman noticed the flames, located him and managed to save him. After returning home, he had made a marble monument to the helpful people of 'terra nauta' – land of sailors. I wanted my brand name to consist of two words, and so I remembered this story and that was it, I settled on Terra Nauta.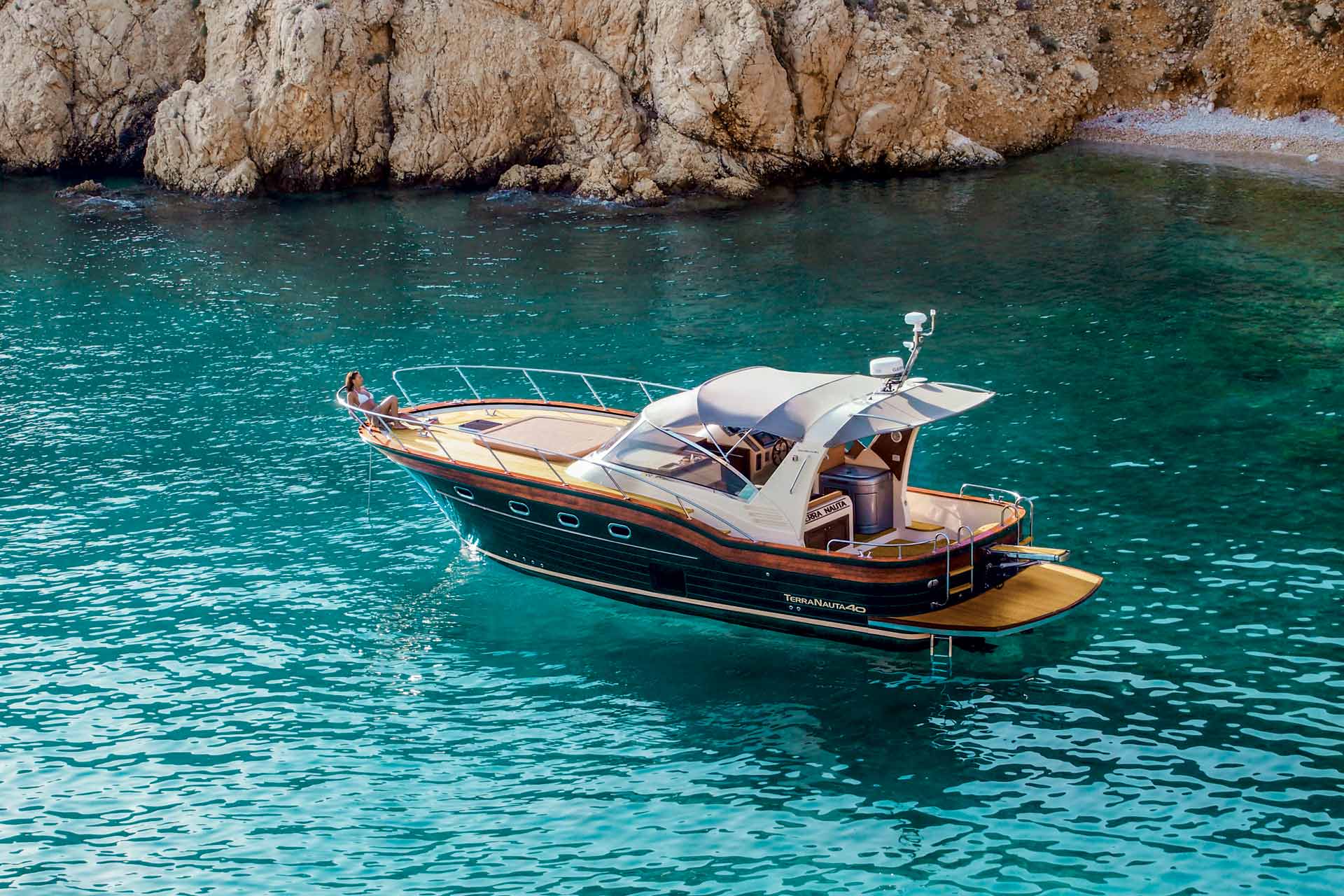 How would you describe your first model? Terra Nauta 40 was different than anything made locally at the time.
Terra Nauta 40 was born from my idea of my personal ideal boat. To me, this model is Mediterranean in every detail. Her aesthetic combines many different details working together, and in my opinion, hits you right in the feelings. People have an emotional response to it. I consider myself to be a perfectionist, so I insisted on finest materials and highest quality in every aspect, so in those terms, the 40 is in the top of her segment. We have sold the model to clients who planned to use it for a week or two during the summer, as well as clients who wanted to spend a month or two at sea. That means we have succeeded in creating a proper boat that serves every commercial purpose. Another thing I insisted on was the comfort: I wanted a boat comfortable in navigation, as well as at anchor. I wanted people to truly enjoy sailing and sea aboard my boat, a floating seaside villa, if you will. Buying one of our units is like having a custom-tailored suit. Everything has to fit perfectly – and we are ready to custom-fit every unit to her future owner. We cannot and don't want to compete with large builders, but our tiny yard in the vicinity of Zagreb offers a niche product. We can make people's wishes come true – like a yachting genie in a bottle.
Your in-house naval architect is Srđan Đaković.
Srđan is the most influential Croatian naval architect, someone who added another dimension to our models. He made them blockbusters, so to speak. Both of our models boast beautiful lines inspired by Croatian boating tradition, but Srđan made them into yachting masterpieces they are.
You started building your brand during the worst crisis in the history of the yachting industry. What did you learn from it?
At the risk of sounding corny, I have to say that every crisis is also an opportunity. Our first crisis, in 2009, and this current situation with the virus, followed by ongoing geopolitical crises around the world, all somehow encouraged us to work on our products. During the lockdown, we have added more than 40 improvements to Terra Nauta 30. What have I learned? Every shipwreck ends, sooner or later.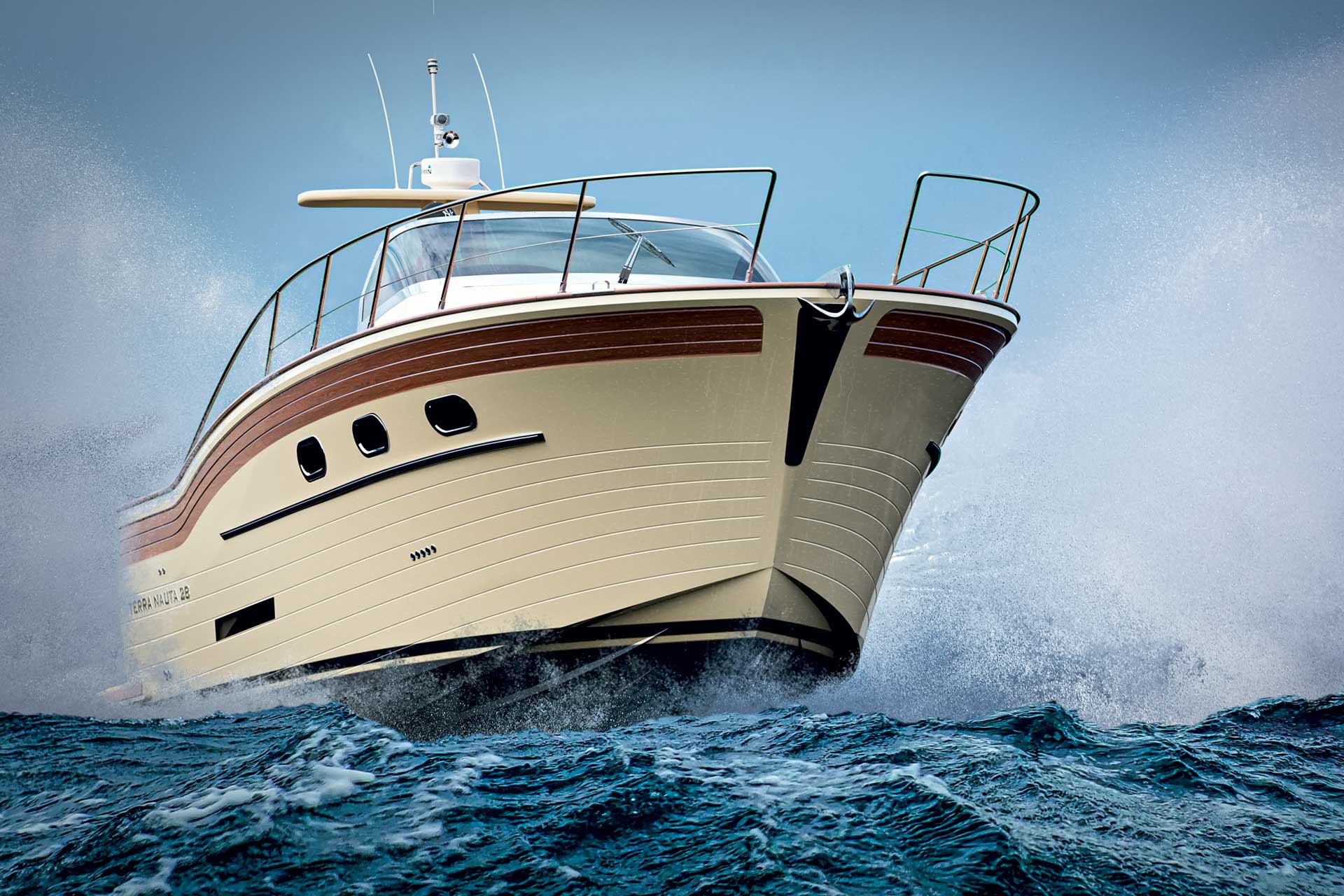 Your new model is a hit on the market. Do you understand why?
Unlike most other brands, we debuted a large model first, followed by a small one. The 40 was so successful that the 30 benefited from it, which was in a way expected seeing how much she inherited from it visually and in terms of practical solutions. Terra Nauta 30 appears bigger due to her cockpit size, interior volumes and overall lines, and we're especially proud of her moderate consumption – which is becoming increasingly interesting to buyers, as prices of all types of fuel are rising.
There is so much interest for your larger model you don't have the manpower to build so many units?
Unlike the 2009 crises, that hit the yachting sector hard, this new situation has mostly influenced buyer behavior. Buying power is holding strong, but we are facing other issues – lack of materials, rising production cost, lack of skilled manpower. Our production has in its core excellence, and you know what they say – to become world class in anything you do, you need 10.000 hours of practice. Croatia has a serious manpower problem in many sectors of economy, and it is little wonder we face the same problem. So yes, the interest in our larger model currently outweighs our production capabilities.
What is next for Terra Nauta?
When I embarked on this adventure, more a personal passion than a business, I wanted to earn my peers' respect, something we all know isn't easy. We also cherish our buyers' opinion and appreciate their feedback, and seeing them happy with their new units makes me happy, as well. Our plan for the future is both simple and complicated: to keep building beautiful boats for people who love all things sea and sailing.
Photos Terra Nauta