De Antonio 42 Open is a head turner, whose turquoise-clad seating immediately calls to mind the realm it was designed for, inviting you to a fast cruising Mediterranean trip or a lazy stroll through the stylish harbors of the Italian or French Riviera
It's early June and it's still warm, not hot; the pandemic has been dampened, the waters of Trogir are winking at us in the sun, as north-western winds are caressing them into a silky crinkle. And we have a trendy De Antonio 42 Open to test. Paradise. Since 2012, this Barcelona-based brand have set themselves apart from the endless competition in their segment (28 to 50 ft) with unique solutions, high quality product now available in 15 countries, and designer touches.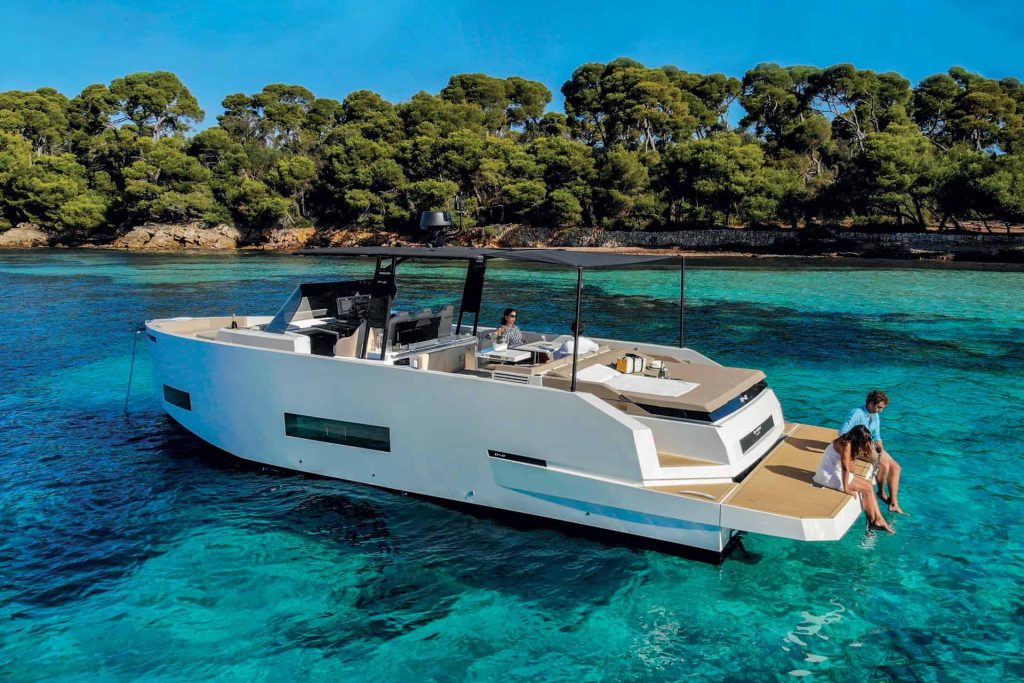 De Antonio 42 Open design
We stepped aboard their latest model from the aft, using the hydraulic platform which hides from the view the three 300-hp Mercury Verado Penta, installed in the most unusual way: in an opening under the cockpit sun bed. This solution allowed the designers to give the 42 more height and width, and the engines to remain almost invisible from outside. Right next to the opening, there's a storage unit for a Torqeedo outboard and other water toys, as well as a tender, just waiting to be hoisted onto water by a mechanical lift.
Those and similar smart solutions have made possible for the 42 to have a walkaround deck with plenty of free space. The deck is visually and functionally divided into three areas – the large modular U-shaped sofa and two foldable tables; the command post with easily accessible navigation systems controls and an adjacent galley with two refrigerators; and the bow lounge, with three comfortable day beds and a small sofa.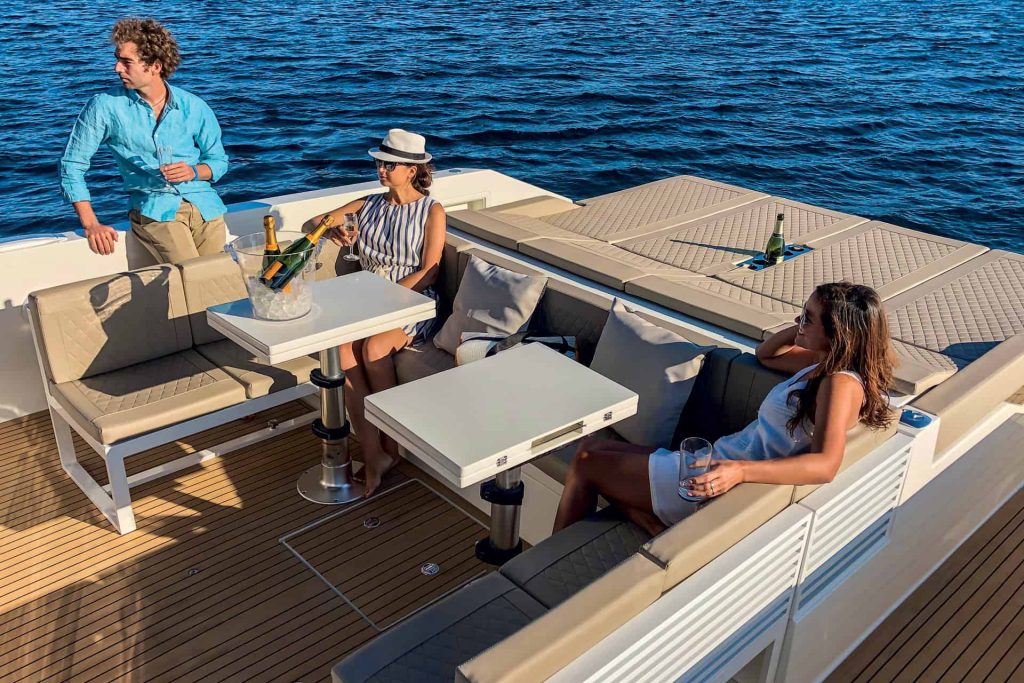 Smart and functional solutions
The tall and deep V-profile bow and the stepped hull are optimized for the selected engines, and give De Antonio 42 Open the power to conquer all types of waves, in addition to looking great even with dropped anchor. The skipper enjoys excellent visibility and the command post comfortably seats for, but those taller than 6'6'' should mind their head, as the hard top is true to its name.
The hard top is also retractable and can protect half of the aft sun bed, while the command post is protected from sun rays and elements by a tinted curved windshield. Below deck, the height is still commendable, even in the starboard day head. To the port, there is another command console and below it, an additional retractable desk.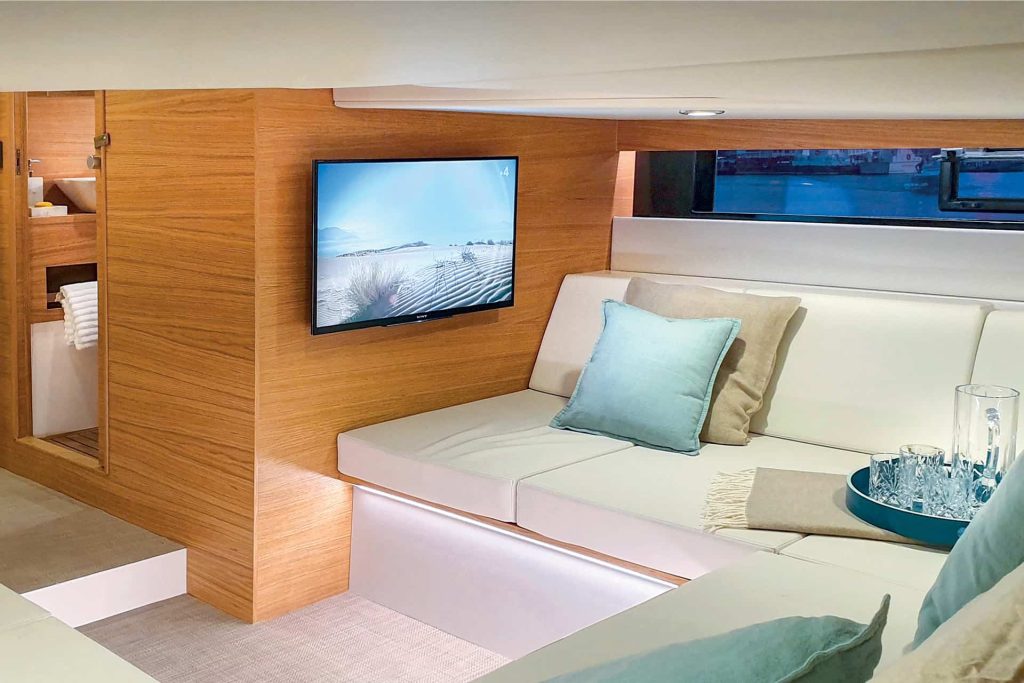 The interior is inviting, light, furnished in light artificial wood and white fabrics. The color scheme is very pleasing and it's obvious the designers gave it a lot of thought, while the finish is again excellent. Details like sliding doors or magnetic wardrobe doors give the interior a little extra sophistication.
In the bow, there is a double bed of decent size for a boat this type, while the lounge is the only space with low ceiling, but can be forgiven for its smart layout and plenty of natural light. De Antonio 42 Open has large rectangular windows that serve the lounge, turning the space into a cozy corner great for watching TV or just taking a break.
YACHT SUGGESTION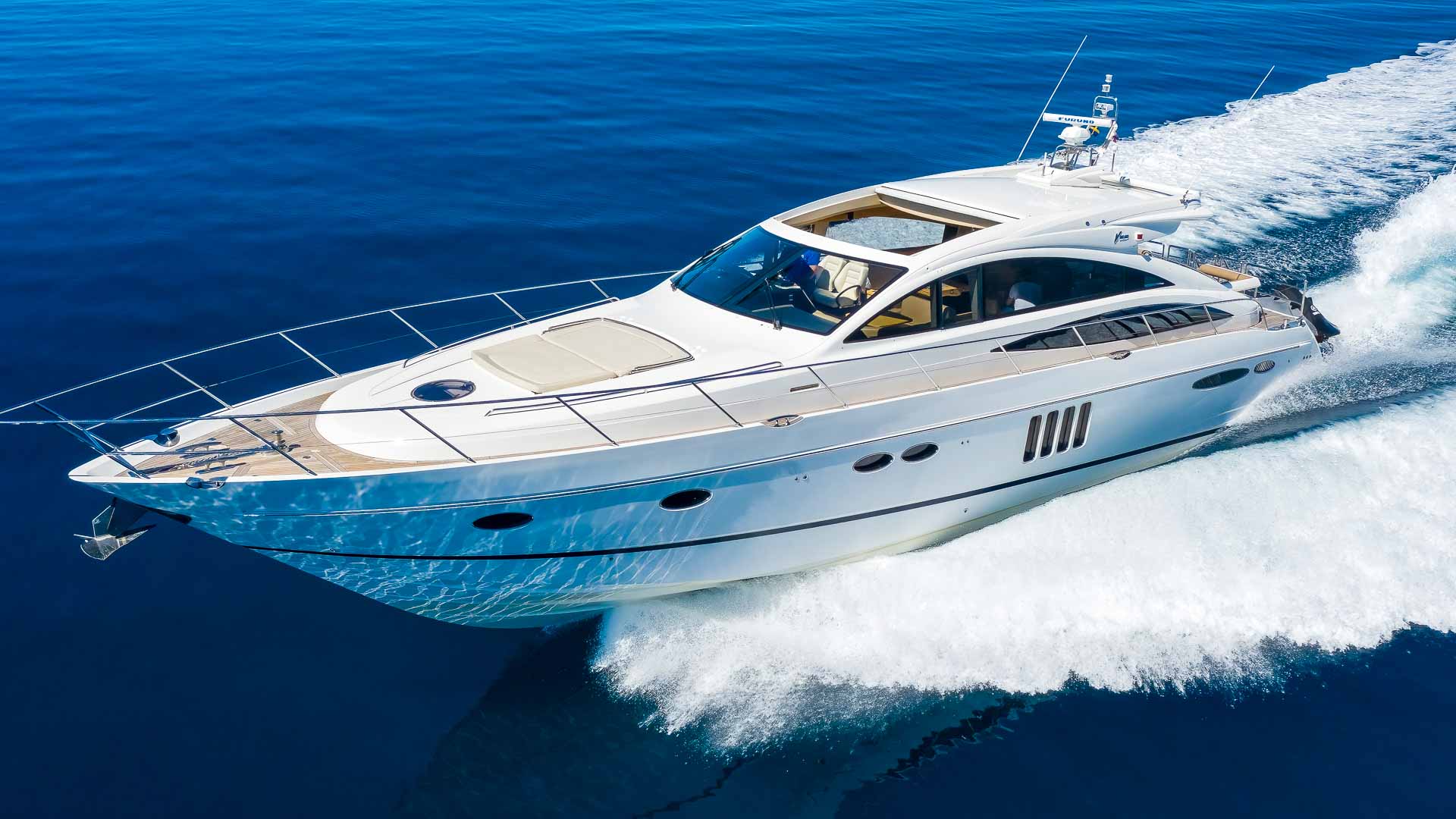 Mighty Princess awaits your majesty for the perfect charter vacation in Croatia. The 22-meter yacht designed by Bernard Olesinski features three cabins and contemporary styled interiors naturally opening to her comfortable exterior spaces and sporty look. She is given good performances enabling you to spend a dynamic and eventful vacation.
De Antonio 42 Open top speed
In navigation, De Antonio 42 Open is nimble and quick: maneuvering in the port almost didn't require any thruster work, we've achieved planning at 3000 rpm, and found the steering wheel equally responsive at all regimes. The stepped hull shone brightest at 30 knots of speed, especially in turns.
We had to trim the engines a bit executing high-speed turns (at 5100 rpm), but for the most part, all we had to do was to hold the steering wheel. Fast, fun and ready to please, De Antonio 42 Open reaches top speed in about 40 seconds. What more can one want this summer, when we are finally free to enjoy everything smart and skilled people like De Antonio designers have created for our entertainment?
Text Filip Bubalo
Photos & Video De Antonio Yachts