Nautor Swan, the celebrated Finnish luxury sailing yacht constructor, is once again pushing its limits by entering the motor boat market with Swan Shadow
Finnish ship builder Swan's name is synonymous with performance, quality and elegance, as well as ship building and sailing tradition, so it is little wonder the launch of their latest model Shadow has not only sent waves throughout the yachting industry, but also presented something unexpected, new and exciting in the open cruiser segment.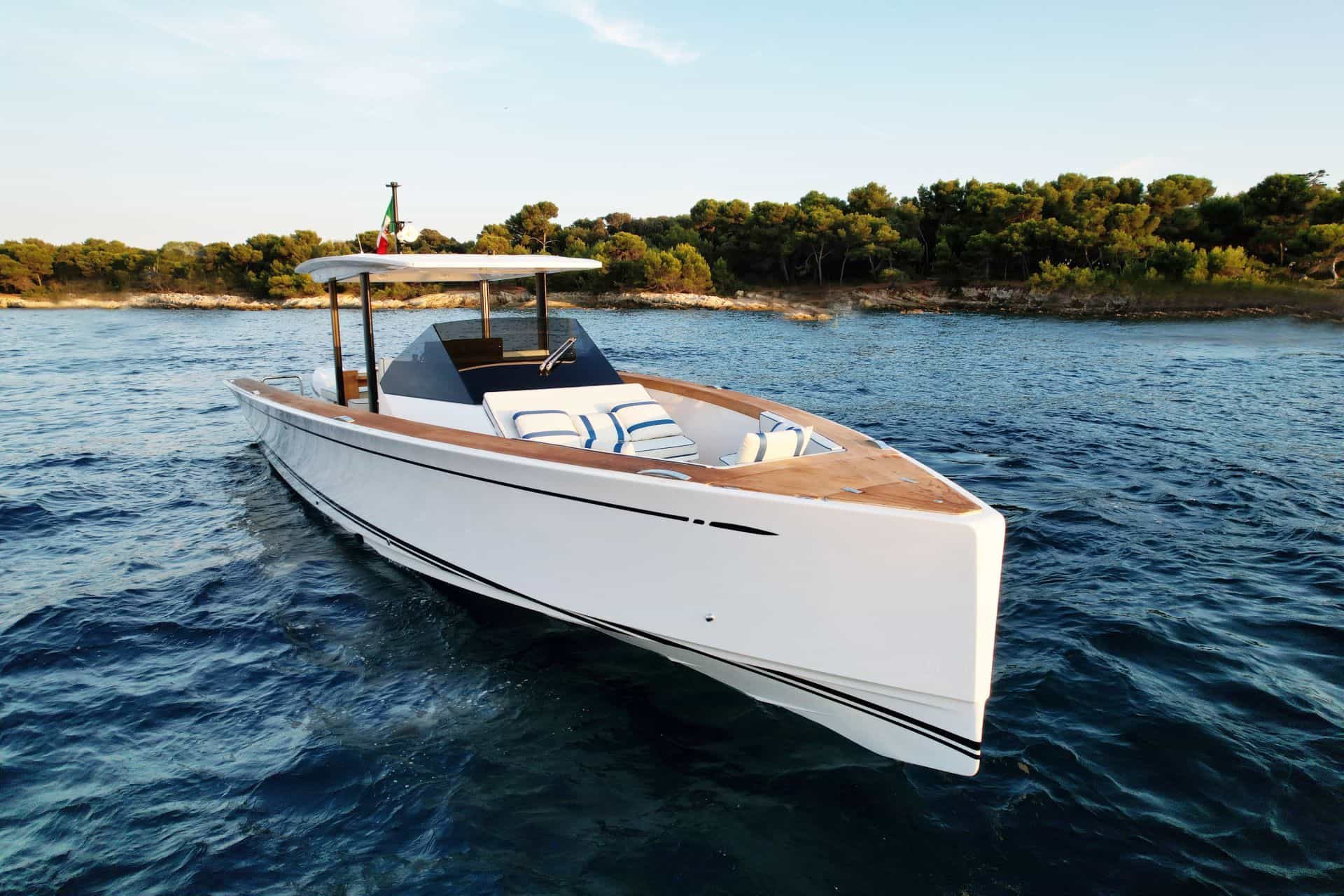 Although there are many such models on the market, only a few of them look this good. Jarkko Jämsén (Navia design) is a well-known name behind many successful projects for Axopar and XO, including the Clubswan 50, so we all had high expectations. His studio has successfully applied the rich heritage of the Finnish brand in creating a motorboat that meets the high expectations of Nautor Swan fans, but also attracts a young clientele with a completely different understanding of boats and sailing.
On the new model, a lot of attention is paid to the owner's lifestyle and to the multi-functional role of the boat, which is most likely to be used as tender for large yachts or Nautor sailing boats. Atop its impeccable looks and top performance, the model is equipped to its teeth, with a lot of elements rarely seen on 40-foot opens. Painted with recognizable Swan blue lines, the side s are very elegant, while the bow is vertical (V 20 °) sand reminiscent of that on sailboats of the same builder.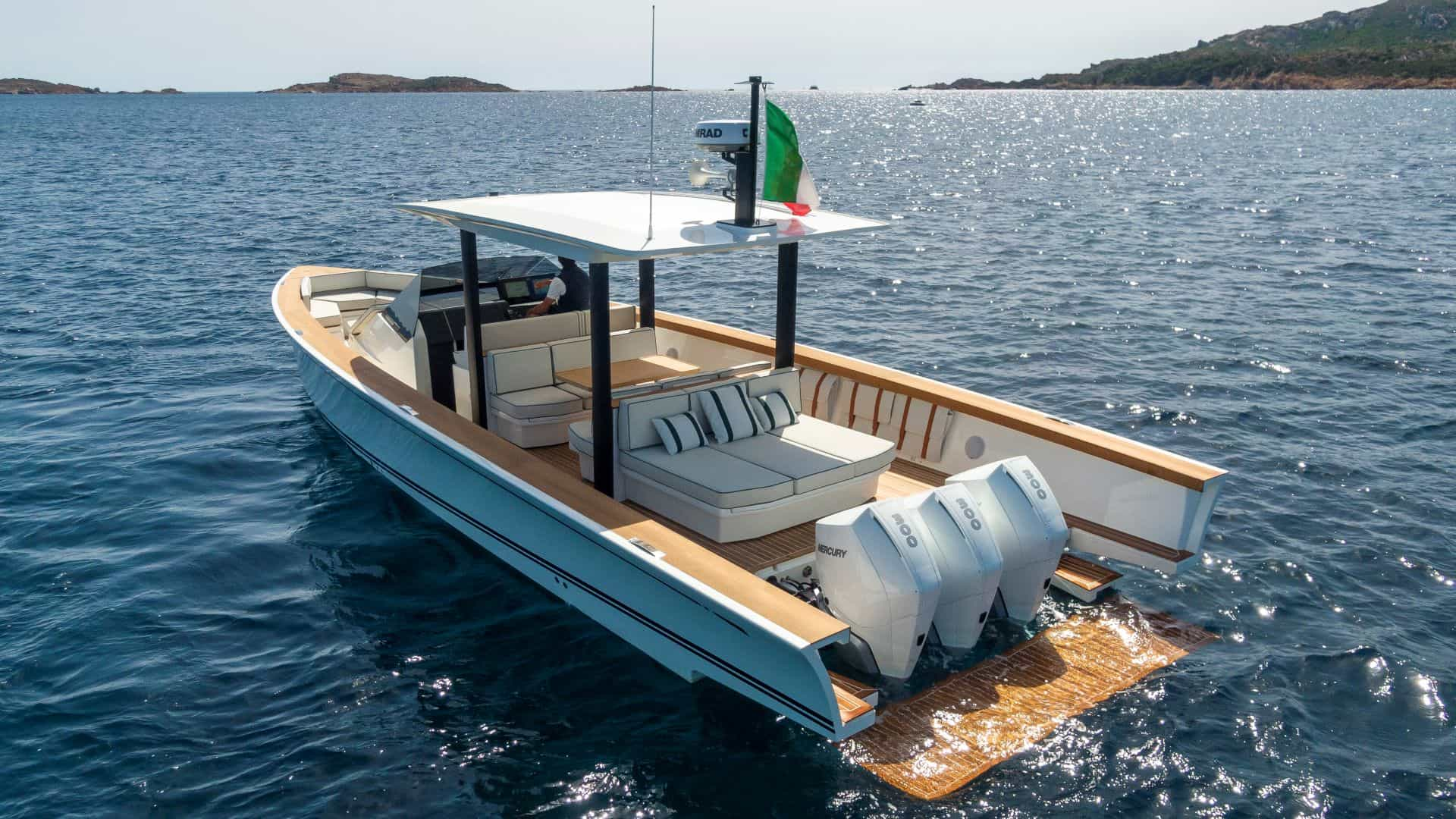 This typical walkaround without any stairs allows direct contact with the sea, especially on the stern platform which, when raised, functions as a gangway (with raised engines), while submerged (it sinks down up to one foot) it allows swimmers elegant and safe return aboard. A wide strip of teak flows alongside the entire deck, comfortable to sit on and ideal for gathering in groups, which is perfect for a boat registered for 18 passengers.
The open layout and innovative bolt-on furniture system provide customizable interior design, so Shadow is available in versions 'sports', 'pleasure', 'limo' and 'fisherman'. On our trial, we got to know the 'pleasure' version with a wet bar, an ice machine and coolers under the skipper's bench, and a longer electric hard top.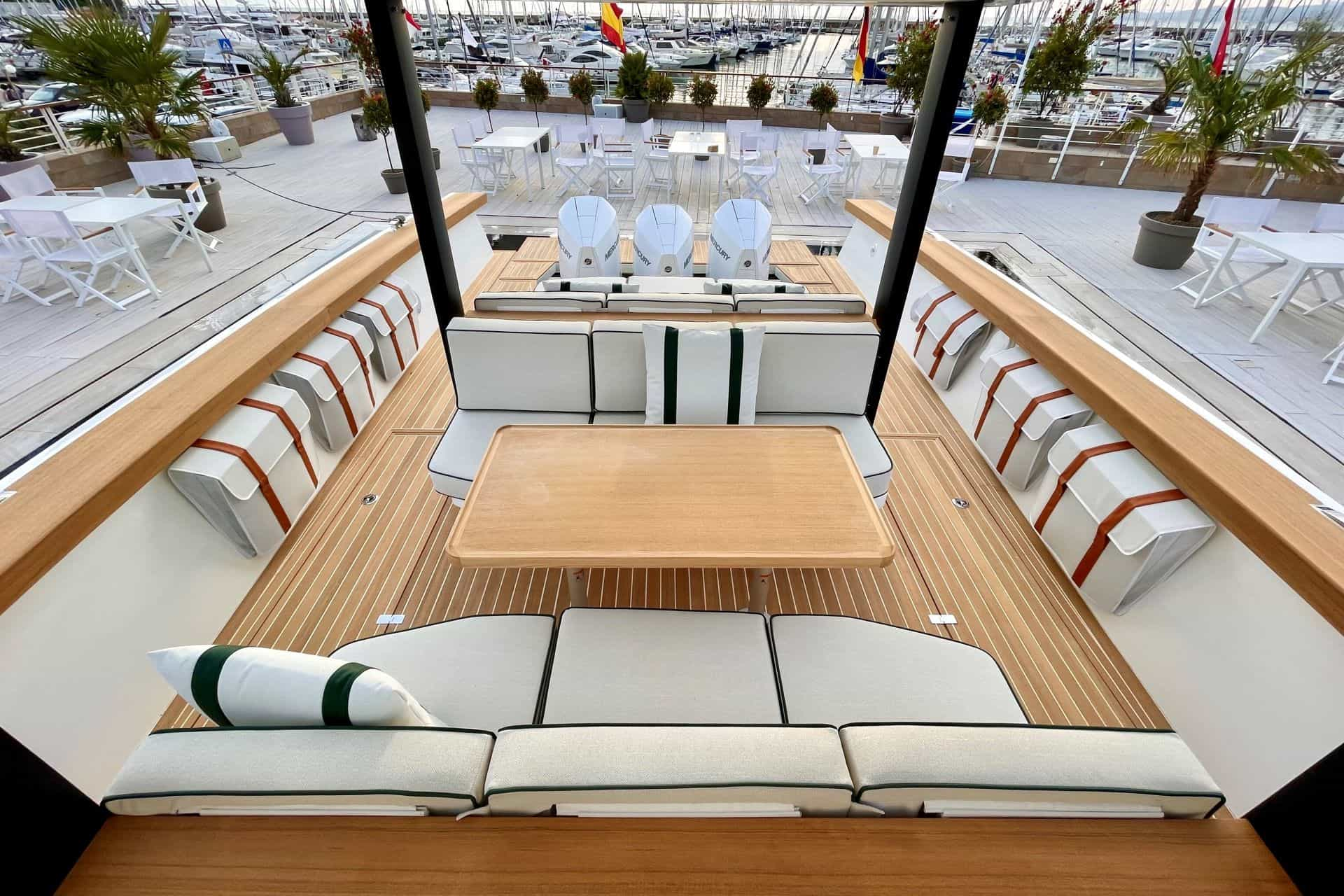 The sun deck, which easily turns into a bench by folding the backrest and seats six at the table next to another sofa, is completely protected. The entire bow can be turned into a V-shaped sundeck by simply lowering the table.
The interior has been designed to ensure maximum comfort and style onboard, offering accommodation for either shorter day trips or a longer cruises. The forward cabin is ideally suited for a couple. An additional crew cabin can be installed in the bow to complement the cabin capacity.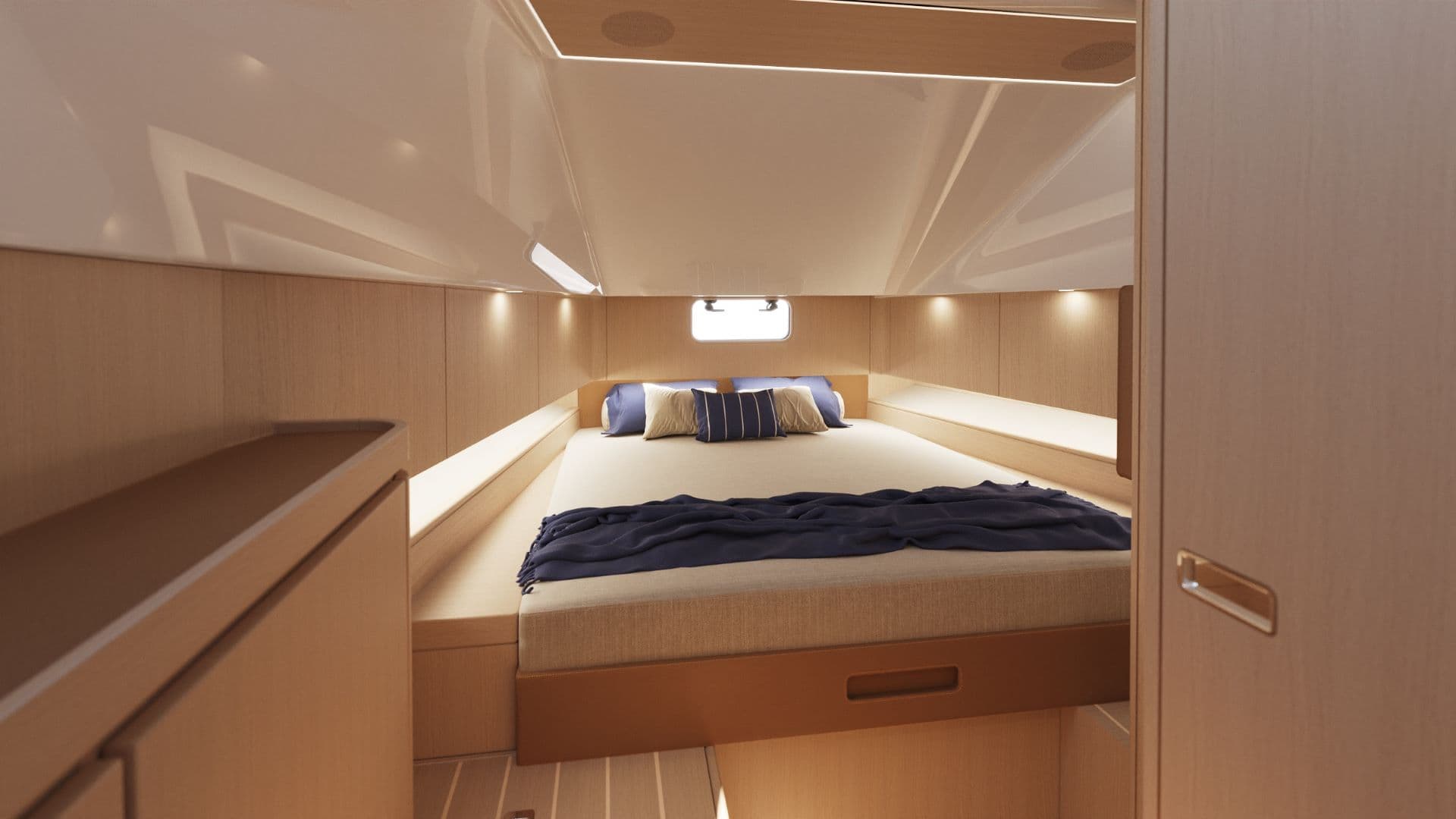 The interior styling of the new Swan Shadow yacht follows the timeless and classic style of Nautor Swan interiors, representing a pared-down design and simplified approach that focuses on the essential: carefully designed and well-executed spaces created using top quality materials. As a weekend boat, a day cruiser or a tender, Shadow meets all the requirements of potential buyers.
The latest Swan can be powered from to 3 x 250 to 3 x 350 hp, allowing for cruising speed anywhere from 35 to 45 knots, while maximum top speed with 3 x 350 hp engines is 55 knots. The combination of Mercury and Simrad, and a joystick, make piloting almost extremely simple and safe, and digital switches also have manual doubles on the command console. Visibility from behind the wheel is excellent, and the skipper doesn't even feel any wind up to 50 knots – the cockpit never gets a drop of water.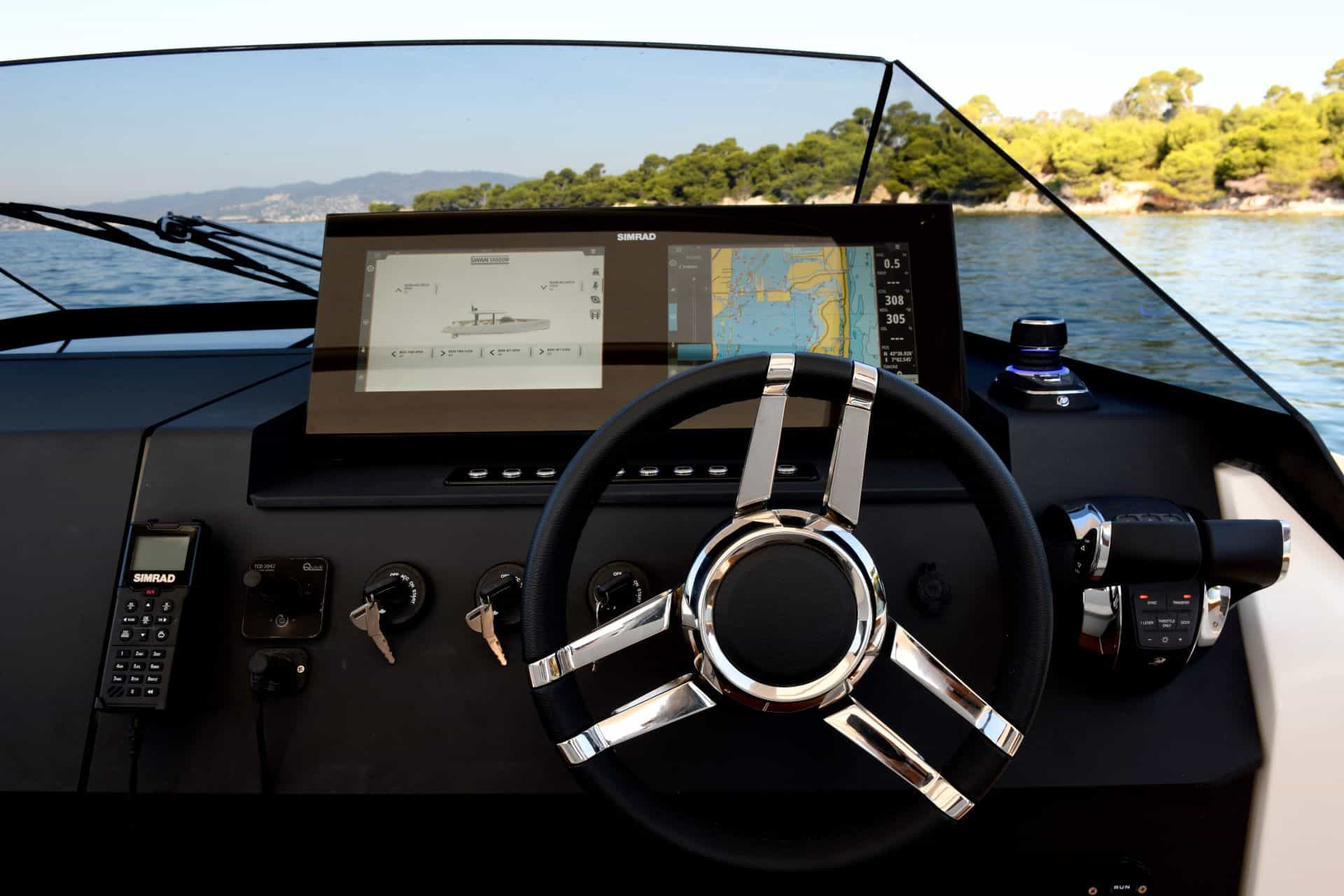 At cruising speed, we tried to make Shadow take a wrong step by making sudden turns and crossing waves, but the boat remained perfectly calm and demonstrated a true Nautor Swan cool-headedness during all maneuvers. Its very efficient two-step hull also boasts moderate fuel consumption, as it only needs 4 l/nm at 30 knots – although Shadow even at its fastest is by no means wild, and at 40 knots it is nothing but smooth.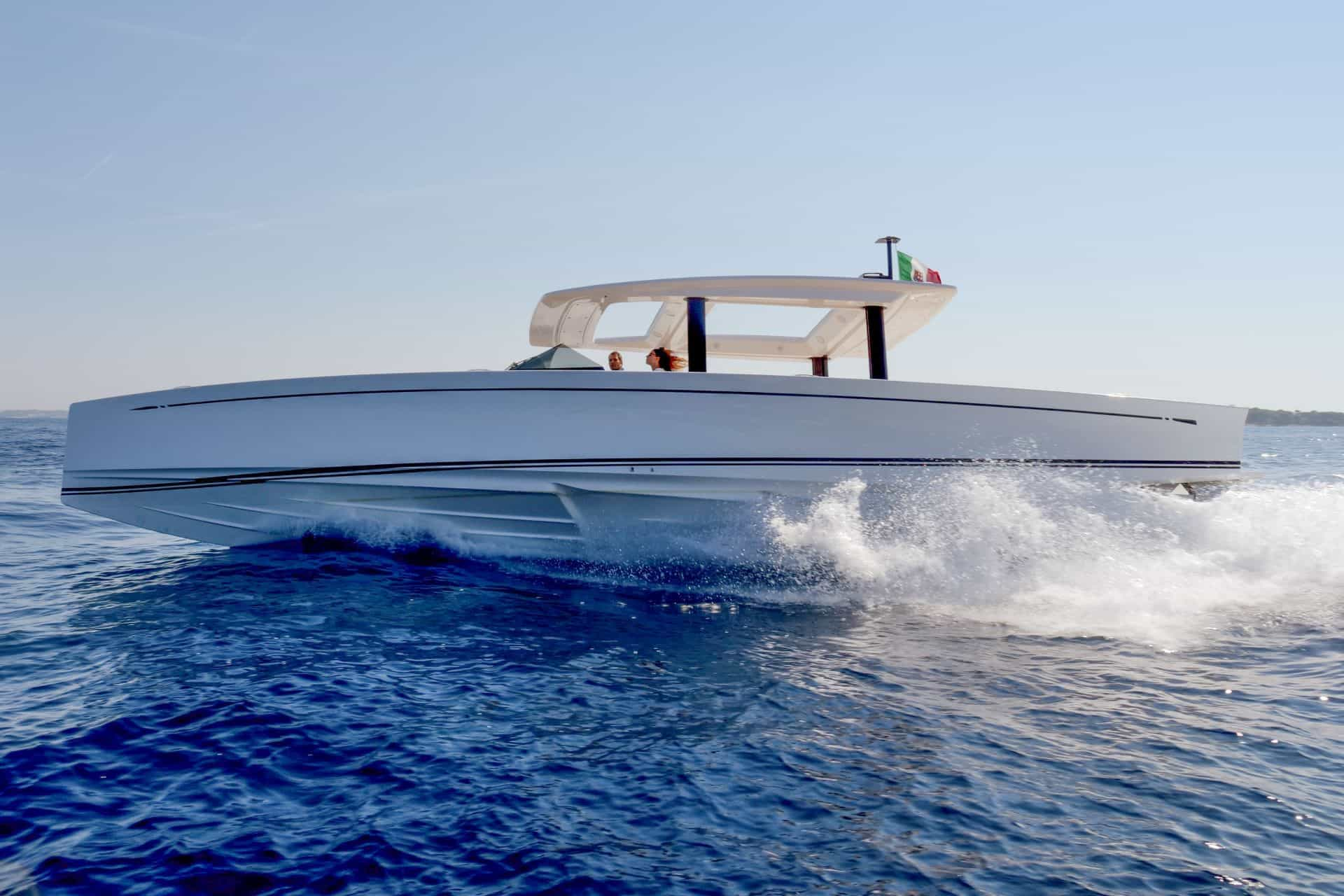 The Finnish builder intends to build only 16 units of the model a year and distribute them worldwide, to maintain a note of exclusivity.
A bigger version of Shadow is also planned, whose performance can only be speculated for now, but judging by the performance, design and reputation of their other models, we have no doubt Nautor Swan will come up with another winning model.
Text Filip Bubalo
Photos Exastudios, Studio Borlenghi

Video Nautor Swan