Impressive sales figures confirm that Elan has successfully found their way back onto the Croatian market
Yacht Selling, the exclusive Elan dealer for Croatia and Serbia, has seen a 100% increase in sales this year. This impressive confirmation of Elan's successful, Croatian comeback is a part of their recent, global success. We sat down with Mr. Filip Morić, co-owner of  Yacht Selling, to discuss their success, as well as the financial aspects of purchasing Slovenian yachts. Interestingly, Mr. Morić first entered the business from 'the other side' – as a client. 'Yes, my business partner Vedran and I purchased our first yachts as investors and later had an opportunity to become dealers. When Vedran suggested we buy a yacht, my initial reaction was shock: I remember asking him if he were in his right mind, as I had never dealt with yachts; my area of expertise was cars, specifically Mercedes. Most people will react the same way if you suggest the same to them. It still seems like a crazy thing to do – buy a yacht. Our company was founded in 2013. The three of us, Vedran, Ivan and I, sold fifteen yachts in our first year of business. Last year, we sold thirty yachts, thirteen of which were the Impression 50; that's probably one of the top sales results ever for that model. Another thing we have kept constant is a purchasing rhythm: we still buy one or two yachts a year, for charter.'
What makes the 50 so popular? What is the basis of your overall success?
Our clients have recognised the 50 as the best-buy in her category, considering the price, the revenue from charter and the residual value, post-financing. What's interesting is that we don't sell to large fleets; 27 out of the 30 yachts we sold were to private buyers. That's our secret, so to say. We keep attracting new investors and have many repeat clients, which says a lot about both the product we sell and the way we do business. Our clients have recognised Elan as a brand worth investing in.
You keep using the word investment.
No one's going to buy a yacht if they don't feel a certain emotional connection to the sea, but, not many clients can afford to just buy a yacht and let it sit on the dock when they aren't using it. For most of our clients, yachts are an investment. They can enjoy their boat, keep it after financing, but still get a return on their investment in the meantime.
Can you tell us more about the financing?
Putting aside the VAT for the moment, roughly 30% of the investment increases to 60%, after six years. Elan yachts keep up to 50% of their value after ten years; that's what you can sell them for. Any deal that allows you to invest 30% and make it 60% in six years is a good one. Even if you decide to keep the yacht afterwards, you'll have still made profit. A 50-foot yacht can earn her owner over 30 thousand euros a year.
Is the price of the new yacht the deciding factor in how much profit the owner can make?
If you have decided to buy a yacht, to invest in a yacht, the package price is the first thing to consider. Then, there is the price of transport and maintenance, also an important factor. Our yachts are fairly priced for their level of quality and considering how well they are equipped, especially those built for charter. Also, there's the price of financing. Our partner, Unicredit leasing, offers excellent conditions: a 3.75% fixed interest rate or even better conditions for purchases over 200,000 euros, in partnership with HAMAG (Croatian Agency for SMEs, Innovation and Investments).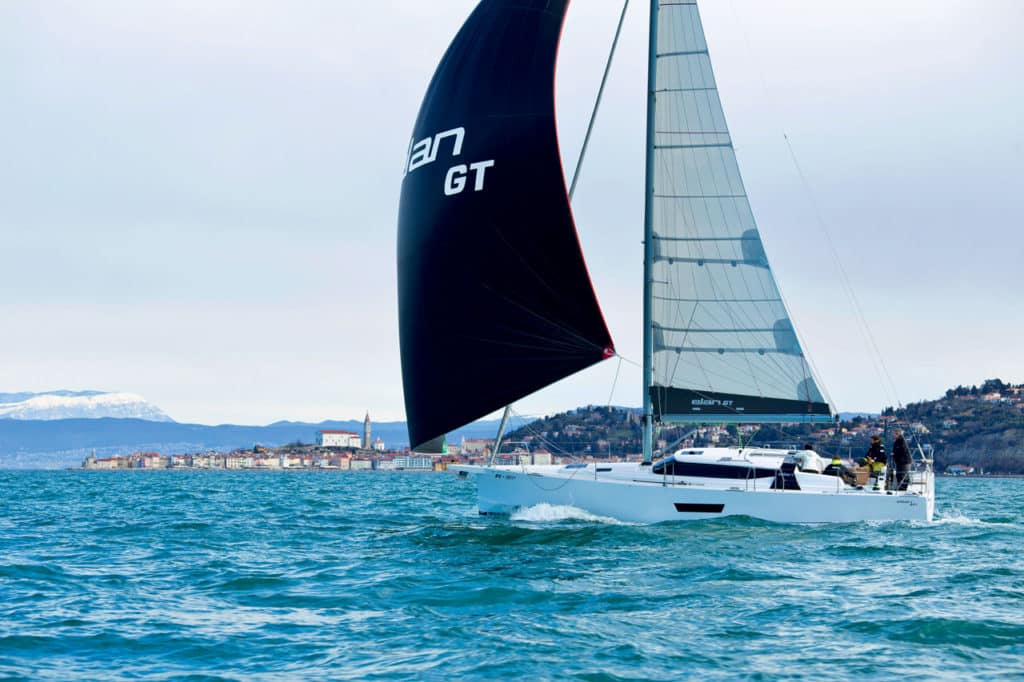 You are somewhat famous for your support to owners and potential owners of Elan models.
Yacht Selling owns a complete Elan fleet; we have all the Impressions (35, 40, 45 and 50) and we are always happy to show potential clients around or take them out to sea. Also, the Elan yard is a mere two hour drive away from Zagreb, which means we can go get replacement parts ourselves in case of emergency. We can get any part of any yacht within 24 hours. During high season, clients are thrilled to be able to count on that level of support.
Elan seems to be doing extremely well.
They are important to us, but we are also important to them: this year we have seen a 100% percent increase in sales. The yard is working hard to increase their production capacity. They have been around for seventy years and that's a rare thing, that kind of longevity and tradition. What they are working on relentlessly is innovation and they make a giant step forward with each new model. Since the company has changed hands, they have launched the GT5 and now they are ready to launch new models of the Impression and GT series. They certainly are gaining momentum and the new owner has already announced further investment. Elan is heading boldly into the future.
One of the fresh new concepts on offer is… skis?
Yes, skis. Apparently yachting enthusiast are also skiing enthusiasts. So, we have decided to surprise our ski-and-sail loving clients with a little gift. Elan has created new, exclusive, limited edition, skis Impression Yachts, as a free gift with yacht purchase. Our clients love the idea, so we plan to continue with the campaign. The skis are top quality, by the way: Elan skis are the third most popular skis in the United States. Sadly, that other little thing Elan manufactures, wind power systems, isn't that easy to gift with purchase (laugh).
You are also present in Serbia?
Yes, last year we have obtained the license and just a couple of days ago, the first Elan after a very long time, sailed on the river Sava. Our partner in Serbia is Mr. Jovan Pantelić, who offers test-sails on the river. They have had a very successful first year.
Next step: Biograd Boat Show.
Biograd Boat Show is a very important event for us and despite the jovial, laid-back atmosphere around our booth, we do serious business there and close many deals. Elan is already working on new products, so we are going to Biograd with the hope to see what awaits us in the future.