Sophisticated interior reminding of elegant boats and first-rate Mediterranean cuisine based on seasonal ingredients create an impeccable sensory vibe for summer evenings
The eternal Adriatic lady Opatija enjoys a special reputation on the Croatian coast. Architecture, atmosphere, numerous restaurants have all contributed to her title 'The Queen of Tourism' ever since 1844. Queens and kings, actors, Nobel prize winners, novelists, composers – the list of celebrities is endless. And if you close your eyes for a moment, you can picture an image of the famous American dancer Isadora Duncan who found inspiration to dance under the Opatija olive trees. Opatija has always been a place of elegant style, luxurious parties and fine living. Just like the little black dress features the eternal power, so does Opatija as well. One of the places to celebrate Opatija's 'dolce vita' and hedonism is the Molo Restaurant, a must-visit spot on the Kvarner gastro-chart. The Molo concept idea has been cultivated and refined like good wine.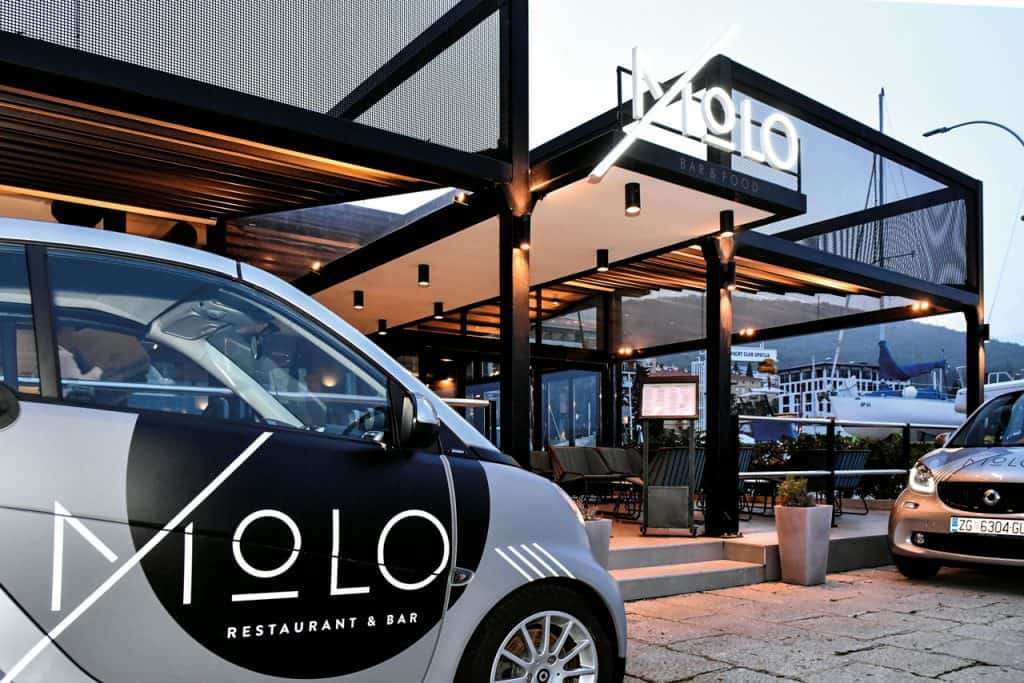 'My passion for cars has gained me a grand friendship with one of the best Croatian drivers Niko Pulić later to be the godfather of the restaurant. We have spent a lot of time together travelling Europe, and we have often visited restaurants in big cities where I sought an idea or concept to inspire me for my Opatija project, while simultaneously respecting Opatija's traditions and high standards. In the end, in Dubrovnik, during one of my gatherings with Niko I was struck by divine guidance', emphasized Roni Voskin, the owner of the restaurant.
In July 2015 on the notable Zert location, which has over the years developed into the daily and night life-cult, a restaurant resembling the elegant boats which often visited the Opatija Riviera was founded. Before long Molo has grown into a safe gastro-port providing its guests all year-round with a sophisticated Mediterranean menu, rooted in seasonal foods and a unique ambience; this successful branding has attracted world esteemed restaurant chains to offer various types of collaboration. Molo represents a fully-fledged event destination, arranging top quality and versatile programmes and has hosted events such as gastro-tourist project Pink Wing, film promotion 'Vatreni' and Ćiro Blažević, The Art of Performance Jaguar, Opatija Rally and the first event of the 2019 season was the celebration of 120 years of Opel… Passion for dazzling cars and fine food go hand-in-hand. Apart from a rich array of events, Molo has portrayed itself as an unfading nautical and congress tourism spot; turning up the heat on Opatija's gusto of elegance, luxury, grace and enjoying the region's 'way of life', to the full. Go with an open mind and empty stomach and experience Molo's aura on the now extended terrace plateau!
Photos Archives