If you sail Dalmatia without visiting Vis and its restaurants, you are missing out on the culinary magic this area has to offer
Sailing and gastronomy are impossible to separate. In the old times this was of vital importance, as without enough food supplies on board, the outcome of the voyage was very uncertain. Nowadays sailing and culinary art are linked in a far more appealing way, to the point that sailing routes are set according to the restaurants offering local delicacies. If you are one of such navigators, sailing the Central Dalmatian islands, then island of Vis is definitely the destination for you. Vis is special in so many ways, it offers great diversity that sets it apart from other destinations, including its gastronomy. Since for many years, Vis was isolated and far from the tourist hotspots, it succeeded in preserving its authenticity.
During the winter, Vis is mostly just a sleepy little island with a single restaurant open throughout the year – the Pojoda, run by Zoran Brajčić. Octopus patties, little tunny (a tuna-like fish) in caper sauce, steamed squid in wine with laurel, fish in chickpeas, brewed bean and pasta soup are merely a few of the dishes you will find only here. Monkfish and lobster stew is another specialty you should not miss. One visit to this restaurant is not enough, so gourmets regularly come back for more. The atmosphere in the restaurant is very homelike and cosy, hiding variety and richness within. The restaurant is packed in the summer so reserving a seat is a good idea.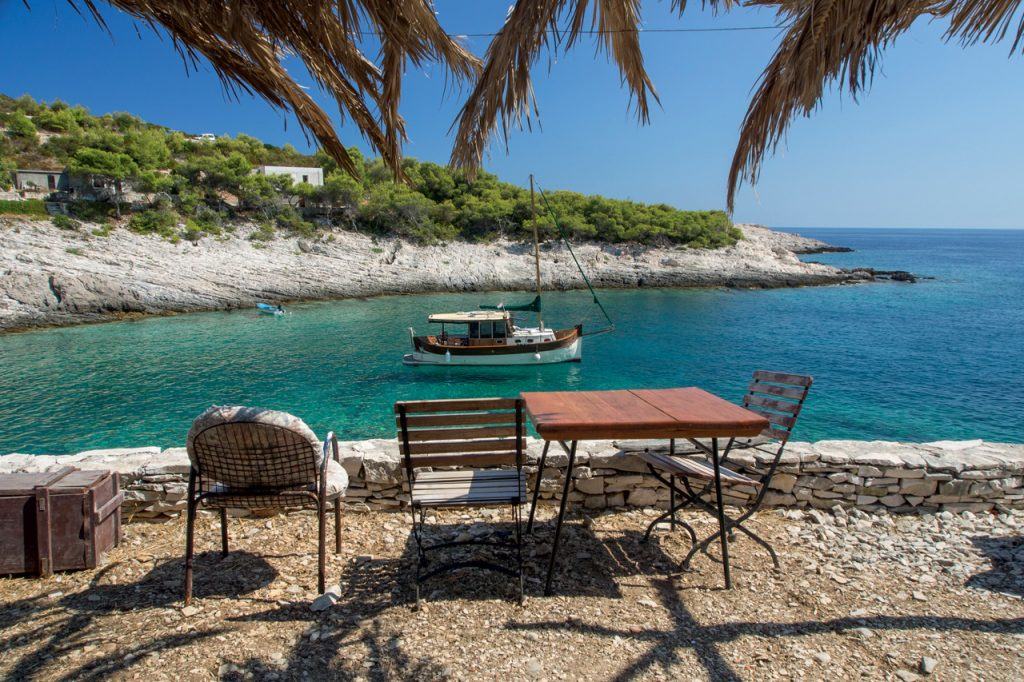 Should you wish for a romantic evening with outstanding cuisine and wine, Villa Kaliopa owned by Goran Pečarević is unsurpassed for miles around. The spectacular 16th century garden, filled with centuries-old palm trees, holds no more than a few tables designed to provide candlelit privacy and relaxation. Cream-soup with shrimp is excellent, followed by a choice between fresh fish which will be presented to you by the friendly and helpful staff. To conclude the meal, we recommend a home-made cake, accompanied by a glass of sherry on the house. Vatrica is a restaurant sitting right on the waterfront, so you can watch your boat, as well as the entire Vis Bay. This is a much more relaxed and easy-going place: a perfect ambiance for those who appreciate simplicity, fresh fish and homemade wine. Just 30 metres away is the restaurant Val, with a wide offer of fish specialties and is suitable for larger groups of guests. All these restaurants are situated in the part of Vis town known as Kut. Such an abundance of quality restaurants in a small area is proof of their success and appeal with the guests. But the list of good restaurants in the town of Vis does not stop here. Ivan Ivičević Bakulić is the good spirit behind the restaurant Kantun (meaning 'corner') which is of course located on the corner of the Vis waterfront walkway. Sitting at a table in front of the restaurant in the heart of the harbour is as pleasant as sitting inside by the open fireplace, or in a beautiful garden. There is one thing that we simply must mention: the unique wine list. You cannot have a beer at Kantun – but you can surely learn a lot about wine. The culinary offer is not very diverse and rightly so. Whether you order fish, meat or something else, you cannot go wrong. Everything is made with love, attention, and great taste.  Exactly half-way between Vis and Kut is probably the best pizzeria in the Adriatic – the famous Karijola, whose owner Josip Dujmić learned the trade in Zagreb, and intoxicated by Vis, decided to offer his perfect pizza on the island. At Karijola special attention is given to the essentials: the traditional stone bread oven was built to perfection and the terrace overlooking the Vis harbour is beautifully understated and unpretentious. Our recommendation would be the Karijola's prosciutto or artichoke pizza. They offer a selection of wine by several local winemakers, but also a great variety of quality beers.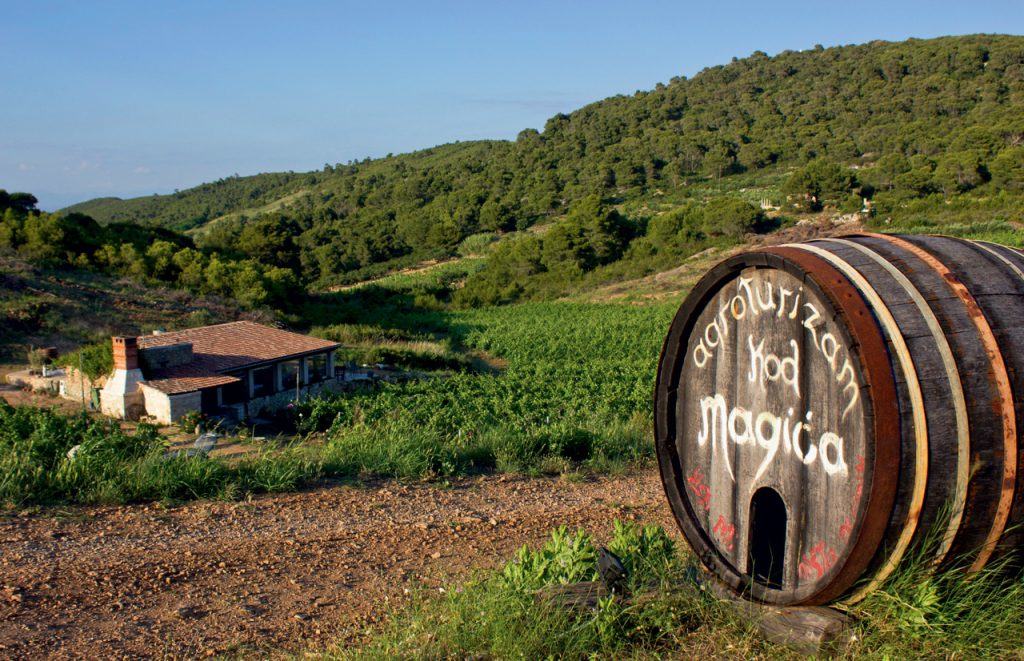 An inevitable destination for navigators visiting Vis is the Stončica Bay, where the three Linčir brothers own Konoba Stončica, famous for its fish dishes, lamb and goat pit roasting. Tripo Linčir says that the specialty of this tavern is brine – marinated oily fish, sardines, anchovies, mackerel or bonito and in mid season sardines on a spit. We propose you also try lamb or goat belly, an aromatic and delicious specialty, also known as Vis sausage, apparently best prepared by the Linčir brothers. Should you rather decide on the freshly grilled fish, we would suggest a traditional Vis side-dish: baked tomatoes and boiled potatoes. In order to fully experience this magical island, its inland must be seen. In the Pliska Fields sits the tavern – winery Roki's, owned by Oliver Roki. The specialty here is pit roasting. You can choose between octopus, meat and fish. But make sure you call ahead, since the preparation of this delicacy takes two hours. You will be offered a ride to the tavern because of its remote location in the heart of the island. At Roki's they make their own wine from the vineyards you can see, sitting at one of the tables beneath the old mulberry tree – so the wine selection is rather straight-forward. Tasting the local food and wine is the best way to experience the island in its authenticity. The outstanding Plavac Mali homemade wine is offered by the Magić tavern too, another inland gem, nestling amidst a picturesque vineyard, with genuine local atmosphere, fine food and friendly staff. The tavern has an excellent reputation thanks to its three principles: native, fresh, and imaginative. They serve only vegetables from their own garden which is located next to the tavern and upon arrival, you will be greeted with their homemade brandy. One of the specialties of the house is zucchini flower, filled with anchovies and cheese; anchovy carpaccio with arugula and almond pesto is a definite must; or cuttlefish with broad beans. But don't overdo it with appetizers, leave room for the legendary Magić pit roasted fish or meat. We recommend pit roasted Vis lamb, accompanied by Plavac Mali, and for desert, the homemade salted sardine filled foccacia. On the other side of Vis Island, the road takes us to Komiža. Komiža is a true traditional fishing village – I believe it is one of the most beautiful in the Adriatic. Here, too, gastronomy is unique and special. Bako and Jastožera are the main pillars of the offer in Komiža. These two restaurants are located next to each other.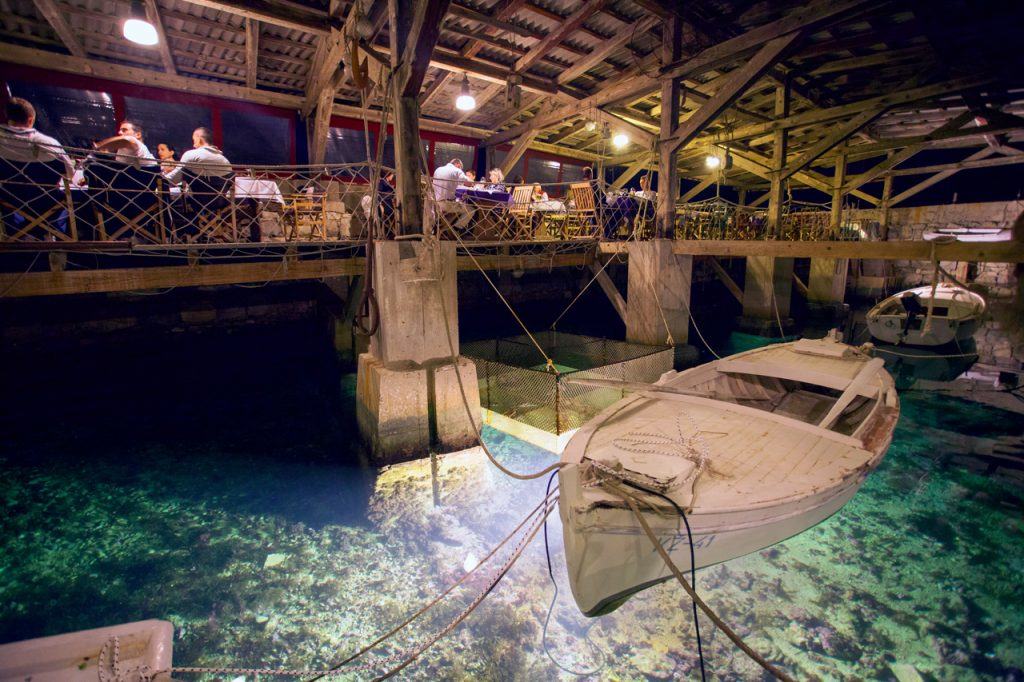 Jastožera is a story in itself; the island is famous for lobster fishing and the current restaurant site, was once a lobster trade station. This is one of the rare restaurants you can literally sail into by a small boat. At Jastožera the sea is beneath your feet and the specialty is of course, lobster prepared various ways. Two years ago there was a shortage of lobsters, so the restaurant lost its main specialty. Last year was 'fruitful' again, so we would advise to check the offer before making a reservation. Bako is another legendary restaurant in Komiža. Simple ambiance, combined with the fish and crab specialties prepared following the ancient local recipes, are more than enough reason to visit this tavern. Right next to Bako and Jastožera is Konoba Barba, with its magnificent seafront  terrace overlooking Komiža. The owner Dragan Stjepanović bases his offer on fish and lamb, telling us that the Barba is the only place in Komiža where you can have pit roasted fish, octopus or lamb. Konoba Barba is special for something else too – they offer the fantastic homemade Biševo Plavac wine by the glass. If you prefer something different, there is the retro fun food & wine bar Fabrika, established in Komiža by the singer Luka Nižetić. At Fabrika you can taste daily tapas: anchovies, smoked tuna, pates, bruschetta or the daily special, like spaghetti in shrimp sauce. The bar is decorated in a vintage industrial style and besides food, you can also enjoy good, carefully selected music. It is also worth mentioning that Fabrika welcomes pets. The restored Hum restaurant sits in the heart of Komiža, with an extraordinary selection of fresh fish, various seafood specialties, lobster and meat. The specialty here is beefsteak stuffed with spicy Slavonian sausage or Dalmatian prosciutto or cheese; there is also a good selection of simple foods, like risotto, pizza or pasta. Below the restaurant, under the palm trees on the Komiža waterfront walkway is the cocktail bar, with a wide variety of cocktails on offer but also over 50 local and international wine brands. The best kept culinary secret, known only to navigators, is neither a restaurant nor a traditional stone house, but a place of unusual but exceptionally strong energy – I am a new person every time I leave. It is Mala Travna and its owner Senko Karuza – a writer, poet, fisherman, vintner, cook and so much more that only a sensitive soul can feel. Gastronomy here springs from the nature, life philosophy and wine is made from proper Vis grapes. Once all this falls into harmony and the view wanders from Mala Travna onto the open seas, the real world becomes something distant, unimportant and the transition into another dimension, seamless. Those who have been there know what I am talking about. I will now end my culinary Vis journey with Budikovac, an even smaller island south of Vis. The owner of the restaurant on the prettiest Adriatic beach is Captain Andro Slavić, a peculiar character with a peculiar culinary expression. Andro served us a suckling pig with potatoes on the hottest of summer days. This choice of food would never occur to me, even on a colder day. But I have never tasted anything like the suckling pig from Andro's bread oven. Not only did we eat it all, unable to decide which was sweeter, the suckling or the potatoes – but we came back for more on the very next occasion. No need for any further comments on the Budikovac gastronomy…