By becoming a destination and not merely a transit centre, the city of Split now boasts a rich gastronomic scene with plenty of appealing restaurants
Split's touristic transformation can be noticed everywhere. 'The city under Marjan' offers a number of things to do and see, and the cuisine is one of the most visible (and most delicious) parts of the 'new Split.' Interweaving good old places where people of Split and their guests have enjoyed 'good bites' for decades and recently opened unique, charming restaurants gives you many opportunities to really enjoy the richness and diversity of local tastes.
We have selected a number of interesting locations, as a suggestion to please your palate, noting that Split truly offers a fascinating gastronomic scene and our selection is only a part of it.
Our reference point, which makes Split famous around the world, was the beautiful Mediterranean lifestyle in the open, which has revolved around Diocletian's Palace and facilities in its immediate vicinity for 1700 years. To experience Split, enter the 'centre of the world' as it is called in Split, and understand the Split way of thinking, you have to go out into the streets and squares, relax in the shade and watch people pass by.
There is no better starting point than the vibrant 'Pjaca' (or Piazza), a noble market, where most people passing through the city can be found, taking a short break from work, taking fresh groceries from 'Pazar' (market) back home in the morning, or just engaging in the 'Split state of mind' while sipping their morning coffee.
We know that breakfast is the most important meal of the day, so you can choose NoStress, located right on 'Pjaca', as a backdrop for your first date with the City of Split. The breakfast here was designed in collaboration with nutritionists – healthy fruit and vegetable smoothies, chia pudding, veggie toast, homemade granola (restaurant-made, with no added sugar), after which you can enjoy the city's awakening on a full stomach. You will certainly want to come back and have lunch and dinner here, so we hope you are staying in the city for longer. Whichever direction you are headed next, there will be plenty things to see.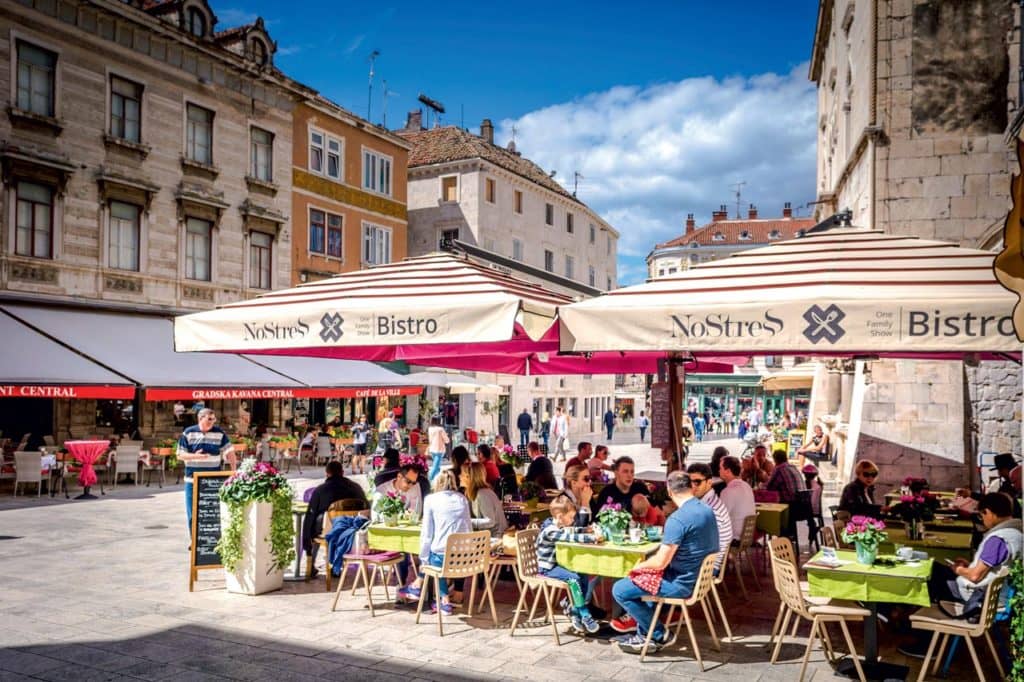 Within the palace, next to the Iron Gate that connects the palace with the rest of the city, you can find another brilliant restaurant – Mazzgoon food. For several years now this family restaurant has offered their guests a culinary fusion of Dalmatia and the world.
Traditional and often homemade recipes are prepared with a twist and presented in a modern way, and local ingredients are spiced up by Asian and South American influences, and you can also find deconstructed 'gregada' (fish stew), various 'točada' (stew), but also sashimi and ceviche.
Drink a craft cocktails on the stairs and then sit in a hidden oasis, outdoor terrace within the walls of the city, where no one will be able to look inside your pjat (plate). Just a few steps towards the north, in the heart of Split Ghetto (Dominisova Street), you can find Uje Oil Bar and its restaurant called Wine and marinade bar, Dnevni boravak lounge and Pikulece – Dalmatian tapas bar.
The intimacy of Dnevni boravak ('living room) is ideal for you first morning Nespresso and breakfast, and make sure to try some of the almost forgotten traditional recipes at the restaurant and Pikulece. Some of the delicacies you can find on the menu include 'mol' with chick peas and 'mačkalar' – an almost forgotten recipe from the island of Vis, in which dried catfish is used instead of cod, and 'paradižot' as a traditional dessert.
Groceries are fresh, meaning that the daily menu changes depending on the catch from the market and fish market, but there is also a standard part of the menu, which is always current. As a souvenir from 'the most beautiful side street in Split', you can take something from their shop which offers products ranging from Dalmatian and Istrian olive oil to black olive tapenade and dried fig jam.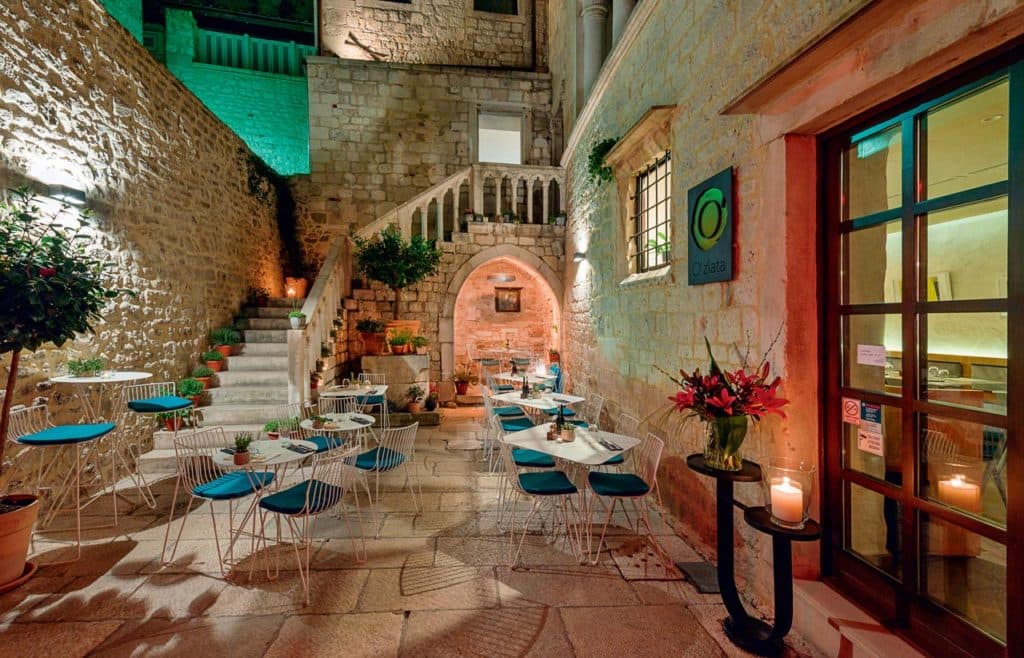 O'zlata is a restaurant in the Renaissance courtyard next to the Golden Gate where you can sample Mediterranean specialties with a slight twist, signature of the chef. There is an à la carte terrace, a quiet interior, as well as bar area with high tables where you can grab a 'bonkuncin' (small bite) with a good glass of wine. Rare and autochthonous ingredients are used, so you can try meat and fish specialties as well as Mediterranean scallops in seaweed jelly or red rice with 'kanoštrele' (mini Mediterranean scallops) and vegetables, their staple.
If you were wandering the streets in a completely different direction and went by the fish market, you have walked past Bokeria. Named after the famous Spanish market, the vicinity of Split 'peškarija' (fish market) and 'pazar' (market) guarantees the freshness of foods that is prepared there.
In addition to an impressive building and a beautiful interior, some of their meals have gained cult status and remain on the menu, and the locals have a habit of having breakfast there. The most popular dishes are 'bombolini' – dumplings with béchamel sauce and prosciutto, sebass fillet with sun dried tomatoes, and cheesecake with lavender for dessert. Corto Maltese is another restaurant located right next to the 'peškarija'.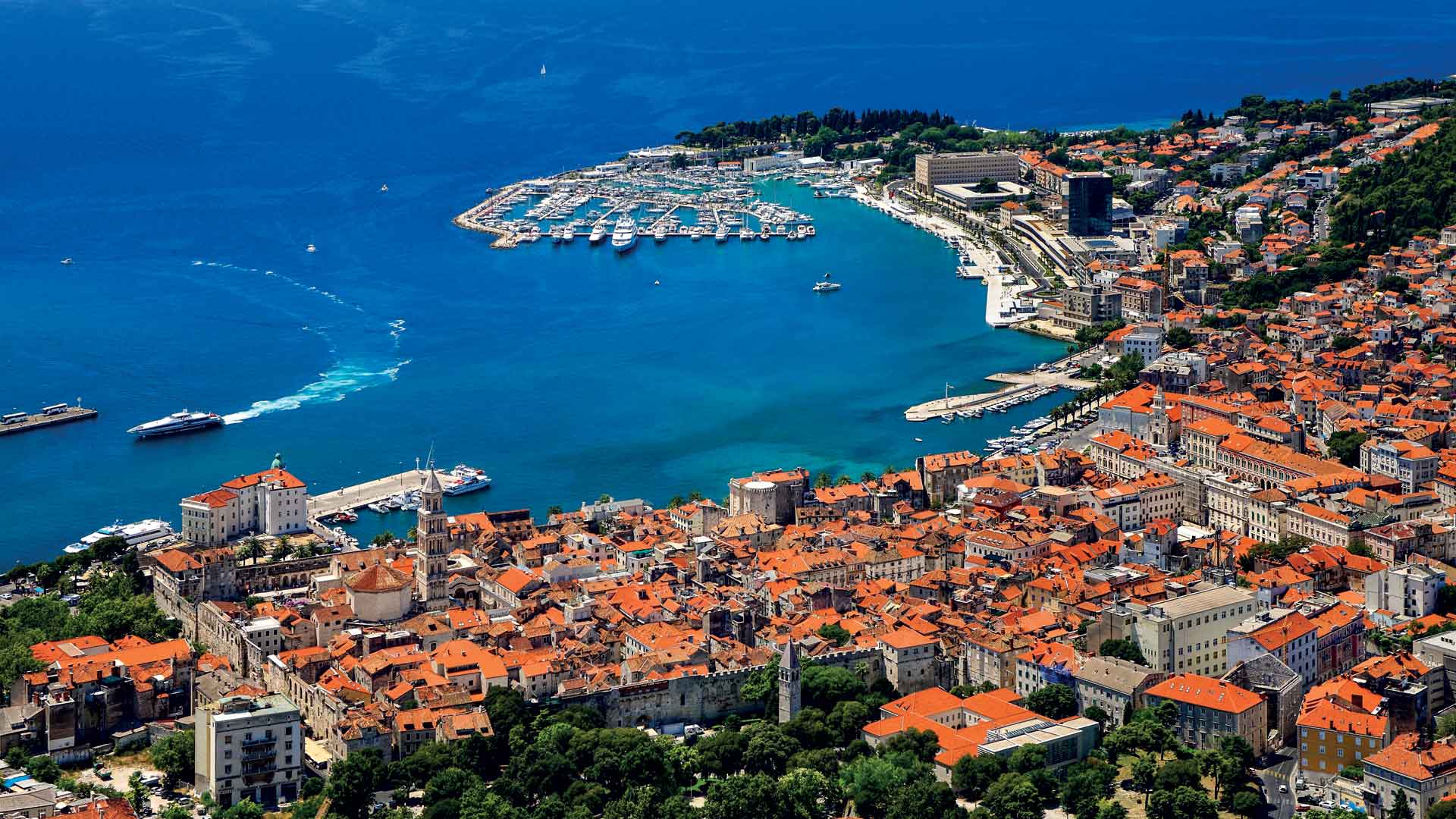 This freestyle food restaurant was named after the famous sea captain from Hugo Pratt's graphic novel and the interior is decorated as a comic book, and an innovative approach to cooking is aimed at changing the standards of preparation, serving and presentation of meals.
Due to its name and location, the menu mainly consists of fish, so you can find swordfish confit with wasabi mayonnaise, rice chips and pickled ginger, and everything is prepared in the open kitchen in front of guests.
In addition do their daily offer, which includes risottos, fish, and meat dishes, you can also have breakfast here. If you are a sushi lover, Oyster & Sushi Bar Bota Šare at Morpurgova poljana is a unique culinary concept based on mixing Dalmatian foods and spices with Japanese methods of preparing sushi bites.
You can enjoy oysters from the Mali Ston Bay and a glass of champagne, Adriatic tuna, shrimps and prawns, and don't miss the sushi bites platter, Oyster roll, oysters in tempura with avocado and cucumber or Sashimi on arugula and samphire.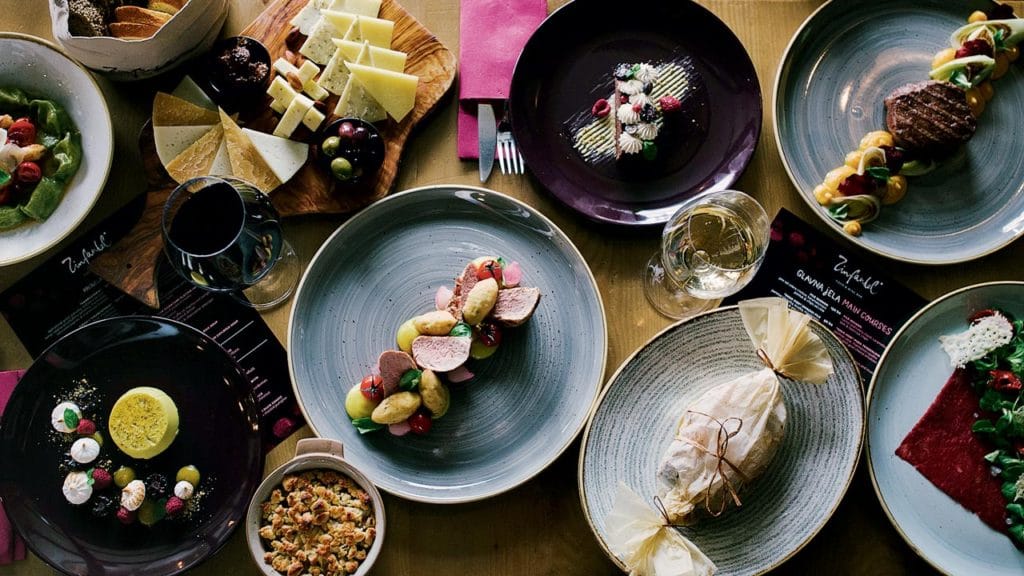 Before heading out from the city centre, stop by Zinfandel, a pleasant and relaxed Wine & food bar in the heart of Old Town. It offers a selection of over 100 wine labels, and trained and professional staff is always ready to help and tell you something about Croatian wines, their history and the impact on the creation of today's global wine scene.
This is also a place to try various interpretations of Dalmatian dishes, such as Octopus & Amaranth or cod fillet with baby spinach, zucchini carpaccio and poached egg & 'hollandaise'. There is often live music in the evening, so you can enjoy the pleasant summer atmosphere with a glass of wine.
A lovely Mediterranean style courtyard between Pjaca and Voćni trg hosts Makarun. Along with nickname that stayed with Farac family and the traditional art of making macaroni that has been transferred through generations, this tradition still lives, so the tavern guests have the opportunity of tasting original Dalmatian cuisine.
The restaurant's offer is based on homemade pasta, but there is more to it, like house specialty beefsteak à la Makarun, macaroni with lobster, black macaroni stew, macaroni with scampi and prawns paired with supreme white and red Croatian wines.
If you want to step away from the hustle and bustle of the city centre, take a walk to Firule beach and stop by Dvor café-bistro, another great example of Split's gastronomic scene. Pine trees will provide natural shade for you to taste various interpretations of traditional Croatian dishes, prepared with precise cooking techniques.
The rustic flavours of smoke coming from the open grill create a perfect ambiance for lamb lovers – lamb is boiled sous-vide and then finished on the smoky grill, served with potato confit and carrot cream.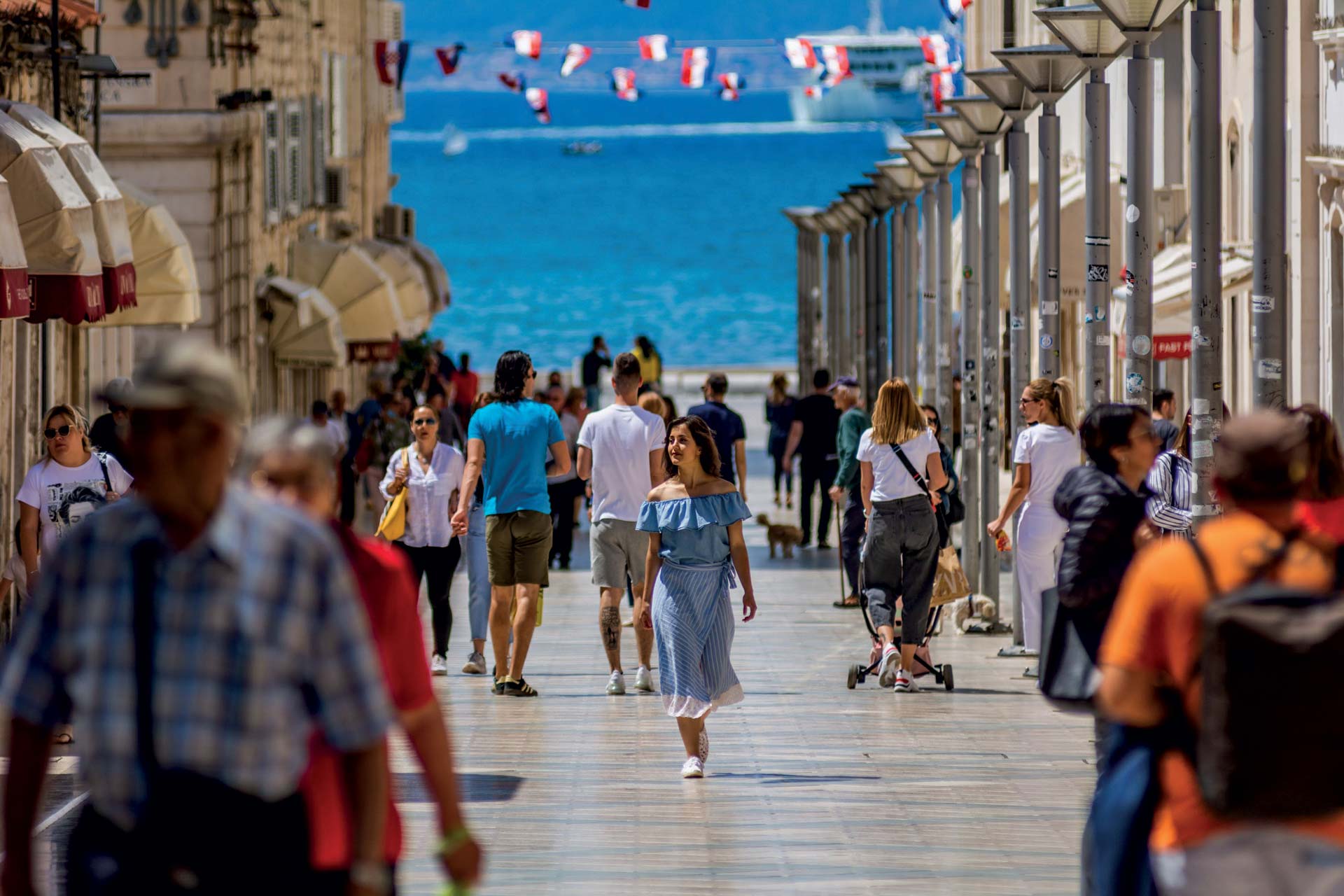 A carefully selected eight-course tasting menu, paired with Croatian wines, makes for a special experience while watching the sunset and overlooking the sea. A cult place worth visiting is the famous Bačvice beach. If you happen to be hungry while you are there, Ma:Toni tavern is the perfect place to go to.
They offer a weekly variety of dishes, which are not on the menu, made from local and fresh ingredients, depending on the season. All meals have a Dalmatian touch, but they are served and complemented by international cuisine (Chinese, Thai, Spanish, Portuguese, Moroccan …) in order to intrigue and enchant guests with new flavours.
You can always have a vegan, vegetarian, gluten-free and children's meal, as well as dishes free of allergens. Every dish has a distinct taste, whether it is a healthy baby spinach salad, glazed sheep knuckle with homemade salsa or baked potatoes and rosemary. No matter which restaurant you visit, you can find something for yourself at any time of day in Split, so don't stop at one meal, go for a coffee, cocktail, flip through the newspapers and become part of the 1700-year-old history.