Speaking about the early days of yachting industry George Nicholson gives us a rare opportunity to describe the pre-yachting era which took place six decades ago. And he speaks about Adriatic as one of his favorite areas
George Nicholson is not only part of history of the yachting industry, he actually invented and partially wrote it. He first came to France exactly sixty (!) years ago starting unbelievable trend which we know as yachting of today. His role and knowledge of yachting are simply one of the founding stones of this now global industry. What many don't know is his connection with the Adriatic area where he was commonly seen especially in Croatia, and he also played a key role in the establishment of today's Porto Montenegro. With the help of respected president of Adriatic Yachting Association, Mr. Nizar Tagi, who made his first steps in yachting working together with Mr. Nicholson, we had a chance to talk with this legendary personality for our very special SuperYachts issue.
You started a yachting operation in sixties, can you give us a glimpse how was it in those days?
I sailed with Robin Aisher in the 1960 Olympic Games in his 5,5-meter Yeoman. I had been sent to Cannes by my father in October 1959 to see if I could persuade the larger yachts to return to the C&N Southampton yard for the winter and for their refit work in the spring. Although most of the larger yachts had by then been bought by people who were not British, or taxed in the UK, they had mainly gone to the Mediterranean, but had kept their English captains. This was my job after I returned from the 1960 Olympic Games. The sailing was held in the Bay of Naples. Soon I discovered that life in the South of France was far more attractive for the Captains than life in England. They were well-paid compared to the local French and most soon had mistresses and an agreeable lifestyle. In 1961, my father asked me what I thought C&N should do. I did not hesitate and told him that as we could not beat them we should join them. We formed Camper & Nicholsons International at the end of 1961.
Many people speak about what has changed since, but our question is what is the same, if anything?
Little by little a lot has changed. Firstly, the French customs started to crack down on all French yacht owners operating under a non-French flag. This finally led to a moratorium that lasted some ten years whilst the ECPY negotiated commercial and private yacht registration. I think that this system is largely still in lace today. Commercial registration attracted the attention of the authorities, mainly in England and France, and led to the tightening of captain and crew qualifications that we are familiar with today.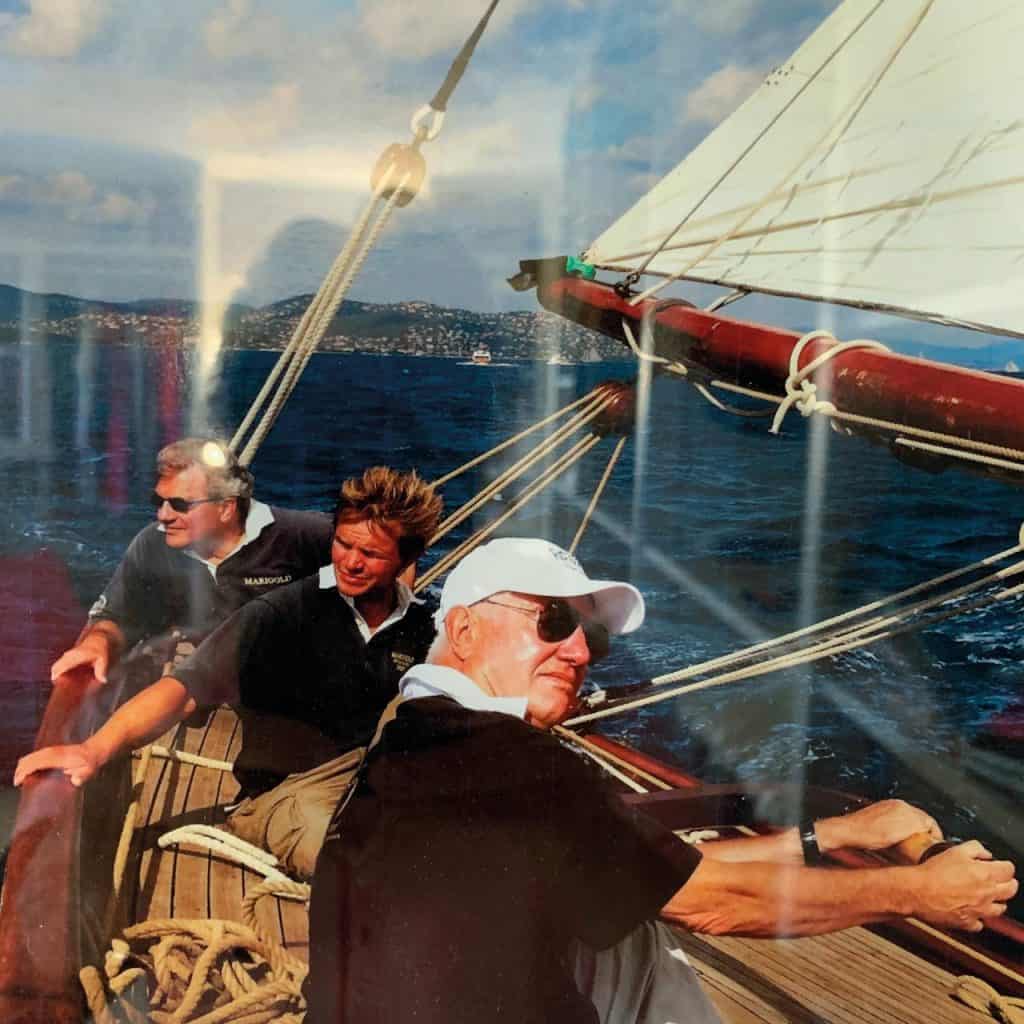 French Riviera is the center of yachting of today, how was it back then? Do you feel a little bit French today?
When I came to France there were no new yacht harbors. The yachts were there deep in the only safe harbor, which was the port in Cannes. The only ports were the small port in Antibes where there was a shipyard run by Jacques Auniac, the port of Villefranche where the drydocks were run by Bernard Voisin and Monaco which was unprotected and very unpopular in the winter. The port in St. Jean, Cap Ferrat was very small and St. Tropez totally exposed to the Mistral. The only yacht of any size that spent the whole year in St. Tropez was the ketch Blanch Neige.
You were often visiting ex-Yugoslavia, what was the reason and what places did you like most?
The Adriatic east coast, the old Yugoslavia, was still communist. The islands and most of the mainland were completely unspoiled. The communist holidaymakers used to come from eastern Europe and stay in the northern part while we discovered Skradin and its waterfalls. We were the first larger yacht ever to visit Skradin, and later I arranged with Emilio Azcarraga to give a complete satellite TV installation to the village. It was all sent from France, and the engineers to install it. Brioni, Tito's private island, was completely abandoned.
Are there some special people you remember from this area?
I remember well the Petrović family from Skradin. There were three brothers and they had the only restaurant and a fishing boat. On the way up to Skradin one to across an inland lake. We found lots of old amphoras and clay pipes whilst swimming there.
You knew very well Mr. Peter Munk – can you say a bit about that, and what was your role in his project of establishing Porto Montenegro?
The late Peter Munk was a serial entrepreneur. His main business was Barrik Gold Corporation, but one of his specialties was re-developing abandoned military bases. The no-longer used military naval base in Tivat fell into this category. I was asked to go with him to Tivat to take a look at the naval base. Although Montenegro was still quite undeveloped the base was superbly placed and totally protected from bad weather. Peter Munk bought it, and it is now Porto Montenegro.
For whom can you say that was your biggest competitor?
When I first came to Cannes, the Agence Glemot dominated the Cannes old harbor. They also had a small office in Monaco. Glemot, and several other smaller French agencies dominated the Quai St. Pierre. By the early 1970s, C&N International was the dominant force. I had a French assistant, Marco Senesi, who became the central figure in yacht charter.
What is your passion (sailing?) and can you say a bit about it?
Small sailing boats have always been my passion. I started in 12ft National dinghies with my brother Peter whilst I was still in England and we won the Burton Throphy. My father had the Phoenix and later a South Coast One Design (SCOD). I had a Dragon for about seven years and always sail a Tofinou when we go on holiday in Greece which is every September for the last 17 years or so.
At the end, what is your advice for Adriatic as relatively undeveloped yachting destination?
The Adriatic is still one of the best cruising areas in the world. Combined with Greece, these two areas for me are unbeatable. The Adriatic is better for motor yachts whilst Greece is fun for sailing, especially when Meltemi wind is blowing.
Photos Bobby Billam