Experts from across the nautical industry gathered to explore the possibilities of a sustainable future in Croatia's tourism at the panel organized by Green Sail
On October 21st Green Sail, a not-for-profit organisation committed to promoting sustainable nautical tourism practices, hosted a panel discussion in Šibenik, Croatia.
Gathering key industry representatives: scientists, a ministry official and more, the evening saw dialogue about individual environmental responsibility and debate on the practical challenges of implementing policies that will enforce widespread change. 'Can Croatia be the Leading Destination in the World for Sustainable Nautical Tourism?' was the formidable question panellists faced.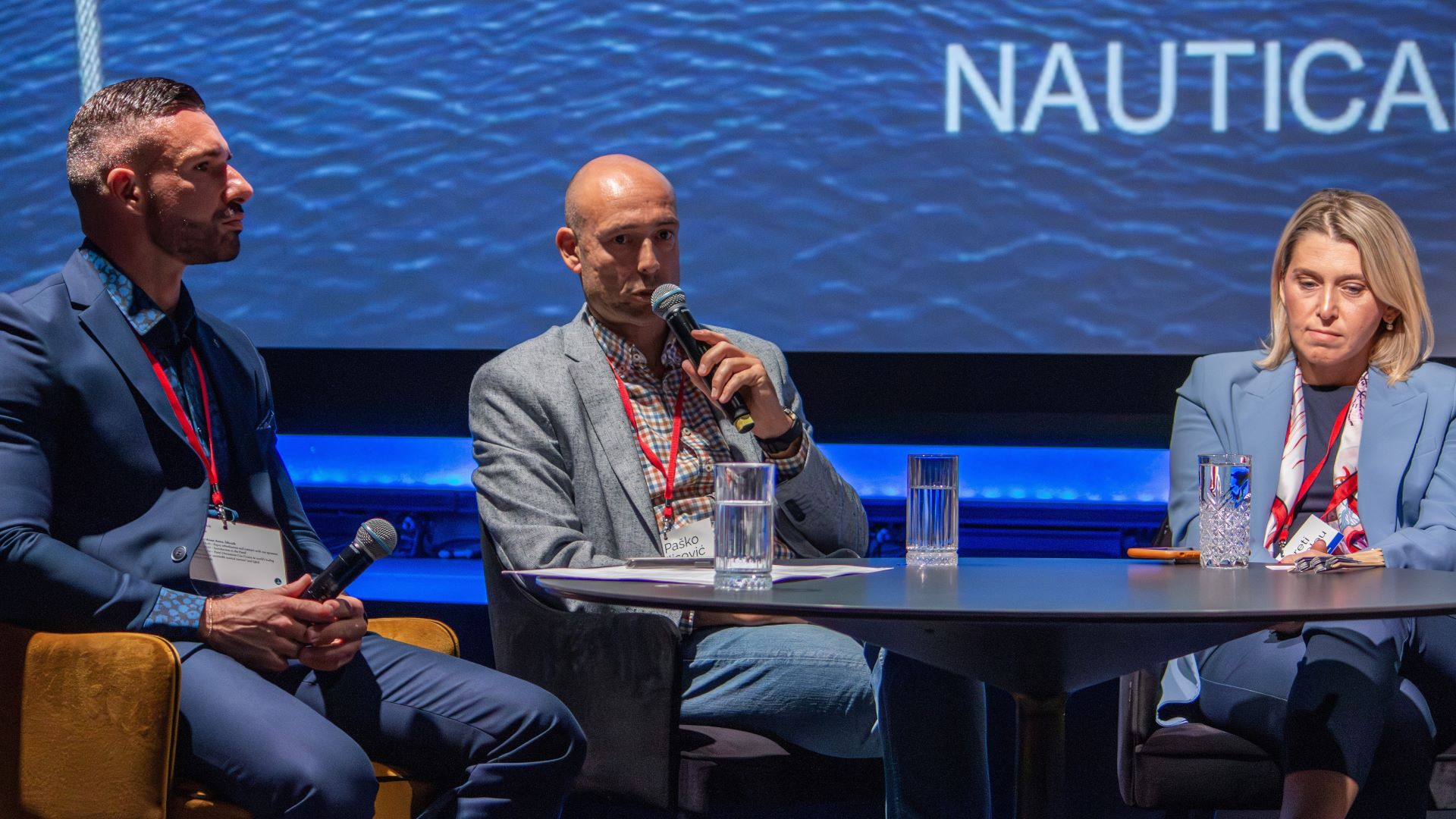 The panel was conducted with the support of the Šibenik Tourist Board, Master Yachting and Green Sail's longstanding partners. Šibenik was chosen as the panel's location due to its central role in the sector, hosting major charter companies like NCP & mare.
With its proximity to the Kornati Islands and Krka National Park, it's an ideal location for stakeholders to meet. This became evident on the stormy Saturday night at the Art House Arsen, where in spite of the weather, experts from across the nautical industry gathered to explore the possibilities of a sustainable future in Croatia's tourism.
Eight esteemed panellists were present for the event: Paško Klisović – President of Croatian Nautical Tourism Association within Croatian Chamber of Commerce, Frano Barbir – President of Croatian Hydrogen Association, Saša Popovac – Head of Department for Market Research and Analytics at Croatian National Tourist Board, Neven Cukrov – Scientific Adviser at the Department for Marine and Environmental Research at Ruđer Bošković Institute, Areti Priovolou – Health, Safety and Environmental Representative for D-marin Marinas, Slaven Bogut – Director of Nautical Department of ACI marinas, Renata Franc – Senior Scientific Advisor at the Institute of Social Sciences Ivo Pilar and Zlatko Košta – from the Ministry of Maritime Affairs, Transport and Infrastructure.
Topics on the agenda ranged from waste management, to over-tourism, harmful cleaning products and the future of hydrogen technologies. Participants delved into the intricacies of these debates, raising essential questions about what Croatia's journey towards a sustainable future will truly look like.
The array of panellists made for varied opinions and discussion – ranging from emphasis on the responsibility of the government to make changes, to holding charter companies, guests, and locals accountable for their choices.
Heated debate on waste management took centre stage as the discussion turned to the use of pump-out facilities versus releasing black-water (sewage) tanks while underway at sea. Klisović advocated for pump-out facilities within gas stations, if not within the marinas themselves. Cukrov believes that the government should ban the use of certain cleaning products in marinas and ports.
Hydrogen technology was also a hot topic. Dr. Barbir acknowledged that whilst hydrogen is a promising fuel source, its lower efficiency as a storage method in comparison to battery means it will not be a 'fix-all'. 'The smaller the engine, the smaller the range, the more difficult it is for the engine to compete with batteries,' Dr. Barbir stated.
The panel discussion emphasised Croatia's dependence on a resource with an uncertain future: its natural environment. The absence of comprehensive, long-term research on the Adriatic Sea's biodiversity, pH levels, geological composition and other crucial factors makes it challenging to quantify or comprehend the repercussions of the recent surge in tourism. And, as emphasised by panellist Sasa Popovac, Croatia's economic future is inherently linked with its environmental one.
With tourism contributing to nearly 20% of Croatia's GDP and the nautical sector continually expanding, thousands of livelihoods will depend on the future health of the Adriatic.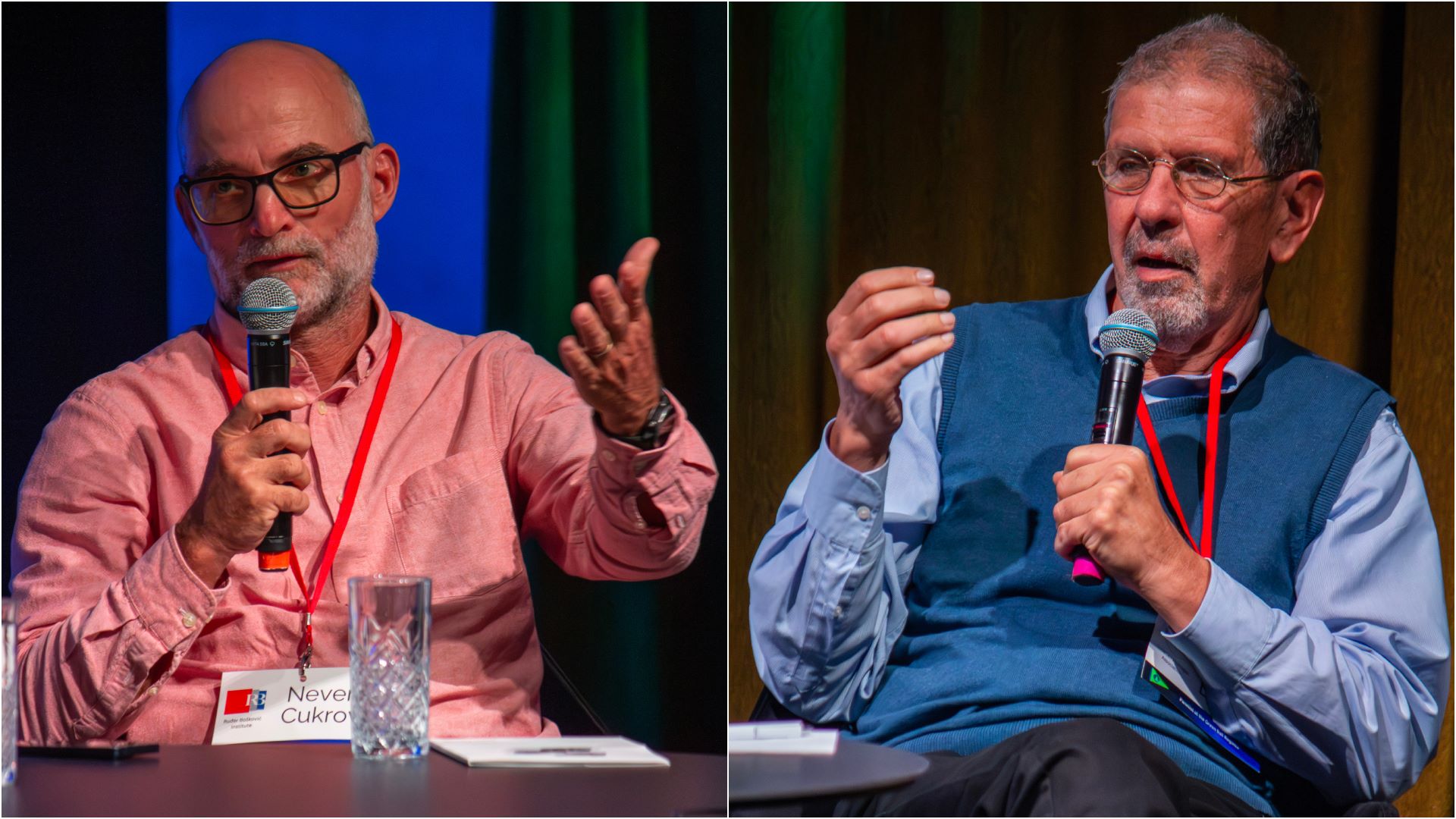 When asked about attitudes towards sustainability, Dr. Franc argued that 'We can be informed and educated but still not have behaviour in line with our knowledge.' This was later mirrored in her concluding answer to the question of 'Can Croatia lead the world in nautical tourism sustainability?' where she answered 'I'm sceptical'. She emphasised the absence of timely or effective solutions for Croatia's problems, highlighting that much needs to be done.
The concluding statements of panellists served to underscore the complexity of the challenges and the long road to sustainability ahead. With Croatian livelihoods, income and natural environmental beauty at risk, the stakes of this topic are high.
However, after the panel discussion, the event ended with the Green Sail recognition of the charter companies. The award was given by Goran Čolak, champion in freediving and ambassador of the Green Sail organization, who set a new world record at the CMAS World Freediving Championship this year in Kuwait. He also set a world record in the BIFINS category with an incredible dive of 292.15 metres.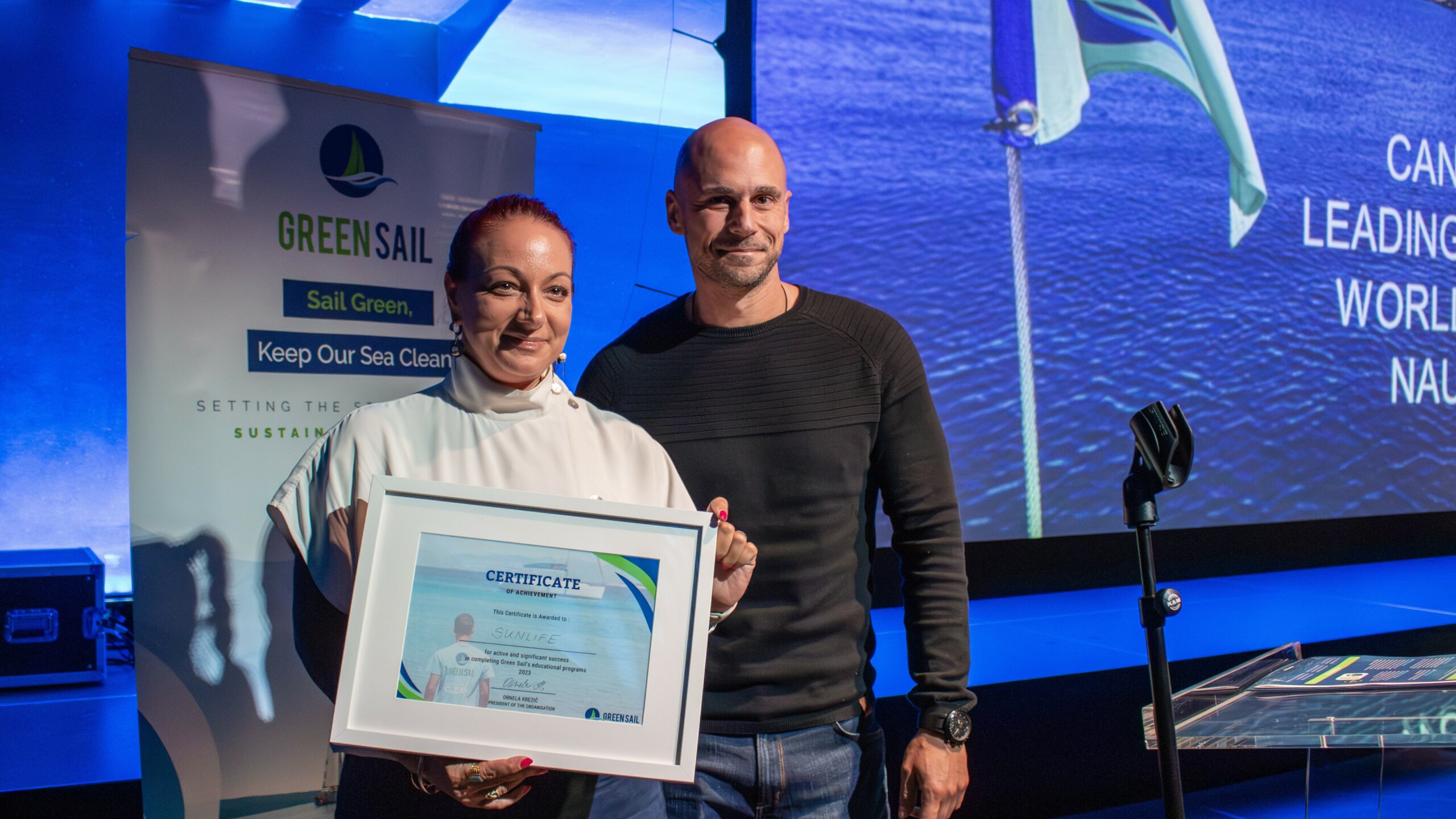 To honour the event, Čolak presented 'Certificates of Achievement' to Green Sail Charter Partners with over 90% of their employees having completed Green Sail's online education courses. The well-deserved recipients of these certificates were Orvas Yachting, Sunlife Charter and More Yacht Club. Their proactivity signifies a step toward a more sustainable future in Croatia's nautical tourism industry, even as it grapples with its multifaceted challenges.
To discover more detail about the main takeaways from the Green Sail 2023 Panel discussion, click here: https://www.green-sail.com/blog/sustainable-tourism
About Green Sail
Green Sail promotes sustainable nautical tourism in Croatia to help protect and keep Croatia beautiful. Through its Marina and Charter Programs, Green Sail partners with charter companies, marinas, institutions and environmentally friendly businesses and individuals by providing informative and educative activities and materials.
Photos & video Green Sail