Comfortable in motion, functional, tastefully furnished, respectful of the environment: Greenline 48 is ready to sail into the new future
Slovenian boat builder Greenline managed to build 500 hybrid yachts before taking a hit from the global economy and entering the bankruptcy. Recently, the failing company caught the eye of entrepreneur and former Greenline dealer for Russia Vladimir Zinchenko, who breathed new life into it.
Deliveries and sales continued, and the builder has enough orders to stay busy well into the next spring. Greenline also announced development of new models, the smallest of whom – Greenline 36 – will be launched as early as this summer.
Greenline 48 at the sea
We've recently had an opportunity to take Greenline 48 out to sea for a test in Portorož, where the yacht was waiting to be delivered to the owner. The model, described by Vladimir as the embodiment of Greenline philosophy and ideal for what he calls 'gentlemen's boating', is above all silent (in electric mode).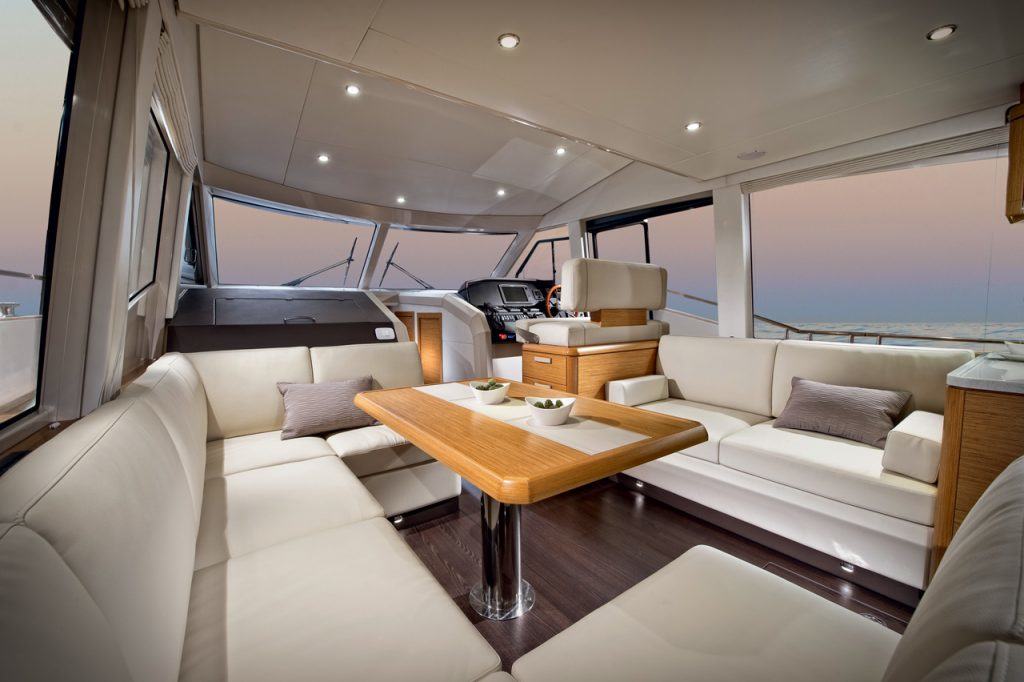 Powered by a new generation hybrid engine – a 10 kW generator, 14 kW engines and Volvo D3 diesel engines – Greenline 48 is a smart, functional, comfortable and overall lovely little yacht, this being her main advantages, not fighting the competitors in terms of performance and luxury.
The design is more than smart: every detail serves a purpose, everything is thought through. The covered cockpit is connected to the galley (which, as on all Greenline models, takes up stern corner of the main deck salon), divided only by a sliding glass window from the cockpit and with a foldable working surface extension.
Greenline yacht interior
Easily available electrical power makes Greenline galleys a joy for any cook, as they can get any and all home appliances their heart desires, including a dishwasher – not commonly found on yachts this size – and a fridge with large freezer. Starboard behind the galley we've discovered a TV corner with a small sofa (which can be replaced with two armchairs), while the dining space is port and has a large table and six chairs.
The main deck interior is fresh and light (teak veneer and white fabrics), bathed in natural light coming in through large windows that make the yacht recognizable from the outside. The salon floor hides a big storage, a rather large space that hosts a washing machine and still has room enough for larger equipment or household items. The command post is on the starboard, has a comfortable double skipper seat and direct access to the deck through sliding glass door.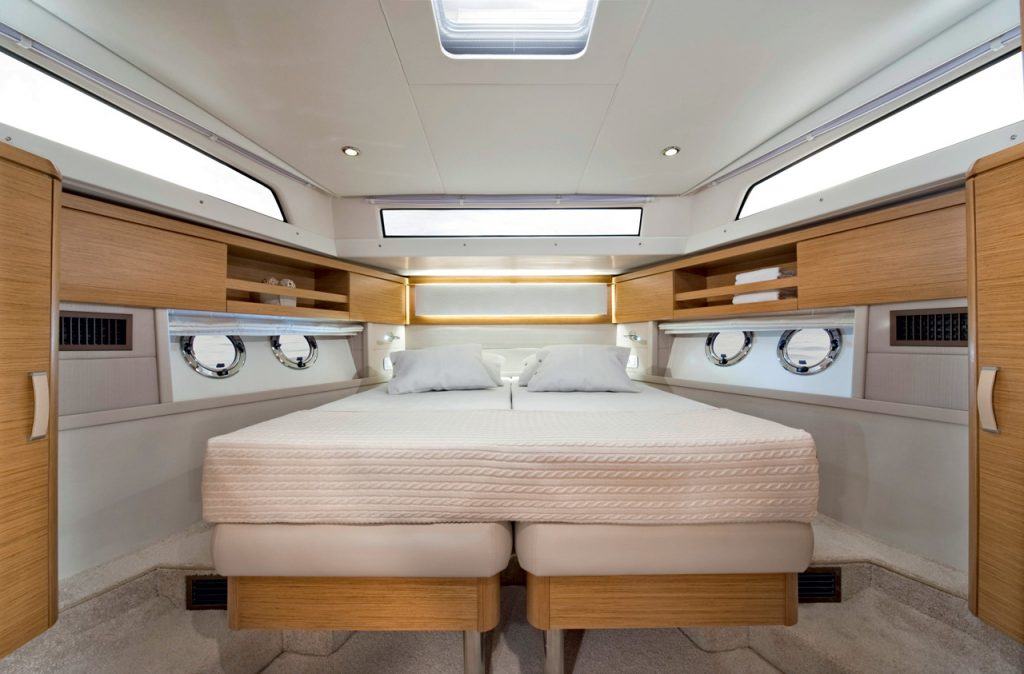 On lower deck we've discovered three cabins, with the master in the bow and the two guest cabins aft. The master cabin is well lit by natural light seeping in through several well-sized windows and two round portholes on each side also serve for ventilation.
Quiet, steady and comfortable
The double bed in this cabin can easily be separated into two single ones, and hides more storage space. This cabin has a private head with separate toilet and shower cabin.
The other two cabins are aft, have impressive height and are well furnished. They both have two beds and private heads, as well. The fly bridge of this model seems rather spacious although in reality isn't that big. Still, every inch is used in the best possible way and nothing is really missing – there are two sunbeds, an open dining space with a bar, a transformable sofa next to the command post.
Up on the bow there's another sofa, and the aft has an additional space that can either serve as storage, or be turned into the skipper's cabin. The hydraulic aft platform is large enough to host a tender or a jet ski.
Greenline 48 is advertised as a quiet, steady, comfortable yacht ideal for some relaxing at sea, so we were quite anxious to see how it performs. We sailed out of marina powered by electric engines alone (which, we must say, are absurdly easy to operate, as they are switched on or off by pressing one single button).
Greenline 48 speed and range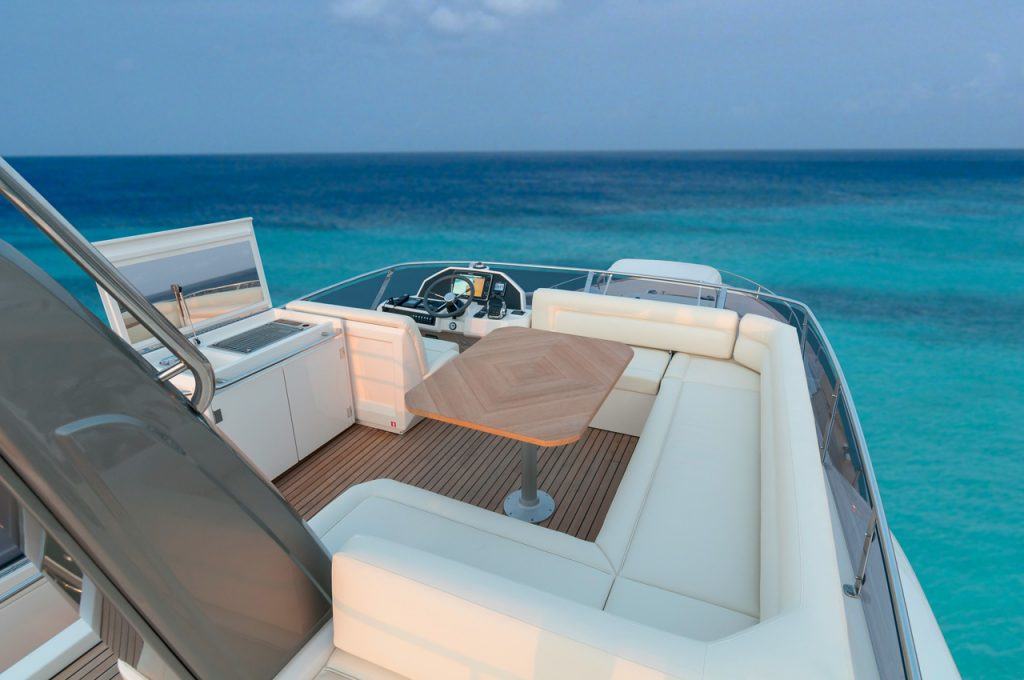 Our yacht's batteries were at 82% capacity and had not been recharged for two days, but we still had more than enough power to use the yacht's Seakeeper stabilizers. Greenline 48 proved to be a silent ride, indeed, never exceeding 70 db even under diesel engines. The electric engines gave us enough power for 6.5 knots of speed, while the diesel ones pushed us to 16 knots – approximately as fast as on a typical navetta.
Silent, cozy, comfortable and stable, Greenline 48 is indeed a great little yacht, ideal for family time at sea. Respectful of the environment, it is truly a great representative of its builder who hopefully will keep coming up with lovely hybrid yachts like the 48.