The vision and enthusiasm put in Greenline brand is paying its credits as Slovenian boat builders are re-conquering the market niche which they have practically established
Two years ago not many people would have believed that Vladimir Zinchenko with his company SVP Avio would successfully restart the Greenline brand and launch two new models, including the flagship Greenline 65 Oceanclass, honor all deals made in the past and preserve so many jobs in so little time. Today we are looking at a stable, forward looking company with tremendous growth that builds state of the art motor yachts, with green thinking in the brand's DNA.
Instead of Greenline 44, you decided to go much bigger with the 65 Oceanclass?
Well, sometimes things don't go exactly as you plan. When the 65 has becoming more and more a reality it was obvious that 44 would have to be delayed a little. Our plans may have been a bit too optimistic, but we will get there. The revised plan now is to launch the 44 in early 2019. There is also something very new and exciting in the pipeline. You could say revolutionary, but that is all I'm going to say for now.
Meanwhile, the Greenline 36 became a 39?
There are some significant changes to the 39. We made a new mould, quite a few changes to the interior and several smaller changes to the deck. When we started with boat building, I was a complete beginner, but we have all learned a lot since then. Regarding the name of the model, we felt it was more honest to call the boat by its actual length and Greenline 39 is 11,99 m LOA.
What about the 33?
We were expecting it to as it was the first of the Greenline range and with so many of them out there… But as it turns out sales are quite good still, especially in markets, where there are not hundreds of them floating around. The 33 represents the birth of the Greenline story and we will keep building it as long as there is demand.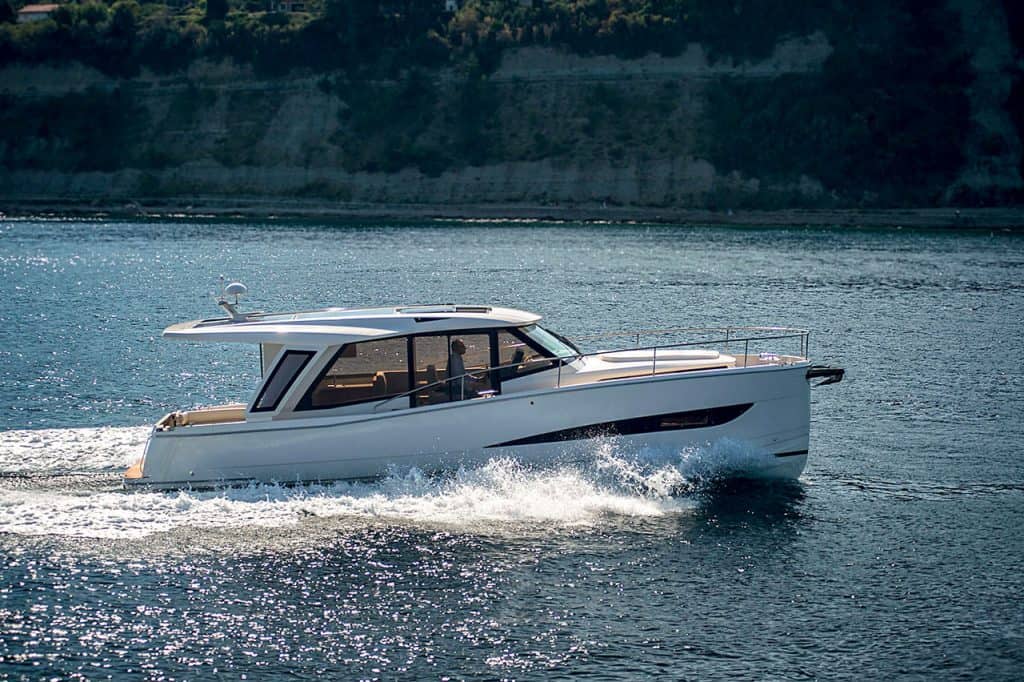 Will it be a challenge to continue this 33-feet cruiser story?
You will find out more about this in Cannes next year, where we will introduce a new 30-foot cruiser that will run at speeds up to 25 knots. This concept will be a continuation of the Greenline philosophy with both electric propulsion and internal combustion engines. Enough for now. I have probably said too much already.
After a successful launch of the 65 Oceanclass at the Cannes Yachting Festival, how many will be sailing the seven seas in the following years?
We would like to build and sell more, of course, but we are aware this is a niche product for a small segment of the market. Not many people want to cross oceans with their luxury motor yachts and that's what Greenline Oceanclass yachts are. Ocean going motor yachts with Class A certificate. But the customers we do have, appreciate the safety these yachts provide. Hull no2 is presented in Portorož during Internautica and we have some enquiries for the hybrid drive on this size yacht. Being a relatively small company gives us the ability to be customer-first oriented. This enables us to customize a lot in the design and build process and that is our advantage.
Can we expect any new models in the Oceanclass range?
It is quite simple really. There are a few projects we have on the drawing board and a few customers for bigger yachts but the 'problem' is their wishes regarding length are constantly changing. The last time we discussed a new project, we were at 110 feet. If we sign the deal, the next yacht we build might be 110-foot.
Where are now production facilities located? How many people do you employ?
Same as last year. In Zgoša, Bled and new production facilities in Škofja Loka. The difference is that we now own these facilities after the recent acquisition. We employ about 200 people and we have approximately 50 contractors. Total about 250 people.
Ever since the hybrid propulsion came to market we are noticing the problem with battery capacity and the range. On the other hand having other benefits onboard, comforts people are used to from their homes such as 230 V electricity and home appliances working all the time, is quite a differentiation for Greenline. How do you intend to differentiate in the future?
Well you mentioned most of unique points Greenline has to offer. We offer the majority of what you mentioned as standard equipment, so our customers get a very high value with their new Greenline. For instance, we don't even offer 12 V DC and gas stoves anymore, even though we can still do it, if the customer wishes it. We offer plenty of battery power to run all home appliances on 230V (or 110 V in USA). In Miami we even noticed the batteries were still charging from solar pannels when all appliances were running during the boat show. Sailing silently on electricity is the second benefit and it turns out that for most of our customers 20 nautical mile range is more then enough for their average day on the water. That is why the ratio between hybrid and non-hybrid is about 70-30%.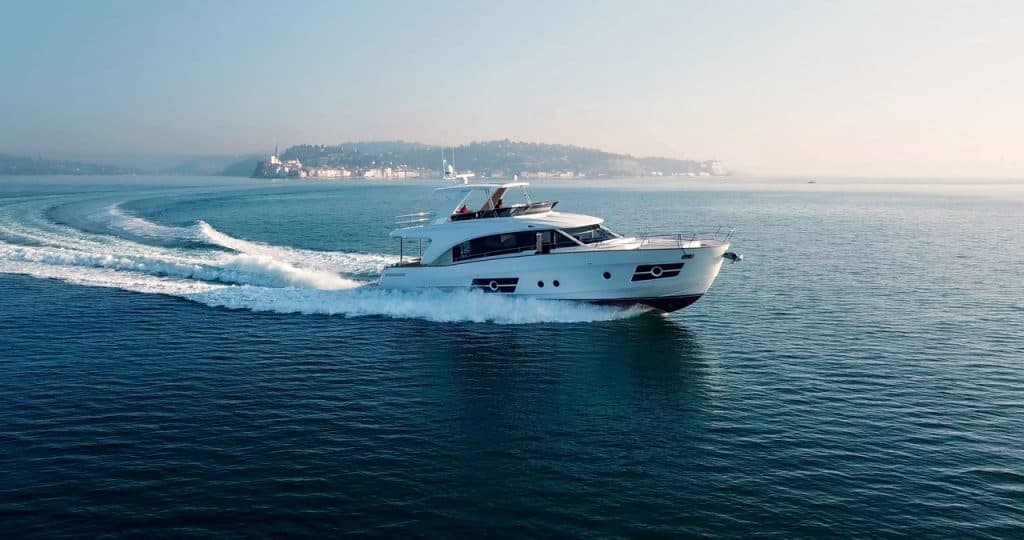 It goes without saying that strong, loyal dealers are one of the key requirements for a successful boat building company. How do you manage your dealer network?
A well structured business development plan is a very important part of growth for any company. We are now at a stage, where we have to start developing our business in a more structured way. We recently expanded our management team that is dedicated to growing our dealer network. We are also developing training programmes for dealers as well as modern tools to help dealers approach the customers and make their jobs easier. We believe in a strong dealer network. It is in our best interest for it to grow together with us. We believe it is the only way we and our dealers can build trust with their customers.
How do you solve after sales issues? Do you have a system in place?
We live in an era where customers can communicate with each other and with brands easier and in more ways than ever before and they expect to have customer care on a very high level. Having good customer care and efficient communication channels is extremely important to run a successful business. If I'm honest, we don't have many warranty claims but I can't claim Greenline are flawless boats. Our customer care department provides support to our customers and resolves any claims as fast as possible. For now it is run 'by hand', but we are looking into software solutions to automate some of these processes.
US is also important market for you?
The market there is huge and so is the demand. I believe we are doing pretty well in the US. In the past 12 months we've sold 17 boats to the US. In 2016 and 2017 we exhibited at seven boat shows in the US and four in Canada. We established our own company there which is taking care of sales and marketing activities as well as dealer network development across North America.
Could you tell us a bit about Skagen and Shipman brands?
The tools for Skagen were sold. Although there was a lot of money invested in trying to revive the Skagen brand, we failed. For us that project is closed. It is a bit different with Shipman. The brand is legendary and the yachts are exquisite. We will be discussing the revival of the Shipman again soon. We own the Shipman 59 project and can build it as soon as a customer comes knocking.
Photos Greenline