Croatia Yachting, known for their Hanse fleet and creative business ideas, has added another interesting brand to their fleet – innovative, Bali catamarans
Charter fans rejoice: Croatia Yachting has recently introduced Bali catamarans to the Croatian charter market. The brand, owned by French Catana yachts, makes innovative, fun and comfortable multi-hulls. They are ideal for charter and their models are already the stars of many a charter company around the world. Croatia Yachting has, until now, concentrated their business on Hanse sailboats, another creative brand that is brimming with interesting concepts. Both brands design their boats with the intent to please their owners in every way, indisputably making them excellent for the comfort-loving, charter sector. We talked Croatia Yachting's marketing director, Mr. Igor Karamelić, about their fleet: 'Hanse builds refreshing, innovative sailboats that hold respect within the industry; known for comfort and stability, adaptability and ease of use. The yard is very skilled in the customisation of their models, as well. Sailing on a Hanse boat is a remarkably laid-back experience, as they all are equipped with a self-tacking jib and all controls are gathered at the command post. You can manage any Hanse with a small crew, or, even if you are sailing alone.'
You have been a partner of Hanse for a while now…
Yes, we've been working with them since 2011, we originally chose Hanse Yachts for their unconventional approach to building and sailing. Year after year they have been introducing new, very practical solutions for typical sailing problems, so to say. You can tell that they really care about how their clients feel onboard, how easy and enjoyable it is for them to sail. Several of their design developments were later copied by others and have now established themselves as the norm, which also says a lot. On top of all that, Hanse sailboats are stylish and modern in appearance.
You are a licensed dealer, but also own a sizeable Hanse fleet available for charter. How do Hanse yachts fare in that segment?
Their stability, ease of use, level of comfort and speed make them extremely appealing in the charter segment. Charter clients sometimes are not experienced enough for more technical boats, so ease of use is a crucial factor in deciding which boat they will go for. Our fleet offers Hanse yachts in all sizes, from the smallest Hanse 315 to the very large Hanse 588. The largest yacht in the yard catalog is Hanse 675, available only for sale. Regardless of size, all the models are based on the same philosophy and share the same sailing solutions. Our Hanse fleet is the largest in the world and is an outstanding testament to their suitability for charter: several of the larger, Croatian charter agencies have already added Hanse yachts to their fleets.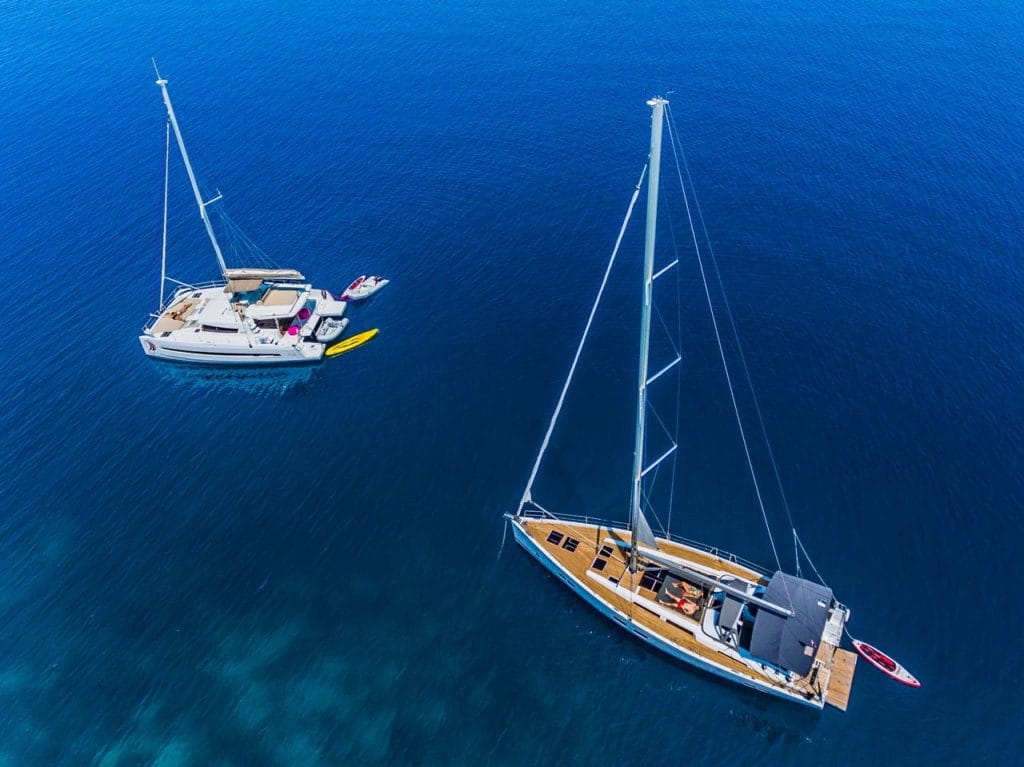 Are any of the models especially popular in the charter segment?
Yes, the Hanse 455. Introduced in 2015, it's a spacious, four-cabin yacht that has everything an insightful charter client needs and wants at sea. The latest trend is models with four or more cabins, which encouraged us to expand our fleet. In addition to the ever popular Hanse 455 and Hanse 505, now we also have Hanse 575 and Hanse 588.
Bali catamarans are something completely different…
French builder, Catana, has been around for more than thirty years and Bali is their latest brand. The series includes models Bali 4.0, Bali 4.3, Bali 4.3 MY, Bali 4.5 and Bali 5.4. All set to debut later this year in Cannes. What attracted us most was, again, innovation. Bali multi-hulls are probably the most original of their kind, so for us they were a logical choice.
How has the local market accepted them?
Bali catamarans have been a real hit in their first season in the Adriatic. What makes them appealing to our clients are the little details that set them apart from the conventional, multi-hull crowd. For example, they have swapped out the ubiquitous netting on the bow for a fixed deck with a large sun-pad and a huge, forward-set cockpit with removable tables. Furthermore, the front salon window can be lowered, opening the inner space and connecting it to the deck. Next to the command post, on the cabin roof, there are several sun-pads, a necessity for any charter boat. The salons of all Bali catamarans are especially comfortable, very spacious and are open on all sides for unhindered views and fresh air. Bali 4.0, Bali 4.3 and Bali 5.4 versions go one step further and have a salon-cockpit combination that is separated only by sliding, glass doors. This means they can be connected into one giant, semi-open space. Clients particularly love this concept, as they can consider the salon, while protected from the sun's rays, as a terrace by the sea. Most come to the Adriatic to enjoy nature, so it's understandable that they want to be surrounded by it at all times and this setup makes that possible. Another design element that makes Bali catamarans so popular is the American-style fridge (615 litres in volume) with its separate freezer, ice-maker and chilled water dispenser as standard. Lastly, Bali catamarans are lighter than most and guarantee the speed that we have all come to expect from any model built by Catana.
No tags for this post.