Martinis Marchi has matured into a must-visit for yachts sailing the Adriatic: come for the marina, stay in the hotel and discover the five-star restaurant
After a stellar yachting career, Ivan Kuret has made a name for himself; first as the mayor of Split and recently as advisor for the luxury heritage hotel and marina Martinis Marchi on island of Šolta. Now the manager of the marina he has helped develop, Mr. Kuret is guiding the Martinis Marchi complex through its most successful era.
Martinis Marchi is experiencing its most successful period yet. What's your secret?
The owner of the complex set out to create a place for the yachting crowd enjoying the finer things in life and able to afford them. From the beginning, the marina was part of the complex; it wasn't just something we added later. The hotel only has seven rooms, but it is the heart of the complex. The palace and its history are an excellent starting point for building something greater, so that's what we did. With the completion of the marina, the complex finally came alive. This is now a beautiful place for yacht owners and other travelers to rest, relax and have a unique experience. At Martinis Marchi, we treat guests as family; this isn't some huge fast-tourism complex where no one knows your name – our guests are free to roam around barefoot, as if in their own home; to fully relax and let us take care of their every need.
Yacht owners make up for most of your guests (and our readers). What makes Martinis Marchi the ideal place for them in particular?
Other than unbelievable food? The island itself, I'd say. When you moor your yacht in our marina, don't stay on it. Take a stroll around the island, get to know its many charms. We aren't directly involved with promoting tourist destinations of the island and its surroundings, but we're always ready to suggest a fun trip or a lovely place for sightseeing. We have many partners throughout the island who run different interesting businesses and welcome visitors, like bee keepers and organic oil makers. Šolta is a fantastic place to just unwind, sleep in, take long walks and enjoy the moment.
Martinis Marchi is famous for its events, like the recent Wine & Friends.
Wine tasting is something we first offered three years ago, in the pre-season when there aren't many things to do. We knew we had to make it interesting, to attract guests. and to use that opportunity to introduce ourselves, to establish our hotel as a platform for our friends and partners to present their products in a different setting. I think we did well on all those counts. Our first Wine & Friends introduced our guests to experts from all segments of the wine-making industry; wine makers, distributors, chefs… There aren't many opportunities like that, where you get to meet the people who produce and create your food and wine. The second Wine & Friends was oriented on food, with a special guest from the restaurant Laganini, their chef Hrvoje Zirojević. The event was a complete success, with over 70 guests. I believe they all enjoyed themselves and went home with beautiful memories.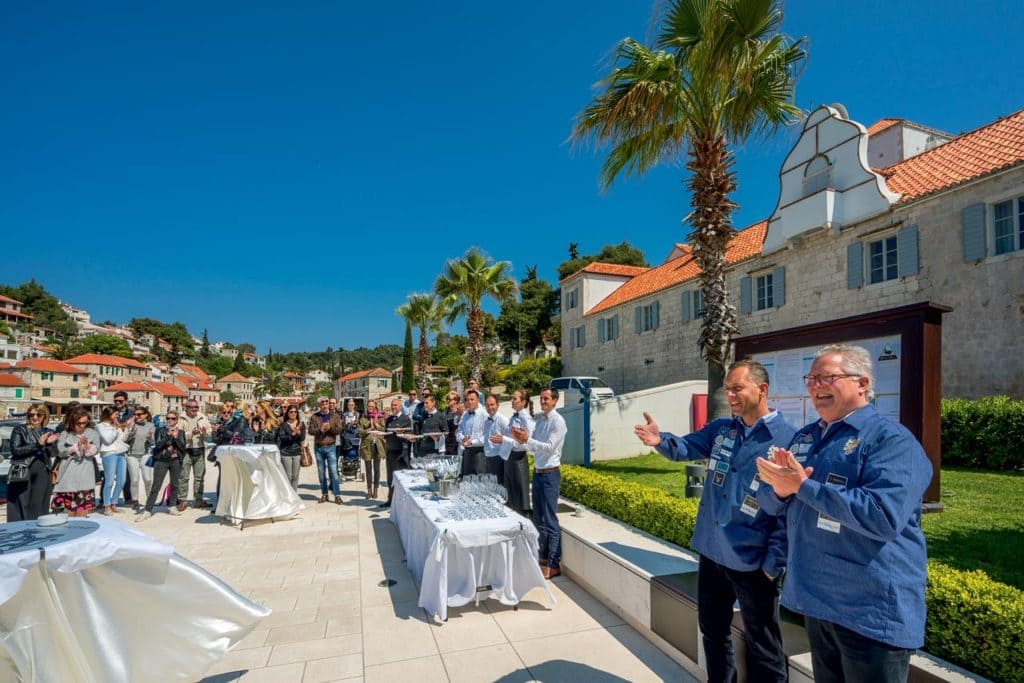 That's not the only party you throw…
Definitely not: our biggest event is our summer party for repeated guests of our hotel and restaurant. When you come to a certain place several years in a row, you enjoy that place for what it is, but still want something new every year. As great as the Adriatic is, sailing from cove to cove and dining in a different place every evening can get boring if you don't add a little something fresh; people dive or take a swim in secluded coves, while other want to party. So, we've decided to throw a party. It's been five years and still, on the first Saturday in August, Martinis Marchi is the place to be. Our summer party is always a theme party – last year the theme was Brazil, to honor the Rio summer Olympics.
Martinis Marchi is a member of the recently founded Stories association and you are considering joining Relais & Chateaux.
Stories is a new association of unique, exclusive Croatian hotels, registered with the Chamber of Commerce as Stories – Croatian Unique Hotels. It is a wonderful platform that allows us to compete on the international market, to establish our presence internationally as we wouldn't be able to on our own. Larger hotels and hotel chains have budgets for promotion that largely exceed our own, especially since Šolta is still an unknown to many. Elite clients are interested in Dubrovnik, Split or Hvar because they've heard of them, because they are heavily advertised. We believe membership in this association will give us the opportunity to compete with them, to promote the island and our hotel on trade shows and allow the market to recognize our uniqueness. We are also considering joining the Relais & Chateaux, which is an established platform for hotels like ours. We haven't made any decision yet, as there are many things to be considered, not in the least the financial burden of membership in such an elite association. The biggest advantage of the membership is the almost guaranteed interest of their clients, elite travelers who always stay exclusively in hotels who are members of the association. There are also criteria we are expected to meet before joining and the high cost of membership, especially in the first year. Until two years ago the Croatian Ministry of Tourism co-financed membership in the Relais & Chateaux, but that is no longer the case. Strategically, it would mean a lot to us to join this particular association, so we hope the Ministry will relaunch that initiative. Again, we've made no decision yet.
Martinis Marchi – marina, hotel, restaurant… and a wedding destination?
We may have limited space, but our infrastructure and logistics are impeccable. Our hotel may only have seven rooms, but with our salon, pool and garden area, it provides a large and wonderful space to have a wedding. We need help from other hotels on the island to accommodate larger number of guests, but we manage. We are looking to add space, and the owner of the hotel has already purchased the land around our complex, but the project is advancing slowly as one of the most important aspects of the experience is the nature and lush greenery. This needs to be preserved, and yet incorporated into the new part of the hotel. There is enough space around the hotel to add buildings without ruining the view or destroying the ambience; it just wouldn't be the same without it. Martinis Marchi is the largest employer on the island (we employ up to 50 people during high season), so the expansion is of interest to the local economy, as well.
Are there other plans for development?
We are guided by the idea of raising the hotel to the must-see level on this part of the Adriatic, but in order to attain that status, we must offer substance, not just style. In addition to everything I've mentioned, we organize regattas; we're already short on docking space, so we're working on developing a marina in Šešula. We have also obtained the license to 'reactivate' our park, which would create a continuous green promenade from Maslinica to Šešula, a perfect space to develop other projects of ours. Naturally, the space would be opened to other developers as well, local entrepreneurs looking to expand the offer of the island. All of these projects have one thing in common: they need the support of the local authorities, and local partners to help us develop them. We could all work toward turning Šolta into an elite tourist destination and giving young people a reason to stay and build their future on the island.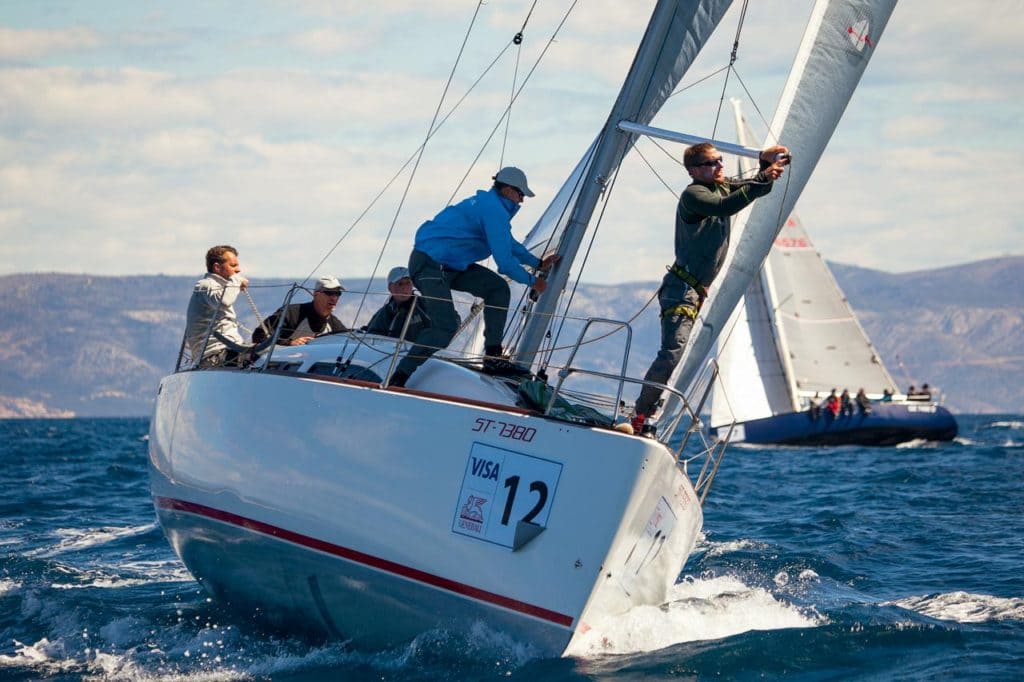 You are a former Olympian and an active athlete.
After ending my professional career, I remained closely tied to sailing. That's my world, I'm comfortable in it; I have many friends in the sailing world and I simply wanna keep being a part of it. Everyone loves being good at something, and I'm good at sailing. These days I compete in different events, less competitive and more on the friendly side; a combination of fun with friends and racing. I love sailing and don't want to quit it: I wanna keep in contact with the sea. As a former athlete, I can choose to sail with my family and friends, but with no competition. When you reach that phase, sailing is all about enjoying yourself; good company, enjoying the sea and the nature. It wasn't an easy step for me, as someone who has never seen sailing as anything but competitive; never before have I sailed slowly, just for fun. My goal before was to sail faster than the competition, I've never set out to sail just to spend some time at sea. That is why I still race sometimes, and when I do, I race to win; that's how I was brought up, that's what I was trained to do: get out there and win, or stay at home. There's nothing worse for a professional athlete than to just be a sparring partner of sorts, to enter a race you stand no chance of winning. So, beware; if you challenge me to a race, expect me to try my best. Of course, Olympic sailing is a whole other level of competition; I wouldn't dare to compare my skills with theirs. They are in a world of their own, while the rest of us have to make do with everything we've learned and our love for the sea and sailing. That's enough for me.