Luštica Bay is breath-taking in every way and offers a sublime approach of life encapsulated by the motto – 'A place to belong'
Designed to reflect the traditional fishing villages of Montenegro, Luštica Bay unites old-world charm with cutting-edge facilities; timeless Riviera living with contemporary luxury. A dynamic waterfront town along an undiscovered and unforgettable stretch of coastline that invites you to create your vision of what life should be.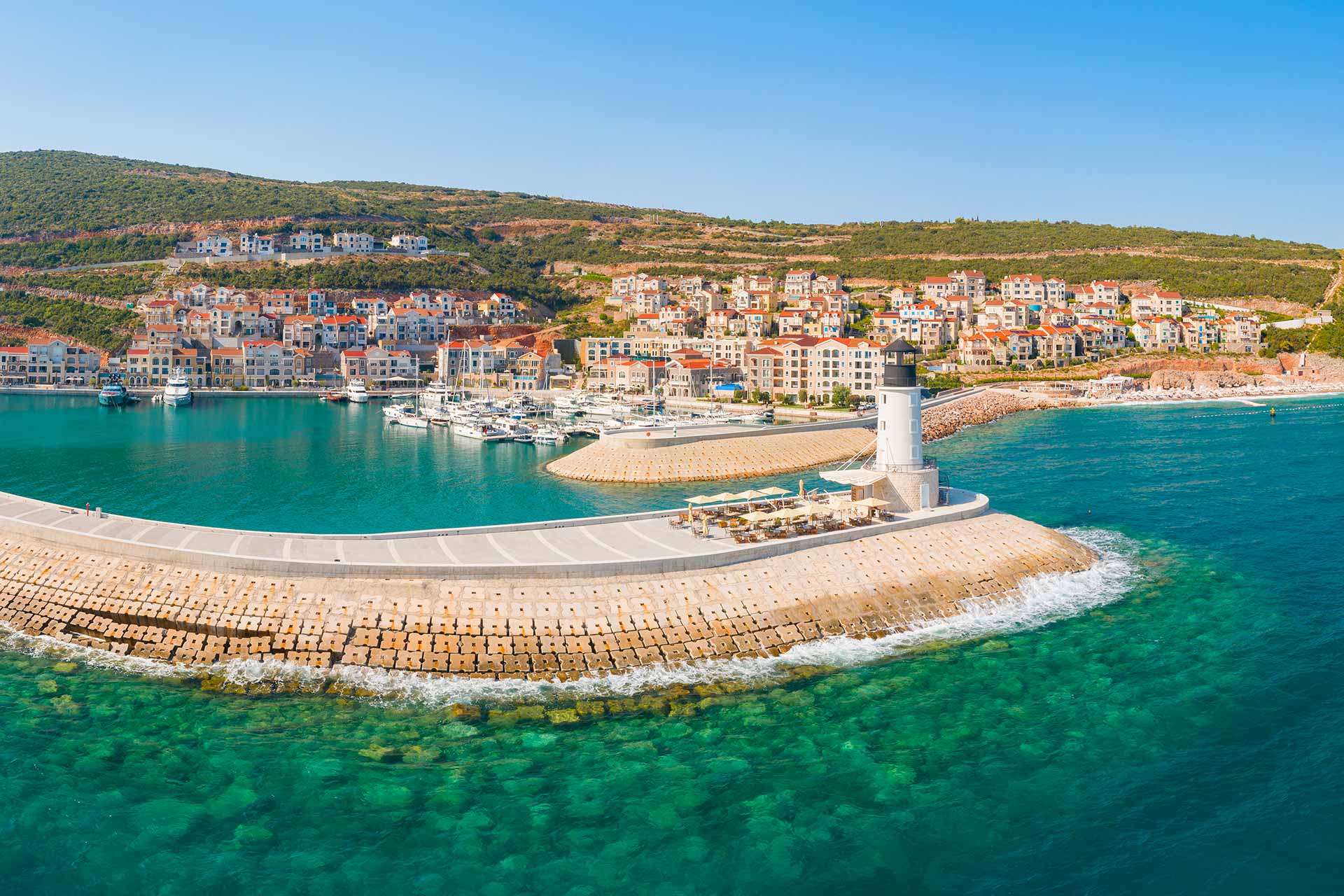 With seven km of coastline that includes private beach, a championship golf course, two world-class marinas, five-star hotels, outdoor amphitheatre, gourmet dining, superb shopping and entertainment, Luštica Bay will be home to everything you would expect from a world-class European resort town.
Exquisite spacious residences are served by resort-style facilities that include the five-star Chedi Hotel, five pristine beaches, a unique gastronomic and shopping experience, and year-round events and activities. Inspired by Montenegrin heritage and the beauty of Boka Bay, Luštica Bay offers the perfect Mediterranean town for business and leisure. Whether a weekend escape, a holiday or as the perfect place to work remotely, come and experience effortless seaside living. Luštica Bay way of life is imbued with authenticity, where cutting-edge facilities blend with the age-old culture of Montenegro.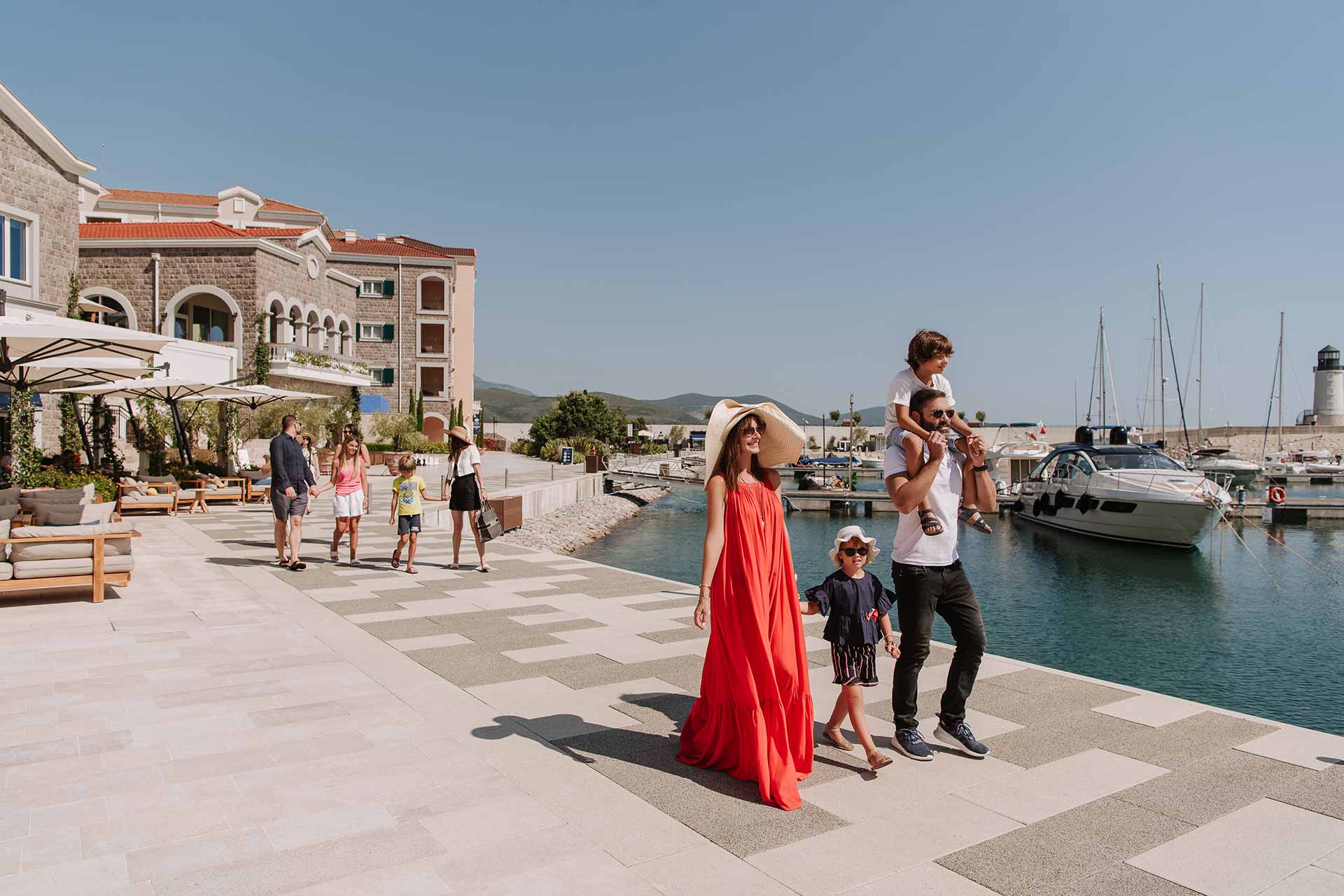 Marina Village
Set on the waterfront, with life gravitating around its state-of-the-art marina and charming promenade, the Marina Village neighbourhood is a flourishing destination. The Village echoes the small fishing villages that dot the Montenegrin coastline, following tradition and placing the marina at its heart. The buildings are immersed in the landscape, feeling as if they have always been here.
The Luštica Bay Marina currently offers a total of 115 berths accommodating yachts of up to 45 metres
The residential collection at Marina Village, ranging from studios to three-bedroom homes, consists of elegant contemporary apartments with spacious interiors. This beautiful lifestyle is combined with exclusive swimming pools, lush green gardens, and the convenience of a short stroll to the beach and lively Marina Village promenade.
The Chedi Luštica Bay
Located along the Marina Village promenade, The Chedi Luštica Bay sits among lush vegetation, overlooking the cerulean waters of the ocean beyond. Using local, natural materials and old-world construction techniques, the buildings and their facades reflect Mediterranean tradition. Interiors fuse the rustic with the contemporary, creating spaces that are light, open and harmonious with the surrounding landscape and sea.
Luštica Bay is a magical destination that beckons you to discover, explore and connect with the natural beauty of Montenegro
The result is a hotel of understated refinement and a deep connection to the culture of the region. This 5-star hotel in Boka Bay, offers 111 rooms, 60 available-for-purchase condominiums,  restaurants, a bar, conference and business centre, plus an outdoor pool and spa, fitness centre featuring an indoor heated pool and gym.
Luštica Bay Marina
Luštica Bay Marina is every boat owner's dream base providing superb facilities for sailors and yacht owners. The recreational marina features two breakwaters, providing safe harbour and storm protection and is the pinnacle of flawless design and first-class facilities.
Marina currently offers a total of 115 berths accommodating yachts of up to 45 metres, from short to long-term options, with 176 slips to be made available once the project is completed. In addition to round-the-clock manned security and 24-hour CCTV, LB multilingual team will attend to every need.
Photos Luštica Bay