It is always a pleasure to meet a true visionary people. Maud Truchi made something valuable close to our home, positively influencing our environment, and creating one of the jewels of Croatian tourism. This could be a nice start…
Island-hopping around resorts in the Philippines as a child ultimately shaped Maud's Truchi lifelong dream of, one day, having an island resort of her own. Her experience acquired through the years is summarized through her advisory company in luxury products which eventually led Maud to Maslina on Hvar island, where she has helped develop an environment based on fairness, respect and luxury. Furthermore, that brought her to Croatia, where she keeps developing next step for Maslina and the life with her family.
What are the most beautiful destinations for you?
Destinations around nature. The country that struck me the most when I was young was the Philippines, as I also lived there. There are so many islands in the Philippines, and when I visited Croatia for the first time and saw the islands, I had that same feeling. Of course, the beaches and surroundings are much different, but this impression of traveling by sea and discovering creeks struck me.
I have always lived in large cities, and while they're unrelated to nature, I do love Paris. The other countries that blew my mind when I was a child were Burma and the temples of Pagan, as well as Tibet. At the time both of those countries hadn't seen any tourists and the people were so kind, curious, and heartwarming. I think the most beautiful destinations are made by the beauty of the location but also by the warmth and authenticity of the people that live there.
Today, my highlight destination is Gardiner in Montana at the border of Yellowstone National Park. There I feel like at home.
After business school and Masters Degree where did you build your career?
After business school in Bordeaux, which eventually led to a Masters Degree in Wealth Management from ESCP in Paris, I was working for L'Oréal in Miami and Socgen in Tokyo. My career continued at UBS, a multinational investment bank and the largest Swiss banking institution in the world.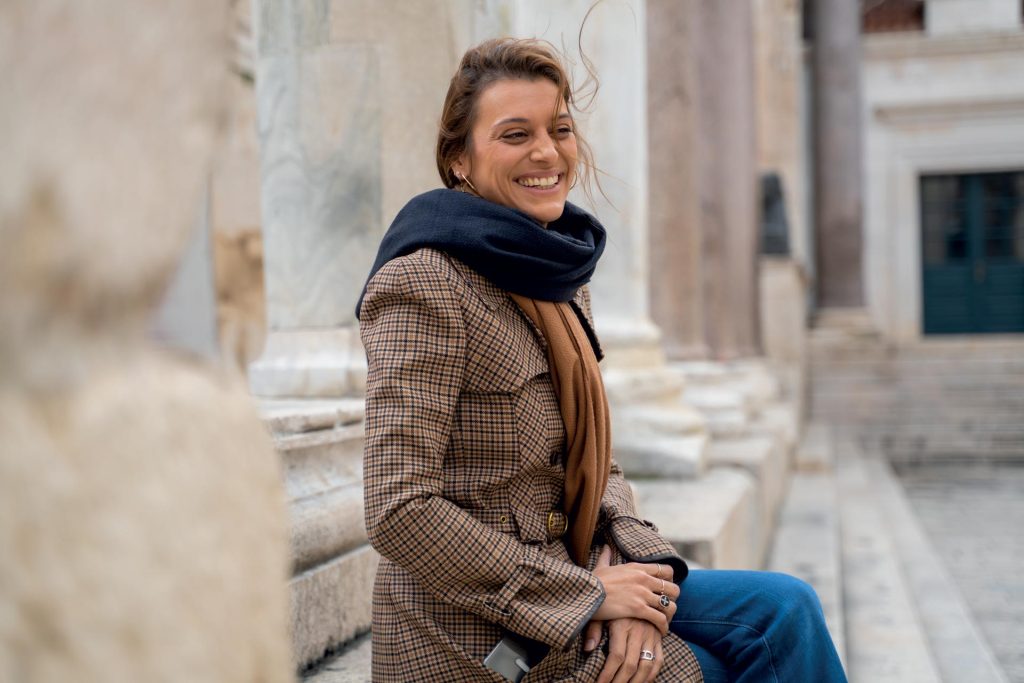 Was there the turning point(s) in your career?
After six years working in Wealth Management, my life took a turn for the worse when a horse accident put me in the hospital for six months. It took me almost three years to walk properly again. A blessing in disguise, I realized it was time to move my focus away from the very demanding world of big corporations, gruelling work routine and from the hustle and bustle of banking, to a more meaningful experience into the world of wine.
I joined Ficofi, founded by a family friend, which connects the finest world wine producers to UHNWI (Ultra High Net Worth Individuals) through the Membership of the Ficofi Club. I travelled the world for three years meeting the most renowned wine growers and wine lovers before founding a company of my own.
Can you tell us a bit more about your experience with UHNWIs?
The type of the people I met were entrepreneurs, self-made man and woman as well as heirs of family-owned businesses, people with a strong heritage. It was very interesting to meet these very different clients. In the world of banking, we often see the rule – first generation builds, second sustains and third spends. I saw that several times but I also saw some very nice heritage that kept on and on, during generations and generations. It was beautiful to see they were keeping the legacy their ancestors had started to built and often even adding value to it.
When meeting entrepreneurs I always felt like a general doctor. They would come to me for an advice and I had to understand their general financial needs in order to advise them as best as I could and if necessary find the best specialists for their investment – like wine, diamonds, real estate, investment banking (M&A, IPO,..), or any type of special information they needed to get. I was the one understanding their universe. It was interesting because I worked with different type of industries. I did a lot of researches to be able to give them the right advice.

Your specialty are wines?
I am from Bordeaux. I was born and raised with wines. It came naturally for me when I left the bank to join the wine industry. First I had the chance to meet the most prestigious french Chateaux owners, to understand better the vinification process, the way they harvest and of course learn how to taste their wines. After that I mixed both my past experience as a banker and new experiences that I got from wine business and travelled the world – Brazil, Mexico, Dubai, Asia… I was seeing some of the clients from the past and new ones and was working with them on their collection of wines.
The principle of Ficofi is that it is a high-end luxury collection that you build for them. It is a very high-end club. To get in, the entrance was about 300.000 euros worth investment in wines. It is not for anyone obviously. I worked with different types of clients. Some were pure lovers of wine and others loved wine but wanted to diversify it, for their own private consumption but also as an investment. One of the biggest collections I had was about 7 million euros. It is a very nice legacy to keep.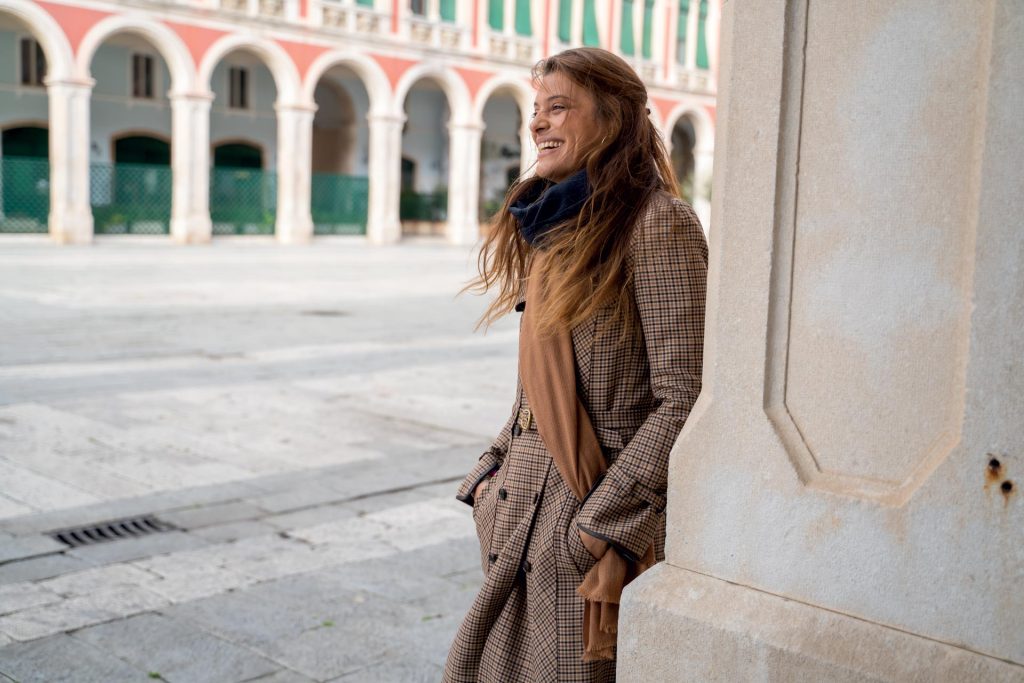 What do you think about Croatian wines?
There are nice wine makers and very old tradition of wine making. I tasted some exceptional Croatian wines. I was surprised by the quality. Also the way it is harvested, by hand, sometimes on very complicated grounds. I am quite admirative of that work. My advice for any winemaker is simple – the quality is the most important. If you have it, you will find your way upwards, investment in quality is more important than investment in quantity.
You founded an advisory company in luxury products?
My experience acquired through the years is summarized through an advisory company in luxury products such as wine, real estate, art and diamonds, within an optimized tailor-made financial vehicle. All of this eventually led me to Maslina resort, where I helped develop an environment based on fairness, respect and luxury, with a team that is skilled, creative, and international.
What is a definition of luxury to you?
Luxury means doing what you want to do, whenever you want to do it. Luxury can be very different for everyone – it can mean a diamond chandelier for one person, space for someone else, and privacy for another. Everyone has a different vision of what personal luxury is all about. What I wanted is that when you come to Maslina resort, you have your own feeling of personal luxury, which is for me the definition of Mindful Luxury.
With that, we needed to bring space, a view, landscape, comfort, privacy, design, and fantastic mindful service where you have to think in advance about what people want. Mindful Luxury is when you can do whatever you want, whenever you want it, without feeling pressured or distracted by something that bothers you.
What do you do in this sense, what is your luxury?
It changed over the years. Now for me the luxury are the moments I can spend quality time with my family and my horses. I am a horse lover. I have horses a bit everywhere – in Croatia, France, Italy and USA. We are working on building a ranch inland, near Split and bring all the horses here. That will be my luxury.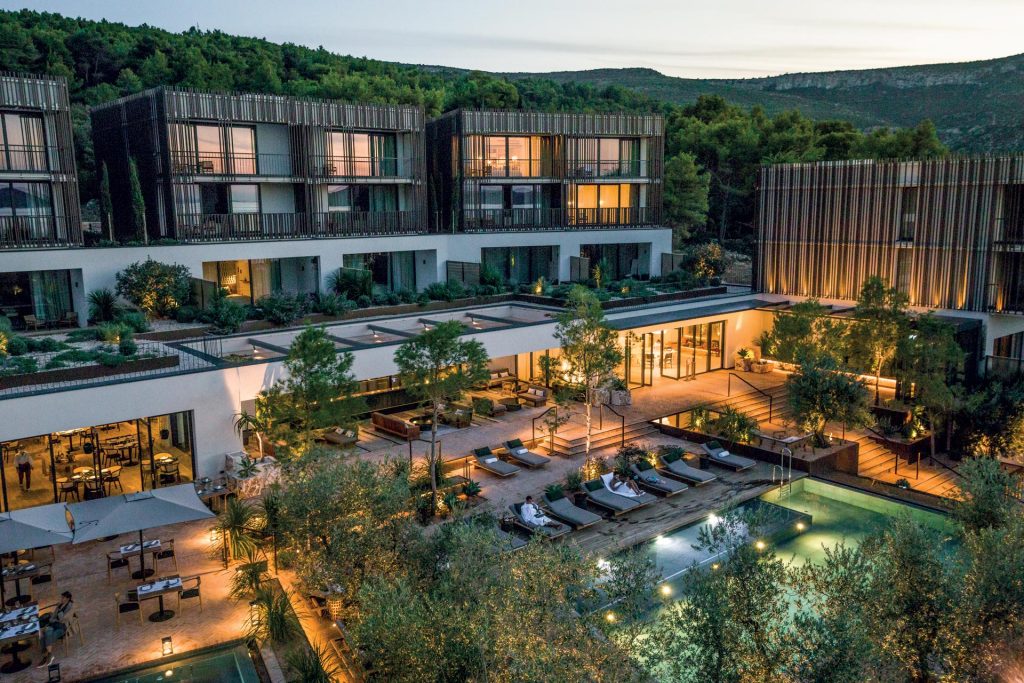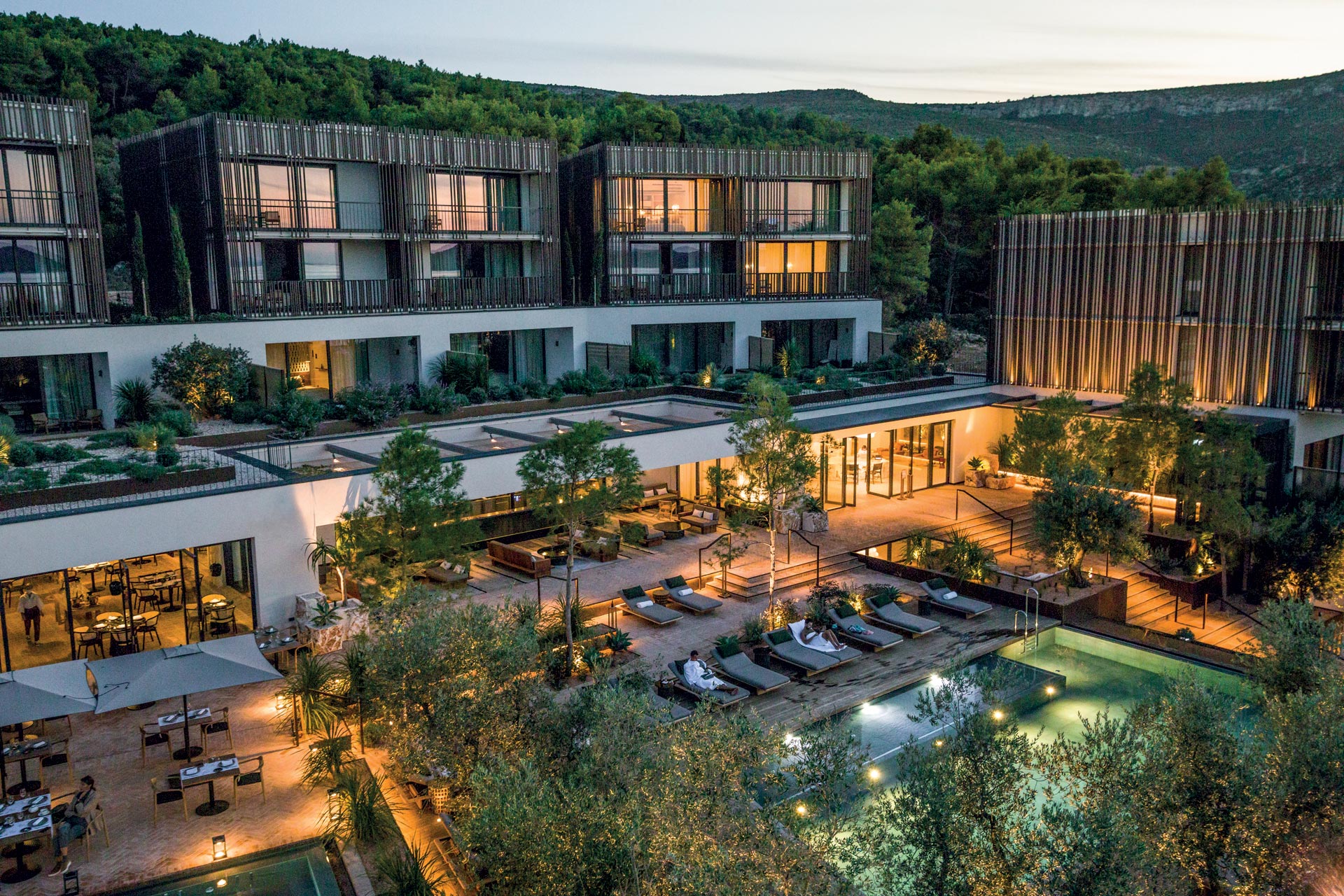 You live in Croatia now?
My family and I have changed our lives because we picked up and moved to Croatia, which is a step more than just Maslina – it is a huge commitment. However, we have been blown away by Croatian people. Once you get to know them, and if you give them a chance, take the time, and are humble, then they are amazing. I have been swept off my feet by Croatians, and that made the move so much easier.
I have found in Croatians what we have lost in France. They'll take you to their stone houses in the middle of nowhere to cook you a meal that took them seven hours. And they'll give you rakija. And they're just happy because you're there. This is why I love Croatia. It's not just because of the beauty. It's the people, and it's a lost hospitality today in the world. I am quite amazed by location and people here who are heart warming. I feel like home here. Also I realized that in order for Maslina to see the light of the day, I needed to be here. And I also wanted to be here and follow the project. I was on the Hvar island all the time. Really being there and meeting the people.
What are the most important features of Maslina Resort?
One of them is authenticity. I remember that being one of the most important things for me when developing Maslina. I would consider it one of the most prominent features because we present a product that is even more breathtaking when the guest arrives. The beauty hits you in the gut, even more so than when you see the property in photos. And fortunately, authenticity is something we have truly been able to achieve. Authenticity is about being true. Say what you mean and mean what you say! I also believe that the luxury of the space is a crucial feature.
Of course, the location and the view are a given, but we have created even more space within this environment. Finally, our genuine service and personalised hospitality, built by people that have natural empathy. Everyone we chose to be a part of the Maslina team is part of the family and understands what we are trying to achieve. They all share this natural empathy – and they need to have it to give this homey feeling to the guests when they arrive. You can always be likable and sympathetic to people, but if you don't have this inherent empathy, you fail to be authentic and genuine.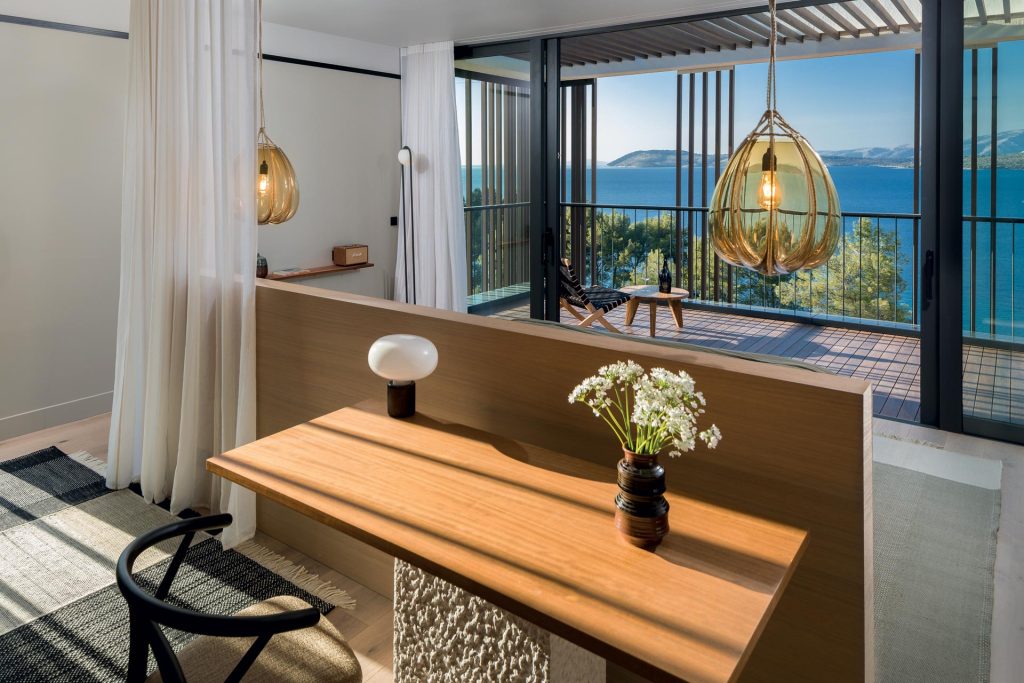 Can you tell us a bit about the idea behind Maslina?
Obviously I did my due diligence before investing in Croatia and Maslina. First, when I started thinking about the hotel, I looked around all Europe and realized that there were very few family friendly high-end hotels. Second, I studied the Croatian market and the area and saw what a 5 star hotel was in Croatia, I thought there was a place for another one, which would be a little bit different from what we found in Croatia.
Are you happy with your plan so far?
It does make me happy when I see the faces of the guests arriving. People coming in, walking around and getting astonished by the beauty of the location and the resort. That is where I get my satisfaction.
What would you suggest to future investors in Croatia?
If you do not lose faith, you will make it. It is a challenging country because of bureaucracy and local people are a bit afraid of change. If you want to invest in Croatia, you have to be here, and not just invest here and be somewhere else. It is easier if you are involved and part of the community.
What comes next for Maslina resort?
We are looking to expand the Maslina with accommodations, services, enhance and develop our experiences, with even more surprises to come in Maslinica Bay. Stay tuned!
YACHT SUGGESTION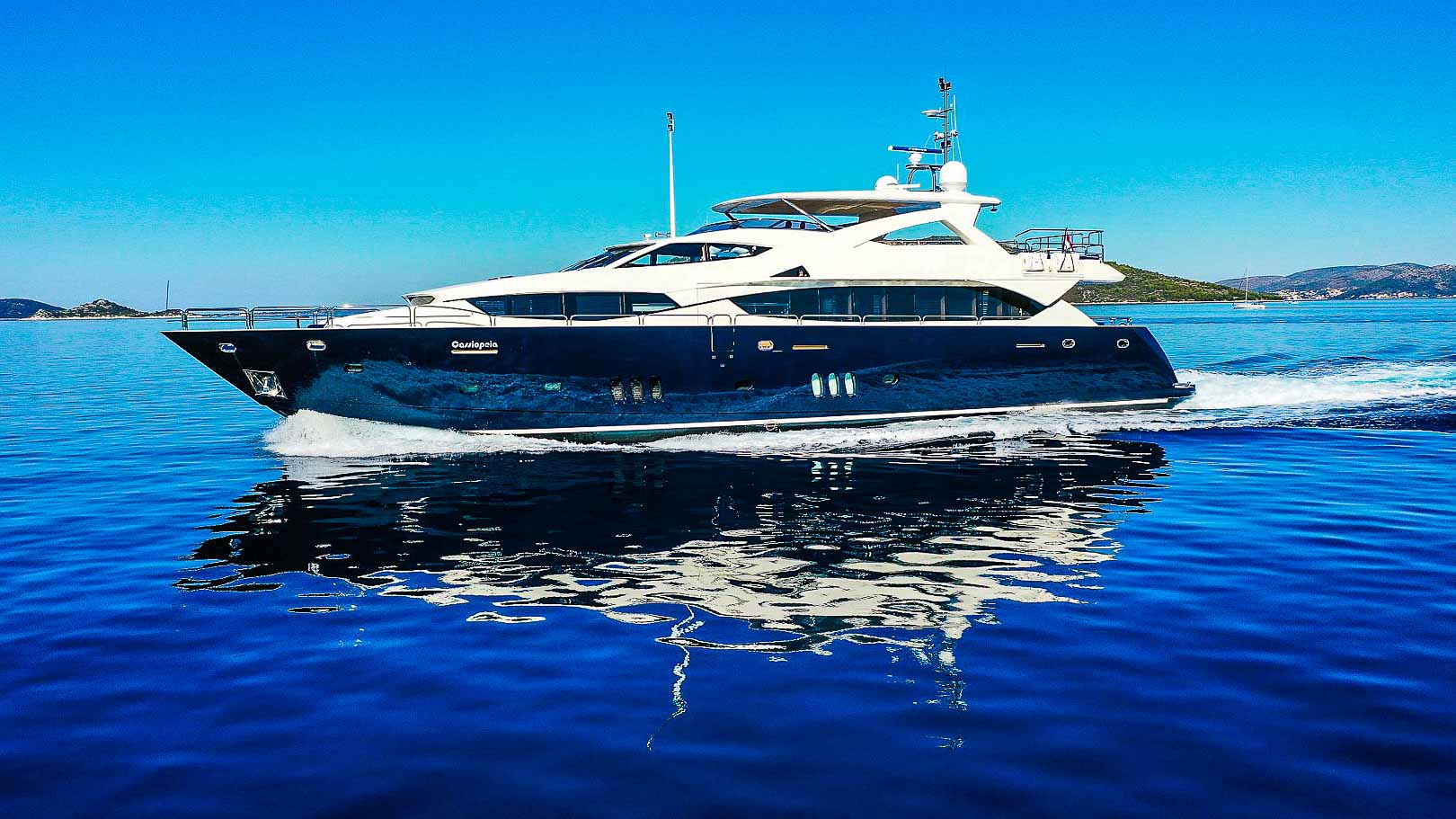 Designed and built by Sunseeker, Cassiopeia was delivered in 2009 and lightly refitted before summer 2020.
Photos Mario Jelavić, Natalia Estrada & Maslina Resort