The soul of this wine story is the indigenous Babić, or more precisely twenty thousand vines on almost five acres largely owned by the Prgin family
Surrounded by Mediterranean vegetation, olive trees and the smell of sea in the air, the village of Bilina in the hills inland of Primošten looks like it belongs in Provence. However, this is the heart of Dalmatia and the 'homeland' of Babić, one of the most exciting local varieties whose potential for producing top-quality wines has been steadily developing over the past years. Together with a few local producers, the Prgin Winery is one of the youngest, but it has high aspirations.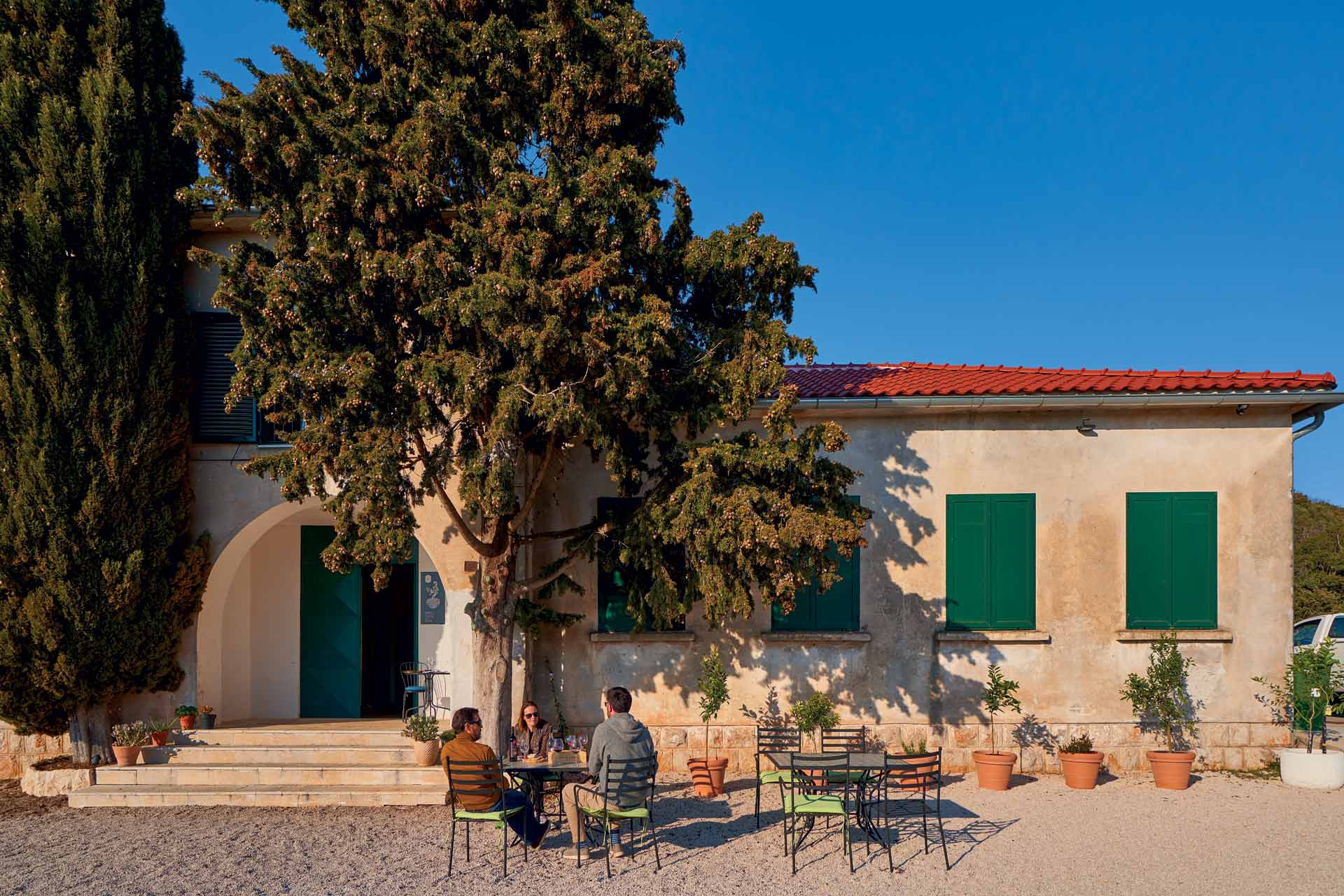 Prgin Boutique Winery
The old school building is a small, but cosy space accommodating barrels and a tasting room, while the driving force behind the new Dalmatian wine story is Ivana Prgin Horvat. After living abroad for years, the Primošten family roots started calling to her and so she moved first to Šibenik, then to Primošten and finally to Bilina. She found peace there together with her children and husband Domagoj, who is also her partner in wine making.
Still, unlike olives, wine is much more interactive and wine production requires a constant search for upgrades, which Ivana is intrigued by. When her father, NCP owner Goran Prgin, started making wine to pass the time, Ivana, 'drunk' on the wine lifestyle herself, took over the 'hobby' and the business story to the next level. The soul of this wine story is the indigenous Babić, or more precisely twenty thousand vines on almost five acres largely owned by the Prgin family, planted in world-renowned vineyards in Bucavac.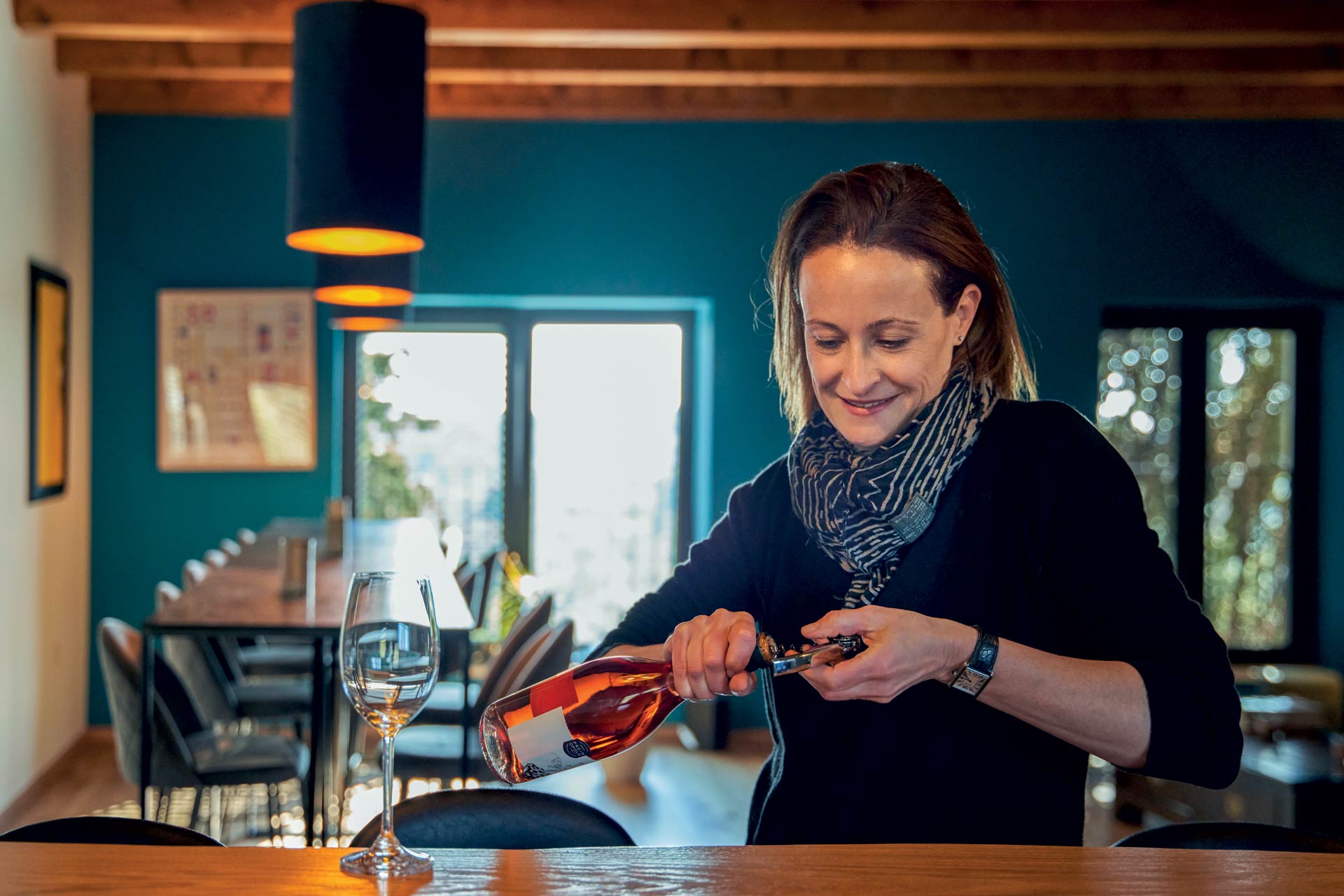 Her husband Domagoj, who is a history professor, had the honour of becoming the distinctive vineyard's vinedresser. Networks of dry-stone walls form small squares (called 'vlačice' in Croatian) that are as difficult to prune now as they were when they were built, but they produce unique grapes used for making the pride of the Prgin Babić and Opolo wineries. The grapes are processed and then placed in large, 500-litre wooden barrels (Croatian and American oak), so that the wood does not affect the original taste too much. The Prgin Winery currently produces approx. 13,000 litres of all three varieties, 5,000 litres out of which is Premium Babić, while the total capacity is some 20 thousand bottles a year.
Prgin Wines scents and flavours
Despite being a relatively new player in the market (2016 was their first harvest), lovers of this indigenous variety have already recognised the superior quality of the Primošten Babić from Bucavac among the many Babićs. This is why, when launching the winery, Chardonnay, Graševina and Malvasia were out of the question because this region has its 'white horse' – indigenous Debit. Ivana has recognised and felt Debit's potential in producing sparkling wine and prosecco, which is in great demand, because Debit is a light and drinkable variety, so contemporary vinification can do wonders for the previously underestimated variety.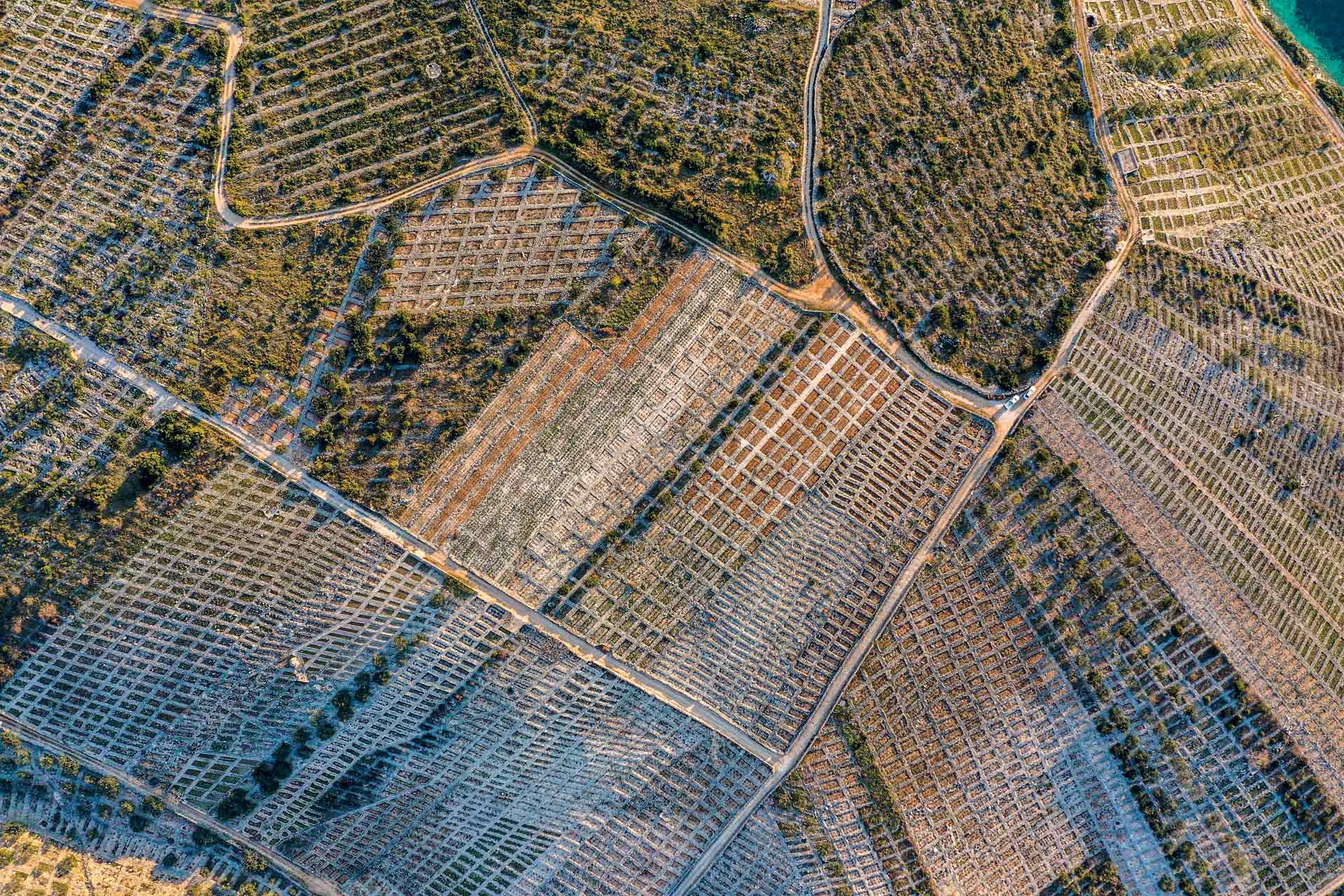 Rosé wines have recently become a phenomenal success in the global market, often serving as a gateway to wines because they are fresh and appealing in colour. Even though some people insist on the Provence shade (pale pink) of Dalmatian Rosés, Prgin Wines offer a slightly different shade of Opol, with a robust scent and flavour. Opol is a light wine, but it pairs well with appetisers, prosciutto, cheese, clams, even with the famous Dalmatian pašticada. After all, if Rosé is Provence's ambassador, why wouldn't Opol serve to promote this wine-growing region?
The 2018 Babić that we tasted (in addition to the promising young Babić) was deeply coloured and firm, packing a punch with a fruity flavour profile. Just right. Even though works on the winery are still ongoing, the never-ending 'work in progress' is part of its charm. The teacher's apartment in the attic was creatively restored and turned into a boutique tasting room by Ivana. The old exposed beams have given the room an atypical, even intimate and completely relaxed feel for tasting the Prgin Debit, Opol and Babić.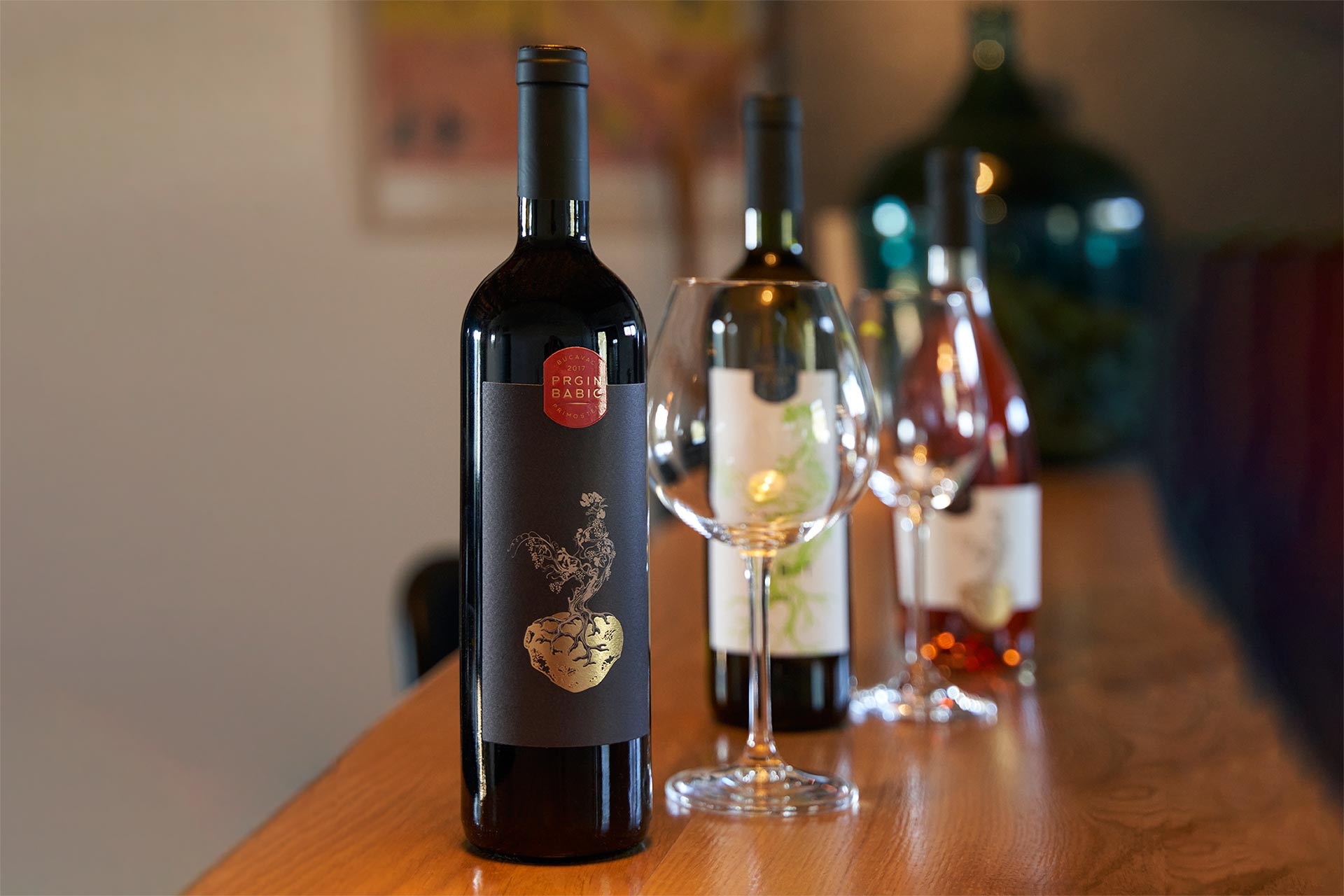 Ivana's vision included a tasting room for two dozen people and an outdoor terrace for wine lovers in need of the exceptional quietness you can experience in this somewhat forgotten location. Even though there are no signposts, in summer, when coastal towns get too crowded, many visitors discover this place on social networks, so filling 30 seats during the season is no problem at all. The winery is ideal for young visitors looking to delve into Dalmatia's wine stories, and especially for yachtspersons at anchor in the marina nearby, offering platefuls of local prosciutto and cheese (cow, goat and sheep), paired with Debit, Opol and Babić tasting.
Friends sometimes tease Ivana that the only reason why she set up a winery was to have a place to sing. Laughing, she admits that there is some truth to it because she takes as much pleasure in music as she does in wine making. In summer, a small stage is set up on the plateau in front of the winery and the owner likes to take the stage as it gives her a much-needed break during a busy season. It seems that she is equally good at both as both require dedication and passion and indulging in something is the essence of 'bon vivre'.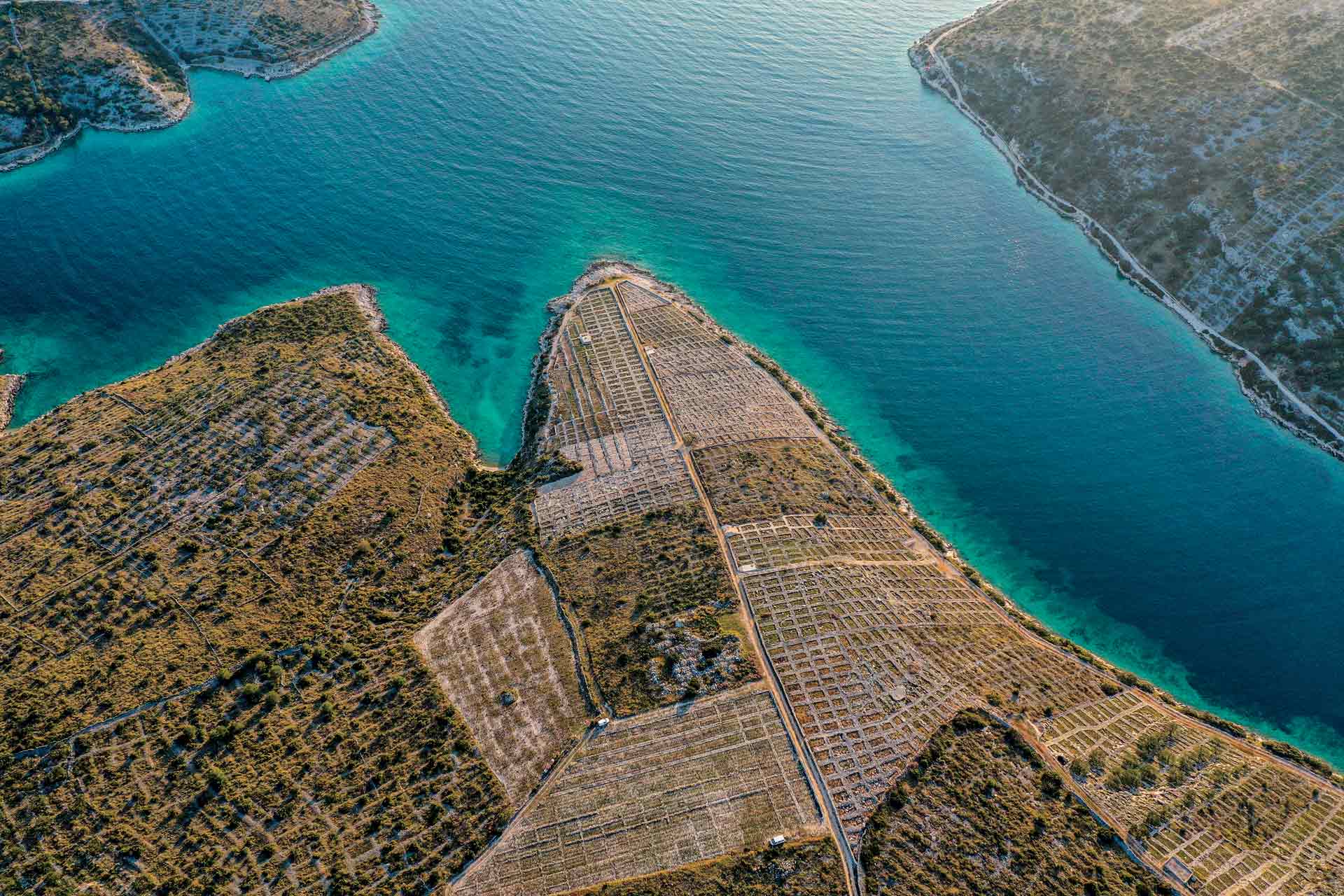 Babić and the rooster
The Prgin Winery label alone will make it perfectly clear that his is a mighty variety that you either love or is too powerful for you. Designer Mirna Ptiček masterfully combined two local traditions on the label, the Bucavac 'golden stone' and vine in the shape of a rooster, representing the Prgin family (descending from the Pivac family line, which is the Dalmatian word for 'rooster'). An entirely atypical, but also clearly recognisable image serves as indication of what's in the bottle.
Text Filip Bubalo
Photos Mario Jelavić & Filip Bubalo