For this type of sailing, you do not need special knowledge on oenology, simply follow your primeval thirst and passion for revealing the Croatian wineries
Yachts pages usually offer navigation along the Adriatic gastro-oases reaching the haven-like-spots, that provide not only food and drinks extravagance, but also possess the 'Zen' spirit feeding the yachts enthusiasts' thirsty soul. For this summer, we wish to take you on a sea-oeno-quest, meaning berths at a stone's throw from the Croatian wineries offering unique toast-to-life-sights. Thanks to its many indigenous varieties, Croatia is turning into a Mecca for wine lovers. Our 'perfect escape' lets you get to know the Adriatic coast through the stories of renowned winemakers.
Meneghetti winery, Bale
Extravagant Meneghetti estate situated 20 kilometres from the colorful coastal town of Rovinj, owes its fame to renowned wines and olive oils, winning award after award worldwide for several years now. The new complex has a number of facilities – a wine cellar with a private VIP tasting room, a space for archive wines from Meneghetti and other great winemakers, tasting room and a wine production building. The entrance to the winery can be found opposite the estate entrance.
With 10 wine varieties and nearly 100,000 bottles, Meneghetti wines adorn all top wine lists at Croatian restaurants, while the winery's flagship wine, the Meneghetti Red, is a synonym of high quality and has a reputation of being one of the best red wines in Croatia. The Meneghetti estate vineyards Val Gambalera are located in Bale, while the Malvasia comes from the best part of Istria for the variety – the area of Motovun.
Featured Yachts
BIBICh winery, Skradin
The BIBICh winery is a family-owned boutique winery from Skradin that has been producing wine for generations with focus on indigenous varieties. The first written track of family roots appeared in the 15th century, in Nečven-grad in Promina, where their vineyards and land can be found even today. After many years of work, development, and cooperation with many world-class winemakers, enologists, and wine enthusiasts, the first BIBICh wines hit the market in 1998.
Even the very first ones received recognition for their quality at multiple evaluations throughout the region. Today, BIBICh wines can be found on the wine lists of some of the world's finest restaurants, in New York, Tokyo, Stockholm… And they are recognized among wine lovers as different, unique, original, and intriguing. Also, BIBICh winery rebuilt two villas that were home of the estate keeper in the past. The whole property is self-sustainable with its own solar energy and spring of water located 75 meters under the vineyard.
Roxanich winery, Motovun
The Roxanich winery represents a proud heritage of more than two decades of winemaking, in one of the world's most picturesque viticultural landscapes. In the heartland of Istria, Mladen Rožanić continues not only to produce strictly limited quantities of wines with heritages stretching back hundreds of years, but also to evolve with new varieties only just breaking into the global wine scene, producing authentic wines in harmony with nature.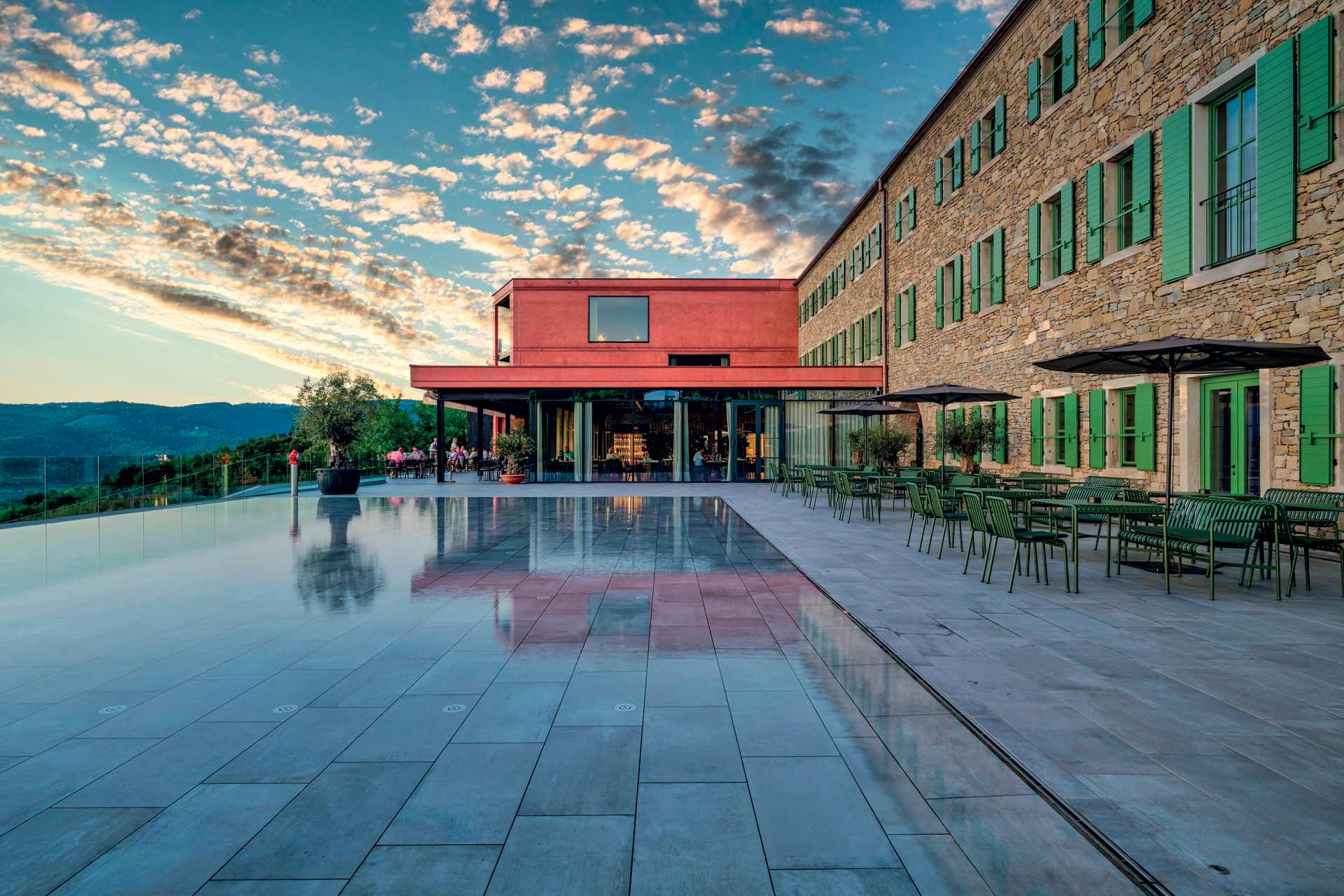 Roxanich wines are fermented with indigenous yeast and matured with their own tannins, derived exclusively from pits, skins and eventually stems of each grape. This guarantees a natural body, nose and mouth-feel we maintain are inimitable and irreplaceable.
Kozlović winery, Buje
As a family winery, Kozlović winery wants to preserve the heritage and tradition of Istria and their ancestors. Their winery is built at the very same spot – Valle valley – where the first generation planted their first hectare and built a small family house. The winery is built in a sustainable way using gravity racks and plants on both the roof and the walls aiming to respect inclusion of the building into the landscape.
Since they believe that the quality and character of wine comes from the liaison between the vineyard and the winemaker, their most valuable treasures are their vineyards. They grow three Istrian indigenous varieties – Malvazia Istriana (white), Teran (red) and Muscat Momiano (white), among which Malvasia is the primary variety. Harvesting is selective and done manually in several phases with regards to the physiological ripeness of the grapes. Santa Lucia Malvazia and Santa Lucia Noir are their premium labels made exclusively from the best harvests.
Korta Katarina, Orebić
Since its inception and the first harvest in 2006, Korta Katarina has been focused on Plavac Mali, a crossing of two older varieties from two key locations in Pelješac. The winery also produces Pošip from selected grapes purchased from the vineyards in Čara on the island of Korčula. Each Korta Katarina wine has a defined time of fermentation, cold maceration, and maturation in wood.
The winery has eight labels and currently produces around 70,000 bottles a year. If you want to enter a world of vine dressing, creating and pondering on wine and convey the emotion found in each bottle of premium Korta Katarina wine, let your hosts take you on a tour of the winery and enjoy this special wine story.
Boškinac, Pag
Wanting to continue the century-old tradition and show the world what the island of Pag has to offer, the Boškinac Hotel, Winery and Michelin star restaurant allows its guests and visitors to have a quiet vacation while enjoying first-class local ingredients and wine. The owners take special pride in the winery that was built in 2000, when a new vineyard was planted nearby on five hectare of land and a cellar was built that now stores premium wines and superb 'rakija' spirits.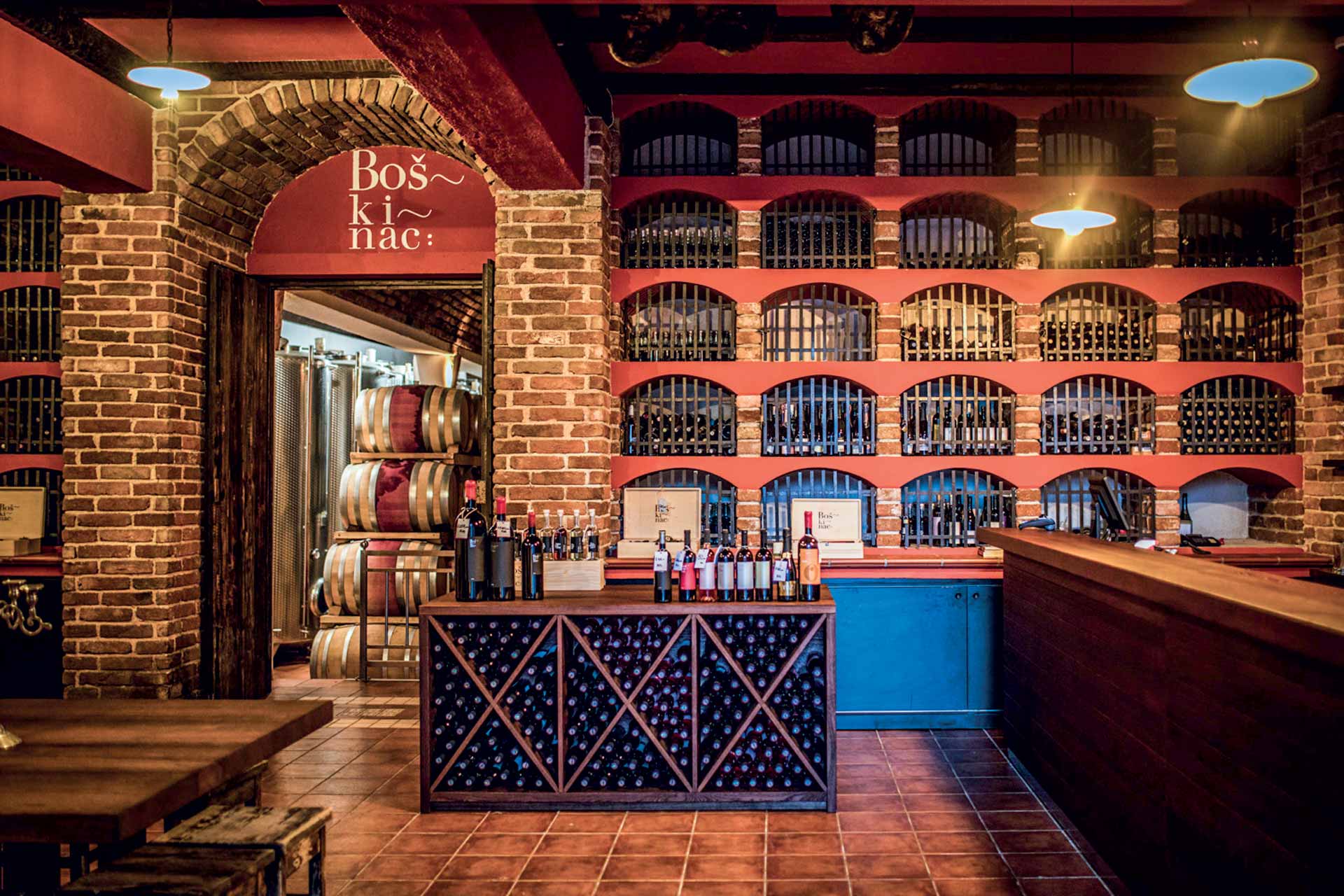 Its wine reputation is built on a coupage of Cabernet Sauvignon and Merlot called Boškinac Cuvée, but also wines made from the indigenous Gegić grape variety, as well as its coupage with Sauvignon and Chardonnay. If you choose to sit on one of the many terraces in front of the hotel, surrounded by Mediterranean vegetation, you will find yourself entranced by the mesmerizing scents of pine trees and Mediterranean herbs.
Saints Hills winery, Oskorušno
The fairytale region of Oskorušno, a small village at Pelješac Peninsula in Croatia, whose ambience reminds of most beautiful regions in France, is the home of Saints Hills winery. The winery with wine store, tasting room, restaurant and the magnificent manor built in 1880 – overlooking vineyards, is as modern as they get, oriented on local varieties such as plavac mali, grown in the regions of Komarna and Dingač.
The barrique room is where it all begins; with berries separated from stems and sorted, placed into barrels for fermentation, pressed, fermented again. The winery uses bigger and smaller oak barrels, as well as concrete tanks, which are used for grapes from the Komarna location. The Komarna Roko variety matures nine to twelve months in small barrels, depending on the year, and dingač matures for 24 months. Two times a year the wine is blended, and one harvest yields eighty to ninety samples. All wines can be tasted on their own, or as part of the winery's gastronomic offer.
Grgić winery, Trstenik
The famous 1976 Chardonnay that launched Miljenko Grgić to the top of the world winery is no longer to be found there, however, wines signed by this Chardonnay and Zinfandel champion, are definitely the reason to drop an anchor in front of this impressive structure by the sea. Simply tie your boat close by the waterfront and take a walk towards the winery.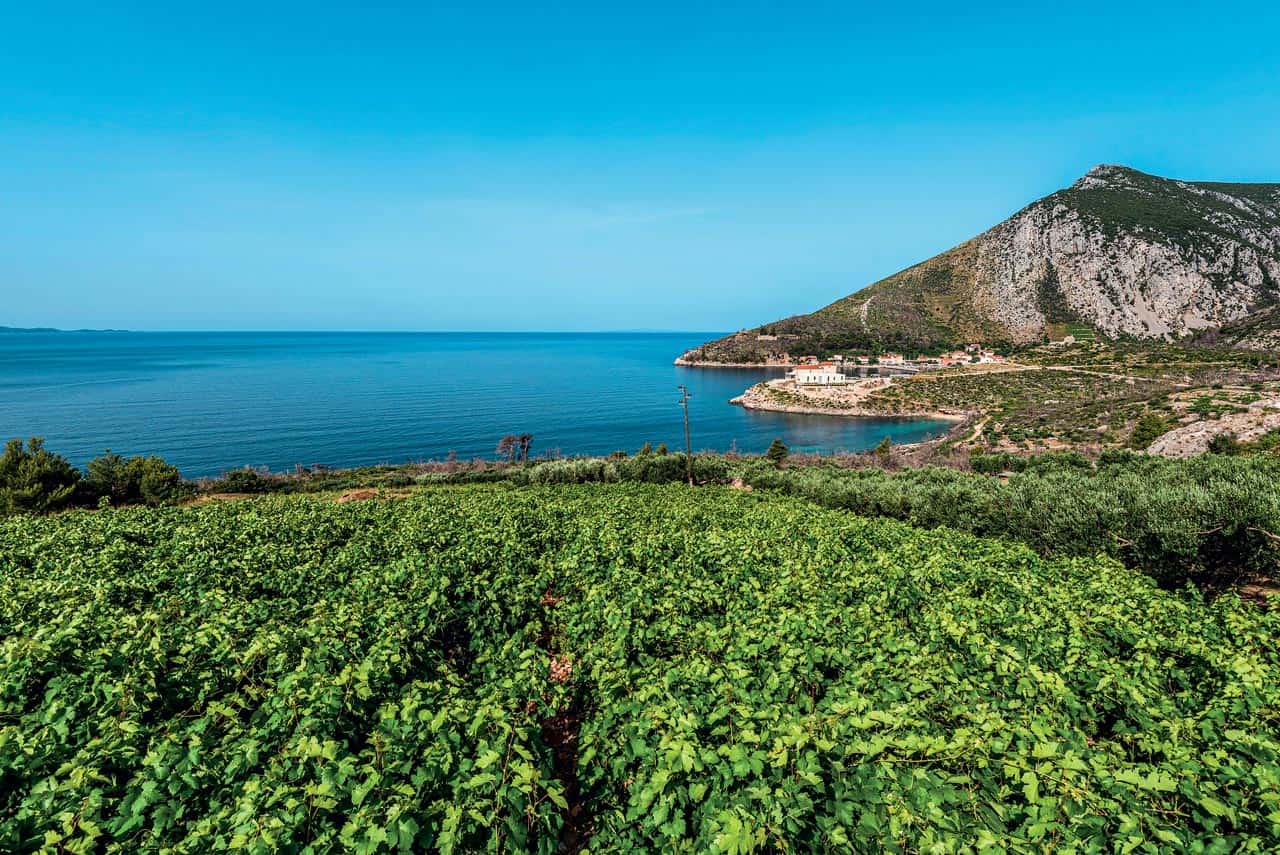 Nobody will resent you for choosing Chardonnay Grgich Hills Estate (2013) over Plavac on a dry and muggy afternoon. The floral scent and the sort taste will round up the Mediterranean ambience experience. Do not miss out Pošip by Grgić, even though this wine presents the autochthonous Korčula wine sort, Mr. Grgić is the one who has started the transformation of this truly special white wine into a cult wine of worship. If you are sailing south, head for Trstenik and one of the world's famous winemakers.
Bire winery, Lumbarda
The Grk wine sort counts as an indigeneous wine sort that has been cultivated for two centuries on the Lumbarda area in vineyards almost touching the sea, and thus giving birth to the most aromatic grapes and dry gold-green wine of the distinctive taste. Since the Grk sort grows on sandy soil on the micro-location of Lumbarda, the best way to reach it would be by anchoring on the east side of the beach in Lumbarda, a serene and safe zone.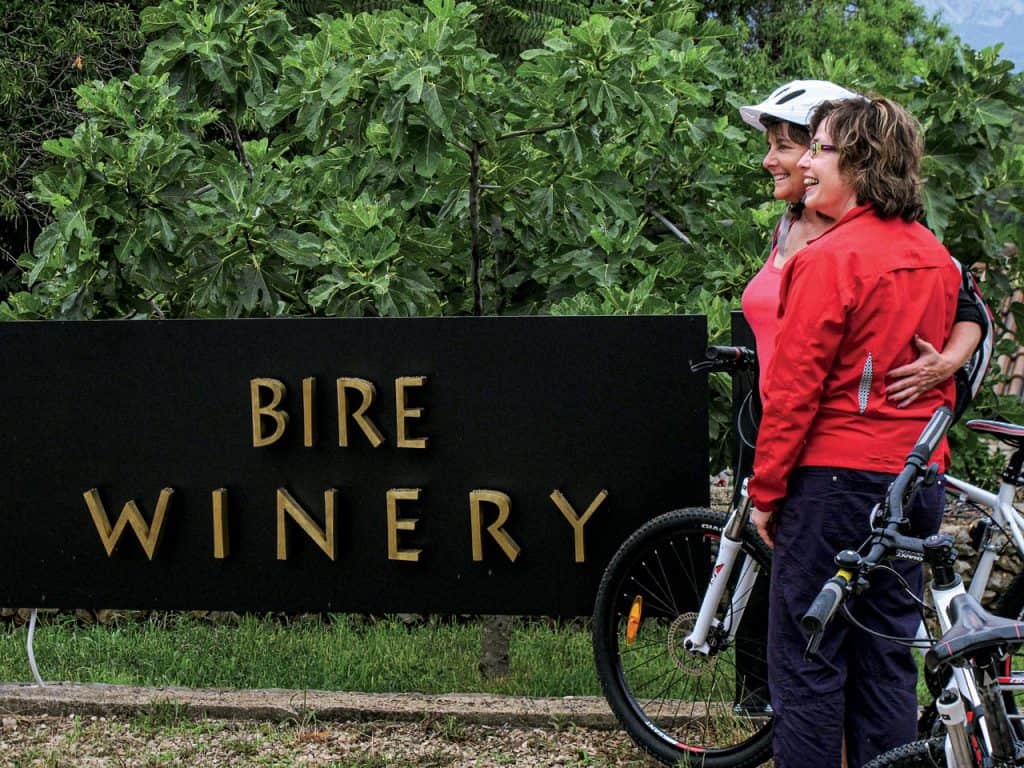 These beautiful beaches feature a family character. One of the pioneers and promoters of these sorts is Frane Milina-Bire. His 2017 Grk Bire won a silver medal on Decanter 2019. Nevertheless, we still treasure the memory of his Defora Grk, cultivated on eco-reconstructed stone terraces with lots of love.
Tonči Marijan winery, Pitve
The old lavender factory in Pitve on island of Hvar and the local wine are equally beloved in this village, with the local grape variety plavac mali perhaps taking the crown. Tonči Marijan stepped onto the winemaking throne back in 2019., when his Vron Bod won the gold Decanter award in the category over 50 pounds.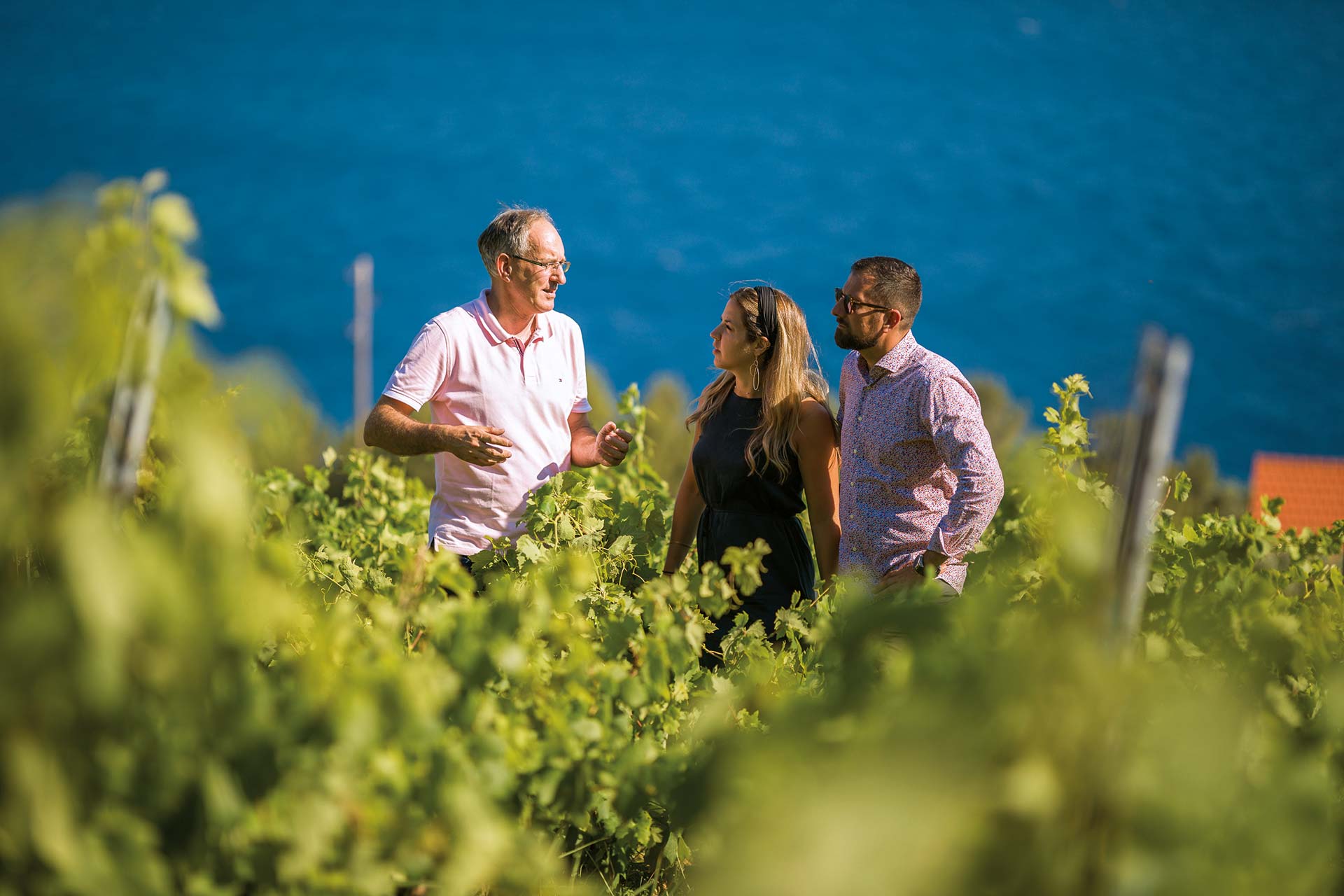 Among his currently produced 16 labels are bogdanuša, pošip, grk, but Tonči's favorite variety is plavac mali, polished into perfection that is Vron Bod, but also into a prosecco (once the berries are dried).
This black gold in a glass laughs into the face of everything anyone thinks they know about wine. The unstoppable Tonči Marijan also makes olive oil, is planning on dabbling in sourdough, and already offers traditional wine tasting and slow-food. On his menu, Hvar gregada and lobster pasta are stars. You can help Tonči prepare them, while listening to his telling of his business endeavors and his unique wine story.
Tomić winery, Jelsa
The Tomić family from the island of Hvar are known for their excellent wines and sophisticated identity they have developed and nurtured for years, as well as for their respect of art, literature, tradition and history of the Hvar and the Mediterranean.
Andro Tomić, the author of one of the wittiest sayings dedicated to wine – 'drink by the hour, not by the liter', opened his own winery in 1993, inspired by the flavors of Hvar.
When you visit his winery, you'll be taken on a wine tour of the island without leaving the triclinium, a tasting room modeled on emperor Diocletian's cellars. The unique triclinium is a place where you can get to know the charming island and its wines, and gt to understand the owner's wine-making philosophy.
In this beautiful family-run enterprise, wines are produced from various grape varieties, with the accent on domestic authentic Dalmatian varieties Plavac mali (red) and Pošip and Bogdanuša (white). The latest additions to the menu are Tomić Selection extra virgin organic olive oil, and Tomić Rajska kvasina vinegar.
Photos Bibich, Roxanich, Grgić, Kozlović, Korta Katarina, Hvarwine, Tomić, Saint Hills, Meneghetti & Boškinac