A luminary in the cultural sphere
One of the most, critically acclaimed artists of our time looks upon the world in a unique way and, sees spots in most things
Yayoi Kusama, 87 years of age, dons a blazing red hairstyle, a bright smile, a pink dress with dots and yellow socks with spots. Often, she is described as the greatest, living, Japanese artist. Ever since her childhood, she has been battling a mental disease, though in quite a pragmatic way. The artist chose art to help her cope with her visions. Yayoi embraced her surrounding world, full of spots and thus, set her mind free. Her endless rooms (completely full of mirrors) have become very popular, probably because they give people a glance into the world as she perceives it. Art has always been an intimate expression of an artist's soul, people appreciate when they are able to get so close and experience an artists' world. Kusuma has always been clear in this perspective, her motivation is genuine, pure and involving. 'I have been creating art every day for the last 70 years and I have always paid special attention to creating something people shall enjoy and shall be touched by,' said Kusuma. Her creations have become special, visual and tactile experiences that a wide audience has recognised. The Japanese artist became the first woman to represent Japan at the Venice Biennale in 1993 and was named one of the most influential people by Time magazine in 2016. She continues to be a fixture at major auctions. The record sale-price for her work, set two years ago at Christie's New York for White No. 28 (1960), is $7.3 million. Born in 1929, the artist spent her youth near her family's plant nursery in Matsumoto, Japan. At nineteen, after having worked at a parachute factory during World War II, she left home for Kyoto, where she studied the traditional Japanese style of painting known as Nihonga. While there, she also began experimenting with abstraction, but it was not until she arrived in the United States, in 1957, that her career took off.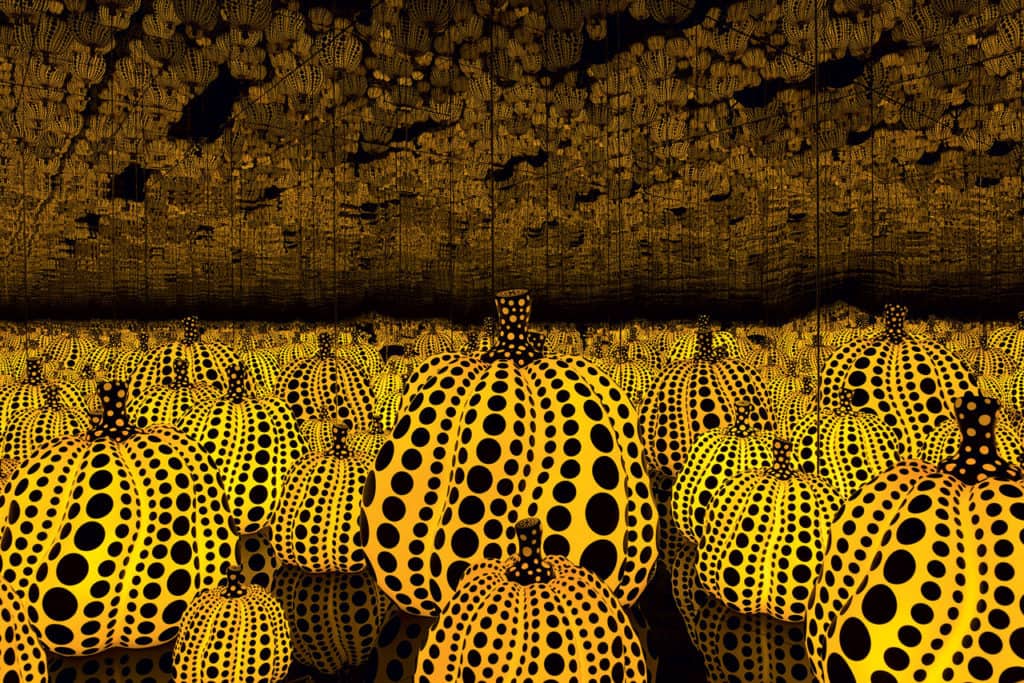 Living in New York from 1958 to 1973, Kusama ran in avant-garde circles during the formative years of pop art and minimalism, while honing her signature polka dot and net motifs, developing soft sculpture, creating installation-based works and staging Happenings – performance-based works – around the city. She exhibited her work alongside such artists as Andy Warhol, Claes Oldenburg and Allan Kaprow – figures who have cited Kusama as influential to the development of assemblage, environmental art and performative practices. Kusama exhibited widely in Italy, Germany and the Netherlands in the mid-'60s, where she began developing her interest in optics and interactive elements of mirrors, electric lights, sound and kinetics. She first used mirrors as a multi-reflective device in Infinity Mirror Room – Phalli's Field (1965), transposing the intense repetition that marked her earlier works as an immersive experience. Her fame grew in the late 1960s, through her radical anti-war happenings, which espoused nudity and polka dots in the streets of New York. The artist moved back to Japan in 1973, but has continued to develop her mirrored installations and over the years, she has attained cult status, not only as an artist, but as a novelist. 'Yayoi Kusama: Infinity Mirrors' is the first institutional, survey exhibition in North America in nearly two decades, it explores the evolution of the celebrated Japanese artist's immersive infinity rooms. Following the debut at the Hirshhorn Museum and Sculpture Garden in February, which is the organizing institution, the exhibition travels to four major museums in the United States and Canada.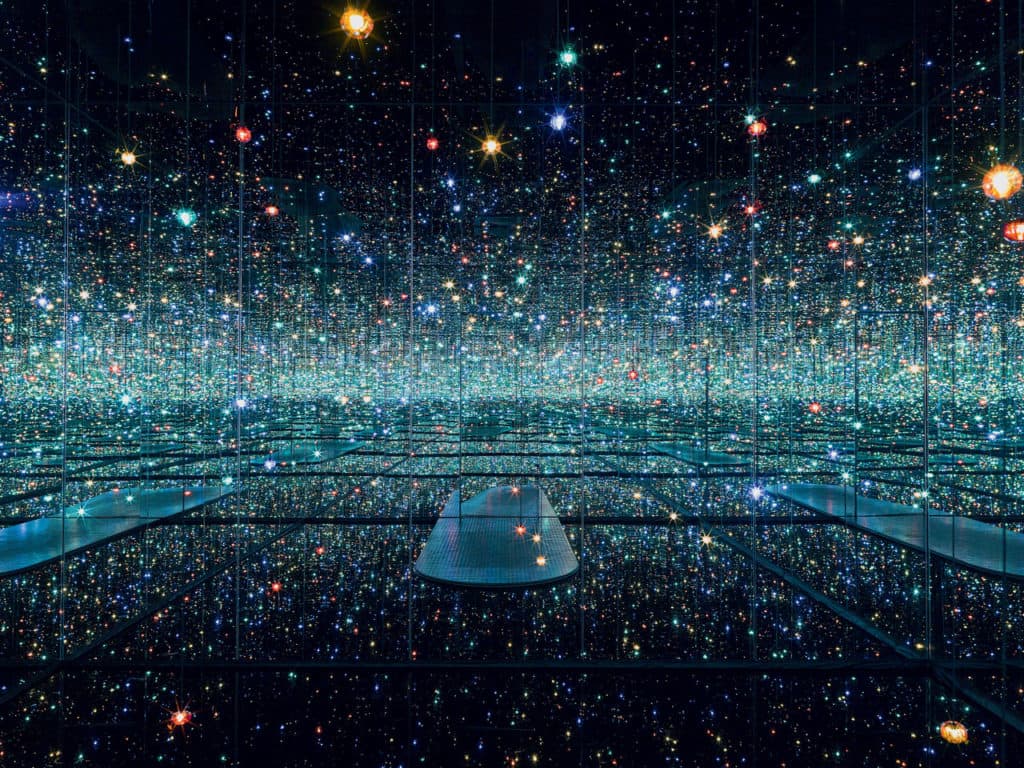 The exhibitions provides visitors with the unique opportunity to experience six of Kusama's most iconic kaleidoscopic environments at once, alongside large-scale, whimsical installations and key paintings and sculptures and works on paper from the early 1950s to the present. Organised in a rough thematic order, Infinity Mirrors begins with the artist's milestone installation 'Infinity Mirror Room—Phalli's Field', a dense and dizzying field of hundreds of red-spotted phallic tubers, in a room lined with mirrors. The exhibition also includes 'Infinity Mirror Room–Love Forever', a hexagonal chamber into which viewers can peer into from the outside, seeing coloured, flashing lights that reflect endlessly from ceiling to floor. The work is a re-creation of Kusama's legendary 1966 mirror room 'Kusama's Peep Show' (no longer extant), in which the artist used to stage group performances, in her studio, in the late 1960s. A selection of more than 60 paintings, sculptures and works on paper also can be seen, showcasing many of Kusama's lesser-known collages. The exhibition concludes with Kusama's iconic participatory installation 'The Obliteration Room', an all-white replica of a traditional domestic setting. Upon entering, visitors are invited to cover every surface of the furnished gallery with multicoloured, polka dot stickers, gradually engulfing the entire space in pulsating colour. In this way they inevitably become part of the works themselves, challenging their preconceived notions of autonomy, time and space.