With over one thousand islands, islets and capes, the Croatian coastline has mesmerized sailors for years with its natural beauty, historical landmarks, scenic locations and splendid food. The indented coastline hides a number of Adriatic pearls, each with a unique story to tell, but we've narrowed down the selection of photographs signed by Boris Kačan to include the most remarkable small and uninhabited islands known for their particular shape in Croatia and around the world.
Baljenac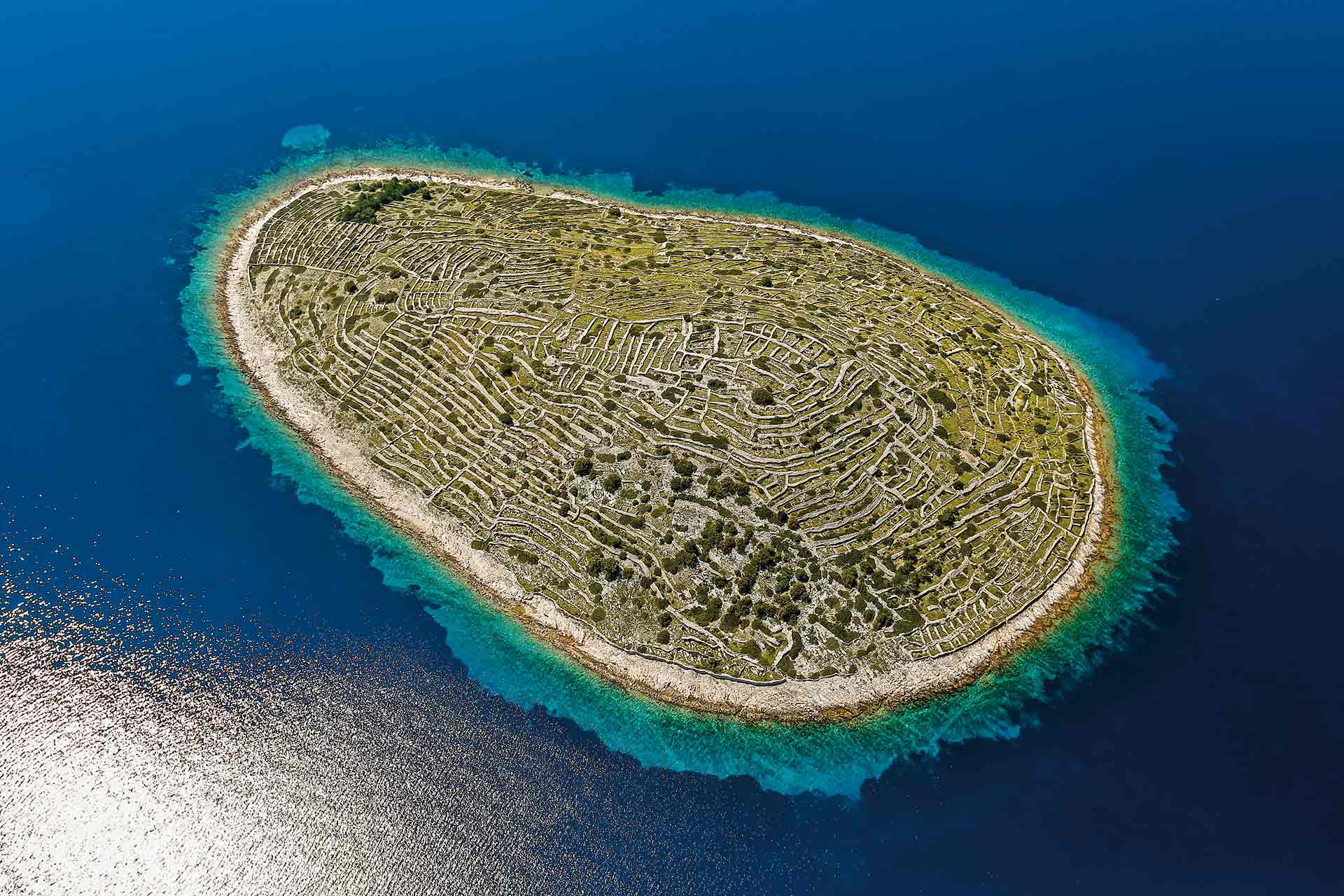 Baljenac Island, also known as Bavljenac, is a small island located in the Adriatic Sea, off the coast of Croatia that looks like a fingerprint! It is part of the Šibenik archipelago, situated near island Kaprije. Baljenac Island is known for its remarkable stone walls that crisscross the entire island, creating a distinct and fascinating landscape.
Gaz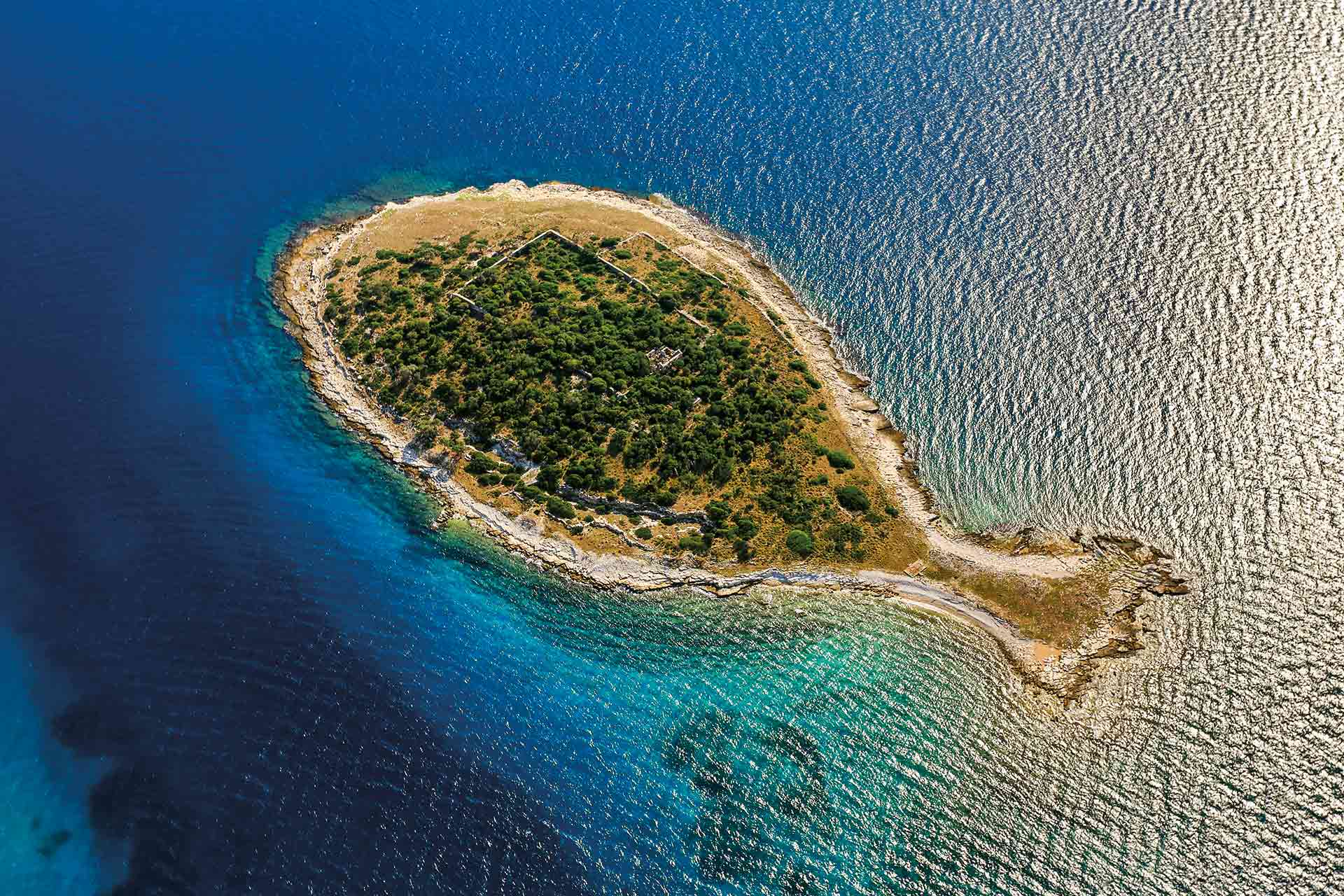 Gaz Island in the Brijuni archipelago has a distinct shape that resembles a fish when viewed from above. The island's elongated form, combined with its smaller protrusions, creates a resemblance to the shape of a fish, particularly a fish with an extended tail. It is interesting that the logo of the National park Brijuni is inspired by the appearance of this island.
Veli Sikavac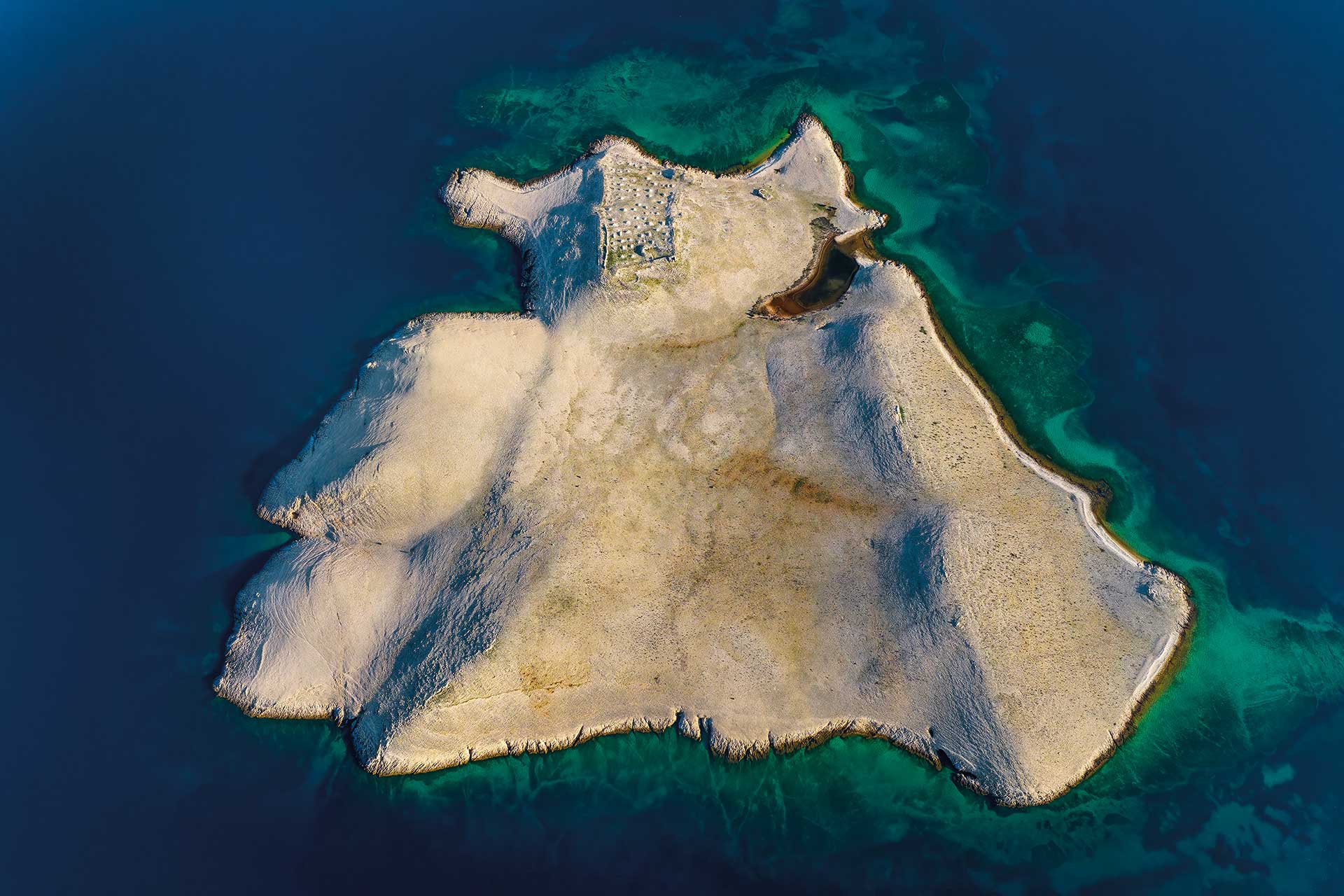 Veli Sikavac is an uninhabited islet off the coast of the island of Pag near Vlašići, Zadar County. Its older names are Veliki Ćićavac or Ćikavac (together with Mali Sikavac: Ćićavci, Ćikavci) and Sveti Pavao, apparently after one of the two small churches whose remains are visible. On the islet there are also the remains of walls that could be from the time of the Byzantine Emperor Justinian.
Veli Maškalić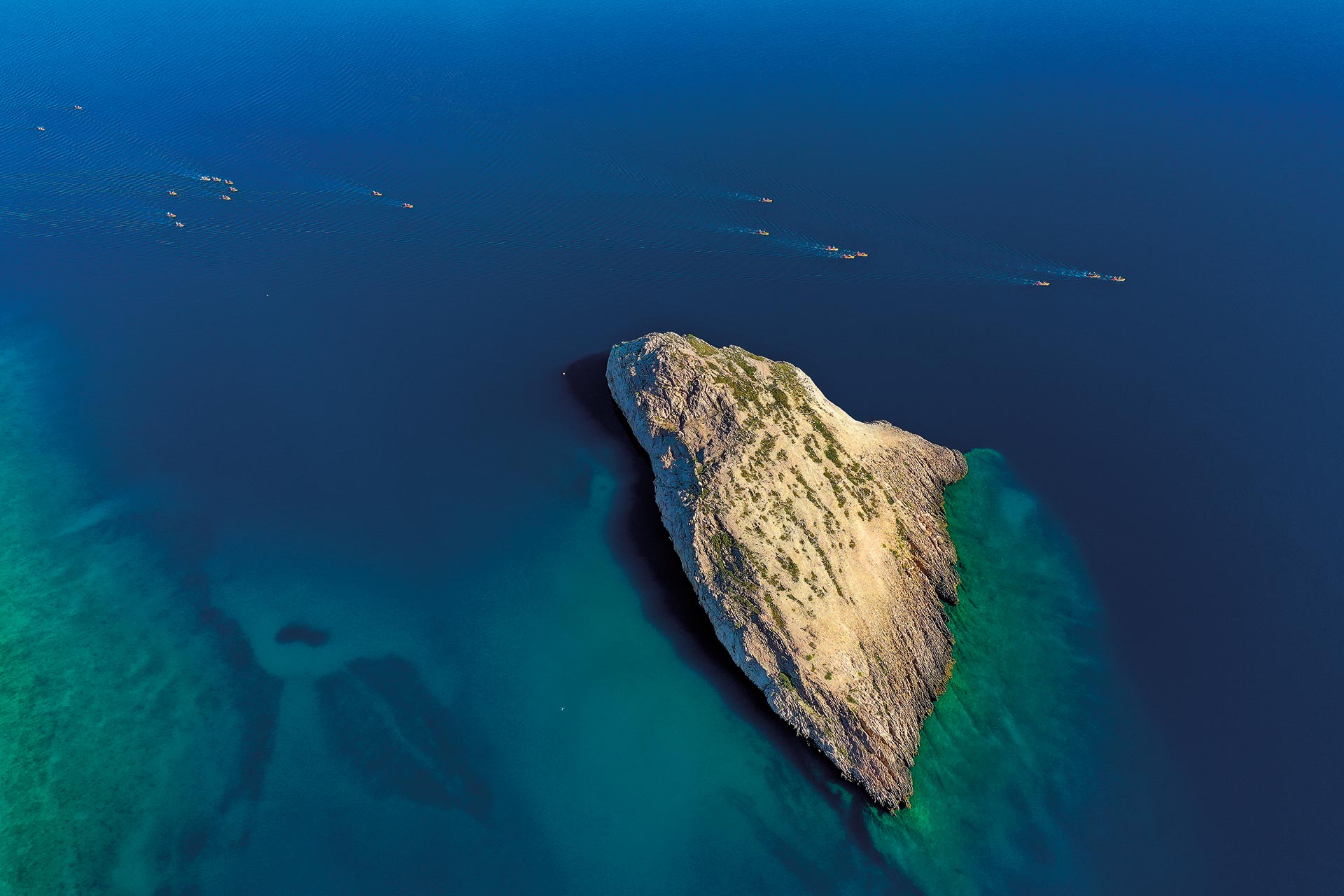 Veli Maškalić is a rocky islet near Pag island situated in the vicinity of Paška Vrata. It is known for its distinctive features, including a peak with a vertical wall that reaches a depth of 45 meters and stretches for about 500 meters.
Heart-shaped small islands in Croatia
Galešnjak
Galešnjak Island, also known as the 'Island of Love' or 'Heart-Shaped Island,' is one of the most famous small islands in Croatia. The island gained its popular nickname due to its distinctive shape, which resembles a heart when viewed from above.
Galešnjak Island is relatively small, with an area of about 0.13 square kilometers (0.05 square miles) and a length of approximately 1.55 kilometers (0.96 miles). It is situated between the island of Pašman and the town of Turanj on the mainland
Lukovnik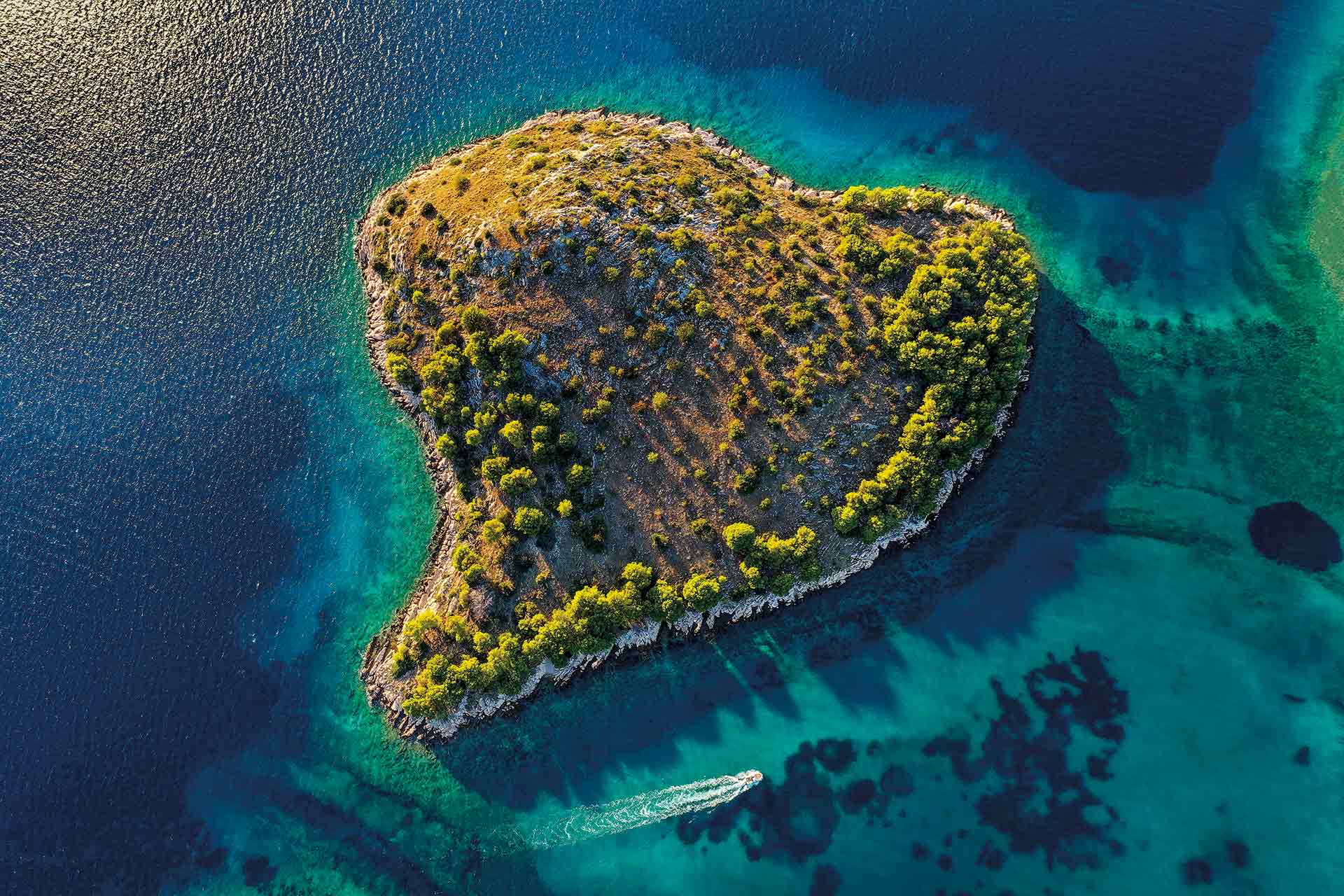 Another heart-shaped island is Lukovnik, in front of Tribunj. The island is only 50 meters away from the coast, and opposite the island is the center of Tribunj. It is separated from the neighboring island of Logorun by a 40-meter-wide channel.
In order to explore Adriatic at its best, we provide free counseling regarding chartering and activities during your charter holidays.  When choosing a yacht, you first need to decide whether you want to feel the meditative power of silence on board sailing boat and catamaran, or whether you appreciate speed and comfort, with interest to rent a motorboat or luxury yacht. After that, leave all the 'details' to us. The team of experts that brings together Yachts Croatia is at your service when creating your perfect charter experience in Croatia.
Photos Boris Kačan