The Swan 80 is a further evolution of Nautor's long experience in large yacht production, and directly follows on from the highly successful best in-class Swan 78.
Following in the same spirit, the new Swan 80 is a true maxi with all the expertise and creativity that Nautor Swan can deploy. Crucially in this market sector it measures in at just under 24m, allowing the Swan 80 to maximize all the advantages of its size and design while avoiding EC regulations and limitations.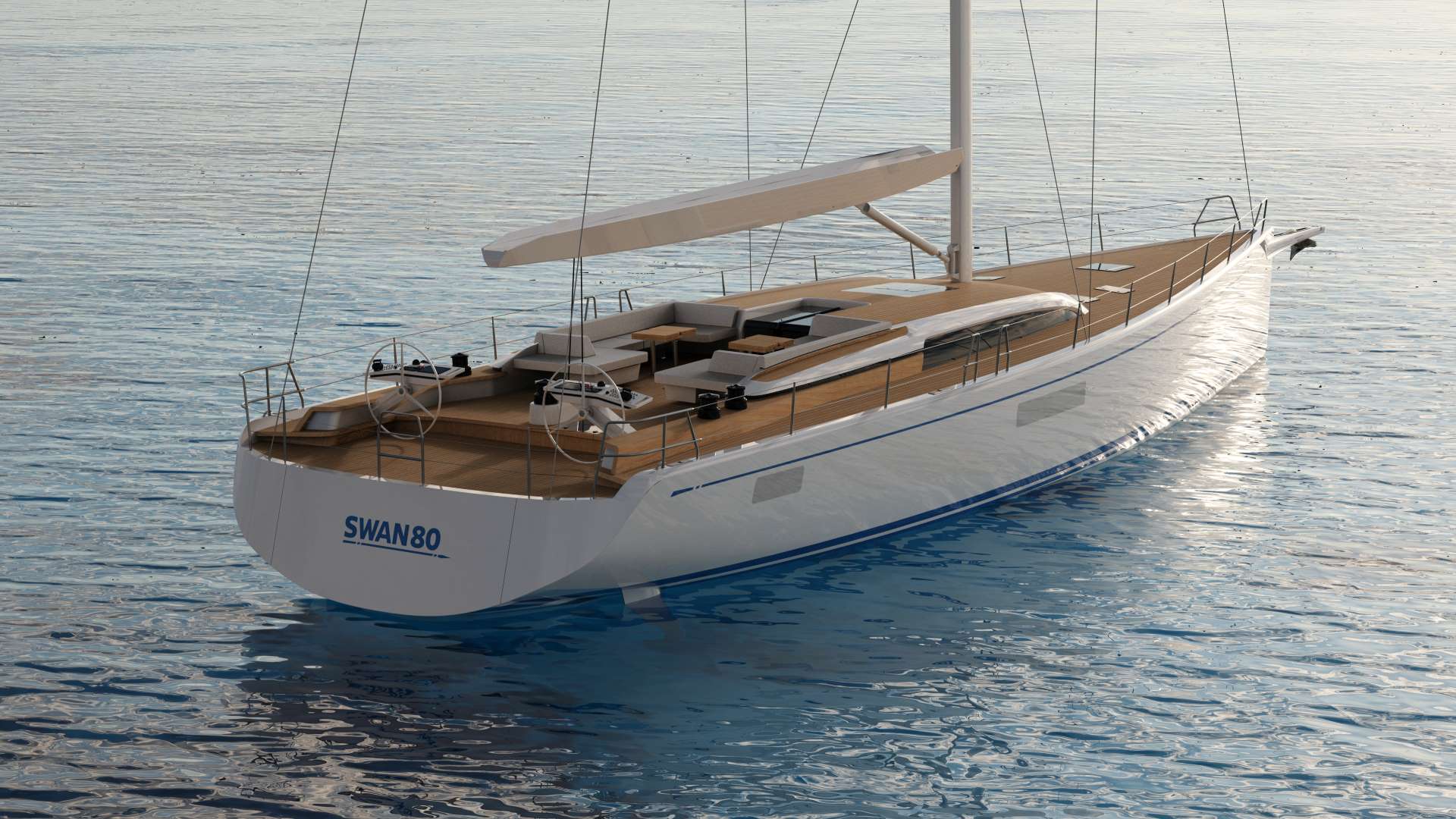 The same design team have again worked their magic on the new Swan 80, with the renowned naval architect German Frers creating the overall concept and naval architecture, Lucio Micheletti the exterior style and Misa Poggi the interior style.
The Swan 80 will step up into the Swan Maxi category and will emulate the eye-catching hull and deck style of the renewed line most recently exhibited by the Swan 108, a striking new look that will characterise the Swan Maxi family into the future.
A fresh new look on deck features wood covered cockpit coamings – which have been extended further aft for crew comfort – that add a new perspective to the yacht. With its modern, uncluttered look the design speaks of neatness and efficiency.
Below deck the Swan 80 has the space and capacity to offer a wide variety of cabin configurations and open areas to meet all requirements.
Versatility and flexibility are the order of the day when heading below decks on the Swan 80. Once again the experience and suggestions from the owners, guests and crew on the Swan 78s has proved invaluable in further developing the Nautor offering.
A variety of optional configurations are available for the location of cabins, sitting and dining areas. One possibility sees the spacious owners cabin located forward, with another four guest and VIP cabins all with en suite facilities.
The crew quarters are organised in an area aft, with independent access to the cockpit, engine room and other technical areas to avoid disturbing guests. Another possibility allows for the temporary conversion of a guest cabin for crew use, so increasing crew from 2 to 5.
The already spacious saloon area can be further increased by utilising the space of one guest cabin for an additional TV or dining area – another nod to the maxi philosophy.
Photos Nautor Swan