The new director for business transformation of Jadranka Turizam wants to position the island of Lošinj and the island hotels at the top of the luxury sector through projects that emphasize sustainability, luxury and authentic experiences
Zoran Pejović recently joined Jadranka Turizam as their Chief Transformation Officer. With over two decades of international experience in luxury projects and innovative developments, Pejović is dedicated to fostering responsible hospitality, driving growth and innovation, and positioning island of Lošinj and its hotels as leaders in the luxury hospitality sector. We sat down with him for a conversation about his new role, the dynamic developments in the world of hospitality, and the rich heritage of Lošinj Hotels & Villas.
WHAT DOES PARTNERSHIP WITH THE PREFERRED HOTELS & RESORTS CHAIN MEAN FOR THE HOTEL BELLEVUE?
Hotel Bellevue's entry into Preferred Hotels & Resorts is an essential milestone for the property and Lošinj Hotels & Villas. As the first hotel in Croatia to become a member, this partnership will not only elevate their global presence but also help them connect with a wider audience of discerning travelers who value authentic and memorable experiences. Pejović believes this recognition validates their commitment to exceptional service and luxury, and he anticipates more firsts and bests for Lošinj Hotels & Villas in the years to come.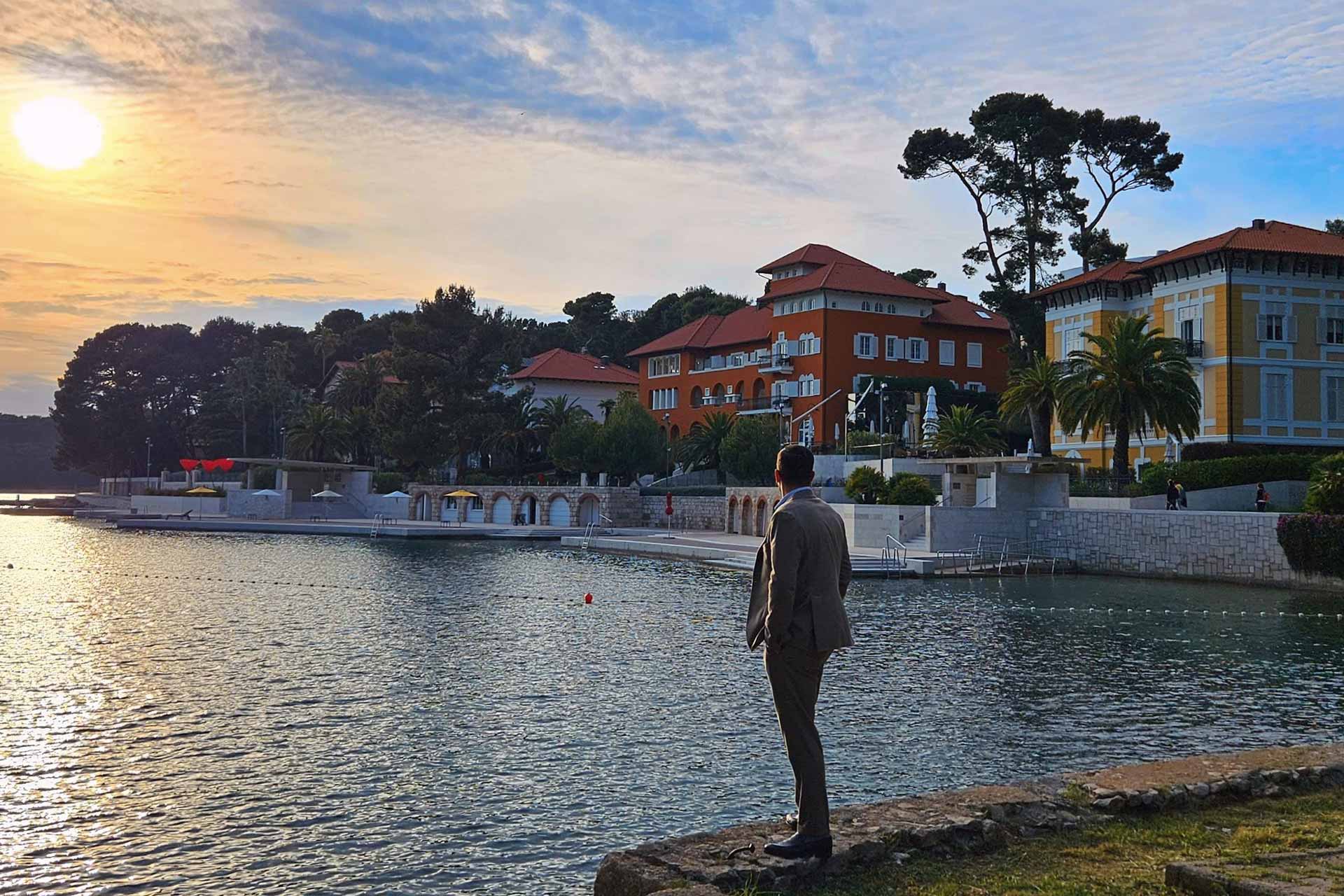 TELL US A BIT MORE ABOUT YOUR ROLE IN TRANSFORMATION AND RESPONSIBLE HOSPITALITY.
My role as Chief Transformation Officer centers on driving growth and innovation while positioning island of Lošinj and its hotels on the global stage. I'm committed to fostering responsible hospitality, building on Jadranka Turizam's legacy, and transforming their properties to become leaders in the luxury hospitality sector. This involves reshaping employee journeys, making the industry more appealing to younger generations, and executing award-winning projects that emphasize sustainability, luxury, and authentic experiences.
LOŠINJ HOTELS & VILLAS GROUP HAS A RICH HEALING AND LUXURY LEGACY.
I would like to emphasize the unique heritage of healing and the legacy of luxury at Lošinj Hotels & Villas. Hotel Bellevue, for example, is styled to cure, offering guests an immersive wellness experience. On the other hand, Hotel Punta is the sportiest hotel in Croatia, providing a wide range of recreational activities and experiences for guests seeking an active and engaging stay.
WHAT TRAVEL TRENDS DO YOU PREDICT FOR 2023 AND 2024?
I expect travelers to seek more personalized experiences, focusing on wellness, sustainability, and authentic connections with local culture. Additionally, I see a strong increase in long-haul travel, with more Asian and North American travelers returning to Europe and European travelers exploring Asia more than before. In response, I plan to adapt marketing and sales efforts to cater to the unique needs of long-haul travelers.
WHAT DO YOU THINK ABOUT THE ROLE OF AI IN THE HOSPITALITY INDUSTRY?
AI presents opportunities and challenges for the hospitality industry, with the potential to save time, reduce costs, and improve efficiencies. However, I also recognize the importance of addressing potential pitfalls such as inauthentic content, limited understanding, and susceptibility to misinformation. The successful integration of AI will depend on using these technologies wisely while preserving the essence of human connection and excellent customer service that define the industry.
Fotografije Zoran Pejović archive